I'm leaving to catch Godzilla: King of the Monsters in about, oh, two hours. I have no idea if I can finish this review before showtime, but I'm gonna try, because these half-baked paragraphs about weird cheeseburgers are surprisingly time-sensitive.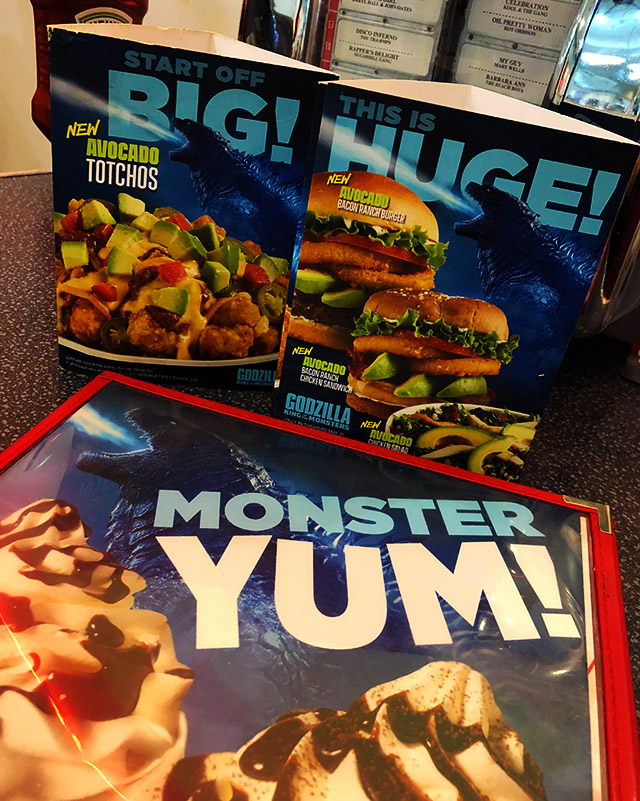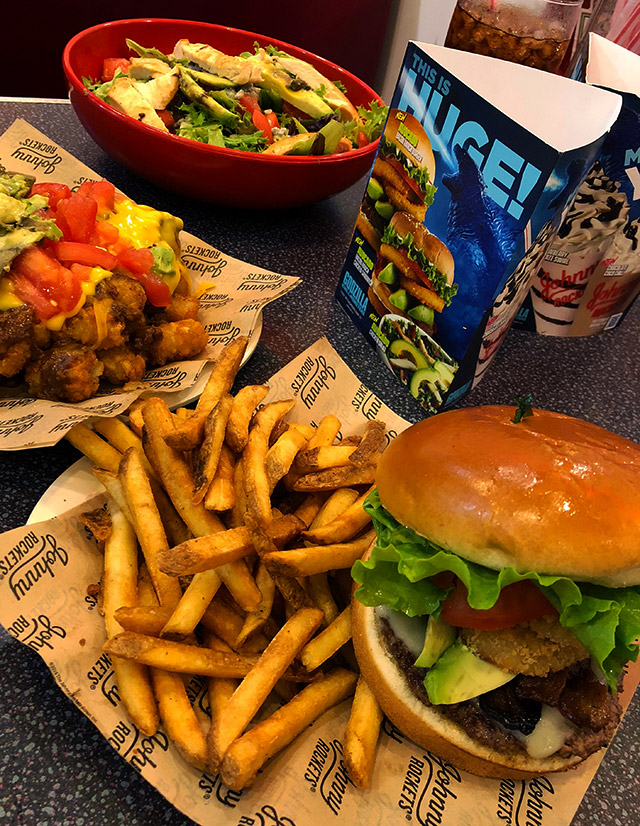 Yes, Godzilla has invaded Johnny Rockets restaurants with a variety of avocado-enhanced menu items. (I guess avocado got the nod because it's green and so is Godzilla? I should note that avocados are also referred to as alligator pears, which is what Godzilla's sweethearts call him in Valentine's Day cards.)
Looks like Johnny Rockets has the exclusive rights to make MonsterVerse food, as this was the same place I found those screwball Kong milkshakes more than two years ago. I love the idea that King Kong milkshakes were SO successful that Johnny Rocket himself demanded another partnership the second he saw Millie Bobby Brown screaming in that trailer.
I dined with Jay, who as a matter of a full disclosure was the one who first noticed this promo. He got Godzilla's Avocado Chicken Salad, which at Johnny Rockets is like eating carrot sticks. I got everything else: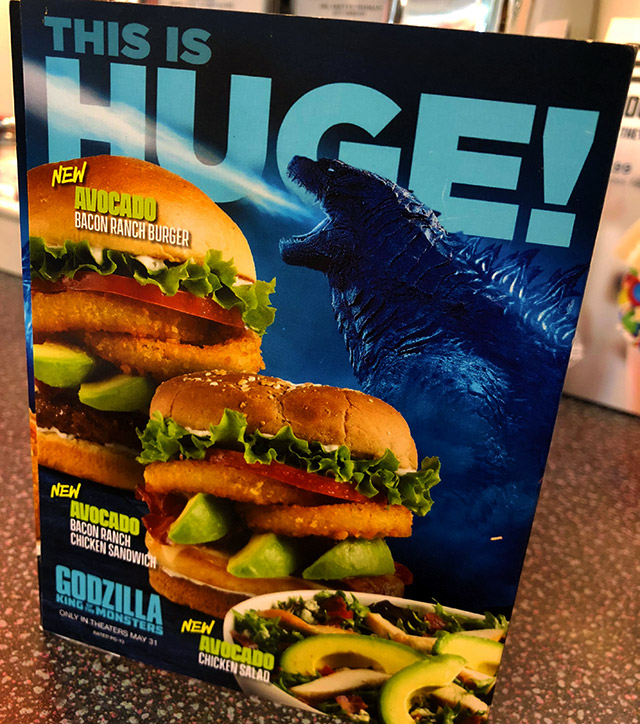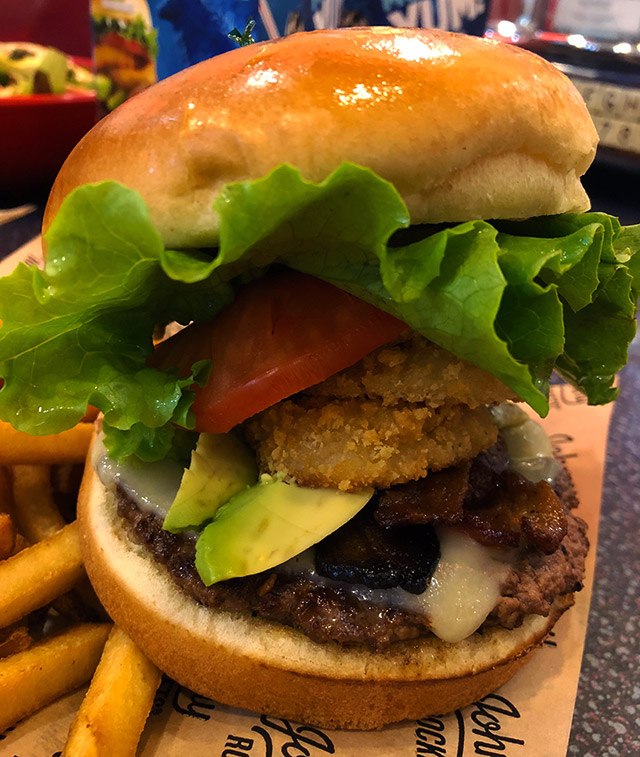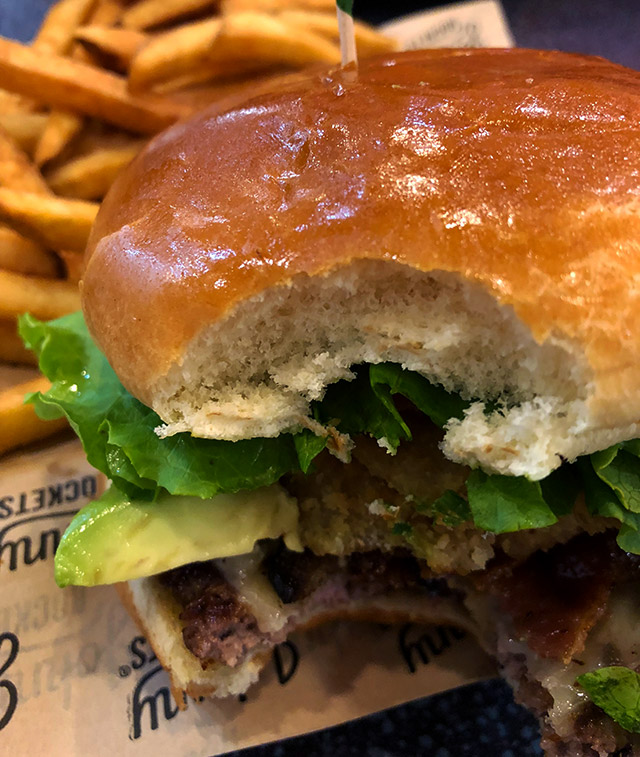 First was Godzilla's Avocado Bacon Ranch Burger, aka ABRB, though I can tell you from experience that not all of Johnny Rockets' waiters will know what you're talking about if you try to order an "ABRB." Live and learn.
This was a veritable tower including Angus beef, swiss cheese, bacon, onion rings and big thick slices of avocado. I suspect that the brioche bun was brushed with butter, since I was able to see my reflection in bread. It's supposed to come slathered in ranch dressing, too, but I felt like the burger and the cheese and the bacon and the buttered bread and oh yeah the onion rings were enough.
It was delicious, and not too dissimilar from the kind of burgers I'd make at home. If you've never had avocado slices on a burger, trust me, they're very good and not at all weird. I wouldn't have added onion rings to my version of this, but they do create enough height for this to act as some form of hamburger kaiju.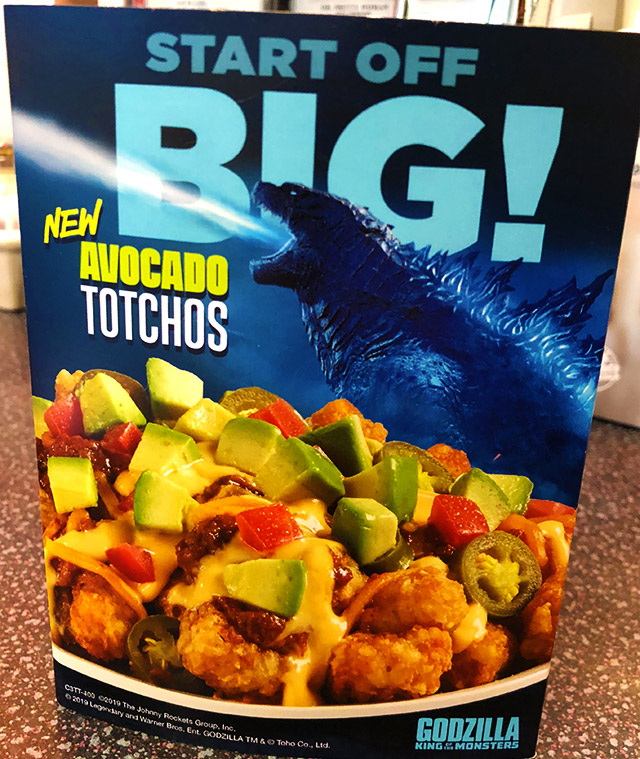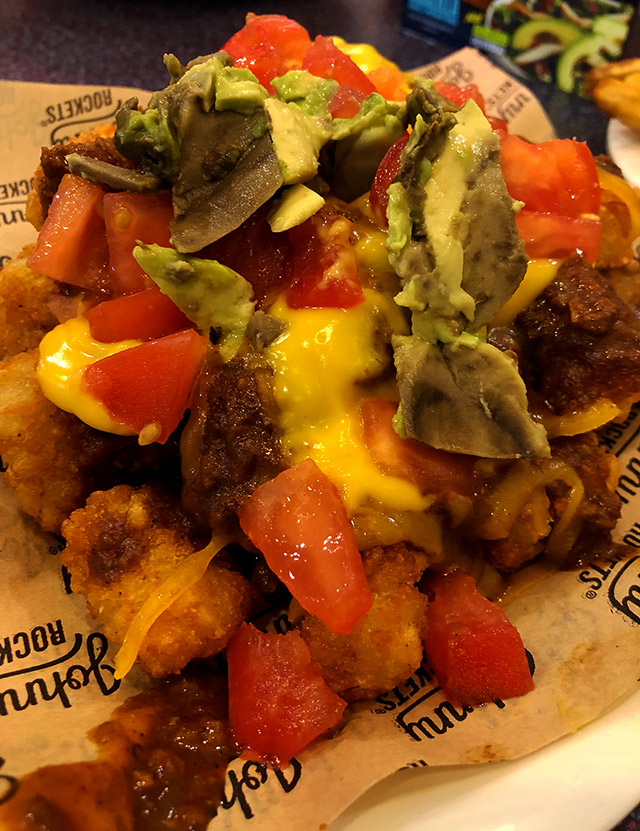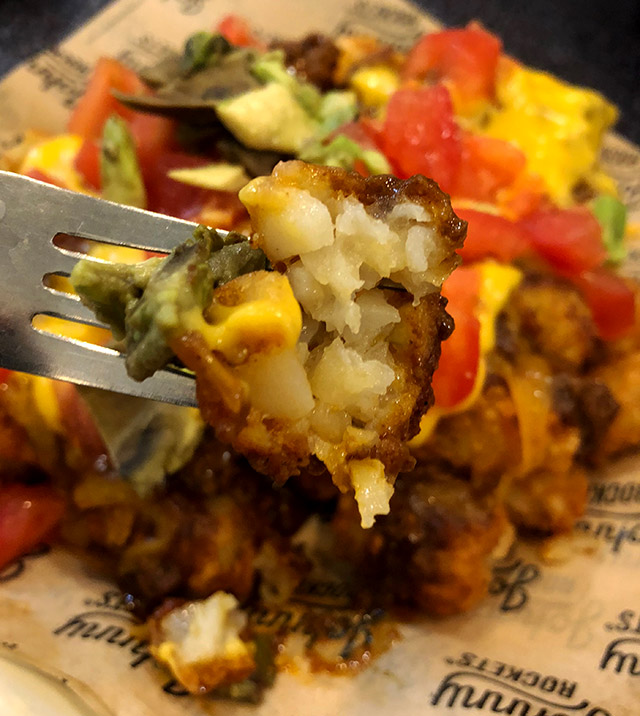 Jay and I "split" the Avocado Totchos — in quotes because it was more like he had one and I had 30. In truth, neither of us had much room leftover for whatever this was.
I had to visit the website to figure out the ingredients. Avocado Totchos are tater tots covered with cheddar cheese, beef chili and what the site calls "chunks" of avocado. Our chunks looked more like rotted artichoke hearts, but in the cook's defense, this plate screamed "Godzilla" way more than the picture did.
I'm not sure how I felt about these. The various gooey parts combined into an extra-smoky barbecue sauce that was a bit beyond my comfort zone. It wasn't bad, just not my style. I nonetheless appreciate the fact that a platter of Avocado Totchos looks exactly like a volcano from a second grade science fair project.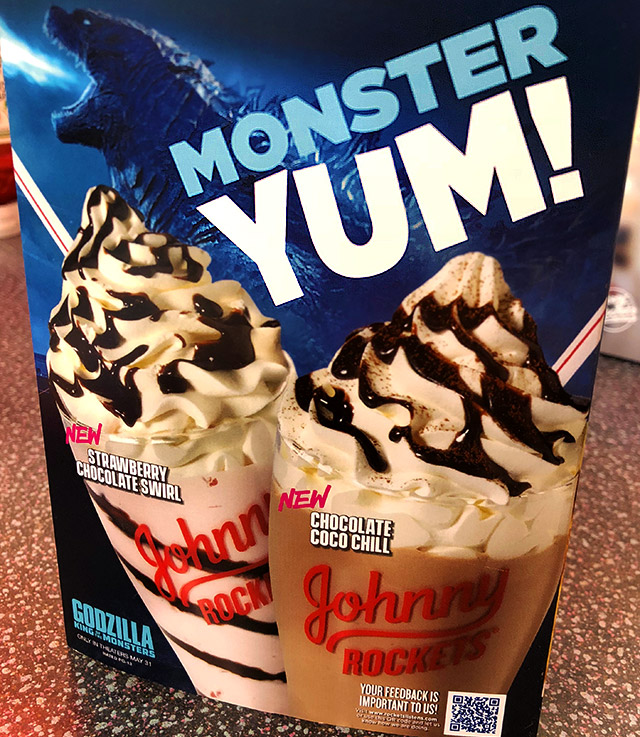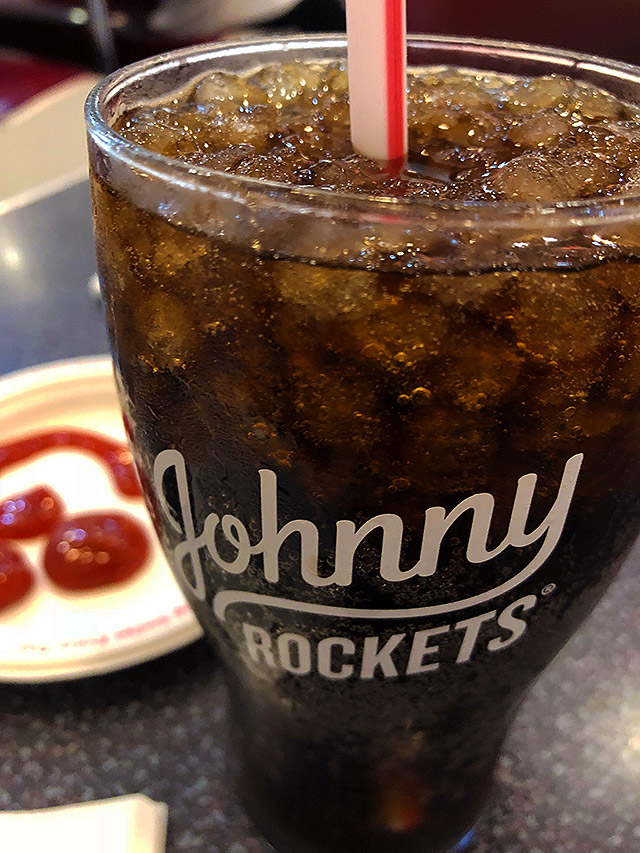 Johnny Rockets is also pitching a couple of milkshakes as Godzilla-exclusives, but neither of us were buying it. If they'd tied them to Mothra specifically, I would've at least accepted the swirly shakes as a nod to her wing patterns.
As a matter of protest, I went with a Diet Coke instead. Never, ever skip the Coke at Johnny Rockets. The glasses are perfect, the straws are plastic, and the ice is seriously the best ice I've ever had. I know that ice is an odd thing to rate, but Johnny's ice is really that good. Like a frozen December puddle, meticulously smashed with a ball-peen hammer.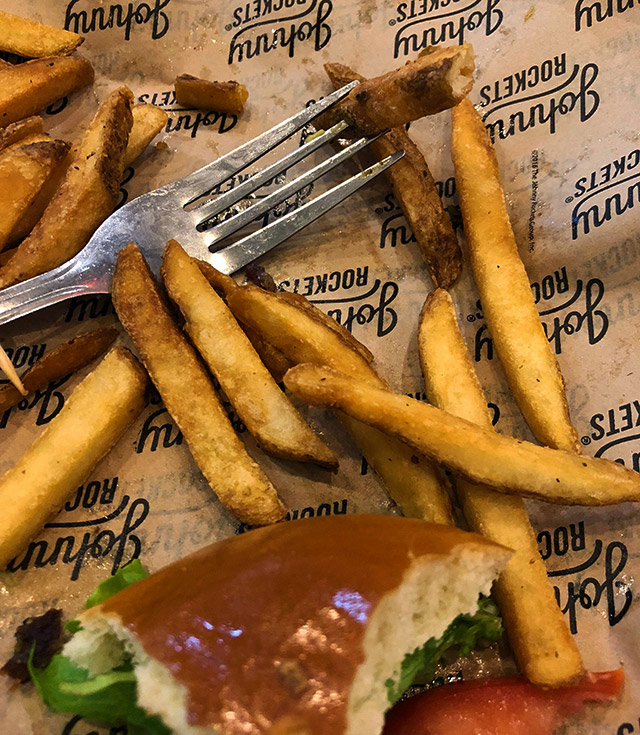 I had already finished my burger, fries and 30 Avocado Totchos before Jay was on his fifth bite of salad. He's been on a fitness kick for months, and chose this specific time to name the many benefits of eating cleaner. I sat there nodding with my greasy face and fistfuls of fries, occasionally trying to change the subject with notes about Crayola crayons and the state of shopping malls.
All in all, I'd call Godzilla's avocado explosion at Johnny Rockets a massive success. The film's gotten mixed reviews and I have no idea what I'm walking into tonight, but for me, King of the Monsters is already a net win. Without it, I never would've had the excuse to eat a burger topped with the entire Fixin's Bar from Roy Rogers.