Since we're in the thick of Dino Drac's 2016 holiday celebration, I'm adding a special theme to this edition of Five Random Action Figures.
In this batch, every figure has something to do with ice or snow. This despite the fact that it still won't be winter even a month from now. Really, I just wanted to mess with tiny styrofoam snowballs. (Give me this! I have so little.)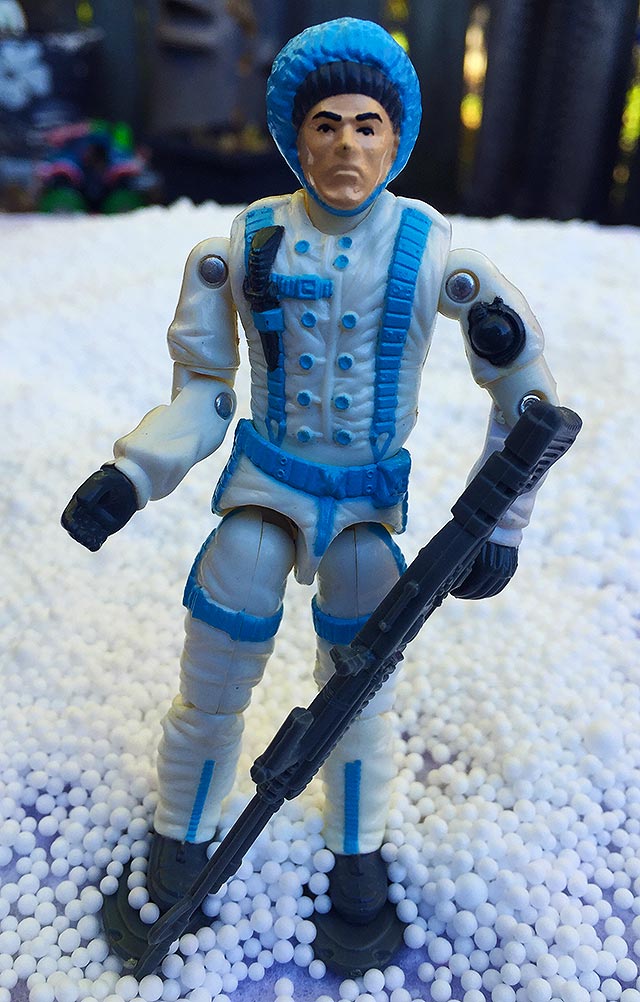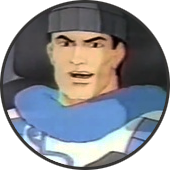 Sub-Zero
G.I. Joe (1990)
According to his file card, Sub-Zero was the Joes' "Winter Operations Specialist," which sounds like one of those bullshit designations you give to ambitious worker bees.
"Oh yes, Mr. Habershaw! We see big things from you as our new… uhhh… Master of Cold! Now put on this wackadoo uniform and then go stand in the snow forever."
I'm apathetic towards Sub-Zero, who arrived long after I'd stopped paying serious attention to the G.I. Joe universe. What immediately strikes me is that this 1990 figure looks so much like one Hasbro would've put out five years prior, with the sort of antiquely stoic facial sculpt that more befit 1985 than the rad-to-the-bone 1990s.
With removable snow shoes and a giant machine gun being only two of Sub-Zero's awesome accessories, I'm still more drawn to that weird ass hood of his. Now I know what'd come out if both Dorothy and Sophia entered one of the telepods from The Fly. Read More…
I wanted to do another edition of Five Random Action Figures before Halloween, lest I waste the excuse to take pictures of plastic monsters out in the freezing rain. So here we are, hours later, with me sneezing and my phone's touchscreen on the fritz. I suffer for you.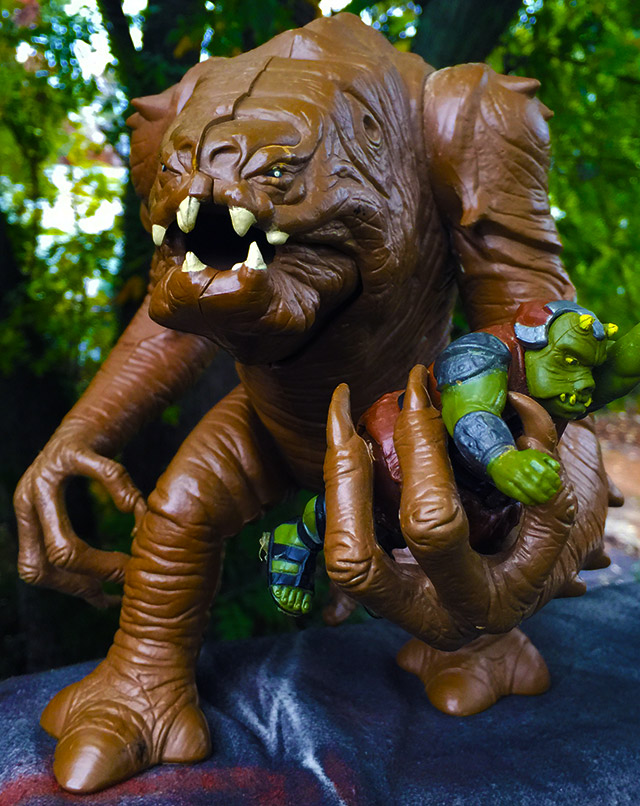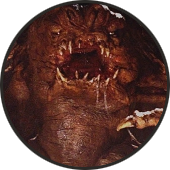 Rancor Monster
Star Wars (1983)
The Rancor Monster was the largest of Kenner's vintage Star Wars figures, with a price to match.
Too extravagant to talk Mom & Dad into buying during a "regular" trip to Toys "R" Us, most kids had to wait for Christmas or their birthdays, and pray that they'd remember how much they wanted one during those small windows of opportunity. It was the kid version of trying to get pregnant.
I never did get a Rancor Monster as a kid, and actually never even saw one in person until I was like, 67. It's an impressive figure for sure, but as the legend grew in my childhood brain, I imagined the Rancor being triple this size and with rough, leathery skin.
The reality may not be the Rancor of my dreams, but it's still a wonderful toy. It's like they mixed DNA from a tyrannosaur and that thing from Cloverfield. Read More…
Here are more of my favorite spooky action figures from the '80s and '90s, photographed in a moldy forest: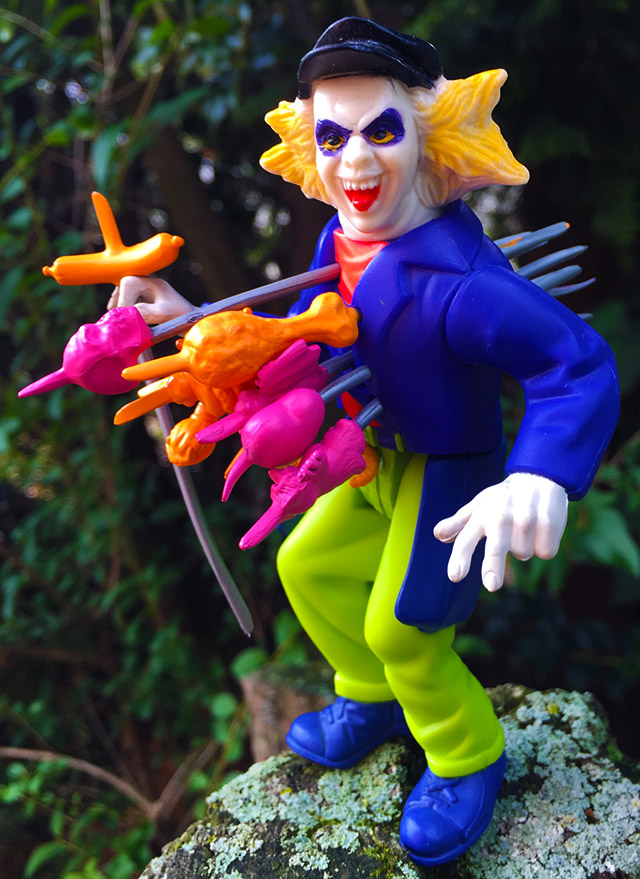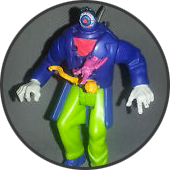 Shish Kebab Beetlejuice
Beetlejuice (1989)
By far the best figure from Kenner's Beetlejuice collection, Shish Kebab Beetlejuice also wins the award for weirdest. His "scary skewers" impale everything from chicken legs to alien rats to Beetlejuice himself, and best of all, they're completely removable.
(If you've ever seen a beat-up Beetlejuice with a bunch of holes in his chest at a yard sale, that was this one.)
As a kid, I found the Beetlejuice line a little too gimmicky. With their weird features and removable heads and turning knobs and hidden buttons, they almost felt more like gadgets or puzzles than action figures. But now that I'm sitting here playing with Shish Kebab Beetlejuice and realizing that nirvana is this and it was always this close, I wanna warp back to '89 and beat the shit out of me.
There's just something so artful about this guy. By "artful" I'm of course referring to the fact that you can pop off his head to reveal a smaller head that's actually just one big spinning monster eye. Everybody needs a Shish Kebab Beetlejuice. Only then will the world begin to heal. Read More…
Certain Dino Drac features take a break during the Halloween Countdown, but not Five Random Action Figures. I know where my bread is buttered.
But since we are in the spooky season, any editions published between now and Halloween will feature scary monsters exclusively. That's partly to maintain the theme, but mostly because I love photographing action figures over beds of cheap phony moss. You can't do that with or in April.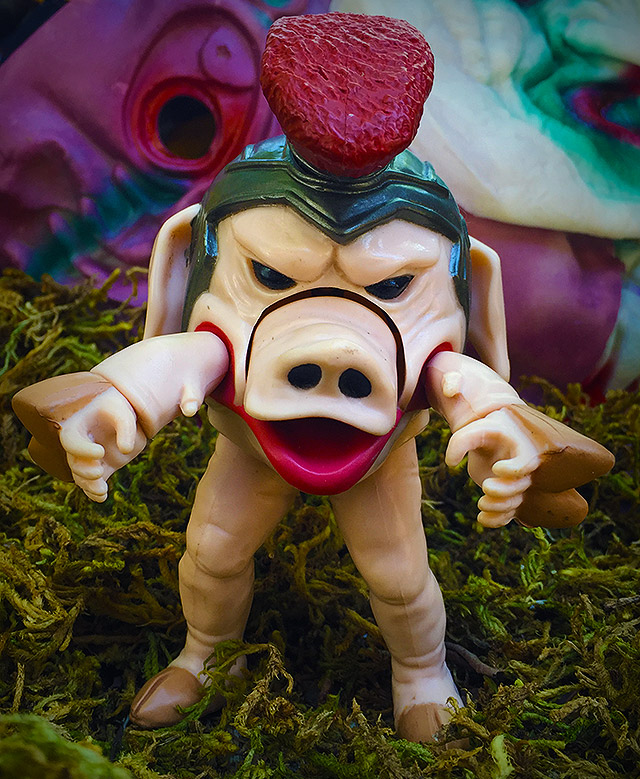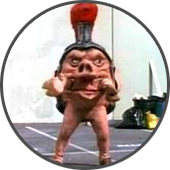 Pudgy Pig
Mighty Morphin Power Rangers (1994)
Ah, my favorite MMPR monster! I haven't seen the episode featuring Pudgy Pig since high school, but even after 20 years, it's hard to shake the visual of a bulbous piggy head in a legionary helmet strolling around on showgirl legs.
I thought the first few waves of Power Rangers toys were a mixed bag. The line's most popular and/or expensive offerings generally struck me as being the most cumbersome, with the more intricate ones working under the same principle as Jenga stacks. On the bright side, Bandai almost never messed up the monsters.
Could there have possibly been a more perfect representation of Pudgy Pig in action figure form? So good. Dig the pig. Fine swine. Read More…
In this edition of Five Random Action Figures: A robot, a lion and a sentient chicken leg. It's as if Baum toked extra before writing about Oz.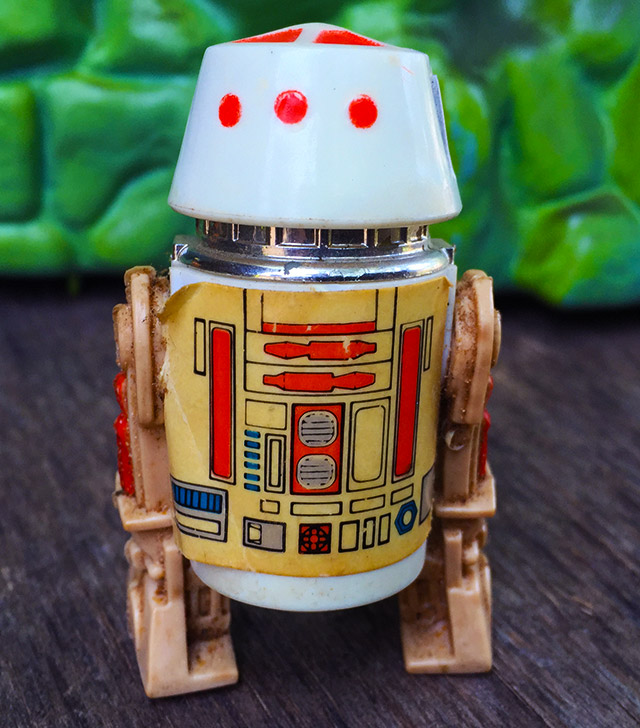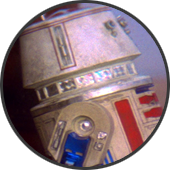 R5-D4
Kenner's Star Wars Collection (1978)
R5-D4 was Uncle Owen's first choice, and were it not for the droid blowing its motivator at the precise right moment, R2-D2 might've never gotten the chance to save the galaxy.
(Fun fact: Additional Star Wars materials suggest that R5-D4 was Force-sensitive and fritzed out on purpose, all for the greater good.)
The movie version of R5-D4 was kind of inelegant, lacking the little touches that made R2 seem so anthropomorphized. The same can't be said for the original Kenner action figure, which is totally adorable and one of my favorites from the set. When I divorce myself from Star Wars lore, it's even cooler than R2's figure.
Every R5-D4 figure that's come out since has been more faithful to how "he" looked in the film, but if you ask me, the droid just isn't the same without candy button eyes. Read More…