After my TMNT eBay romp, reader/pal Sammy Hain suggested doing one for The Simpsons. I'm so game.
Below are some of the most interesting pieces of Simpsons memorabilia currently on eBay. I stuck with stuff from the show's earliest years, when Homer and Bart were still the coolest dudes in town.
If you're too young to have been with The Simpsons from the start, man, those were different times. The show still has millions of fans, but at the beginning, the cool factor was off the charts. During its first few seasons, it was by far the safest thing to obsess over… because literally all of your friends were doing the same thing.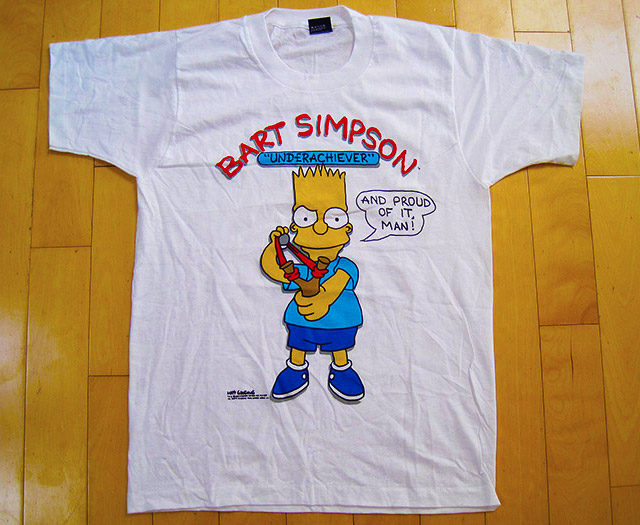 Bart Simpson T-Shirt!
Asking Price: $39.99
In a rare case when I was ahead of the curve, I was the first kid in school to wear a Bart Simpson t-shirt. (Fourth grade, if I remember correctly.) It was a bootleg found in Manhattan, from back before there even were official shirts.
The other kids treated me like a hero, and quite liking the feeling, I made sure to wear that cheap shirt 3-4 times a week. It was my first experience with the law of diminishing returns, but that's neither here nor there.
Soon enough, "real" Simpsons tees — like the one shown here — were available everywhere. Seemed like every kid had at least two of 'em.
Because some included light obscenities, my school eventually banned all Simpsons shirts. Boy, we were PISSED. Kids took to wearing them under other shirts, only revealing their true allegiances during recess, away from prying eyes. Really, when a $10 t-shirt was all it took to brand you as a cool kid, no grouchy principal was gonna stop you.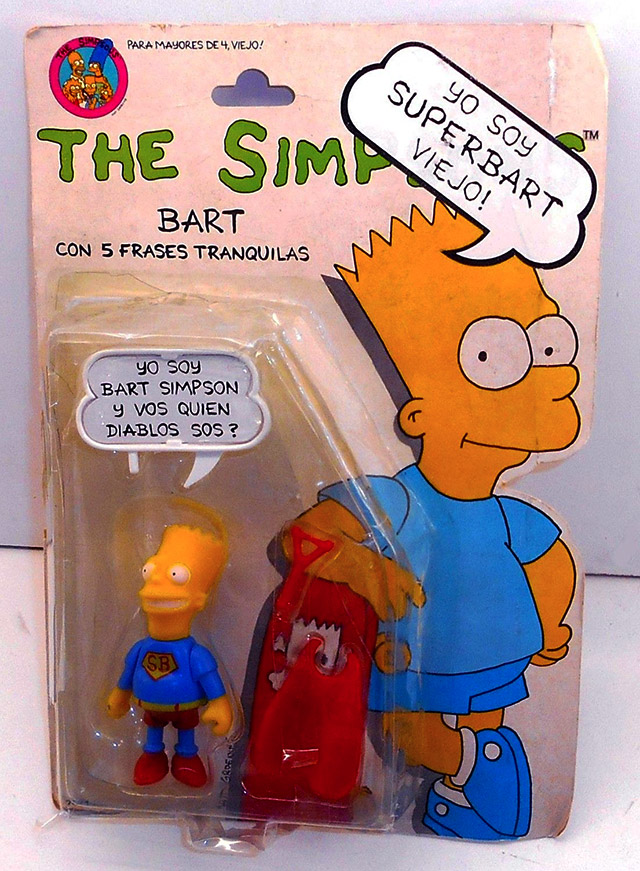 Super Bart Action Figure!
Asking Price: $282.99
The first legit Simpsons action figures were made by Mattel in 1990, and holy God were they a big deal. Everything about them was killer, right down to the bright packaging, which was unusually simplistic for an action figure line, but totally perfect for The Simpsons.
Remember, these came out during a time when kids jumped at anything that had Simpsons branding. We'd see Bart on a keychain, and suddenly we were ready to hear our parents' speeches about key responsibility. Considering that these were both the most useful and the most extravagant Simpsons products up to that point, we were all the hell over 'em.
Shown above is one figure you probably never had. Super Bart was only available in South America, and as a kid, I had no way of knowing that he even existed. Given that even the most common figures once found in the States are now pretty rare, the asking price on this one is only a little extreme.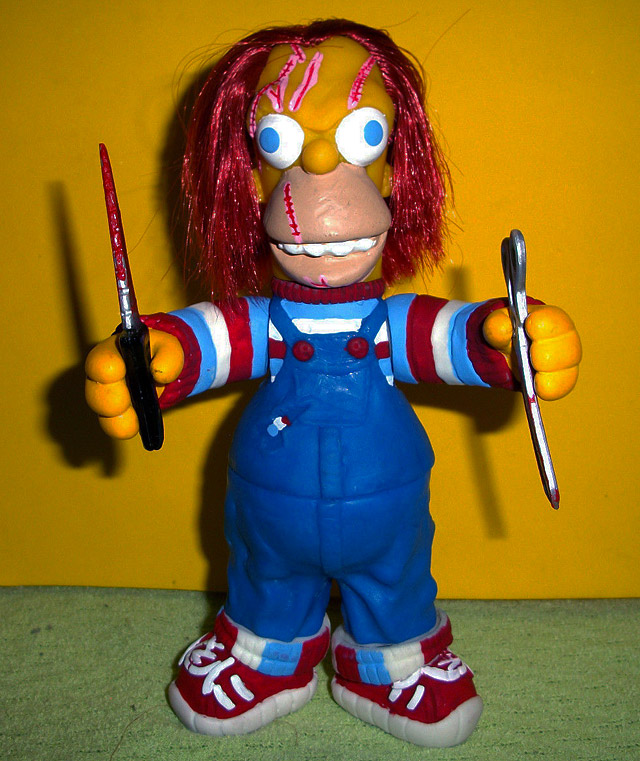 Homer Simpson "Chucky" Figure!
Asking Price: $9.99
Though this looks like a one-off custom job, the figure is actually part of an immense line of Mexican bootlegs, which combine Homer Simpson with all sorts of unrelated characters. There are tons of them on eBay right now, running the gamut from a Green Lantern Homer to a Buzz Lightyear Homer.
Most interesting to me is this Homer/Chucky hybrid, who pulls no punches with his bloody knife and severe facial scarring. There are far too many of these to simply be the work of a customizer with a unique sense of humor, so if anyone wants to fill me about this strange trend, I'm all ears.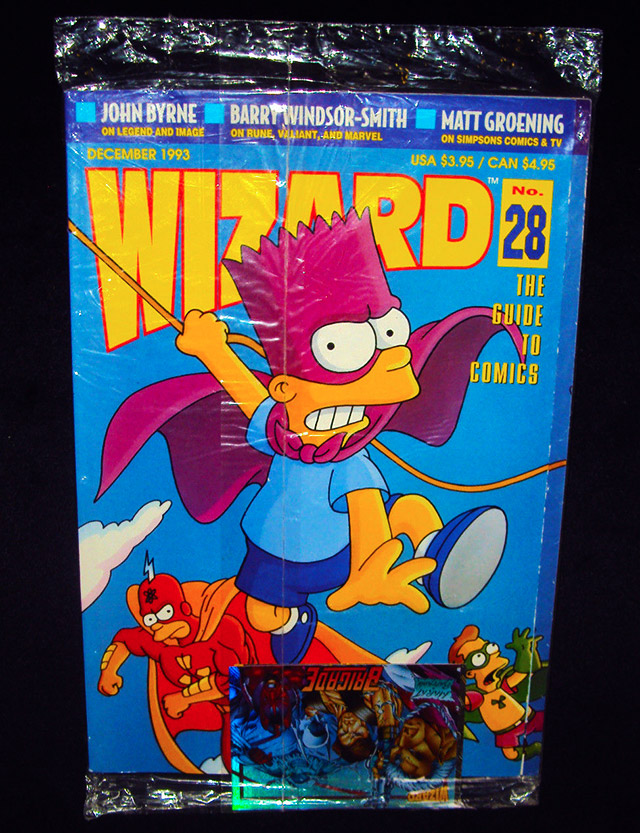 Wizard #28!
Asking Price: $15.95
Long before ToyFare was a thing, kids like me clung to Wizard as our only on-the-level source for geek news and views. There's a whole generation of bloggers who owe at least part of their style to that magazine, and I'd have to include myself in the bunch.
While focusing on comics, Wizard incorporated enough topics to serve as a nerdy Entertainment Weekly, which in pre-internet days was an absolute treasure. God knows how it's aged, but as a kid, every line in Wizard seemed so hip, and the magazine made all of my silly hobbies seem less like things that needed to be kept in a locked box.
This was one of my favorite issues, even if Bart Simpson wasn't exactly teflon by 1993. Note how the magazine came bagged with an exclusive trading card — a nice nod to the era's comic book trends. Now you had to buy two!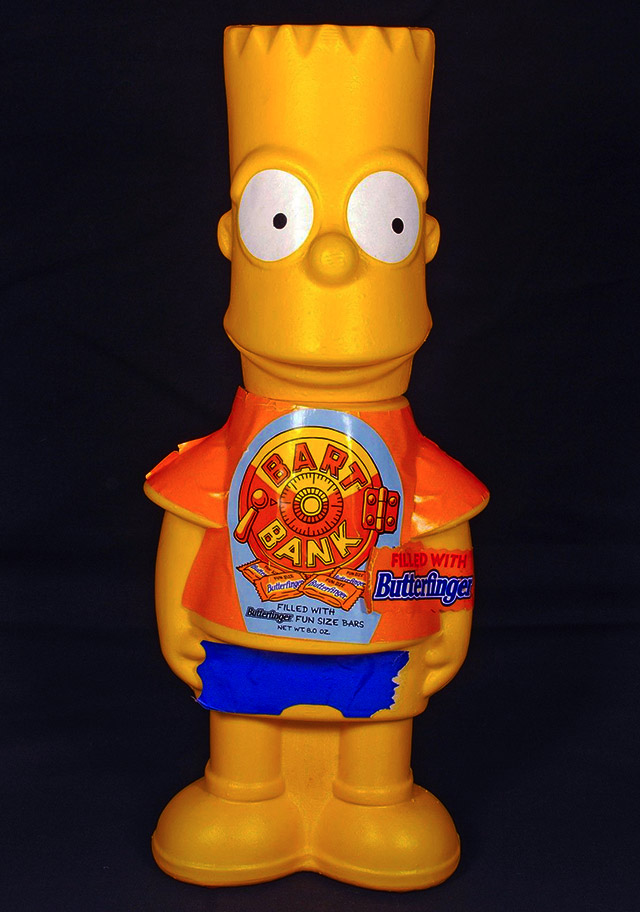 Butterfinger Bart Bank!
Asking Price: $15.95
I never bothered with Butterfinger bars until Bart blessed them. In truth, I don't think I ever even liked Butterfinger, but I was a slave to food fashion, and no other candy bar had its own set of custom Simpsons commercials. They could've thrown that kind of pub behind freakin' Mounds, and suddenly every tween would've been all about coconuts.
In 1990, Butterfinger went all-in on the partnership, making big plastic "Bart Banks" that came filled with fun-sized Butterfinger bars. Sticking small candy bars in hollow character statues was nothing new, but since this was Bart Simpson in 1990, we just had to have it.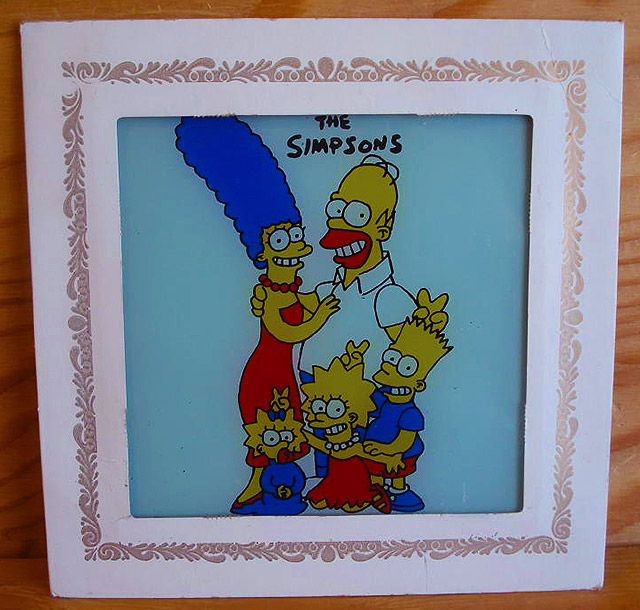 Simpsons Carnival Glass Prize!
Asking Price: $10
You may remember my earlier eBay feature dedicated to carnival mirror prizes, which were those framed glass pictures you'd win after paying three bucks to throw darts at balloons. Back in the day, they were hot shit.
My working assumption is that no carnival mirror prize was ever officially licensed, a theory bolstered by the fact that they so often added new and highly unusual pages to the various style guides. Fortunately for so many traveling carnivals, few companies had the bandwidth to take 'em down.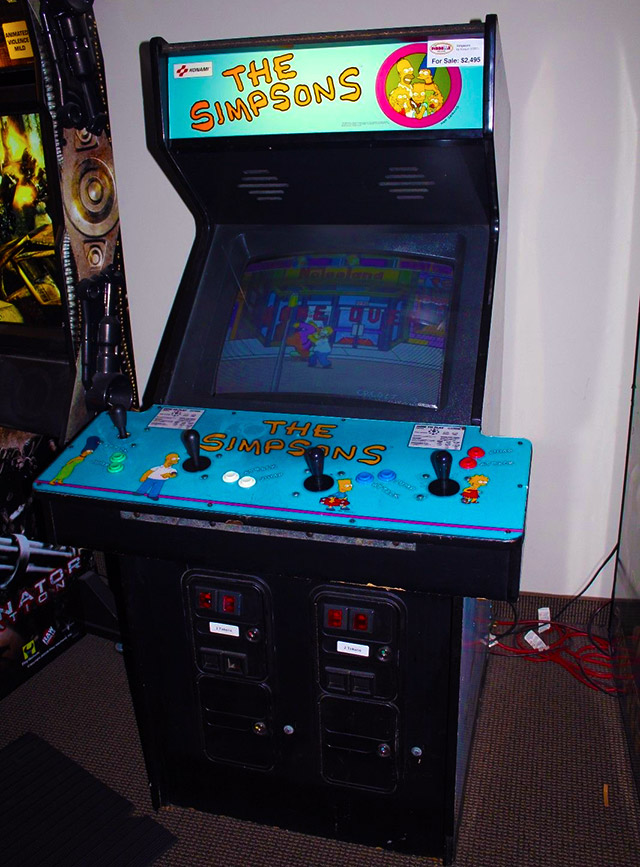 The Simpsons Arcade Game!
Asking Price: $2995
Last but not least, The Simpsons arcade game, from 1991. It was another one of those four-player deals that temporarily acted as absolute hubs for social activity.
During its heyday, it wasn't uncommon to see a machine with all four players in action, backed by four individual lines that went 2-3 players deep, and then another pool of kids who — like me — were happy enough to just watch strangers play.
Thanks for reading. Now go spend $4000 on old Simpsons junk.
PS: Thanks for the great response on the Batman '89 edition of The Purple Stuff Podcast! If you haven't listened to it yet, here you go.