Creepy Commercials Countdown: 3-D Halloween Spook-tacular!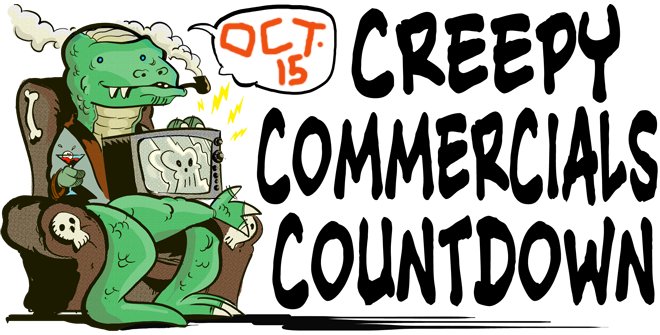 The Creepy Commercials Countdown!
October 15th, 2012: "3-D Halloween Spook-tacular!" (1987)
Oh, man. My decision to present the Creepy Commercials Countdown as a side attraction wasn't without some regret, for as much as I wanted these entries to feel special and separate from the main site, I also knew that they wouldn't get as much traction "hidden" over here.
I thought it was for the greater good, and still do, but today's commercial really deserves as many eyes as it can get. It's just perfect.
Watching the commercial will leave you with more questions than answers, but after Googling around, I think I've pieced the story together. Back in '87, there was a bizarre 3-D TV special hosted by Chuck Henry and John Astin. Called Eye on L.A., it was spooky, goofy and chintzy in all the best ways.
On the same night, any market that aired it also showed Eye on L.A.'s Hawaiian Swimsuit Spectacular, which was basically a montage of bikini-clad women, thrusting their chests at the camera.
Sounds amazing, but those TV specials must certainly pale in comparison to how a little TV station in Florida went about advertising them. You have watched the video, right? Religions have formed over less.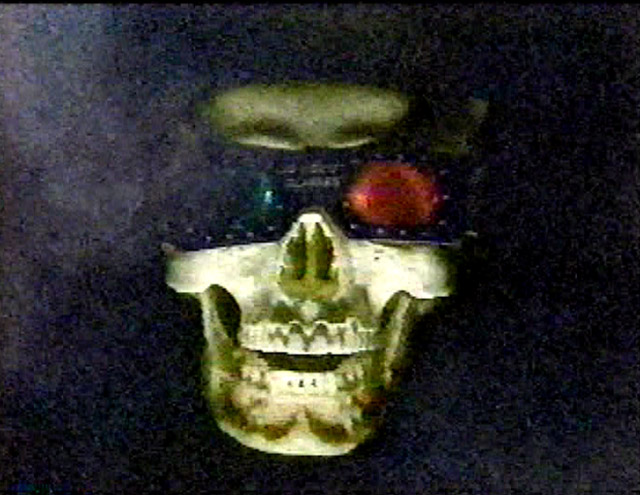 A talking skull invites us watch the 3-D Haunted Halloween Spook-tacular, and though the promo leaves out the specifics, I'm 99% sure that this included the two aforementioned specials.
To make the most of the TV stunt, you were supposed to purchase special 3-D glasses from 7-Eleven. (Which, given how they appear in the promo, seem to have been repurposed from an unrelated 4th of July promotion. God, this commercial is awesome even when it's stupid.)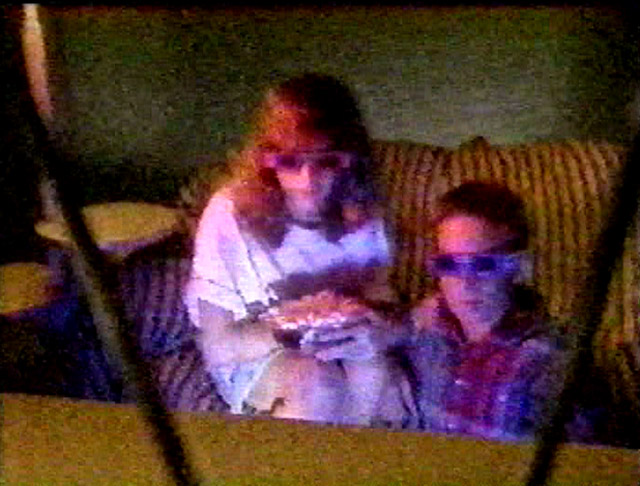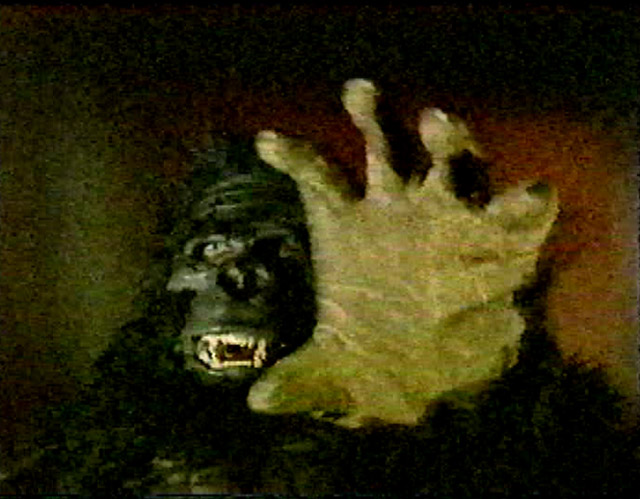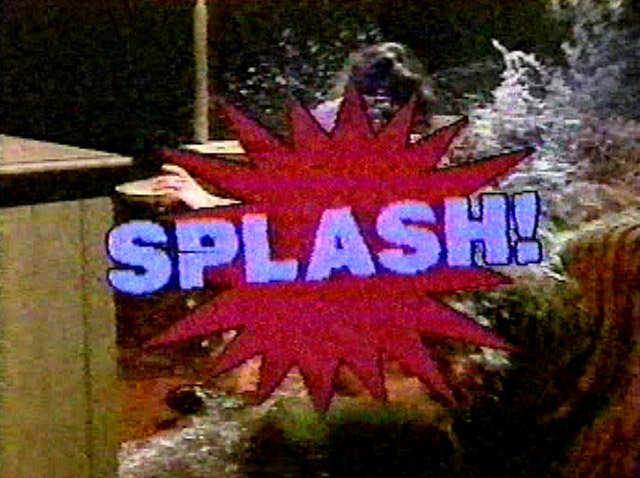 At one point in the promo, a gorilla reaches through a TV screen and pulls some kid into it. Somehow, that was the least surreal moment. From the Batman "POW" bursts to the kids getting splashed with magic 3-D water, everything is just so WEIRD.
I'm gonna go ahead and transcribe every word that floating skull said. This spot needs serious study:
Friday, October 30th at 8PM, 3-D TV is back and scarier than ever!
It's a three hour 3-D Haunted Halloween Spook-tacular!
Your eyes will POP. Your heart will POUND when monsters, gigantic gorillas, and sexy girls in 3-D bikinis, BUST into your living room.
Special 3-D glasses are on sale now at your nearby 7-Eleven store.
EVERYBODY HAVE FUN.
Friday October 30th at 8PM on 39 WDZL, for a 3-D Haunted Halloween Spook-tacular!
SO GOOD. And it's all scored by Wang Chung's Everybody Have Fun Tonight, to boot. Something tells me that 39 WDZL didn't bother to license it. Wang Chung should sue.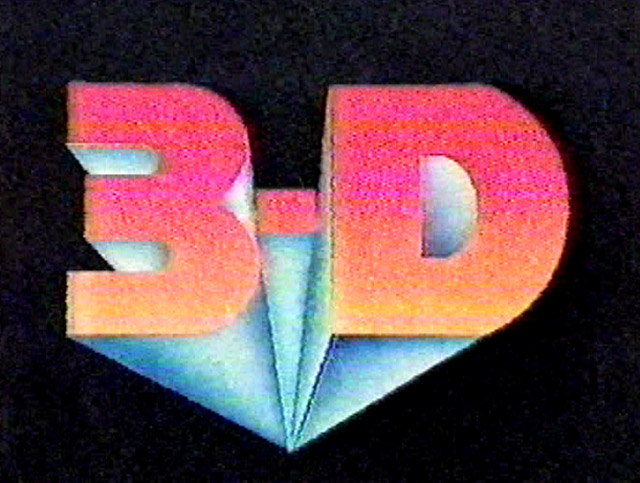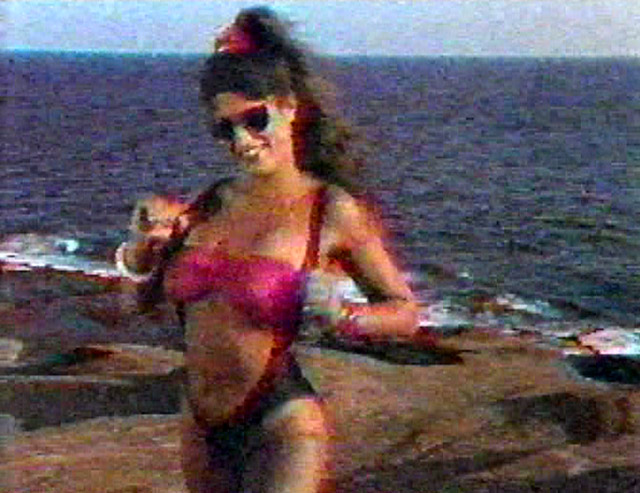 The bit about the "sexy girls in 3-D bikinis" is tad awkward, given how they show a brother and sister watching the thing. I guess you could argue that they were boyfriend and girlfriend, but that'd be a pretty strange date, too.
"Beach babes fondling themselves" doesn't sound like a classic "Halloween special," but I think that makes the whole thing more charming. Won't Mom be surprised to find out that she bought her kids 3-D glasses just so they could watch giant breasts fly from the Magnavox.
"I thought you said they were for a Halloween special?"
"They are, Mom. This is it!"
"All I see are naked women on a beach."
"Mom, will you shut up? We sat through two hours of John Astin to get to this."
"The guy from The Addams Family?"
"Mom, not now. There's an ass floating towards me."
This might be my favorite ad on the Creepy Commercials Countdown so far. It's between this and the Sunkist Spooky Fruits. As usual, I'm torn between space aliens and gorillas.
And, oh my God, the 3-D swimsuit special is actually on YouTube:
I was especially fond of the twenty-minute opening tutorial on how to use 3-D glasses.
I'd intended to plow through this entry, but every time I check a fact, the story just gets bigger. Now I'm gonna spend hours watching bad 3-D specials while trying to locate decades-old 7-Eleven glasses on eBay. I didn't intend to fall in so deep. Don't let it happen to you.