Creepy Commercials Countdown: Elvira & Coors Light!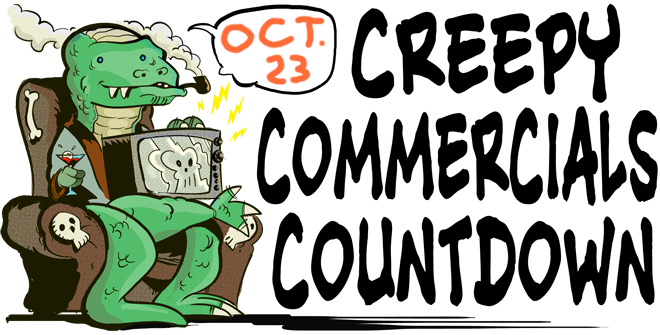 The Creepy Commercials Countdown!
October 23rd, 2012: "Elvira & Coors Light!" (1991)
You may have noticed that there was no Creepy Commercial entry for 10/22, and in its place, this crude "IOU" graphic: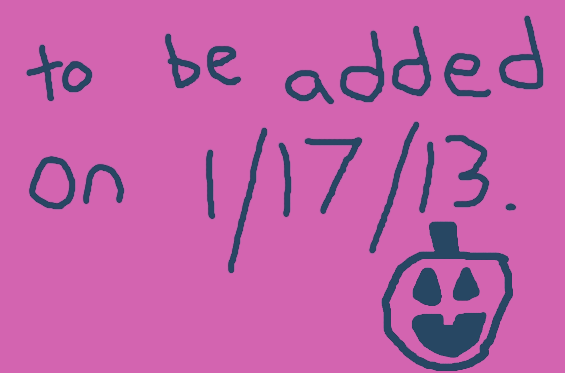 Yup, remember it. January 17th, 2013. Please remind me to plug that gap next year. (Was having some server issues today, and this combined with an incredibly cloudy head made me need a day off. The good news is that I can sneak a little Halloween into my life for an hour or two next January – yes!)
Fortunately, I'm coming back strong, all thanks to Elvira.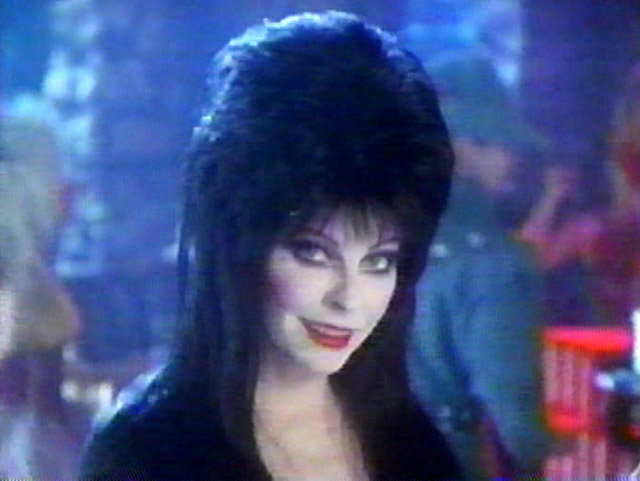 I feel like there have been at least a dozen Elvira-driven "Halloween + beer" promotions, to the point where I associate Elvira as much with cheap brews as I do with vampy wit and…I don't know, boobs.
I grew up knowing Elvira but never really understanding how she became famous. Never saw her do her "horror movie host" stuff, and it'd be many years before I'd fall in love with her kickass movie, Mistress of the Dark. To me, she was just this sexy, funny lady who did random TV commercials and nothing else.
But that's all she really needed to be. Elvira's commercials rocked.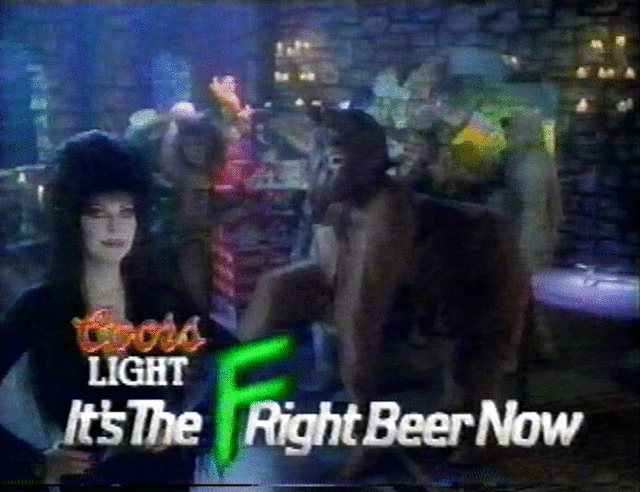 In this one, she's peddling Coors Light – "the fright beer now" – and doing it from a wacky haunted chamber, filled with creepy things, and party lights, and an assortment of costumed drunks who perform a rain dance around a big beer display.
Whatever you'd classify this ad's aesthetic as, that's the way I want Halloween to always look. Dark, but fun. Gothic, but with a tinge of a New Jersey boardwalk. Everything from the mist to the colored lights thrills me, and if I had the money/time/drive/ability, I'd spend every October writing my stupid Halloween articles from an office that looks just like that.
It's pretty much the perfect commercial, right down to the residual frames of Star Trek: The Next Generation. (Check the video again – they're right at the top.) I'd love to assume that this clip was pulled from a late night rerun, because TNG was sooo great to watch alone at night. Especially when it was boosted by commercial breaks starring Elvira and a disembodied hand.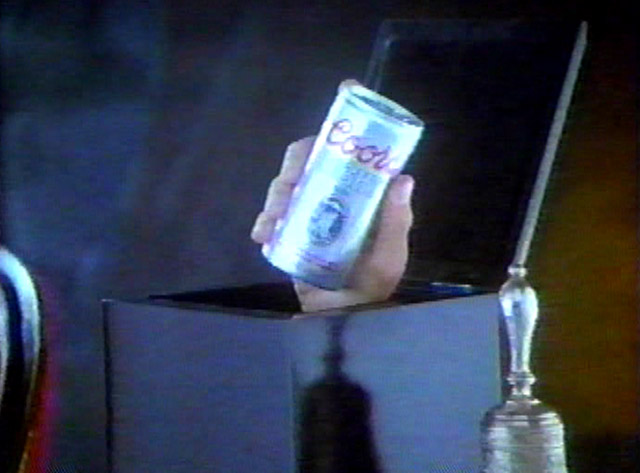 That's the hand.