The 1998 Sears Wish Book!
Fifteen Treasures from the 1998 Sears Wish Book!
PAGE 1 | PAGE 2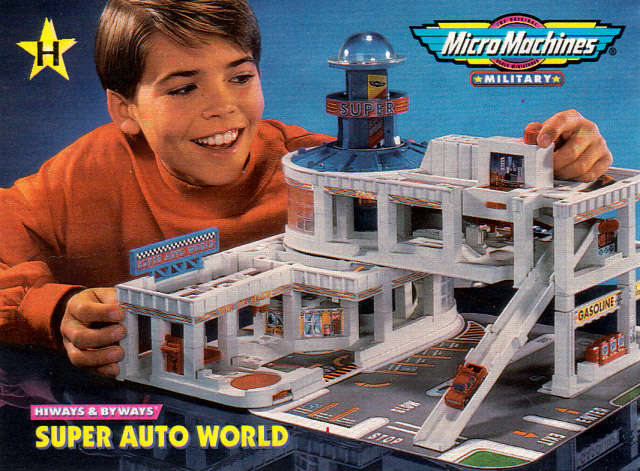 Micro Machines Super Auto World! ($29.99)
I loved my Micro Machines, but I never really got into the corresponding playsets. In retrospect, that was a huge mistake. The vehicles' demure stature clearly made for excellent playsets. In the case of this Super Auto World, it looks like you could've fit fifty of the cars on there if you tried hard enough.
And that was the real trick with playsets. Toy companies always put so much focus on action features, but all we really wanted was a big "stage" for our toy parties. It's why I loved my dumb Ewok Village so much. I could fit ten Star Wars guys and five G.I. Joes between those trees.
Barring rare exceptions involving exceptionally spoiled children, any kid who had a Super Auto World could've fit his entire Micro Machines collection on it. This alone merited the $30 investment.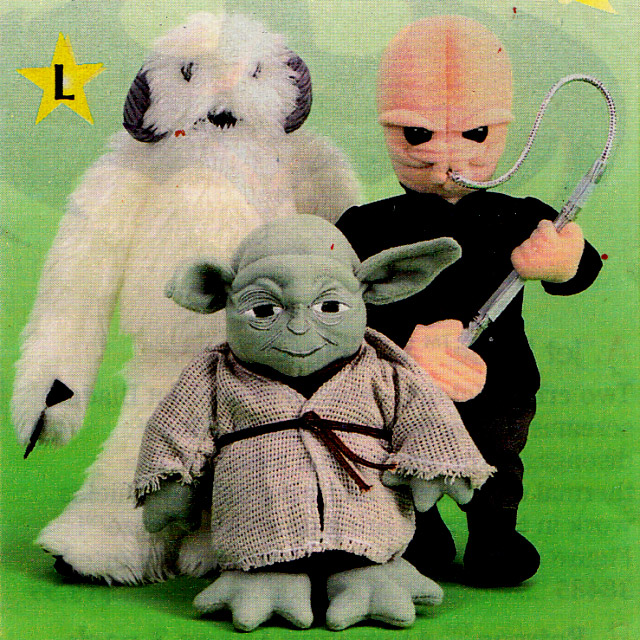 Star Wars Buddies 3-Pack! ($23.99)
We were still a year away from The Phantom Menace in 1998, but Star Wars was already inching its way back onto toy store shelves, after a drought of nearly a dozen years.
It was an exciting time to be a Star Wars fan. Like many diehards, I never "gave it up," and even during the comparatively dormant years of the late '80s and early '90s, Star Wars was always on my radar.
For a long while, finding new merchandise was tough. Hell, I remember begging my mother to order me a hideous set of Star Wars character pins from the Home Shopping Network, not because I was dying to decorate my jacket with a tiny Chewbacca, but because the sight of ANY new Star Wars stuff was just so exhilarating.
So yeah, when the toys came back in 1995 (I think it was '95, anyway), I was stoked. Especially when those toys proved successful enough to warrant weird and exciting new endeavors, like, say, plush Wampa dolls.
Forget Yoda, and forget the guy from the cantina. If you bought this set, you were after that Wampa. With just the right sewing tools, I envision him wearing a burlap coat and carrying an alien sax. Sorry, Yoda. Sorry, guy from the cantina. You'll be serving a greater good.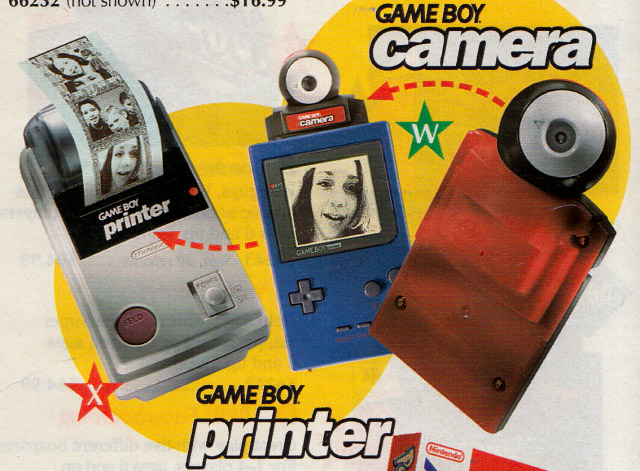 Game Boy Camera & Printer! ($49.99 & $69.99)
Primitive by today's standards and still a bit cheapo by 1998's, it was nonetheless thrilling to take pictures with a Game Boy. If you paired the Game Boy Camera with the Game Boy Printer, you could even print those photos out. (The pictures looked like especially grainy "photo booth" sets.)
The concept of "junky cameras for kids" was more useful than you might think, as very few kids had "real deal" digital cameras. They were just too expensive, and were still a while away from being things that everyone had. For a time, if kids wanted in on the "fad," cameras like this were the only avenues.
The Game Boy Camera competed with other low-rent kiddie versions. I remember a Barbie camera being particularly popular one year, to the point where even adults who weren't quite ready to take the plunge on "legit" digital cameras gave Babs a shot. I saw that camera in action, and believe me, you got what you paid for.
And though it connects to the previous train of thought in absolutely no way, I must mention how cool it was that the Game Boy Printer could print out screenshots from the games. I'm not sure if it was seventy bucks' worth of cool, but it came close.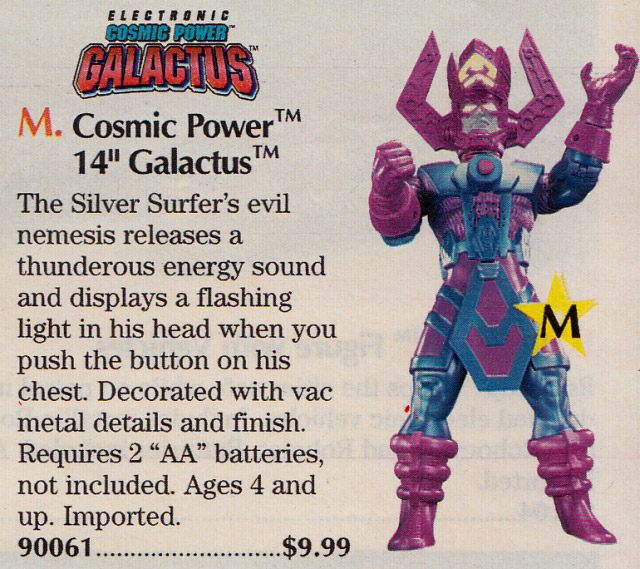 14″ Cosmic Power Galactus! ($9.99)
There were soooo many ToyBiz "Marvel Comics" figures throughout the '90s. Even if you limited your count to characters affiliated with the X-Men, we're talking about a solid seven thousand.
Despite the line's enormity, it rarely appealed to me. The figures felt somehow cheap, and even if there were some great ones, the amount of half-hearted rush jobs tainted the whole collection. It's not like the bad figures were actively atrocious, but they obviously weren't labors of love.
Still, for me, there was no way to turn down Galactus. At 14", he was roughly three times the height of a normal figure, with electronic lights and noises to boot! If you're unfamiliar with the character, he is, among other things, an ages-old entity who eats planets. Action figure battles became so much more intense when one of the combatants was known to do that.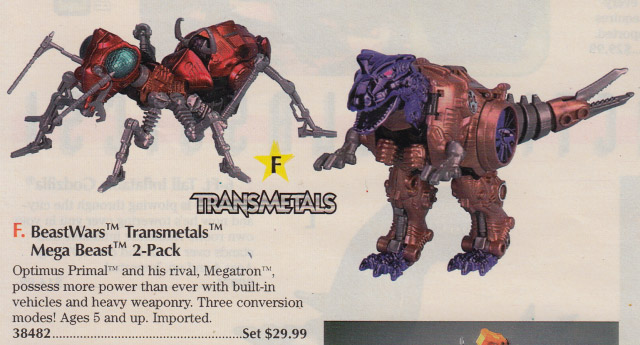 Beast Wars Transmetals 2-Pack! ($29.99)
The 1998 Wish Book was criminally unkind the Transformers Beast Wars collection, allotting those toys only half a page, with no special design. A pity, because both the figures and the series that inspired them were absolutely fantastic.
If you've never seen the Beast Wars series, don't judge it by its cover. "Robots that transform into tigers and apes" might not sound like the makings of a classic, but Beast Wars is by far the most defendable-to-the-death thing to ever exist under the Transformers banner. Honestly and truly, it was SO good.
Punctuating what I mentioned earlier, Sears even managed to butcher one of their names. This $17 two-pack did feature Megatron, but that giant ant certainly wasn't Optimus Primal. The bright side is that I'd rather have an evil Scavenger than a boring Optimus Primal, and if 1998's children had functioning brains, they would've, too.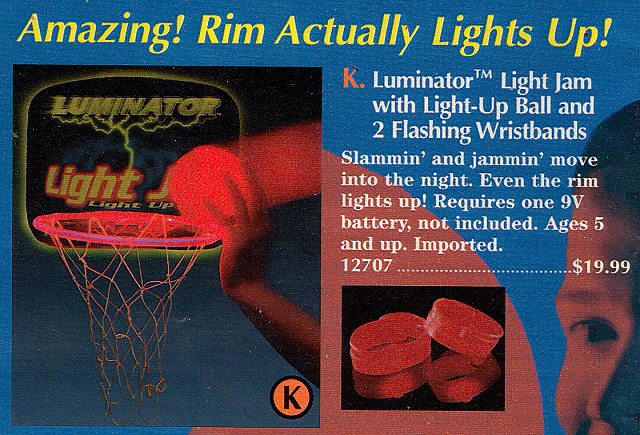 Luminator Light Jam! ($19.99)
The 1998 Wish Book featured hundreds upon hundreds of toys, so for me to settle on fifteen, you can bet that I have at least some small personal connection with all of the stuff in this article. That's largely true, except in the case of this weird basketball thing.
Something definitely told me to include it, but I'm having trouble identifying what that something is. I've certainly never owned a "Luminator Light Jam" basketball thing. After much consideration, I think it's one of these two things:
1. This basketball thing is not entirely dissimilar from the classic Nerf basketball hoop – the one that you stuck on the door to your bedroom closet. I say "you" with authority, because I've never known anyone, male or female, who didn't own at least one Nerf basketball hoop.
2. The way this Luminator basketball thing lights up is reminiscent of how so many other electronic toys lit up. It was always with that certain kind of blazing red, looking somewhere between alien laser fire and the neon rim around a Polynesian restaurant's octagonal windows. I love that red.
Maybe it's both of those things? They're equally good reasons to care about an obscure basketball toy.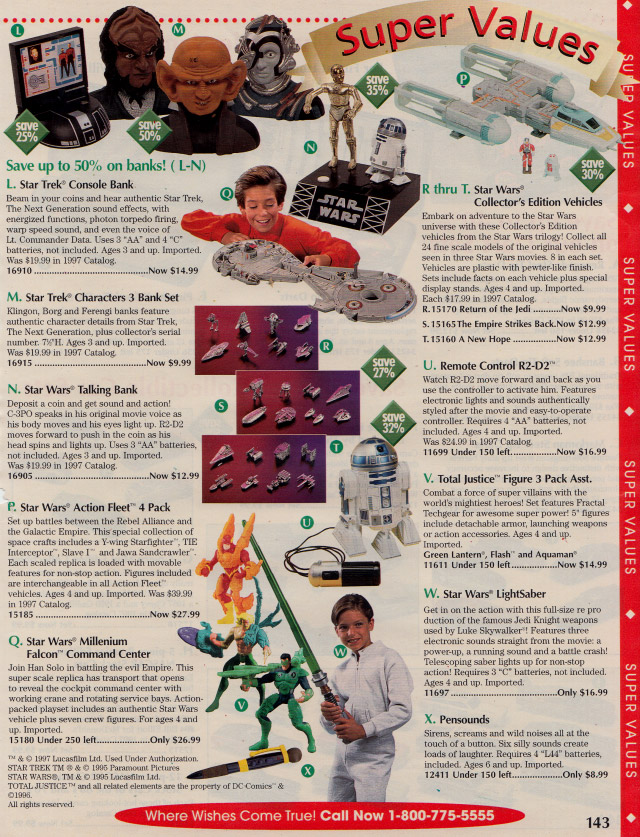 "Super Values" Sales! (various prices)
I'm not looking to pay homage to any specific item from this page, but moreover the simple concept of "sale pages" in Wish Books and other holiday catalogs. In a roundabout way, they always brought out my greedy jerk side.
Every kid eventually gets a sense of how much his or her Christmas presents cost. When we were making our wish lists, we knew the limits. We knew we couldn't go over those limits, but we didn't want to go very far under them, either.
So, say I knew that "Person X" usually spent around $25 on my Christmas presents. I'd get the sick idea that I could construct a $25 order of various goodies from one of these sale sections, and pass that along for Person X to complete. Not once did it strike me that this was obnoxious.
Of course, it was, and nobody ever followed my instructions. I'd either get one cheap item from the list (effectively screwing myself), or something else entirely.
It was still fun to develop the orders, though. With this page, if I assumed my limit to be $25, I could've made someone buy me a replica lightsaber and three Star Trek banks. (Which was actually $27 in total, but my general rule was to round up, not down.)
Articles this long don't need closing thoughts. Goodnight.