The 1998 Sears Wish Book!
Fifteen Treasures from the 1998 Sears Wish Book!
PAGE 1 | PAGE 2
I had so much fun writing about stupid things from the 1992 Sears Wish Book, I just had to do it again. This time, we're jumping ahead to 1998. That year, postage stamps cost 32 cents, and the president of Brazil was Fernando Hernique Cardoso.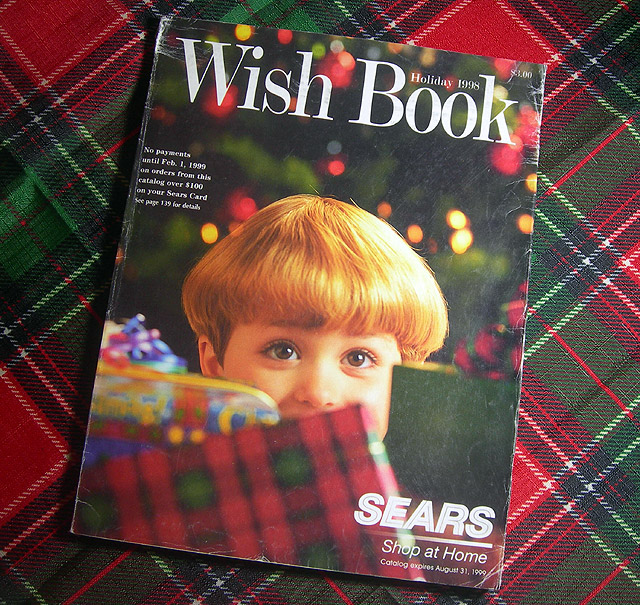 I was (more or less) an adult by 1998. Thumbing through this Wish Book's pages, I notice that my memories are as much connected to what my nieces and nephews were into as what I was. Call that an early absolution of any shame associated with writing about Teletubbies.
In 1998, my own Wish Book glory years were already long over. Until finding this catalog, I didn't even realize that Wish Books were still in production by then. If 1998's is any indication, Wish Books didn't age well. This pages in this one were much more "all business" than I'm used to, light on the slice-of-life photos and heavy on the "cram as much as possible onto every page, even if it makes this book incredibly ugly."
Still, there were some tremendous items hiding in this catalog. Over the course of the next 3000 words, we're going to take a look at fifteen of them. We'll start with Tamagotchis and end on a coin bank shaped like a Ferengi's head. Just as it should be.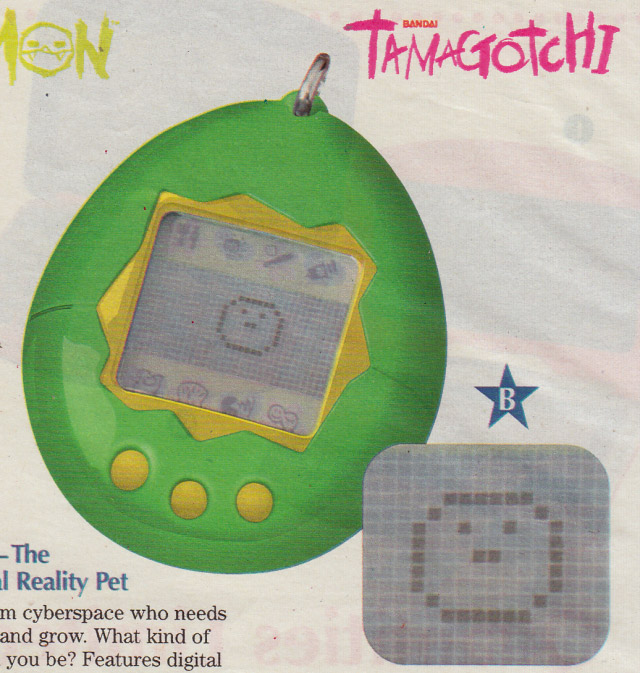 Tamagotchi Virtual Reality Pet! ($9.99)
Everyone had a Tamagotchi. For a while there, owning one was the path of least resistance. You couldn't be in a group setting without half of the attendees checking their lousy virtual pets at least once every few minutes. It got to the point where it was just easier to be a part of the problem.
They may have been children's toys at heart, but Tamagotchis transcended age. Even as kids were getting trouble for disregarding the "Tamagotchi ban" in schools, there were the rest of us, sneaking looks at our dancing pixel monsters at the office. It's not like we had much of a choice. Unlike other virtual pets, Tamagotchis could actually die if you neglected them.
And believe me, you didn't want them to die. They may have been crude little demons, but man, we got attached to those things. Tamagotchis are still being made today, albeit with additional features and doodads. I much prefer the simpler originals. It was surreal and somehow beautiful to see what were essentially egg-shaped keychains turn so many people into lunatics.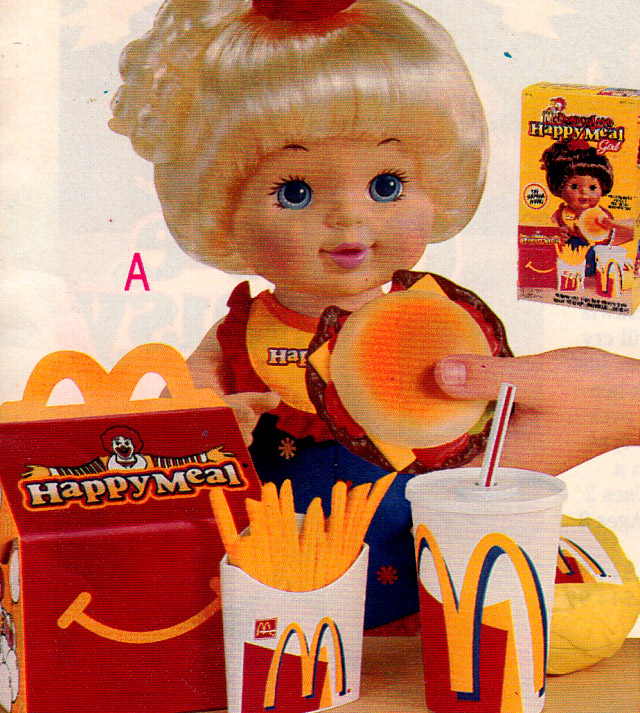 McDonaldland Happy Meal Girl Doll! ($26.99)
Knowing how much shit McDonald's caught for "making" kids eat too many McNuggets in the years following 1998, I imagine that this "Happy Meal Girl" was short-lived, and had one of those really depressing headstones.
The catalog photo does McDonald's no favors. The doll looks anything but hungry even as an unseen mother forces a very adult-sized cheeseburger down its throat. We could argue about forced perspective, but from the looks of things, the radius of that patty may very well exceed that of Happy Meal Girl's head.
As a final insult, the rubber bun was way too small for a burger of that magnitude.
I do like that they included the official cheeseburger wrapping paper, though. It almost makes up for the fact that this Happy Meal lacks a toy. How could they forget the toy? "A toy Happy Meal without a toy" sounds like the title of a sad song for a reason.
For the price of $27, parents could choose between a "White" Happy Meal Girl and an "Ethnic" Happy Meal Girl. Something about that seems off, but I don't want to touch it.

 Holiday Hero Buzz Lightyear! ($39.99)
In the late '90s, I had one nephew in particular who was very much in his Toy Story phase. He had the original Buzz Lightyear, and later, this one. I thought this one was cooler, but it wasn't until skimming through this catalog did I realize that it was an official HOLIDAY HERO Buzz Lightyear.
I mean, his Buzz did have those Christmassy red and green highlights, but they were all chromey, and I figured that this "new" Buzz was supposed to be like, the mega super deep space astronaut edition. Knowing that he was actually a Holiday Hero has transformed Buzz #2 from a toy I barely remembered to a toy I'm actively scouting on eBay. Like an idiot.
And wait, what's this? Apparently, Holiday Hero Buzz Lightyear was capable of saying "4 fun holiday phrases." I'd attempt to predict them by replacing words in Buzz's standard quotes, but the only thing that rhymes with "rescue" is "fescue," and I don't know what fescue means.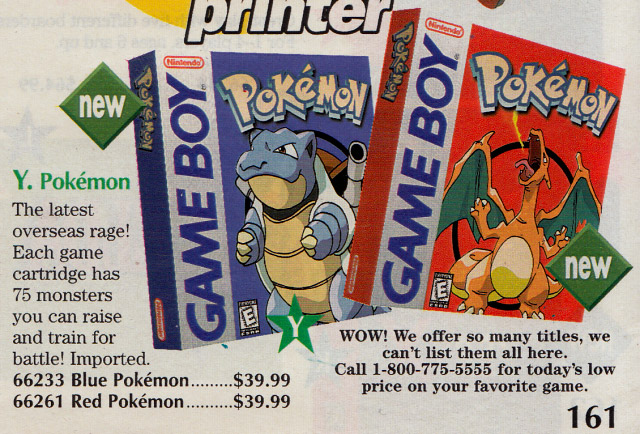 Pokemon Red & Blue for Game Boy! ($39.99 each)
I was a late bloomer on the Pokemon thing, and didn't pay much attention to it until well after the first movie came out. (Fact: Pokemon: The First Movie was the first DVD I ever purchased, defeating Run Lola Run literally by seconds.)
Pokemon Red & Blue were incredible games even by today's standards, especially when you consider just how little the games have had to change since their debut. The graphics got better, but the general feel-and-flow is pretty much identical. So says the guy who hasn't played a Pokemon game in five years. I bet I'm right, though.
I, of course, started with Bulbasaur. If you've been reading my stuff for a long time, you know how much I love Bulbasaur. Less publicized is the fact that I loved Bulbasaur enough to get a tattoo of him.
It's on my left calf. Bulbasaur rounds out my trio of extremely terrible tattoos, joining "Faded Pac-Man" and what's supposed to be Saturn but looks more like a burned hamburger. Moral: If you're feeling feisty, find some gypsy to henna your ass.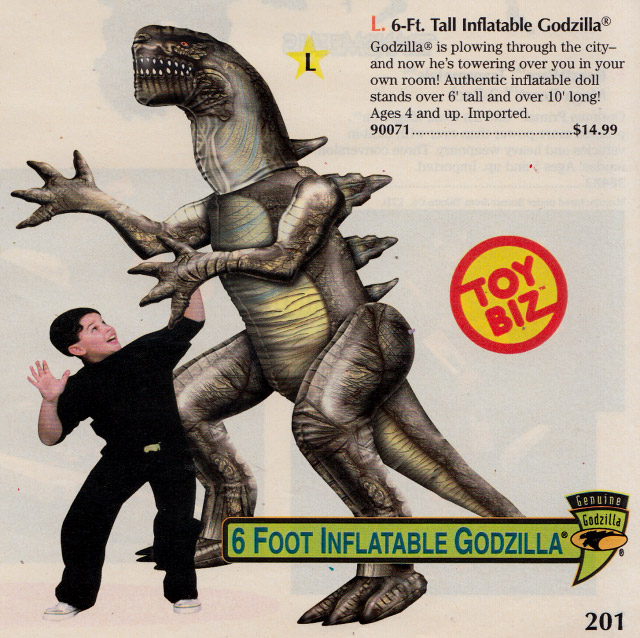 6′ Inflatable Godzilla! ($14.99)
There were plenty of Godzilla toys in this Wish Book, or more specifically, "Zilla" toys, as in the 1998 Matthew Broderick version that everyone hates.
I saw that film for the first time recently. Going in, I was convinced that the negative response had to be exaggerated, and imagined a movie that would at least be "stupid fun" if nothing better. Turns out, it really was as horrible as everyone said. Normal rules of hyperbole do not apply to 1998's Godzilla.
The upside is that Godzilla's updated look made for better toys than it did a movie monster. Given how the film was expected to crush every box office record, it was no surprise that there were so many Godzilla toys out there. Of the 1998 Wish Book's ten dozen Godzilla offerings, this one was my favorite. A six-foot inflatable death dragon for just 15 bucks!
There was history, here. The original Godzilla received a similar inflatable treatment, more than a decade before this pretender.
I've never seen this toy in person (inflated, anyway), but if it was even half as good as it looked in that photo, YES!
(Emphasis on the "half as good." It couldn't actually be as good as it appears in the photo, because they obviously shrunk that kid down to make Godzilla seem larger. There's no way that boy was under three feet tall, and for this photo to be accurate, he needed to be.)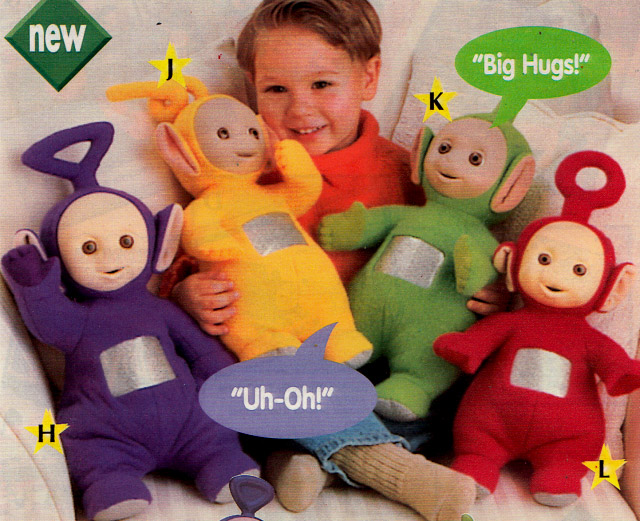 Talking Teletubbies Dolls! ($24.99 each)
Even if some of my friends swore that the Teletubbies series was merely a covert thing-for-stoners, I knew better. By 1998, there were plenty of little kids in my extended family. Every last one of them loved that show. As such, these four dolls are very familiar to me.
Judged objectively, they're pretty awesome. If you don't know the genesis, they're silver-bellied space aliens with telepathically-communicative antennae. That sounds like something you either get behind or get run over by.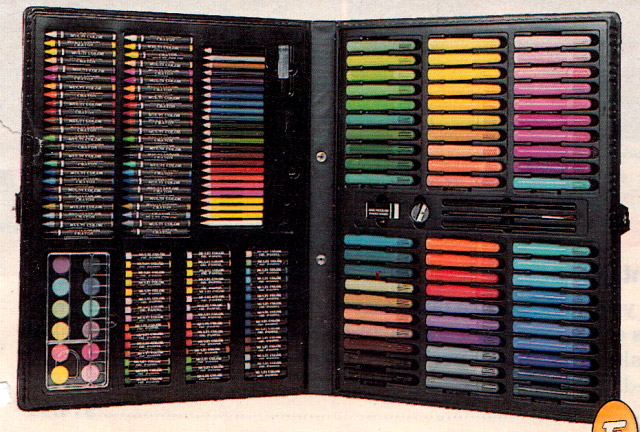 Jumbo Artist Case! ($29.99)
Special shout-out to this art kit, which I received for at least five different Christmases from just as many relatives. I think everyone did. I don't think it had anything to do with our shared interest in art, either. These kits were low-risk propositions for gift-givers, because even if a kid didn't ask for one, "art stuff" was only outrageously out of left field if you gave it to a blind or handless child.
Plus, these exact art kits were sold pretty much everywhere, taking a load off of every aunt or uncle who could miraculously check another brat off their shopping list even during unrelated trips to buy socks from JCPenney.
I'll always remember the pastels the most. They were cheap, crumbly pastels. They smeared everywhere and they stained everything. Giving those pastels to a six-year-old was as good as sending them to bed with open paint cans. The carpet in my old bedroom looked like circus vomit, and these pastels were the reason why.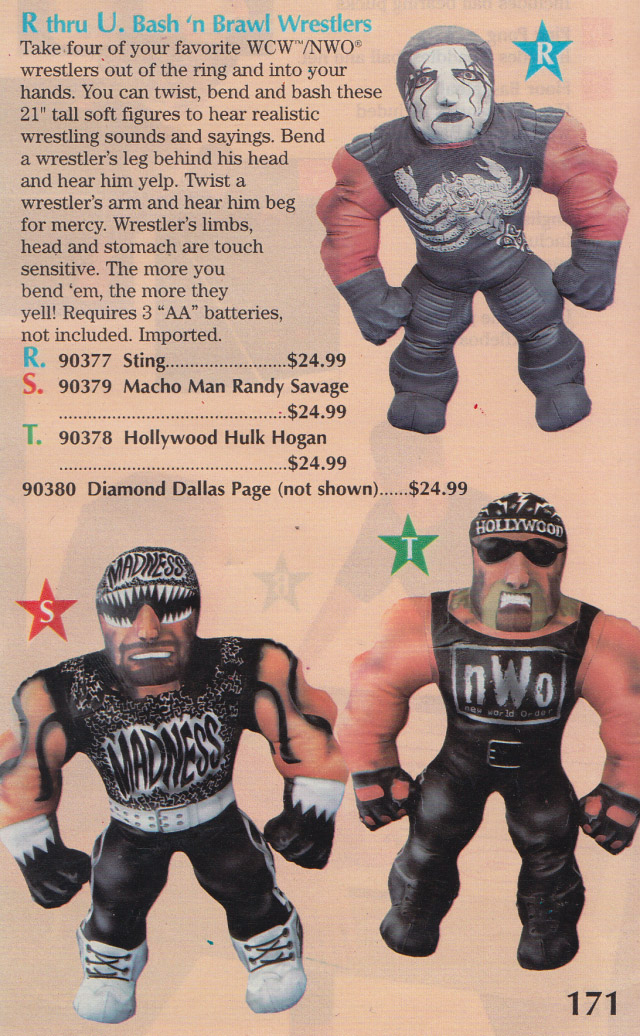 WCW Bash 'n Brawl Wrestlers! ($24.99 each)
For a few years during the late '90s, WCW became more popular than the WWF. It was largely thanks to the "nWo," a group of villainous rebels led by Hulk Hogan, who signaled his newfound evil by scribbling a black beard on his face.
In many ways, it was the most compelling time in history to be a wrestling fan. We all picked sides and watched as WCW and the WWF constantly slung mud and tried to outdo each other, Monday night after Monday night. This war spiraled out of the ring and into every facet of their respective businesses, right down to the battle for shelf space at Toys "R" Us.
These WCW Bash 'n Brawl Wrestlers were clearly inspired by the WWF's classic Wrestling Buddies, which came and went nearly a decade prior. The durable dolls were made to take a pounding, and if you were the kind of kid who loved to beat up on things that couldn't fight back, a plush Diamond Dallas Page bordered close to miraculous.
In an upgrade to the WWF's older versions, these Bash 'n Brawlers were capable of spouting various catchphrases as you "wrestled" them. Given that Sting's then-current gimmick was to basically never talk, I'm curious to know exactly what his doll said when you punched it. Maybe ToyBiz got cheeky and gave him the assorted phrases leftover from their Electronic Talking Venom figure.
Does Sting desire to eat my brain?