A quick run to Dunkin Donuts for a Big Ass Coffee has changed my life for the better. Check out this little standee: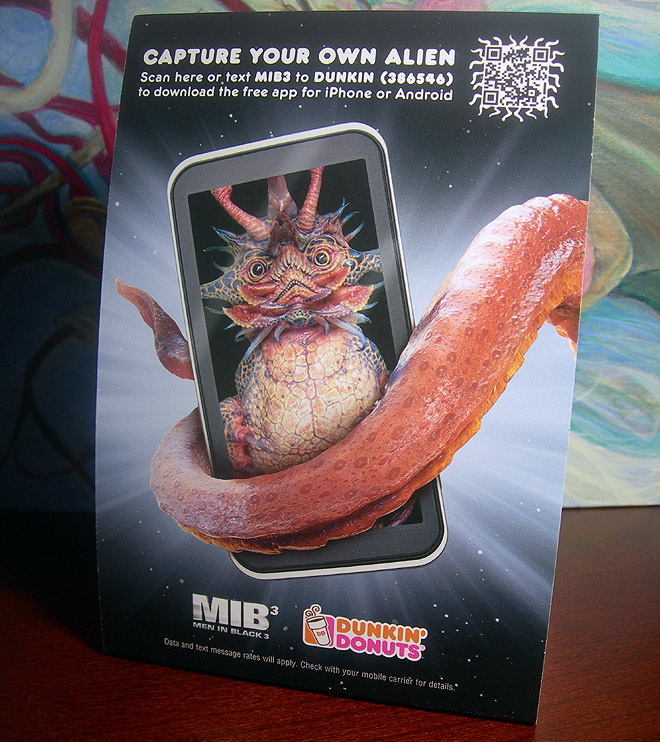 Yeah, of course I pocketed it.
Dunkin Donuts has a ton of promotions going on for Men in Black 3, from cosmic cocoa coffees to star-shaped donuts. Way more interesting than the edibles, though, is an utterly fantastic app that lets you capture your own alien.
I have a decent phone, but I never use it for anything beyond the norm. I am one behind-the-times mother, and e-mails and texts are as far as I go. Still, for a creepy alien hostage, I will absolutely make an exception.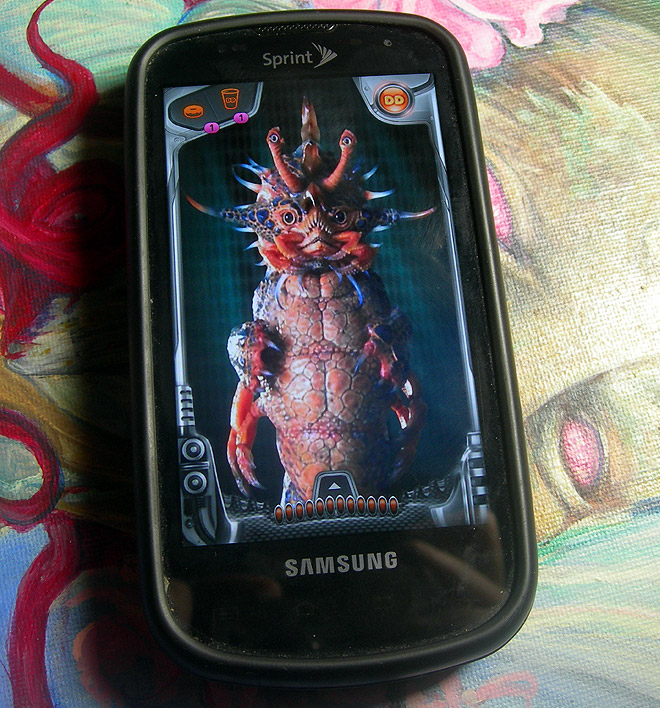 The app works like a Tamagotchi on steroids. Your captured alien is named "Spikey," and he's pretty cute for something that looks like a skinned mutant bull. I haven't been paying any attention to the new MiB movie, but a quick search confirms that Spikey really is an onscreen character. I'd much rather believe he was a custom creation for this promotion, so I'm gonna go ahead and pretend that.
Spikey squeaks like a mouse while shuffling back and forth, and that alone makes whatever they're calling this a contender for Best App Ever. I'm still amazed that it was free, and even more amazed at how much Spikey can do when you stop admiring him and start fucking around with him. Read More…
I wasn't planning to post anything tonight, but I thought five minutes of me rambling about a decades-old Freddy Krueger doll was better than nothing.
EDIT: If you're having trouble watching that on Vimeo, you can see it on grainy stupid YouTube by
clicking here
.
Hard to believe that Dino Drac isn't even two days full days old yet. Thanks for being a part of it! Going to spend tonight ironing out some of the kinks with the design and flow. Should be a new feature up on Monday, too.
PS: Though it already begun in the previous thread (sorry to trample, guys), Saturday posts normally double as the "SNT" — "Saturday Night Thread." This is where all of us stuck on the Internet on Saturday nights just kinda bullshit our way through it and talk about what we're doing. Feel free to join in, everyone is welcome. You can even be drunk, so long as you don't type like it.
A hundred billion years ago on X-E, I wrote a big article about a carnival that camps out near our local mall for one week each year. The article gained some notoriety for its ironically massive photo of the world's smallest woman.
That same carnival has come back every year since, albeit on a smaller scale. They still dust off the Ferris wheel and the usual gamut of Flitzer/Himalaya rides, but they've ditched the more sideshow-like attractions that once gave it such a gleefully trashy appeal.
It hasn't seemed worth it to go back there, even if I always love seeing the bright lights on my many drive-bys.
This year was an exception, though. I saw something that was well worth the price of admission: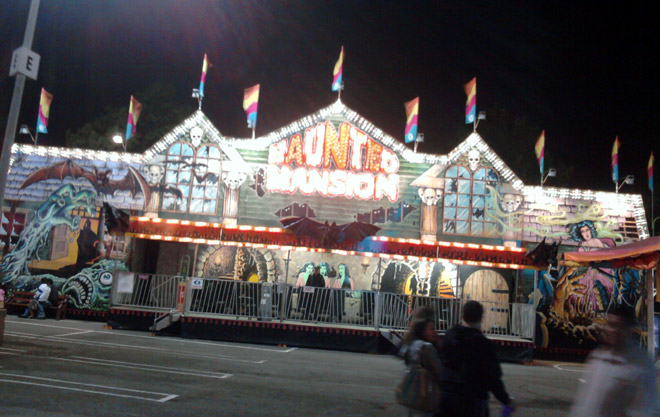 I never, ever turn down a dark ride. Never ever ever. And this one looked like a winner.
The Haunted Mansion – set up in the standard one-story "railway" style – was virtually hidden in the carnival's furthest corner, completely ignored by everyone but me and Ms. X. It was kind of a dead night there overall, but even that stupid game where you try to win live goldfish without considering the aggravation involved with lugging live goldfish around had at least five people playing it. Read More…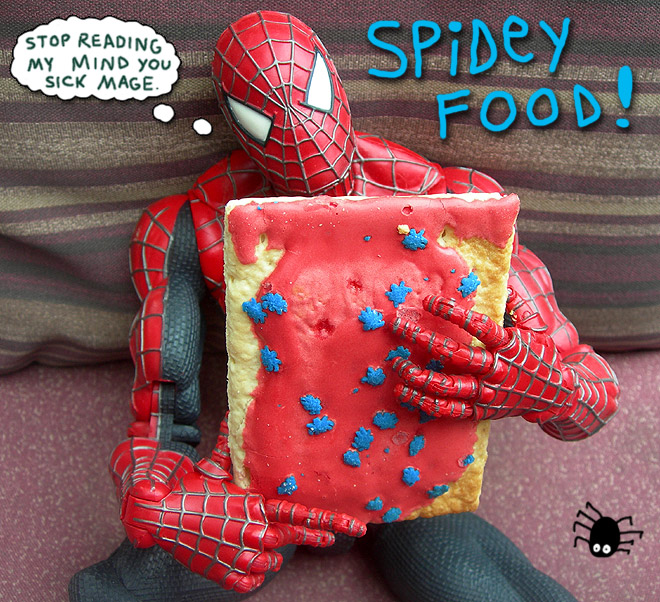 The best thing about comic book heroes becoming movie stars? The junk food.
I'd almost forgotten about Spidey's new movie, but there he was, all over Target, waiting to remind me with an assault of dyed-red snacks. Since promotions like this are all about creating awareness, I'd say they're pretty effective. The best way to keep a movie fresh in anyone's head is by transforming that movie into a delicious Pop-Tart.
Below: Three ways to eat Spider-Man. Read More…