The weather is starting to cool, the leaves are looking less green, and I'm suddenly craving Elm Street movies on a nightly basis.
Oh, it's in the air. Halloween is IN the air.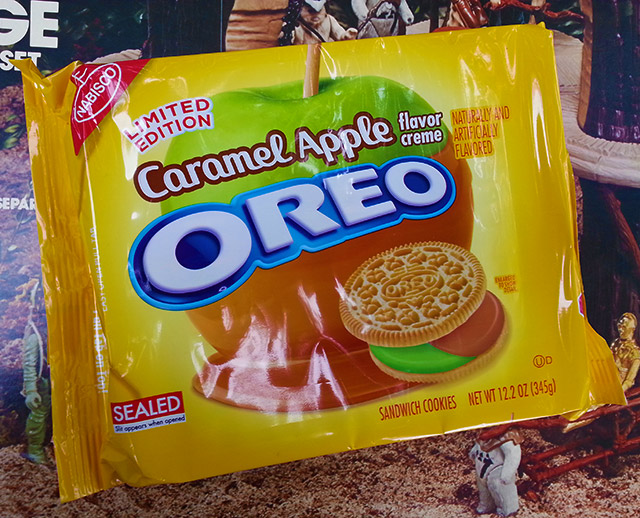 For proof, look no further than Nabisco's new Caramel Apple Oreo cookies. It may only be August, but these are utterly autumnal.
Every year, there's that one new Halloween thing that comes out a little early, effectively ushering in the season. In 2014, this is it. To some they're merely cookies, but I view them more as edible gatekeepers. By the time this package is through, I'll be surrounded by plastic rats and cardboard vampire heads. Thank God.
Over the last year, Nabisco's gone batty with Oreo cookies, releasing wild new flavors that have ranged from "pleasantly odd" to "class action lawsuit." Clearly some of those flavors were more expected to be "noticed" than "liked." The people at Nabisco aren't stupid, and the amount of free press they get for Bacon-Wrapped Filet Mignon Oreos is worth the thousand people thinking they've lost their fucking minds.
Fortunately, I don't classify these as being so intentionally divisive. Caramel apple candy is nothing new, and no alarm bells ring over the flavor's transition to cookies. It seems like a natural way to celebrate the 2014 season in a manner that you couldn't in 2013. Bring it on, Nabba Sco. Read More…
I mentioned this on Dino Drac's Facebook page, but it's way too important to lose in the social media ether.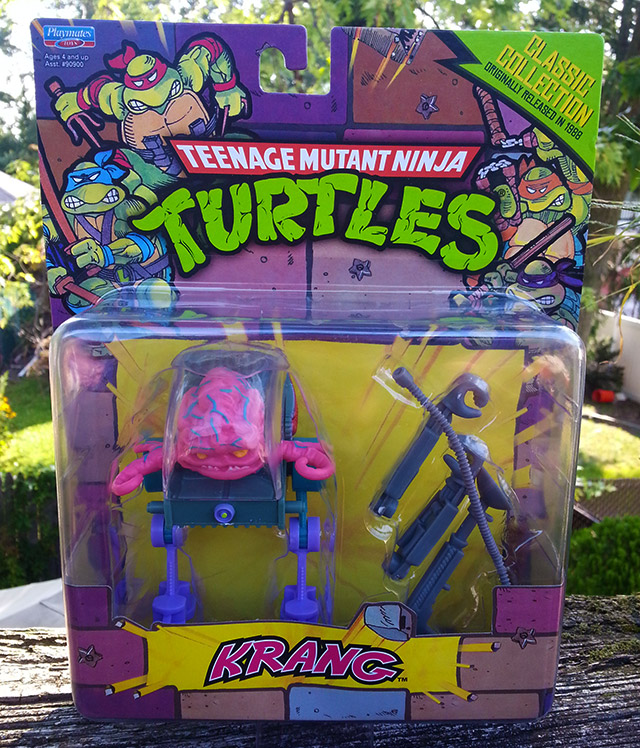 Returning as part of the Ninja Turtles Classic Collection, it's motherfucking KRANG. One of my favorite action figures EVER, and by far my favorite TMNT character. Hell, maybe my favorite character PERIOD.
Lots of capped words, plus a "motherfucker." Can you tell that I'm excited?
Look, Krang was my gateway drug into All Things Turtles. Not sure if I've told this story before, but while I got on the TMNT bandwagon early, I didn't get on it from the very start. On a trip to the grocery store with my friend and his mom (excitement), I bought a spiral notebook with the Ninja Turtles on the cover. I didn't know much about them at that point, and my purchase had more to do with "oooh shiny new notebook" than "oooh Ninja Turtles."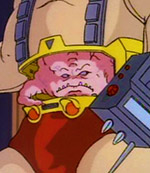 But later that afternoon, my friend showed me what I'd been missing. We watched the cartoon in its normal weekday afternoon slot, and I was IMMEDIATELY taken with Krang. By then, he already had his now-trademark robot body. (The bald guy with the bedroom in his stomach.) Between Krang's look, voice, and weirdly laissez-faire approach to villainy, he was "my guy" from Minute 1.
HE WAS A TALKING PINK BRAIN.
LIVING INSIDE A HALF-NAKED ROBOT'S STOMACH.
FOR CHRIST'S SAKE.
Now firmly turned onto TMNT, I became a megafan. I watched everything. I collected everything. I ate Crunchabungas and gained 20 pounds. I saw the first movie on opening night. Same with the second. I've had many obsessions, but TMNT was up there with the biggest of 'em all.
Of course, I was waaay into the action figures. Hobbies have often turned me to lunacy, but man, I was especially crazy when it came to Ninja Turtles figures. When a new wave came out, I'd force people to bring me to toy stores every single day. Maybe I was spoiled, or maybe it was because my pleading was on the level of someone begging off a serial killer.
"YOU DON'T UNDERSTAND. THIS MEANS EVERYTHING TO ME. I WILL QUOTE THE ROOM FIFTEEN YEARS BEFORE IT GETS MADE. TAKE ME TO GEOFFREY NOW." Read More…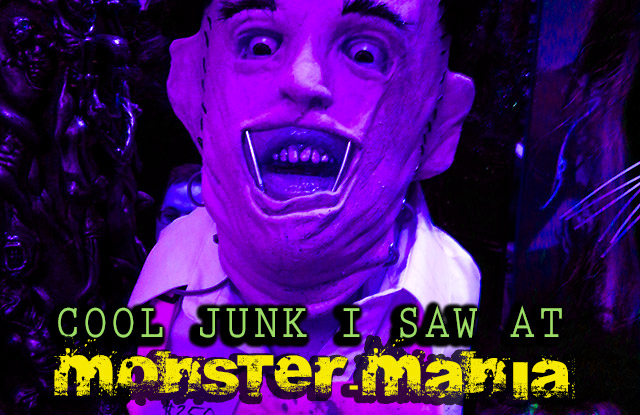 "Came, saw, bought a few things, made a fool of myself, went home."
That would be the summary of my experiences at the 28th Monster-Mania horror convention, which took place in Cherry Hill last weekend.
I fear I'm not in any position to give you a full report, since we spent so much of the evening away from the convention areas. The closest I came to celebrity hobnobbing was sharing an elevator with Hacksaw Jim Duggan.
Actually, I wasn't planning to write anything about Monster-Mania. We were mostly there to reconnect with friends, and so I could pay too much for "zombie red" contact lenses. (Both missions were accomplished.)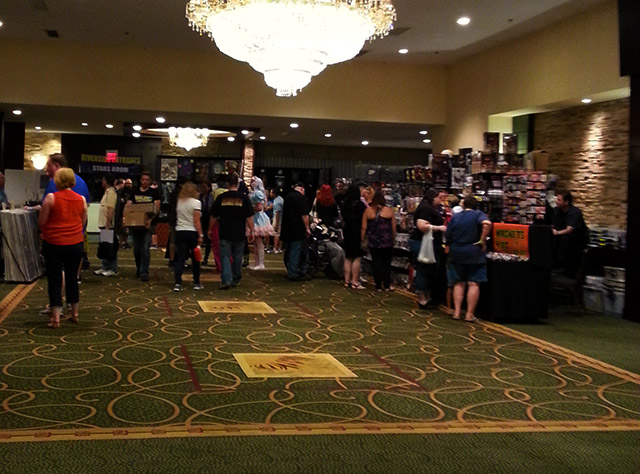 …but when I got home, several readers asked for a review, having come to rely on Dino Drac for some small glimpse into this long-running and now practically legendary horror convention.
So FINE. I'll play your game.
While I can't give you many specifics about the guests or the events or even the gory cosplayers, I at least took enough photos to provide highlights of the best part of any Monster-Mania: The dealer rooms.
I've trained myself to treat those rooms like a museums. Convention swag rarely comes cheap, and too often, I've come home with a pile of unneeded stuff that I could've bought online for less. After all, the thrill isn't in the prices, but in the hands-on exposure. It's one thing to see a bunch of old toys and new memorabilia when you're browsing websites, but it can be downright intoxicating when you're surrounded by it in person.
I picked up a few choice items for future posts, but here are the best things I didn't buy at Monster-Mania 28: Read More…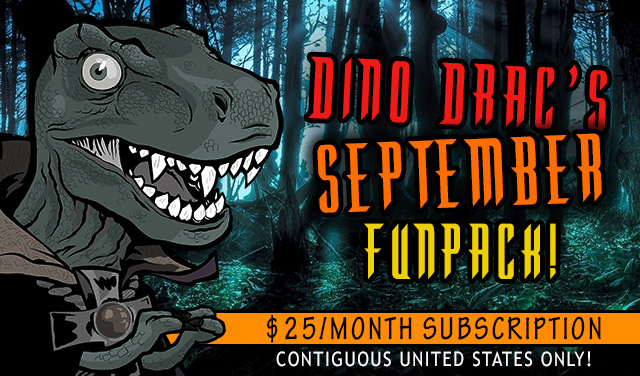 Dino Drac Funpack subscriptions are back on sale! $25 a month, for a new box of weird junk, every month!
Subscribe now and you'll start with the SEPTEMBER 2014 FUNPACK — which, since the site will be firmly entrenched in the Halloween Countdown by then, has a nice dose of scares!
If you're already subscribed and would like to stay that way — do nothing! You're all set.
If you're NOT subscribed and you're pretty sure you want to be, I would advise you not to wait too long. Subscriptions starting with the September Funpack are available through 9/7, but there is a pretty fair chance that they will sell out before then. (Once I'm out of supplies, I'm out of supplies, and you'll have to wait another month!)
Let's see what September has in store!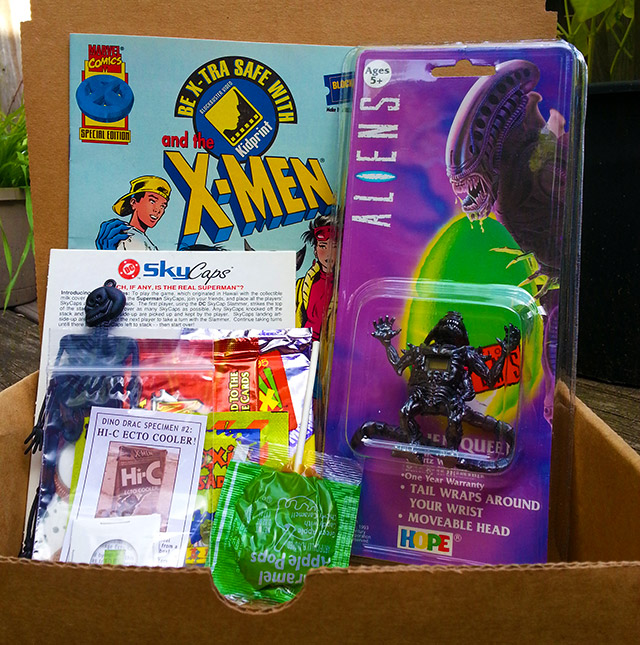 (An almost complete sample of a September Funpack!)
While the Funpack shown here is for example purposes (some contents may vary), ALL existing and new subscribers WILL receive the following:
* The first of two Halloween-themed Ugly Mini Posters! (Not shown in the photo.)
* An all-new DINO DRAC SPECIMEN, which I'll tell you about in a minute!
* An incredible Aliens digital watch from 1993, still in package! Your new Halloween mascot!
* Packs of old trading cards! (Yes, some packs have a spooky theme!)
* And other things that you'll have to wait to see, but the photo above will give you some example of what you may find.
I think these will kick off your Halloween season in excellent fashion.
Oh, and about that specimen… Read More…
It all started with this thing: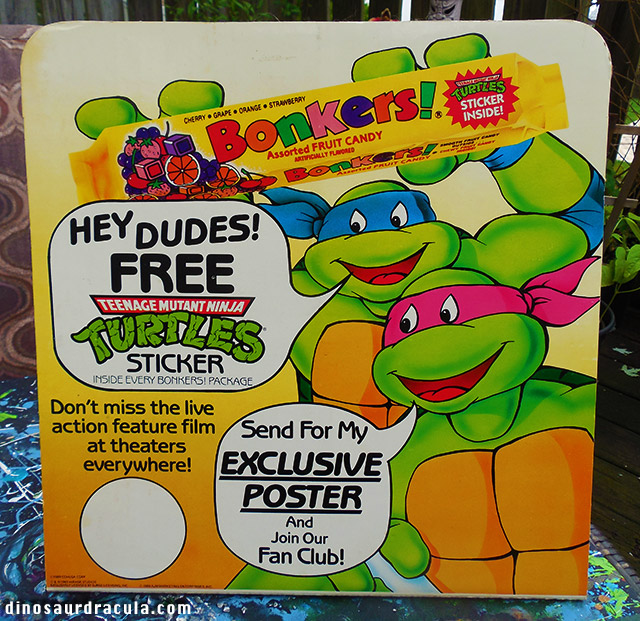 From 1989, it's a promotional standee for Bonkers candy, celebrating their historic teaming with the Teenage Mutant Ninja Turtles. I grew up loving everything on that standee, so when I had the chance to buy it, I jumped.
If you don't remember Bonkers, they were fruit chews, similar to Starburst, yet somehow a hundred times better than Starburst. Each two-toned "brick" of candy was pure fruity sex on the tongue, and I'll never understand why they were discontinued. Didn't every kid eat Bonkers? Hell, whenever one of my friends asked for a piece, I was like Elaine with her sponges.
Specifically, this standee promoted special packs of Bonkers that came with free Ninja Turtles stickers. (An awareness-drive for their first big screen movie, set to debut in early 1990.)
If not for recent developments, our story would end there.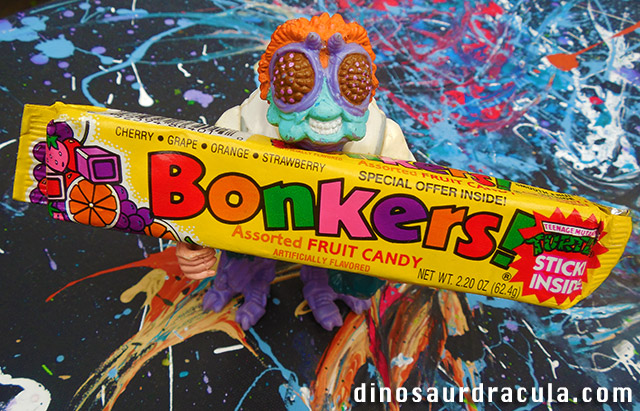 Under the auspices of Luck and Fortune, I was able to obtain that exact pack of Bonkers. Like the standee, it's from 1989. That makes it 25 years old, which I imagine is older than 30% of this site's audience. I am handling food that's been on this planet for longer than some of you. Senses of accomplishment take many forms, and so I am PROUD of my old candy.
Preserving this in an airtight chamber would be the smart thing to do, but for the sake of a better article, I'm gonna do the stupid thing. I'm gonna open this baby up. Read More…