Just when you thought Dino Drac couldn't get more obscure, here I am with a tribute to those old 7UP posters that let us glue cotton balls over Santa Claus's face.
During various holiday seasons of the '80s and '90s, people who bought enough 7UP soda scored free "Countdown to Christmas" posters, right from whatever supermarket they were shopping at.
Now, these weren't normal posters. There were several variations over the years (you can see another here), but the main bullet points were always the same. The posters always featured Santa Claus's enormous head, and the posters always came with a truncated December calendar, stamped right over his beard.
But wait! It gets better!
You see the dates, right? The idea was that you'd glue cotton balls over them as each day passed. By the time Christmas rolled around, Santa Claus would have a full paper beard, and a second, sparser beard made entirely of cotton balls.
As simple as it seems, I can't exaggerate how much these posters meant to us. First off, since cheap Santa posters weren't something our parents would've willingly carted around while out grocery shopping, the seeds were planted by us. We saw the commercials (ten times a day), and we asked for them. So right off the bat, there was that weird sense of accomplishment.
Then was the actual process! The actual GLUING COTTON BALLS process! If you did it right, you could spend the entire Christmas season with this poster as your beacon. From December 1st through Christmas, it was the heart of everything. Every day, you'd rush over to it with a cotton ball in one hand and a bottle of Elmer's in the other.
Doesn't sound like much? Well, count the number of things that held your interest for a full month as a kid.
I bet you're still on one hand.
Of course, the ideals didn't always match up the facts, and I'm sure I wasn't the only kid who glued on all of the cotton balls in a single sitting. Sometimes we couldn't handle the pressure; other times we just wanted to see Santa covered in cotton balls NOW.
Today, I'm going to repeat that long ago folly. I picked up an old Countdown to Christmas poster, and now I'm gonna stick all of the cotton balls on it. I know, I know. "It's not even December yet." Sorry, I can't help myself.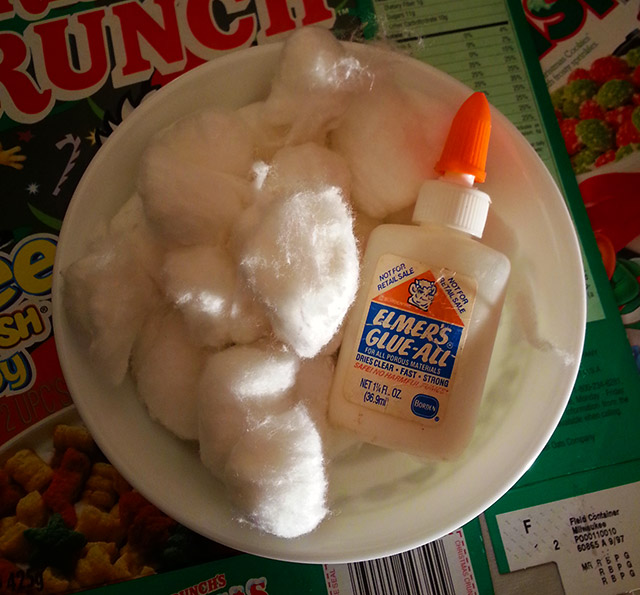 Art projects involving glue and cotton balls really are the best kinds, and it's especially true when those projects ONLY involve glue and cotton balls. This is going to be a cinch, and when it comes to creating masterpieces, "this needs to be a cinch" is forever my mantra.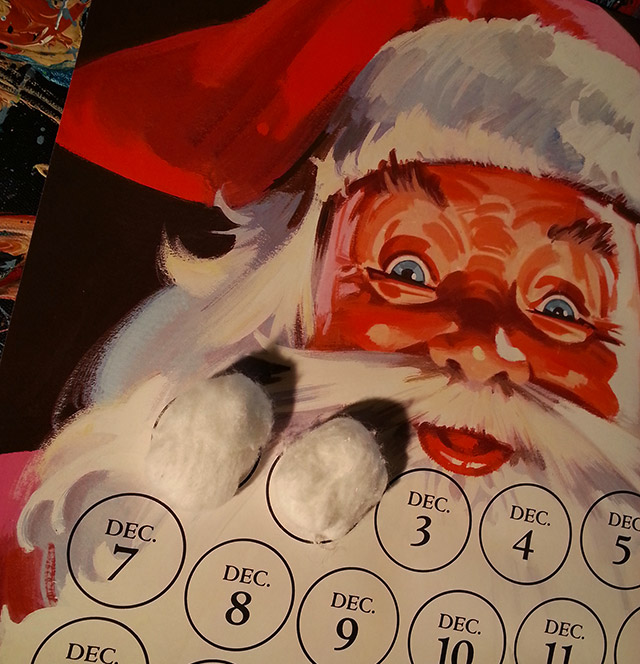 Soon after you begin adding the cotton balls, you'll realize that they'll never really cover Santa's beard. It's gonna look more like Santa is being attacked by tiny albino Tribbles. If you see a problem with that, you're on the wrong website. A Tribble-infested Santa is perfect.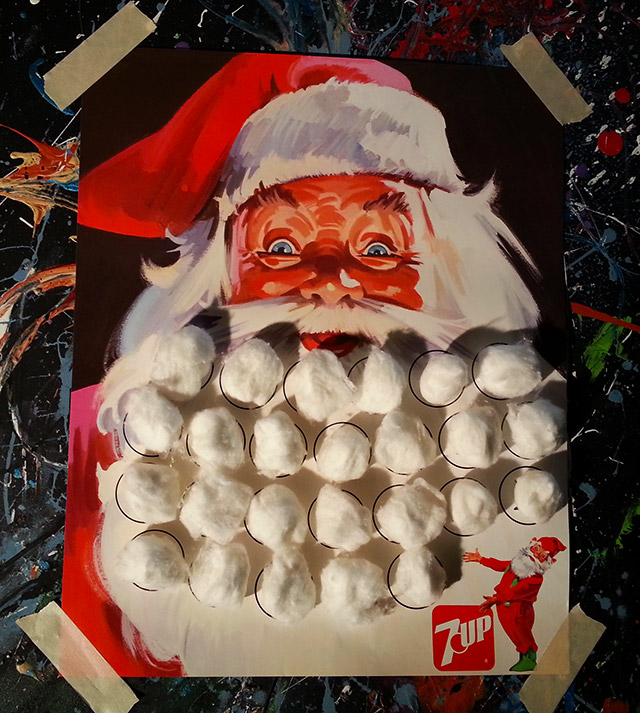 OH GOD, IT'S BEAUTIFUL. HE'S BEAUTIFUL. AND I MADE THIS. I DID IT ALL MYSELF.
Unlike traditional advent calendars which end on Christmas Eve, these posters included a spot for December 25th. I just love the idea of kids getting up on Christmas morning and putting cotton balls ahead of opening their presents.
Perhaps that was our final appeasement? Give Santa one last chance to magically morph our gifts into better ones, because after all, we tended to his paper face before our new toys?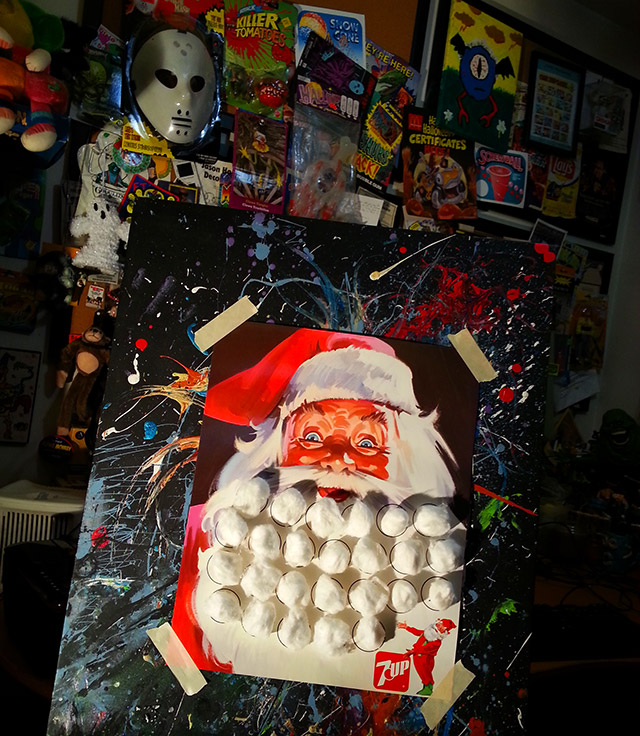 Okay, granted, I suppose it might look a little disturbing. I mean, it already did, because this particular Santa Claus was extra red and extra aggressive. But people see what they want to see, and like Ralphie's dad from A Christmas Story, I'm overcome by art.
Besides, you can see some of my office in the background. You see the madness in which I dwell. An angry Santa Claus poster covered with gluey cotton balls fits right in. Strangely, it'll fit in even better come August.
If you were previously unaware of 7UP's Countdown to Christmas posters, the thing to remember is that they were around for a pretty long time. Not every kid got them, but for a certain stretch of years, we all grew up seeing the commercials, and subconsciously counting on them as one of our holiday traditions.
But for those of us who did have them? Wow. They were powerful! Life was simpler then, and gluing cotton balls over Santa's beard was all it took to mess shit up.