Oh hi! Time to debut Dino Drac's November Funpack! I'm happy (or is that sad) to report that subscriptions are finally back open for this one, albeit with limited spots. If you dig what you see, scroll to the bottom for ordering info!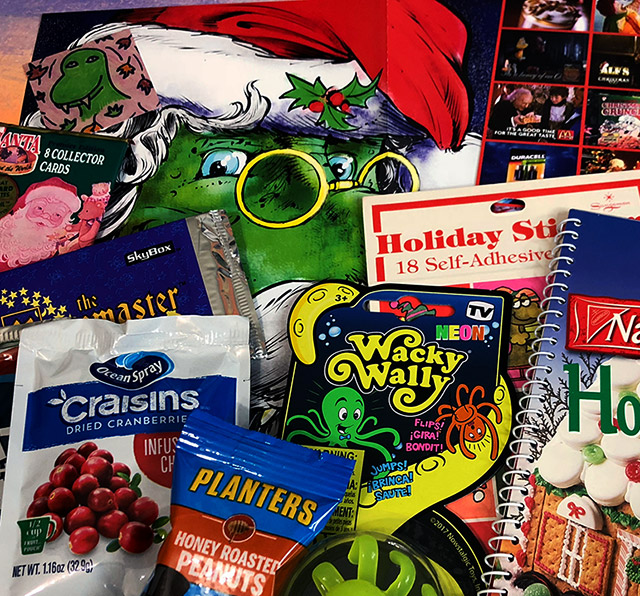 UNITED STATES ONLY! LIMITED SUPPLY!
The holidays are coming, and I'm gonna make sure you're prepared with a whole box of old-and-new yuletide nonsense — including a very special item that's unlike anything I've ever included in a Funpack before!
Funpack subscriptions are $25 a month, and that price includes shipping. For as long as you remain subscribed, you'll get new boxes of random stuff each and every month. Let's dive into the loot for November!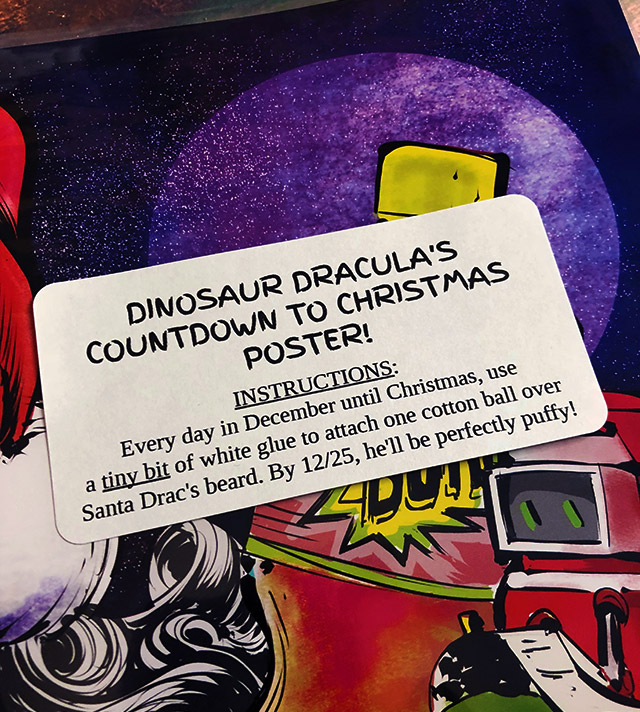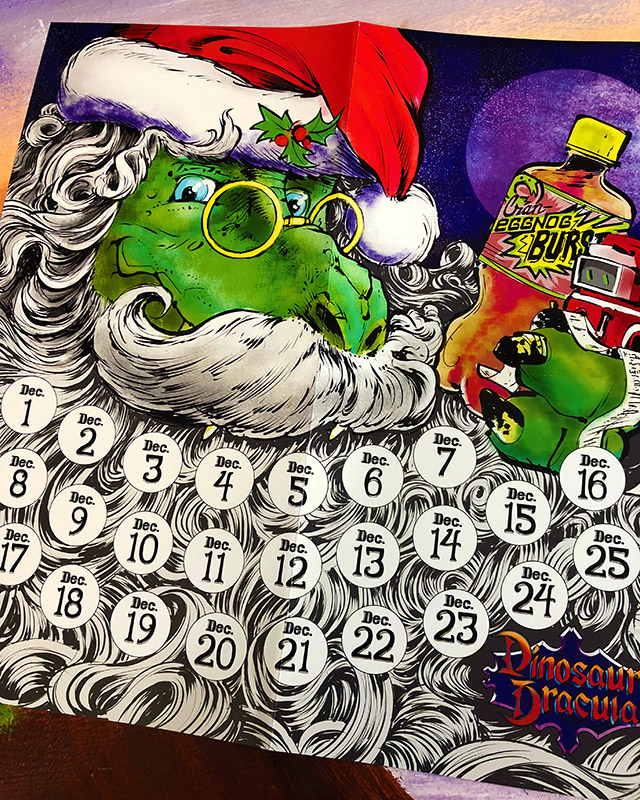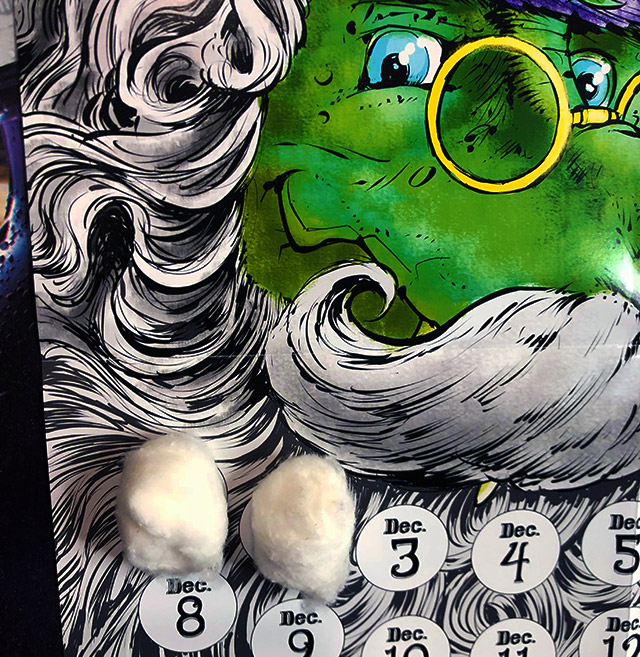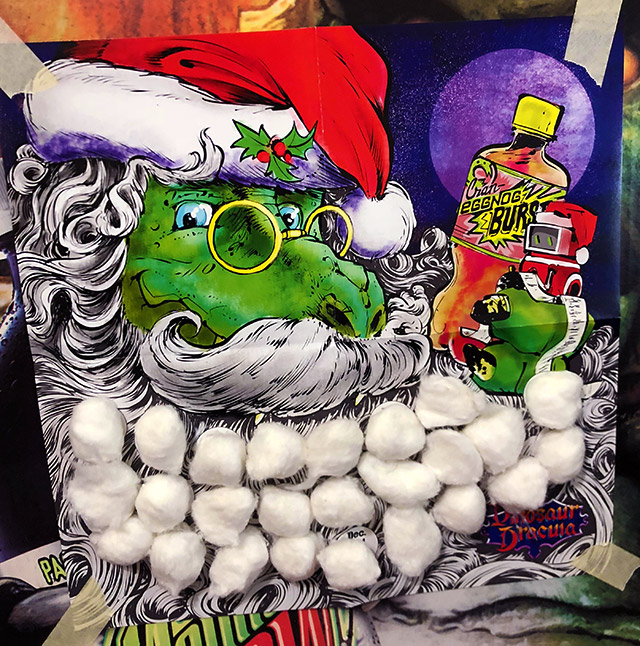 COTTON BALLS NOT INCLUDED!
Yep, we're going there. The star attraction of the November Funpack is a Dino Drac spin on those old 7UP Countdown to Christmas posters. I've had this idea rattling in my brain for years now, and I'm so happy to see it finally come to fruition.
Thanks to the exquisite design work of Jason Week, you'll be able to glue cotton balls over Santa Drac's beard all through December, leading up to Christmas. (Or, you know, you can just not do that and enjoy the poster as-is. That works too!)
These fold-out posters measure over 13×13" and will arrive tucked in a protective sleeve. (They're professionally folded, too — very clean!) I have terrible lighting in my office, so the photos really don't do it justice. They're gorgeous, and they'll give you a silly little activity to do throughout December!
NOTE: I'm also selling a few extras of these on an individual basis. If you just want this without the rest of the Funpack, head over here. Course, if you buy a Funpack, you get the poster and everything else featured in this article!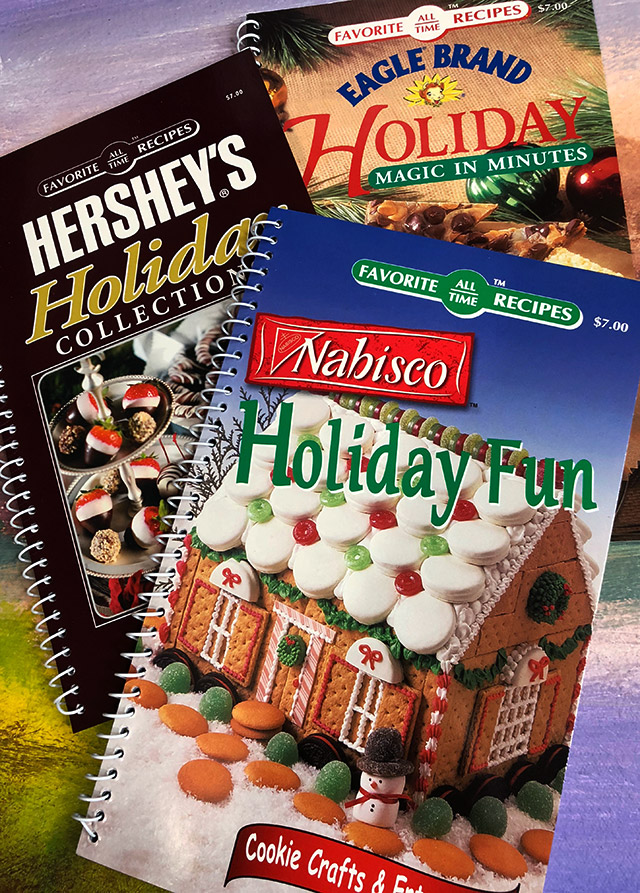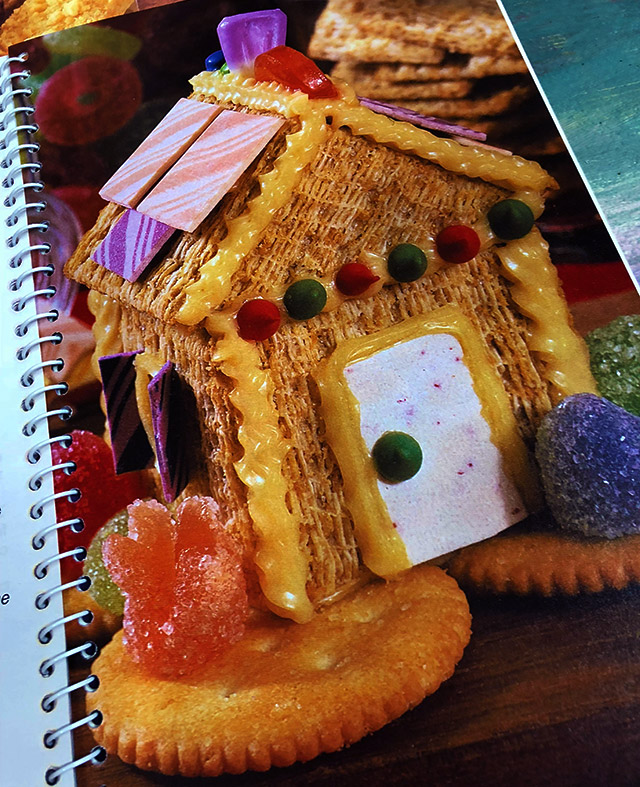 *ONE* RECIPE BOOK PER FUNPACK!
Y'all know that I spend the holiday season obsessing over weird old recipes, so I thought I'd give you a chance to do the same. In every Funpack will be one of these three goofy recipe books, each published way back in 2000. They're spiral-bound and in never-touched condition.
You'll either get Hersey's Holiday Collection, Eagle Brand Holiday Magic in Minutes or Nabisco Holiday Fun. Each book is 96 pages and stuffed with recipes, along with tons of great photos. The books cover completely different things, but they're all wonderful, and I know you'll find something that you'll be dying to try.
Remember, one book per Funpack, picked at random!
Next up is Wacky Wally, from Nowstalgic Toys. I adore these things, and it's another item that I've been trying to work into the Funpacks for years now.
While produced in more recent years, Wacky Wally was clearly inspired by the Wacky Wall Walkers from the '80s. (Remember the versions that used to come free inside cereal boxes? I lived for those.)
Hurl Wally at a wall and watch him slowly crawl down, all by himself. Or just throw him at the ceiling at leave him there forever, as was my childhood tradition. These are in assorted neon colors — you'll get one of them, randomly picked!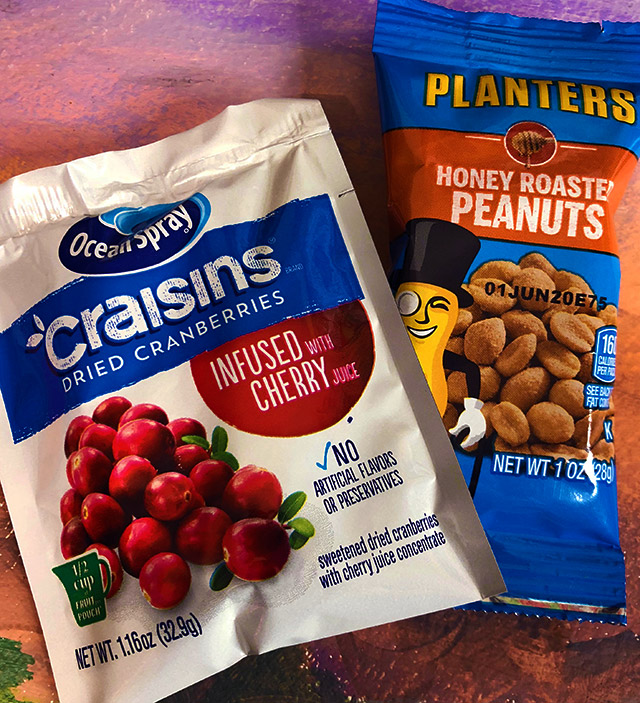 In honor of Thanksgiving, I always like to go heavy on the junk food for my November Funpacks. This month, you're getting a pouch of Craisins (infused with cherry juice for extra awesomeness) and a packet of Planters Honey Roasted Peanuts. You could probably make a good trail mix out of those ingredients!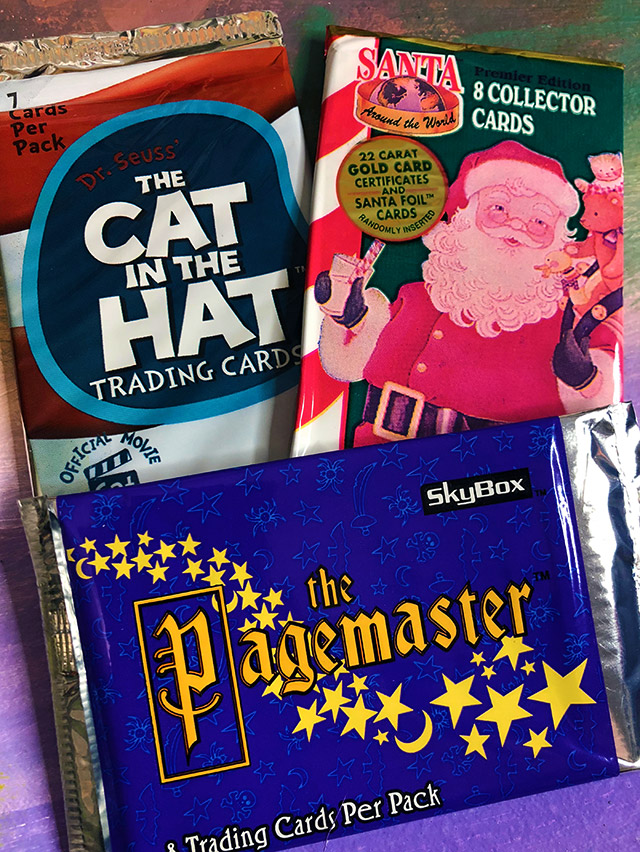 Also gonna slide you some old trading card packs, because that's a tradition I refuse to break. This month, you'll get packs for The Pagemaster (1994), The Cat in the Hat (2003) and, um, Santa Around The World (1994).
Look, nobody is gonna trade you old Marvel Universe holograms for these, but it seemed like the right Funpack to get a little cheesy with my picks.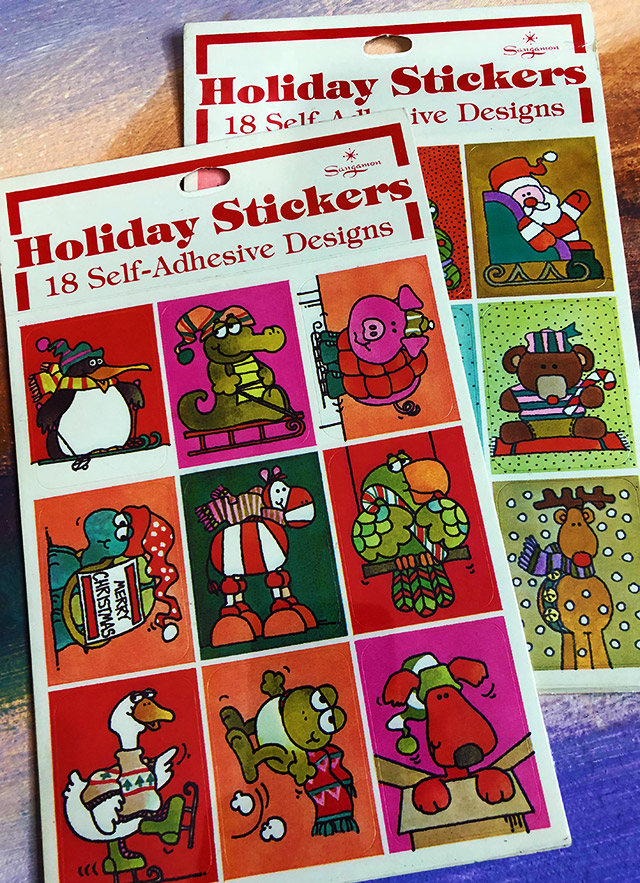 *ONE* STICKER PACK PER FUNPACK!
Next up, you'll get *one* of these two very-vintage packs of Sangamon holiday stickers. Each pack contains 18 stickers, all holiday-themed, ranging from the wholesome to the bizarre. Use them to garnish your holiday cards, or something!
PS: I'm counting the stickers as this month's Dino Drac Specimen. They're old enough, anyway!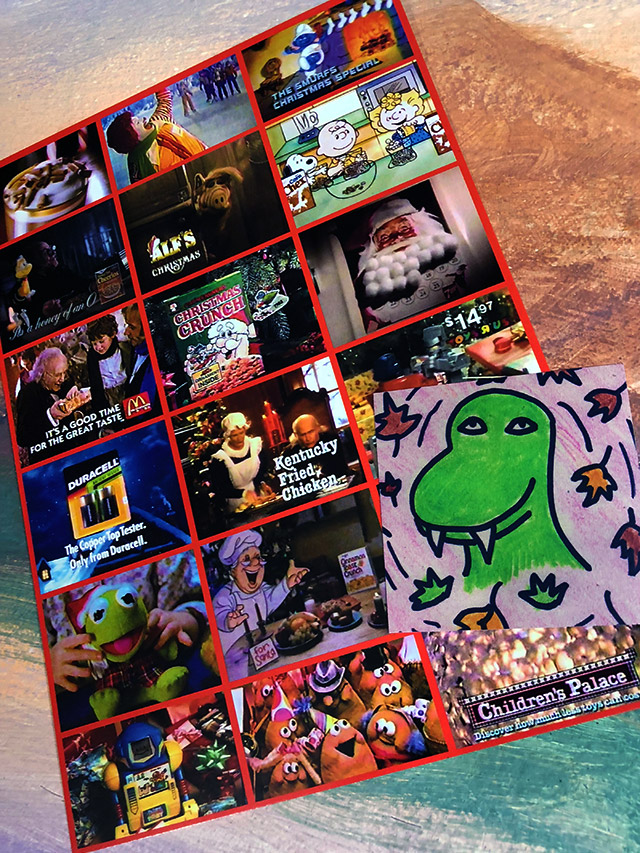 This month's exclusive Dino Drac Mini-Poster includes screenshots from a ton of classic Christmas commercials. Most of them have been featured on the site before! It's a blessed collage that will fill you with warm fuzzies.
Poster is 5×7" and printed on something resembling cardstock. You'll also receive this month's exclusive 2×2" Dino Drac sticker, with a subtle Thanksgiving theme.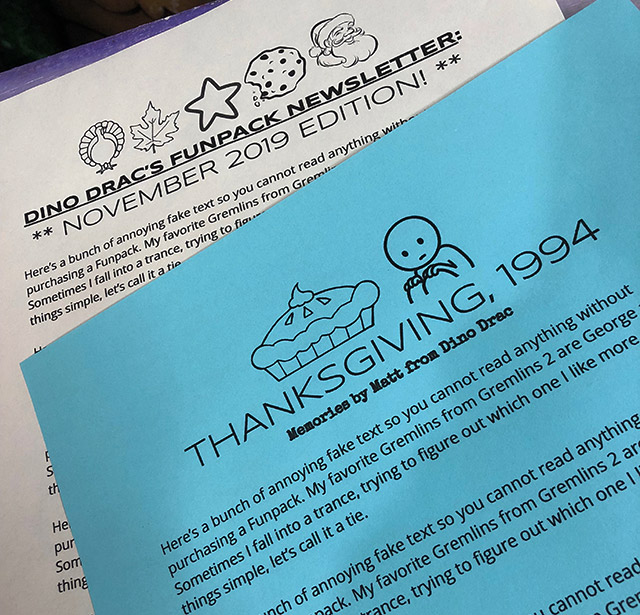 Rounding things out, you'll also receive this month's Funpack Newsletter, plus an exclusive essay that will never be reprinted on the site.
This month's essay details how our Thanksgiving party went for me back in 1994, when I was an oddball outcast who wasn't at all in the mood to hang out with the fam. It's not as maudlin as it sounds.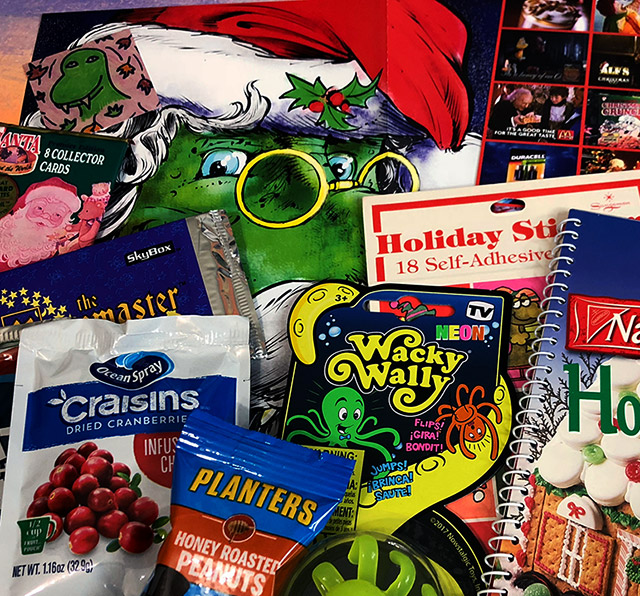 Yep, you'll receive everything shown above, for $25 shipped!
If you're already a Funpack subscriber and you'd like to stay that way… do nothing! You're all set!
If you want to subscribe, please read the following, and then click the button at the bottom of this page!
1. Funpacks are available in the United States only. Sorry!
2. Subscriptions are handled via Paypal. If you don't have an account, it's very easy to make one!
3. Funpacks will be shipped to the address listed on your Paypal account. If you need to change your shipping address, or if you'd like for your Funpacks to be shipped to someone else, simply email me!
4. You will be automatically billed $25 every month. (Yes, that price includes shipping.) If you subscribe today, you'll pay today, and then again in exactly one month. For as long as you remain subscribed, you'll keep getting Funpacks!
5. You can cancel at anytime. (You could subscribe today and cancel today!) If you cancel after you've already been charged for the following month's Funpack, you'll of course receive it just the same as any current subscriber would. (You can cancel via Paypal, or by emailing me.)
6. The November 2019 Funpacks will ship on or before Wednesday 11/20.
Remember, the Funpacks allow me to keep doing the site… thanks so much to all who help to keep it/me going!
To get your subscription started, click the button below!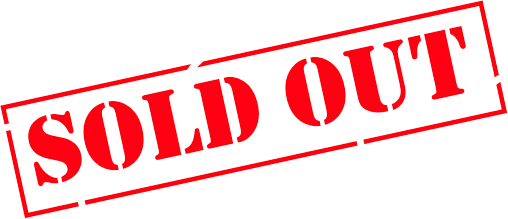 Sorry, the November Funpacks are now sold out. You can still purchase Dino Drac's Countdown to Christmas poster on its own, over on this page!