Today is busy. I'm only BCFDAW'ing because I need to push that eel sushi off of the main page as soon as possible.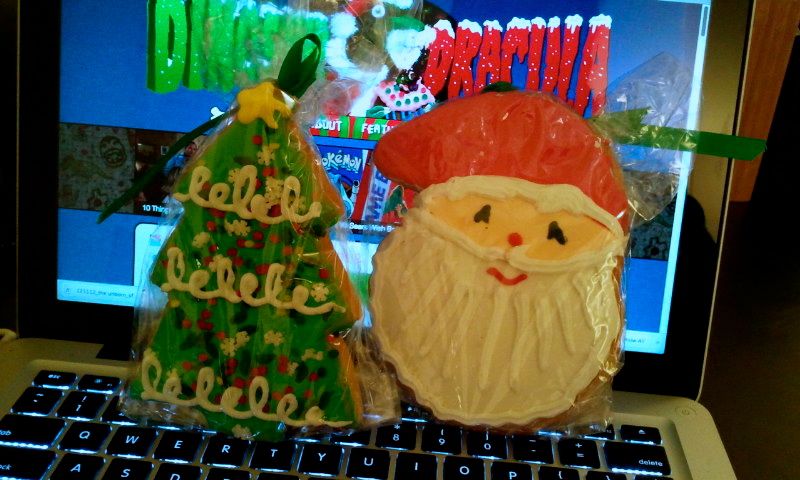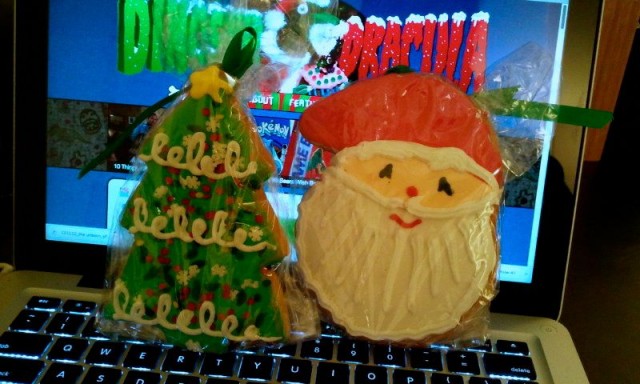 There. Much better. A palatable set of Christmas cookies, purchased for WAY TOO MUCH MONEY from one of those design-your-own-salad places. ($9 for two cookies, and no, I wouldn't have bought them had I learned that sooner. By the time I found out, I had a line of twenty angry salad people behind me. To ditch the cookies at that point would have set off a trail of sighs that even now, two hours later, would still rage on.
I'm especially fond of the Christmas tree cookie. It has icing garland in the shape of the imaginary word "lelele." The details were all but lost to the one-two punch of my shitty Android camera and iPhoto's irresistible filters, but in person, this cookie is a jolly jolt to every sense.
If judging by comparison, Santa is pretty boring. At least until you notice the fangs hiding in his beard – as if this Santa is really a monster, waiting for the right moment to out himself and eat a foot.
We decided to turn these cookies into office Christmas decorations. They're now standing partially upright, using a couple of DVD spindles for balance.
Yeah, I'm too busy to make this funny. Pretend there are jokes.