There's a new feature up, listing ten strange and wonderful things I want from National Lampoon's Christmas Vacation. (Including Aunt Bethany's cat food Jell-O. Yes.)
For today's BCFDAW, I'd like to introduce you to the "Christmas roll."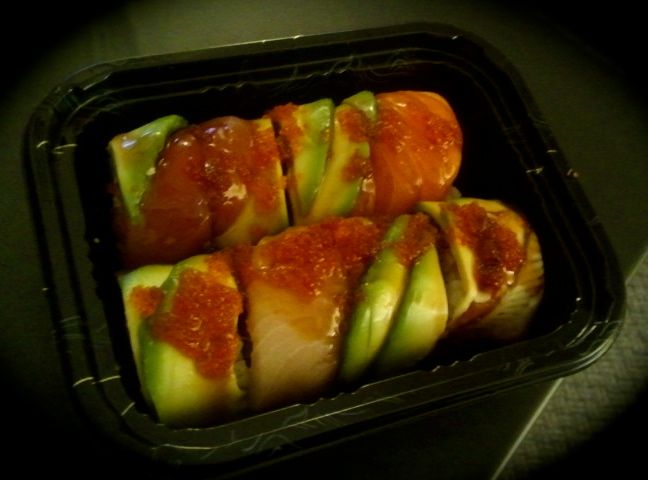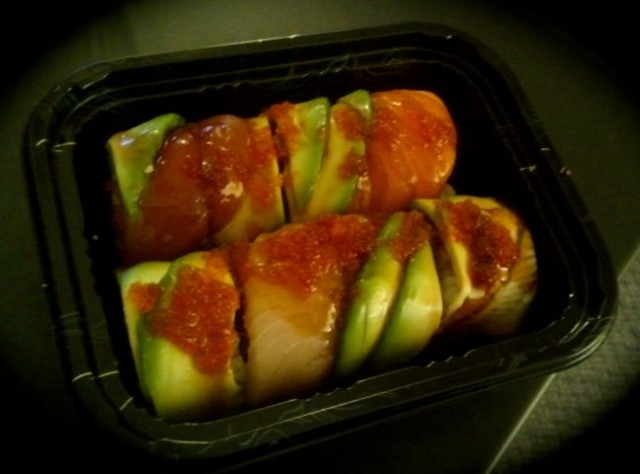 Several of New York's sushi joints are offering special "Christmas rolls" for the holidays. No two are alike. The one shown above is entirely different from the Christmas roll I ordered back in 2004, and in a word, it's INTENSE.
It's from a restaurant called Fuji Rising Dragon. I pray I will encounter more things with names that awesome.
Here's how Fuji (Fuji RISING DRAGON!) describes the roll, verbatim:
Spicy tuna with tuna, salmon, yellowtail, eel and avocado with tobiko eel sauce.
In other words, I bought this for photographical use only — not so I could eat it.
I love sushi, I really do. But I'm also a big baby when it comes to it. Not to the level of only eating California rolls, but certainly to the level of pissing myself at the mere THOUGHT of "eel sauce." I can think of a hundred ways to get sauce from eels, and none are pleasant.
EDIT: Okay, so as several of you have pointed out, "eel sauce" doesn't exactly mean "sauce made from eels." It's more like a sauce you put ON eels. I don't care. It's still gross. I will defend to my dying day the right to believe that eel sauce is gross.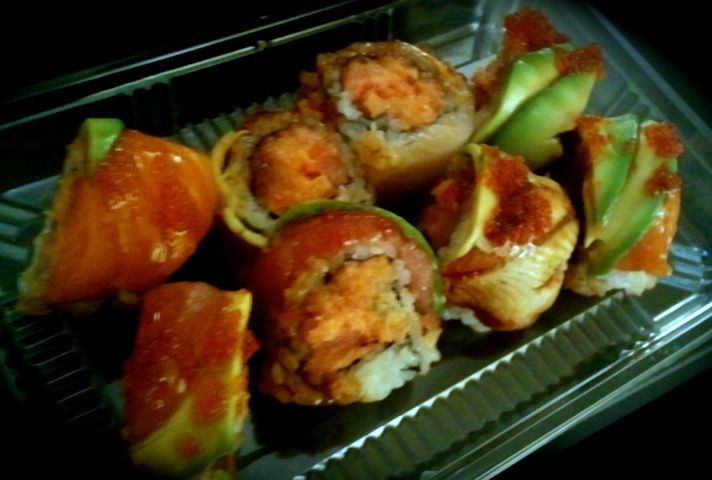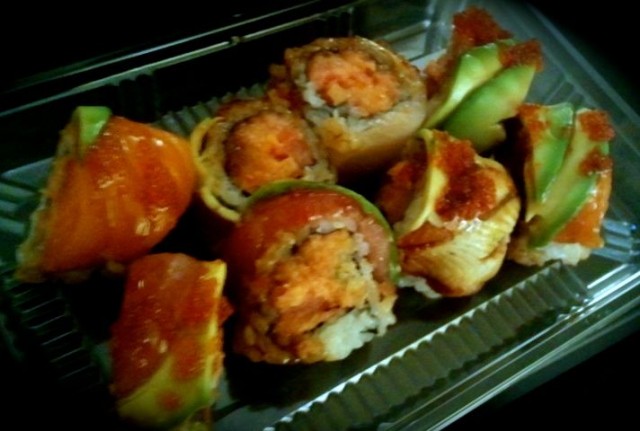 No. I want nothing to do with this roll. I just wanted to show you what Christmas looks like in the form of sushi.
Thankfully, someone in the next room was happy to take it. "It's pretty good, it's fine" was his review.
Figuring that I wouldn't eat something covered in eel sauce, I also ordered other, plainer rolls. Couldn't eat those either. Just knowing that they were in the same bag as eel sauce was too much of a turnoff.
Now I am hungry.