No Christmas season is complete without THAT CHEESE.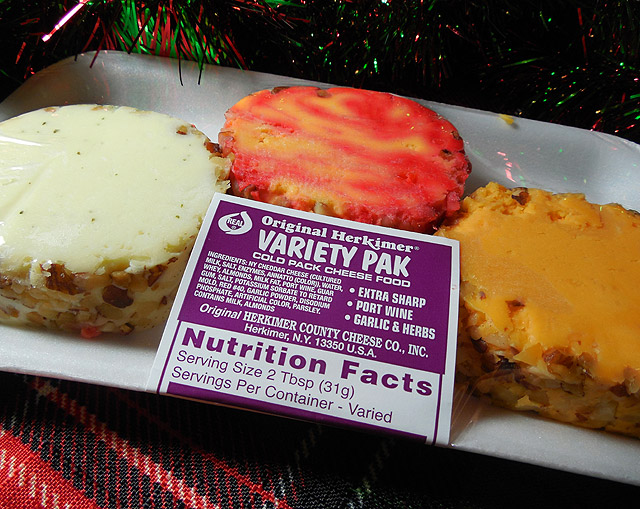 I don't know if there's an official term for it. They're essentially hockey pucks made of cheese, rimmed with crushed almonds.
I cannot remember a Christmas Eve without them. They sometimes appeared during Thanksgiving or even the scattered birthday party, but Christmas Eve was/is the big one.
As a child, I was obsessed with this cheese. My Italian family always had seafood-rich menus on Christmas Eve, and since I hated seafood, this cheese was basically my dinner.
It'd be one of the first things put out for consumption, and I'd spend seven hours trying to keep everyone else away from it. Had I a stick and a fluency in German, I'd have been smacking fingers and yelling "Mein Käse!"
This magical cheese comes in a variety of shapes of sizes, but around here, nothing has ever trumped the three-pack. It's always looked just like this. There's something comforting about that. In a world where so few things stay standard, I can always count on this cheese.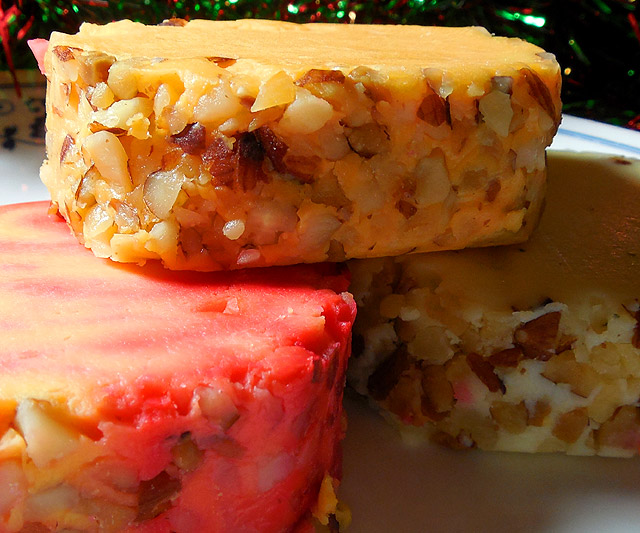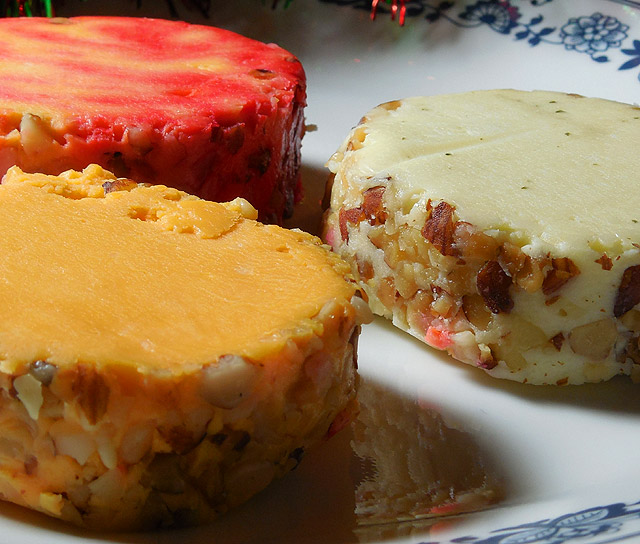 The differing colors are not merely cosmetic. Each puck boasts a different flavor.
There's the "garlic and herb" kind. The whitish one. It used to be my least favorite, I guess because it looked boring?
The orange one is pure cheddar. It's arguably the tastiest of the three. If nothing else, it's the most reliable. The white one may taste like nothing, or it may be heavily spiced. And the red one? Well…
The red one is interesting. It's "port wine" cheese. To this day, I'm not completely sure what that means. The easiest explanation is that it's wine-infused, but I can't guarantee that. This was the ULTIMATE hockey puck when I was a kid, all because of its color. I would never admit that it was the harshest and least palatable of the three, because it looked like Play-Doh and had a consistency to match.
I used to turn that cheese into little red animals, like Garth with his crullers.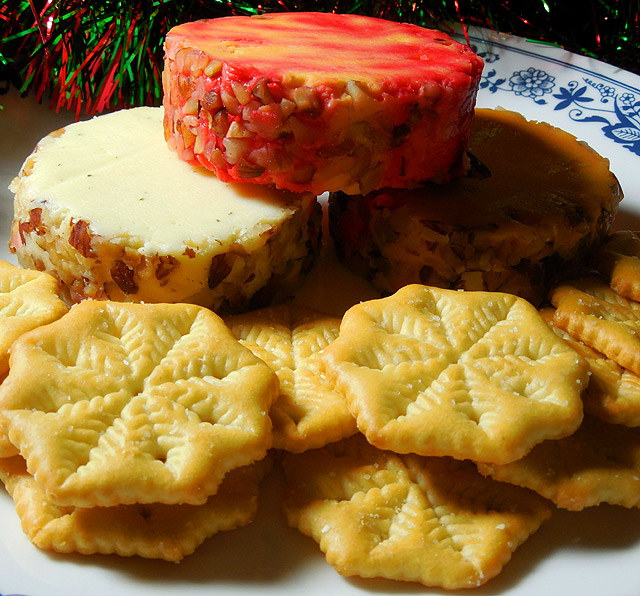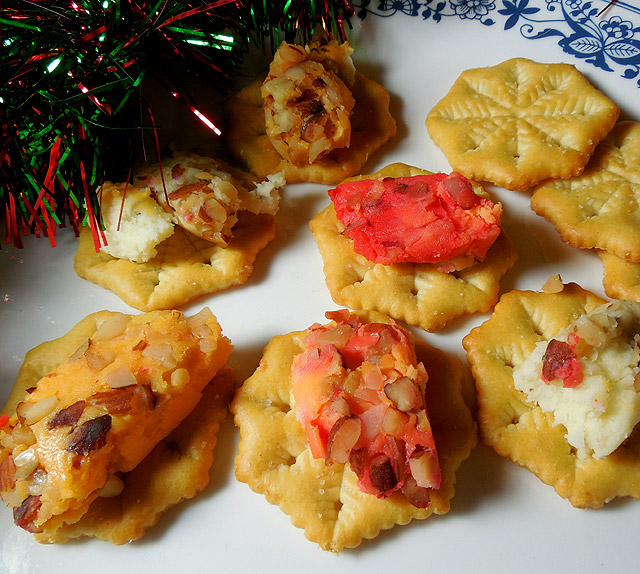 The almonds are a necessity. When you see this cheese without the crushed almonds, it's not really this cheese. The funny thing is, I hated almonds as a kid. I avoided those portions like they were poison. I'd eat the middles first, like the mysterious boy from that old Reese's commercial.
But now? Forget it. Once you eat all of the almonds away, you might as well toss the rest. (That's what usually happens.)
As my family's Christmas Eve parties have evolved, I've gotten the impression that I'm the only one who still cares about this cheese. It shows up, but only because I bring it. If I don't eat it, nobody does. There may be a slice or two missing, but when thirty people spend twelve hours doing nothing but eating, a "slice or two" clearly reads as pity-grabs. They just don't want me to feel bad about my unpopular cheese.
I bring it there seemingly because I always bring it there. Only after deep thought do I realize the real reason. The Christmas Eves of then and now may have much of the same cast, but they're not very comparable. We all look different, act different, are different. We celebrate differently now, too.
So I guess this magical cheese is my small way to create an edible tie that binds?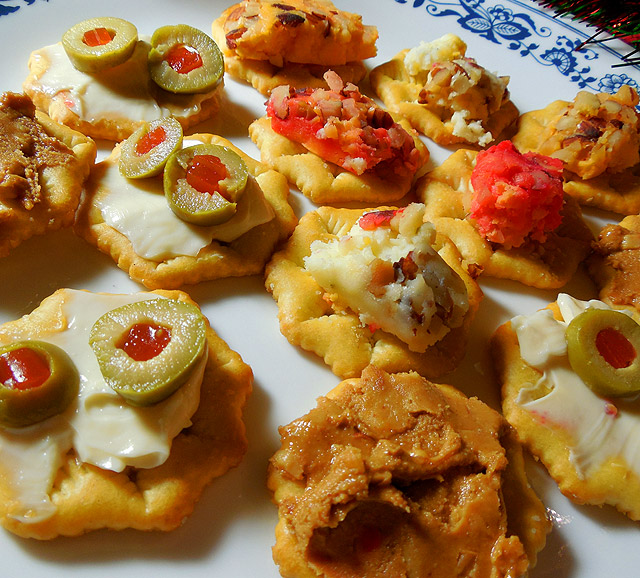 If I had it my way, I'd still be serving Ritz crackers with a parade of offensive toppings, like I did as a kid. The toppings would complement one another in the way that hairspray complements car tires. But I can't get away with that now.
I can eke by with the magical cheese, though. Those darling tie-dyed hockey pucks. Even if nobody eats them, everyone accepts them. If nothing else, they look nice. They "dress the table."
I can't scrape my family's collective subconscious, but I bet they accept it for the same reason I do. It's like the ancient, ugly, half-broken ornament that the Christmas tree isn't complete without.
But in cheese form.
Maybe I'll ask them about it this year. After ten glasses of wine. Won't that be interesting?
"I'm gonna go find a couch, but BEFORE I DO…"
What strange and possibly unpopular foods are a must at your holiday celebrations? The world, or at least the microcosm of the world that reads comments on Dinosaur Dracula, wants to know.