I know that I just posted one of these "Christmas Memories in Crayon" articles last week, but would you mind if I went back to the well? Inspiration hits where it hits.
Below: Five more memories from long ago Christmases, rendered in crayon.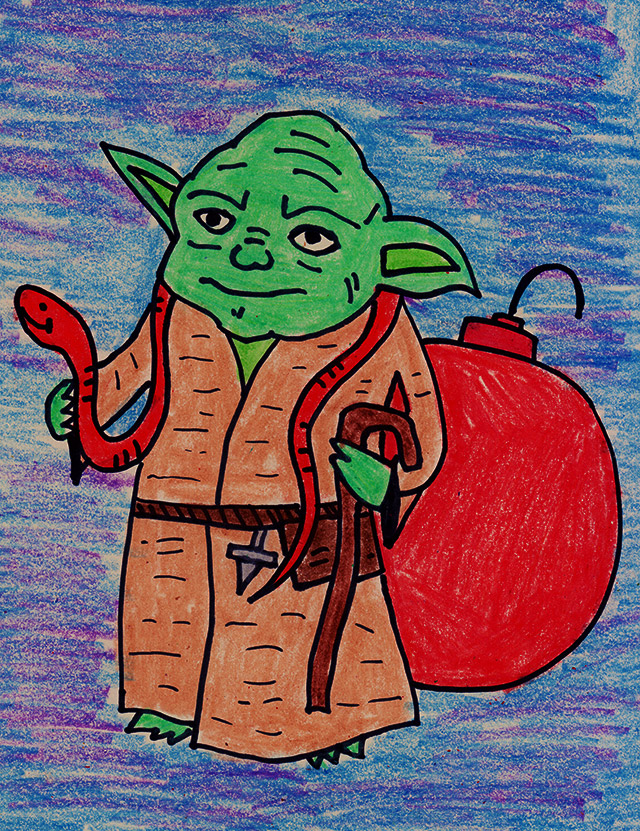 Yuletide Yoda!
As you know, my family opens its gifts at midnight on Christmas Eve. Time moved slowly when I was a kid, and the wait was torture. I was usually allowed to open one small thing early in the day, which was essentially my mother's hush-money payment. It kept me out of her hair while she went about setting the table and frying the galamad.
The first "early gift" I can distinctly remember was the vintage Star Wars Yoda figure. This was probably in 1983 but no later than '84, so I would've been four or five. Most of my memories from that age are hazy and holey, but this thing with Yoda feels like it happened yesterday.
I sat on the couch with that tiny little Yoda for fifteen minutes, fawning over his pet snake, which he wore in classic Jake Roberts style. I eventually stole Yoda's snake and carried it around for the rest of Christmas Eve. He was my buddy for the day, and I was sss-o proud to introduce him to everyone.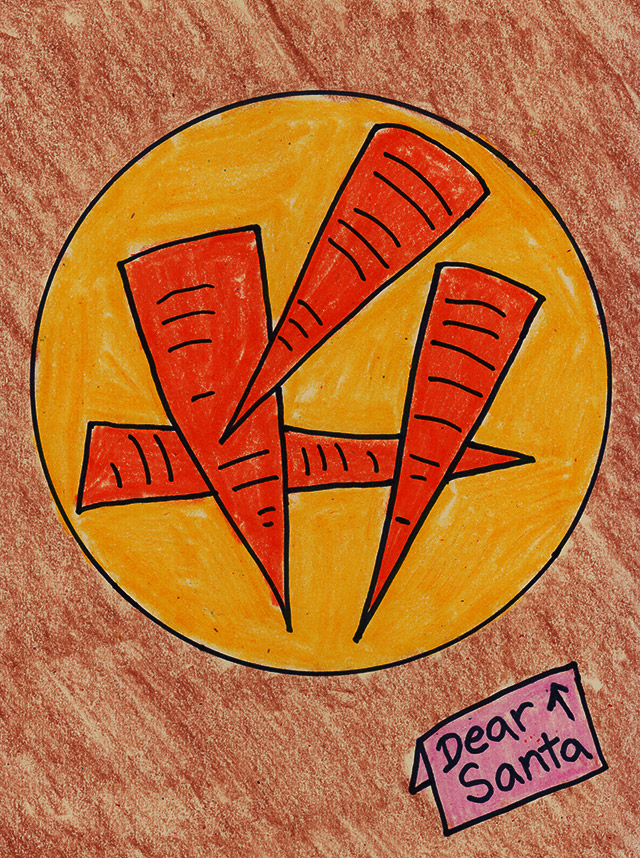 Carrots for Santa!
I guess because I was the youngest and my parents had "been there, done that" several times before, Santa wasn't a huge part of my childhood celebrations. It was tough to believe in the guy when the stuff I got for Christmas was the same stuff I saw popping out of Toys "R" Us bags in my parents' bedroom a week before.
I must've believed in him at one point, though, because I definitely remember leaving cookies out for Santa on some long ago Christmas Eve.
Well, trying to, at least. Packages of Chips Ahoy never lasted long in our house, so when the time came to make Santa's plate, traditional cookies were nowhere to be found. At my mother's suggestion, I left out a plate of carrots for Santa instead. Big, weird, unwashed carrots — like the kind you'd buy for a stew.
Even at such a young age, I'm amazed I agreed to it. Certainly I must've realized that cookies beat carrots, and that Santa might've taken the substitution as a slight.
I'd later learn that some families do leave carrots out with the cookies, meant as a snack for Santa's reindeer. That had to be where my mother got the idea. So yeah, on some long ago Christmas, I fed Santa reindeer food.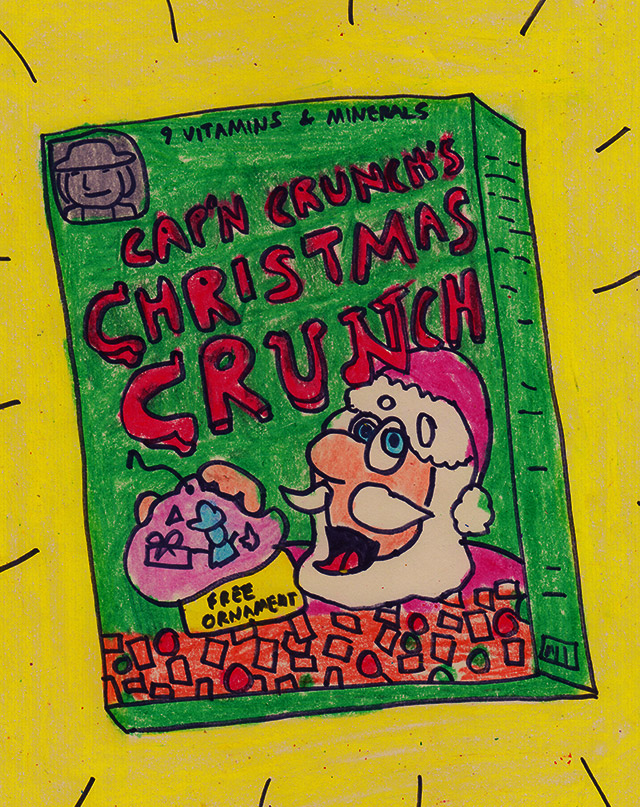 From the Cap'n to Me!
Cap'n Crunch's Christmas Crunch debuted in 1987, and at the time, it was a huuuuge deal. As far as I know, Christmas Crunch was the world's first Christmas cereal, and perhaps the first holiday-themed cereal of any sort.
Boosted by one of the best Xmas commercials of the '80s, Christmas Crunch was a must for every young Catholic. Other cereals had ad campaigns centered around the holiday season, but this was the first one that took the theme straight into your bowl.
Quaker still makes Christmas Crunch, but these days, it's just kinda there. There are new holiday-edition cereals coming out every year, and if you're gonna splurge, there are more enticing options. Consider this drawing a tribute to Christmas Crunch's heyday, when red and green Crunch Berries ruled December.
(Was I the only one who used to string those Crunch Berries together to use as tree garland?)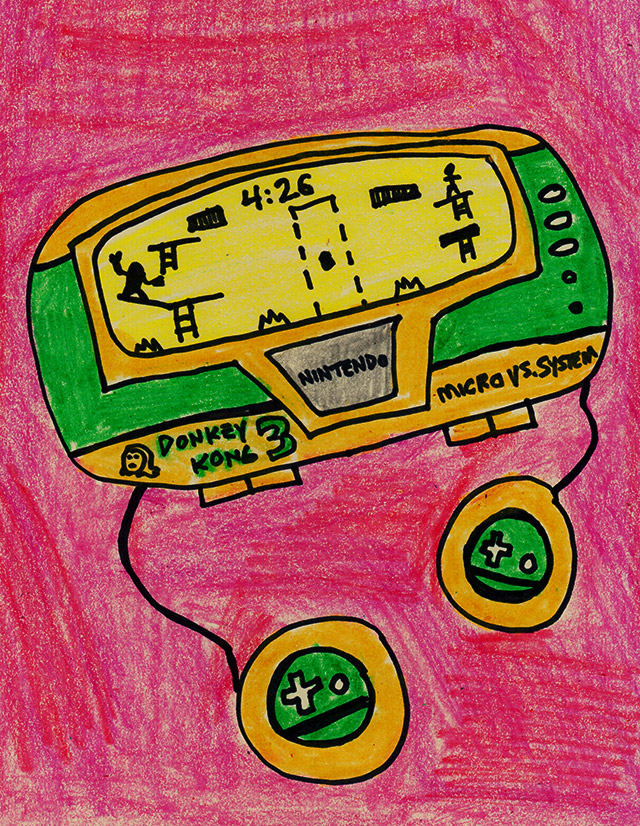 Lame Boy!
In 1989, the only thing I wanted for Christmas was a Nintendo Game Boy. This was a straight-up had-to-have-it situation, and I was giant brat about it.
Repeated chiseling usually wore my parents down, but that year, they were firm: I would not be receiving a Game Boy. In fact, they warned me against even saying the words "Game Boy" again, and rarely had they been so serious. I completely overplayed my hand, and now I would pay for it.
As it turned out, they'd already bought me a bicycle for Christmas, which left no room for another extravagant gift. It was a great bike, too, even if I'd never admit it.
To help dull the No Game Boy pain, my parents also got me a Donkey Kong 3 handheld game, which came with a pair of NES-like mini-controllers. It was maybe 1/1000th as cool as a Game Boy, but I really did love that thing.
I tried to convince myself that since it had wired controllers, Donkey Kong 3 was even better than a Game Boy. This was mostly out of post-Christmas guilt, since I'd spent so much of December being a jerk. No, it wasn't better than a Game Boy, but that year, it was what I deserved.
Midnight Meat! (Hi, Juge.)
The reason Catholic Italians eat seafood on Christmas Eve is because we're supposed to abstain from meat. My family has become more relaxed about this, but our Xmas Eve parties are still mostly about fish, fish and more fish.
The tradition is to grill sausage just after midnight, since by then, Christmas Eve is technically over. Never mind the fact that everyone just spent six hours eating everything from crab legs to cake. We're gonna make room for sausage, dammit.
I have such fond memories of my late father manning the stove at 1 in the morning. We hadn't even finished unwrapping our presents, and there we were, barely able to hear each other over the sizzle of four sausage pans. Smoke filled the whole upstairs, to the point where I'm not 100% sure that our parties weren't Stephen King's inspiration for The Mist.
I loved that tradition, even if I never ate the sausage as a kid. I just didn't want the party to end, and feeding everyone plates of meat always added another hour to Christmas Eve. Keep feeding them, Dad! This can't be over already!