Dino Drac's December 2018 Funpack is here, and guys, it's Christmas in a box. I'm like Santa if Santa was a for-profit business.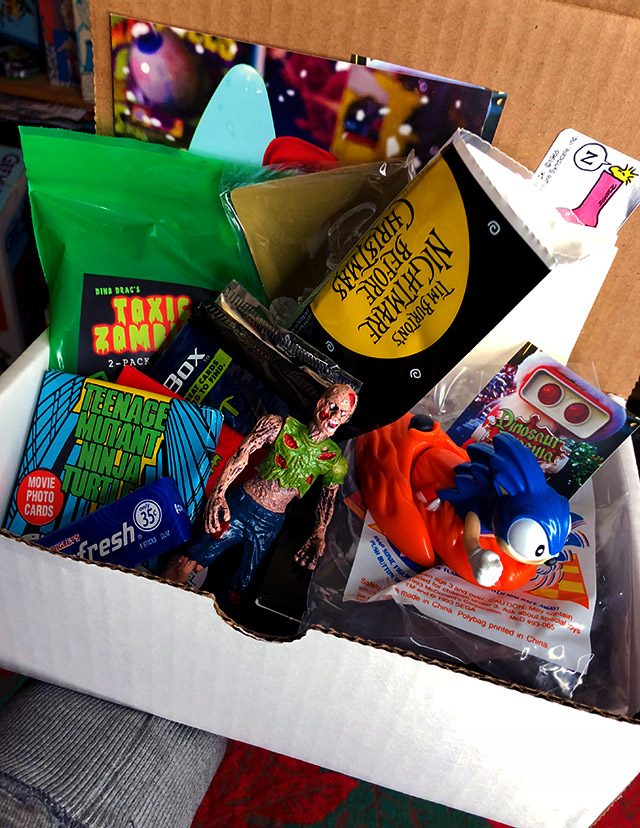 AVAILABLE FOR THREE DAYS ONLY! UNITED STATES ONLY!
I assume y'all know the drill by now. Dino Drac's Funpacks are available on a subscription basis, and for as long as you remain subscribed, you'll keep getting new boxes of retro nonsense each and every month. The cost is $25 a month (that includes shipping), and you can cancel at any time without penalty.
The December 2018 Funpack is loaded with deep cuts, with a particular focus on the early '90s. Scroll to the bottom for ordering info, or keep reading to learn about everything you'll receive in this month's box!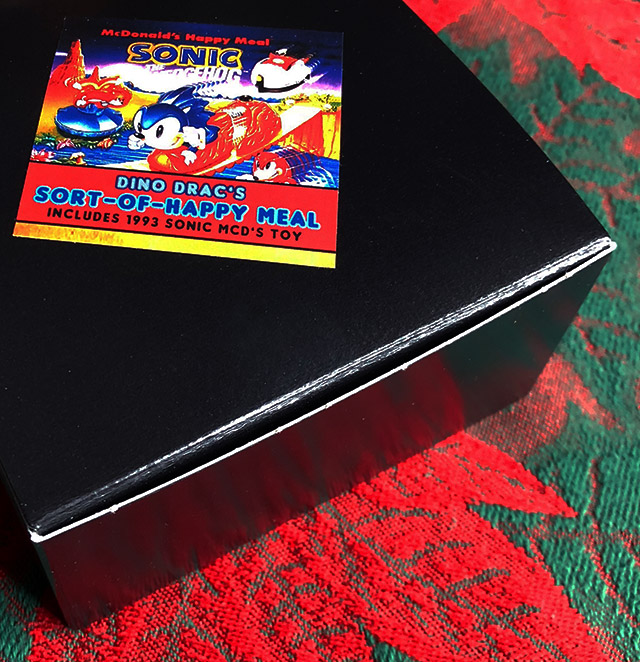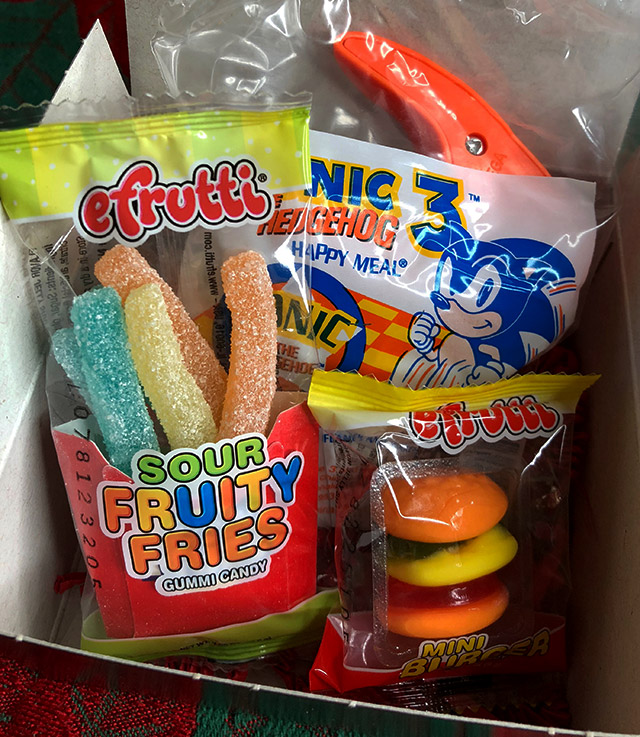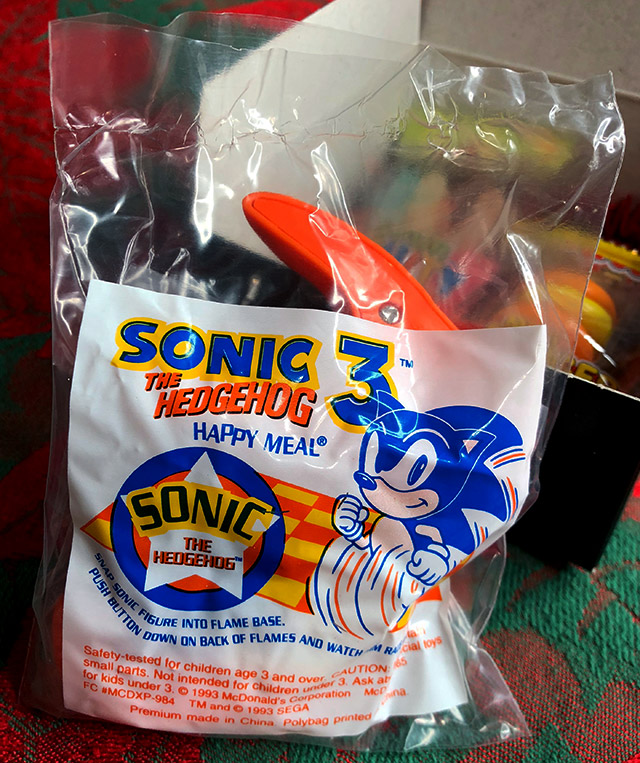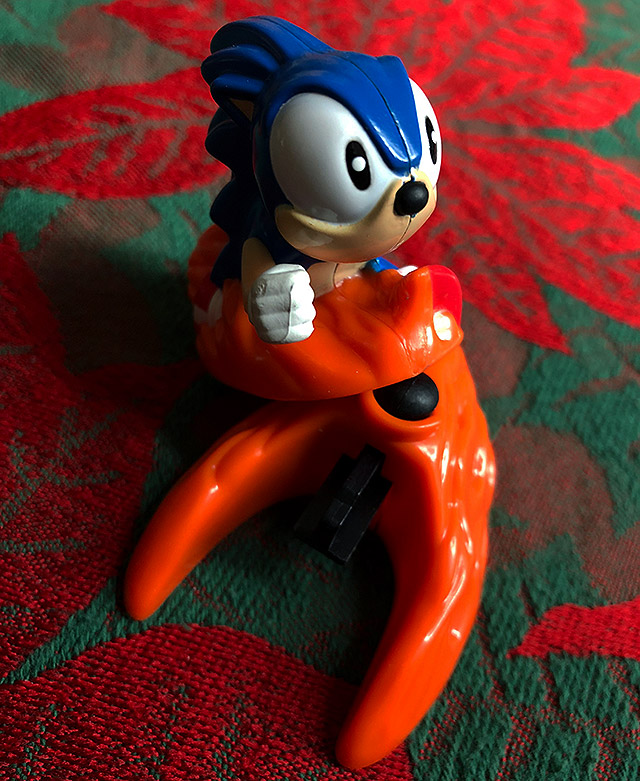 Leading the charge this month is Dino Drac's Sort-of-Happy Meal, and I'm real proud of this ridiculousness. Buds, I'm recreating the entire 1993 Sonic the Hedgehog Happy Meal!
Stuffed into a custom gift box, you'll find an honest-to-goodness Sonic the Hedgehog Happy Meal toy, still sealed in its original baggie from 1993! These Sonic "launcher" toys are case-fresh and in mint condition. They're genuinely among the coolest-ever Happy Meal toys!
…but to really sell the idea, I'll also include a little gummy cheeseburger and a package of sour gummy fries in every gift box. It's not quite a Happy Meal, but it's definitely a Sort-of-Happy Meal!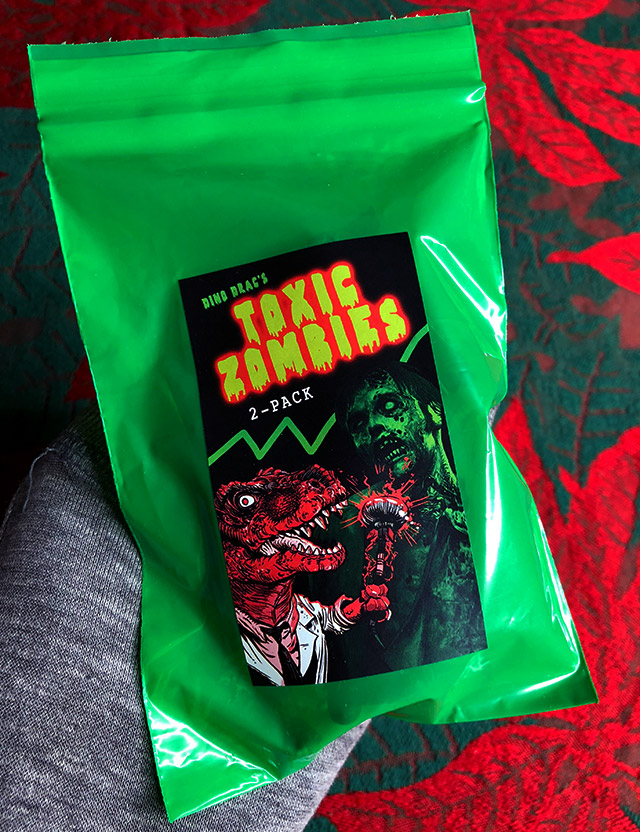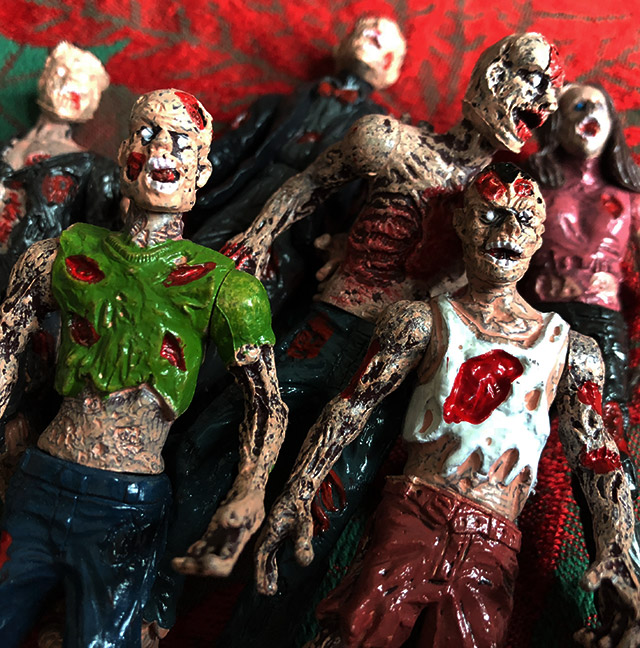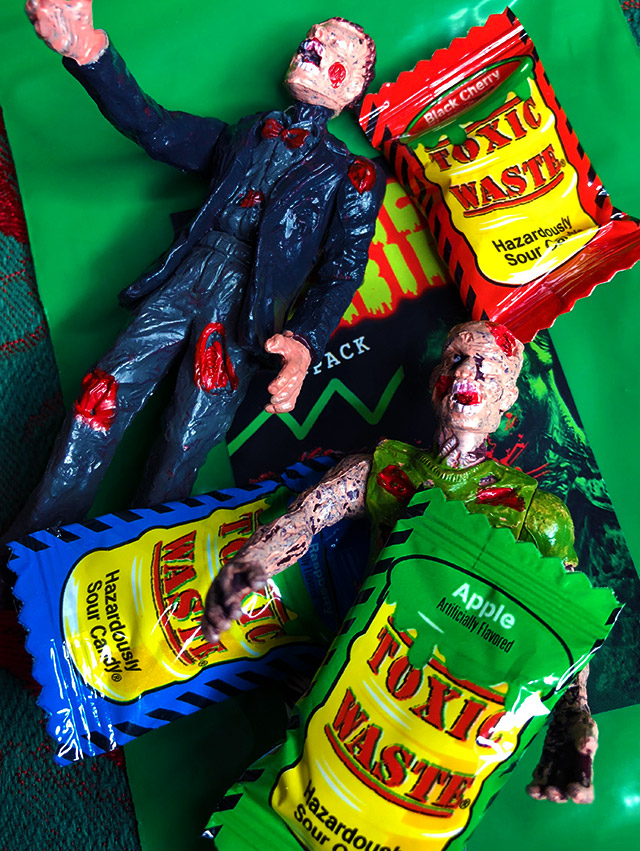 EACH FUNPACK INCLUDES *TWO* FIGURES!
You'll also receive a special set of Dino Drac's Toxic Zombies, stuffed into a custom baggie. I've amassed an army of assorted zombie figures, each around the height of a standard G.I. Joe figure. These zombies are sooo "knockoff-style," which only adds to their charm.
Each bag includes TWO random zombie figures, plus three pieces of Toxic Waste sour candy. (The candy is *extremely* sour, to the point where I have little doubt that some of you won't be able to eat it! Consider that a dare.)
I can't make any guarantees about which specific zombies you'll receive, but you'll definitely get two different ones. The best part? The zombies' limbs can be mixed-and-matched, so you can create whole new mutant zombies should you decide to do so!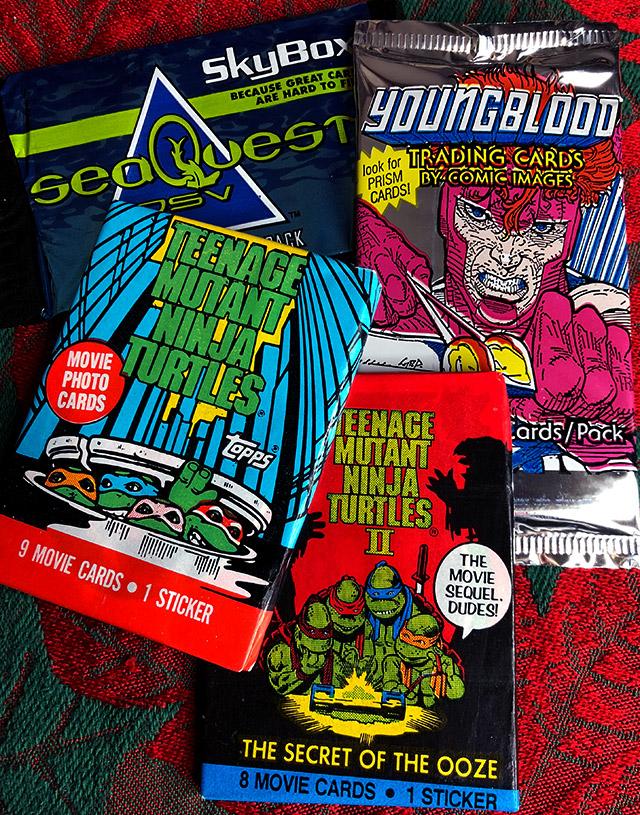 Then we have this pile of vintage trading card packs. You'll receive all four of the packs shown above, including:
– Teenage Mutant Ninja Turtles: The Movie (1990)
– Teenage Mutant Ninja Turtles II (1991)
– Youngblood (1992)
– SeaQuest DSV (1993)
Consider them stocking stuffers! You should be able to kill a solid half hour drooling over the art and photos, and reading the goofy junk on the backs. (Or you can leave 'em all sealed and pristine. Your call!)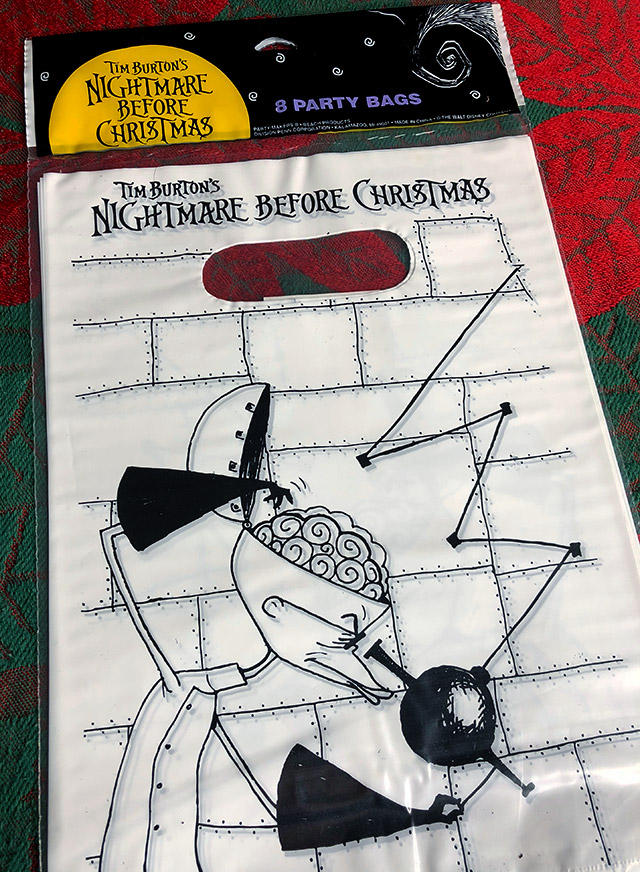 You'll also receive a sealed pack of vintage Nightmare Before Christmas party bags. I have no idea what you'll do with them, but I'm nonetheless confident that you want them.
There are eight plastic bags in each pack, and they're a bit bigger than the "loot bags" you're probably familiar with. The packages aren't dated but are clearly from around the time the movie debuted — so assume either 1993 or '94. These are absolutely case-fresh, too!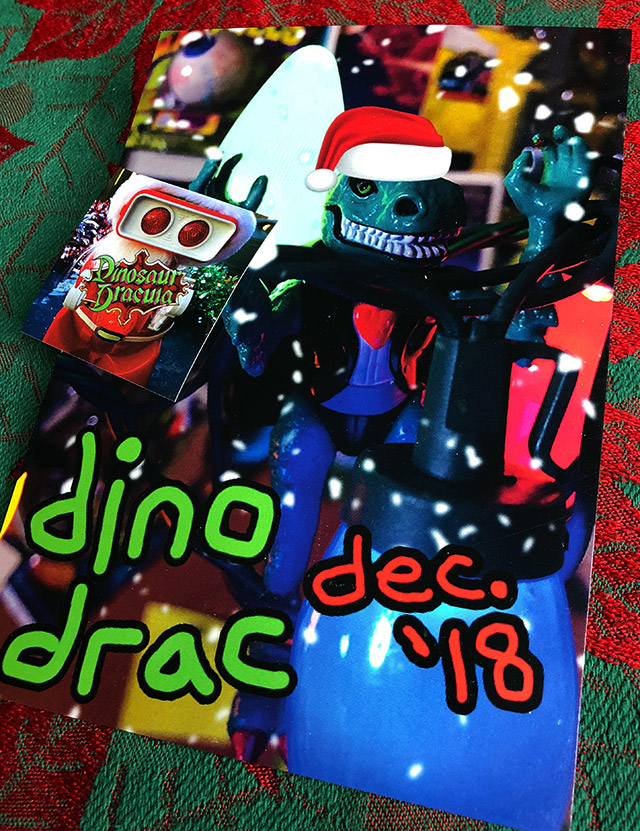 This month's Dino Drac Mini-Poster is an all-Christmas affair, as is this month's exclusive Dino Drac sticker, which stars Santa Robot.
Poster is 5×7" and printed on something resembling cardstock. Sticker is 2×2" and printed on whatever stickers are printed on. Both items are sure to give your abode a boost of holiday weirdness just before the big day!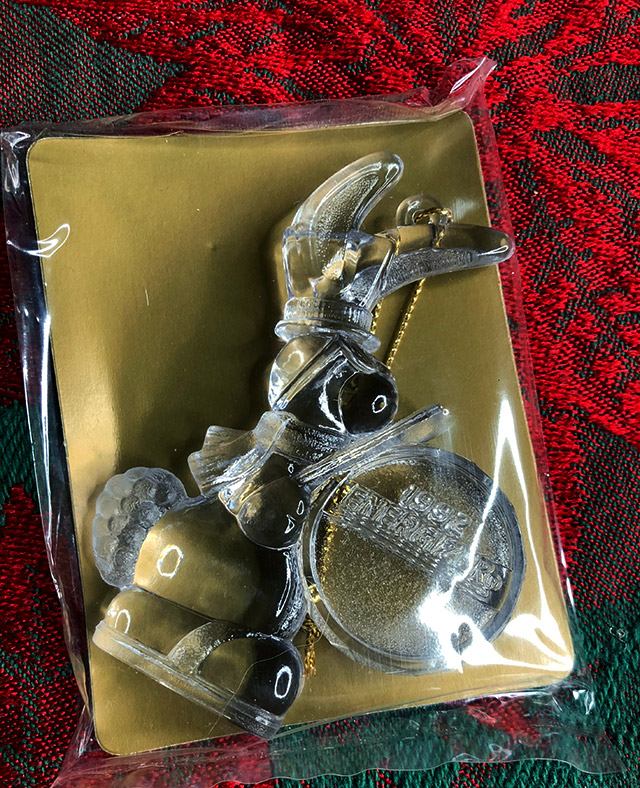 We're not done! I'll also throw in a vintage 1992 Energizer Bunny tree ornament, still sealed in its original package. I know these turned up in a Funpack a few years ago, but I just love the damn things, and couldn't resist sharing them one more time.
There are four styles available. You'll receive one at random. All are the same size and all look peculiarly like carved ice. Though intended to be used a Christmas tree ornaments, I have serious doubts that you'll put yours away come January.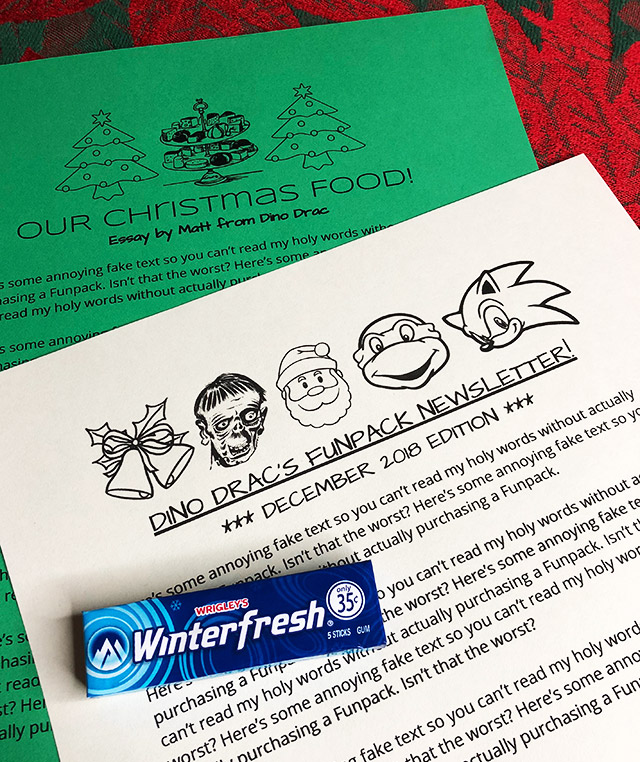 Rounding things out, you'll also receive this month's Funpack Newsletter, along with an exclusive essay that will never be reprinted on the site. (This month's essay is all about my family's traditional Christmas foods, and why they're so important to our celebrations. It's something to read when you want to feel really, really hungry.)
Oh, and I'll also toss in a pack of Winterfresh gum, because, duh, it's winter.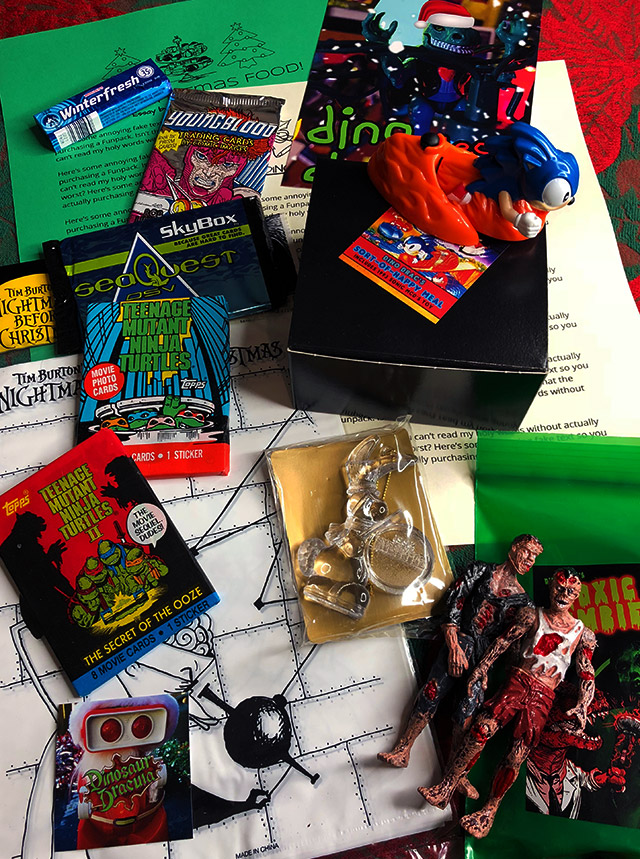 Yep, you'll get EVERYTHING above for $25 shipped!
If you're already a Funpack subscriber and you'd like to stay that way… do nothing! You're all set!
If you want to subscribe, please read the following, and then click the button at the bottom of this page!
1. Funpacks are available in the United States only. Sorry!
2. Subscriptions are handled via Paypal. If you don't have an account, it's very easy to make one!
3. Funpacks will be shipped to the address listed on your Paypal account. If you need to change your shipping address, or if you'd like for your Funpacks to be shipped to someone else, simply email me!
4. You will be automatically billed $25 every month. (Yes, that price includes shipping.) If you subscribe today, you'll pay today, and then again in exactly one month. For as long as you remain subscribed, you'll keep getting Funpacks!
5. You can cancel at anytime. (You could subscribe today and cancel today!) If you cancel after you've already been charged for the following month's Funpack, you'll of course receive it just the same as any current subscriber would. (You can cancel via Paypal, or by emailing me.)
6. The December 2018 Funpacks will ship on or before Thursday 12/13. All *should* arrive before Christmas!
Remember, the Funpacks allow me to keep doing the site… thanks so much to all who help to keep it/me going!
To get your subscription started, click the button below!
SOLD OUT?!
My remaining quantities are too low to continue selling without a complete headcount. There may be 1 or 2 available for sale after I'm done. Please email me if you're interested and I'll get back to you once the count is completed. Thanks!