Apologies in advance for what promises to be a screwball article with narrow appeal. Sometimes I do these just for me.
Over the last few months, several of my favorite local stores went out of business. Before their sad remains are forever lost, I thought I'd pay tribute to them with thick paragraphs and overexposed photos.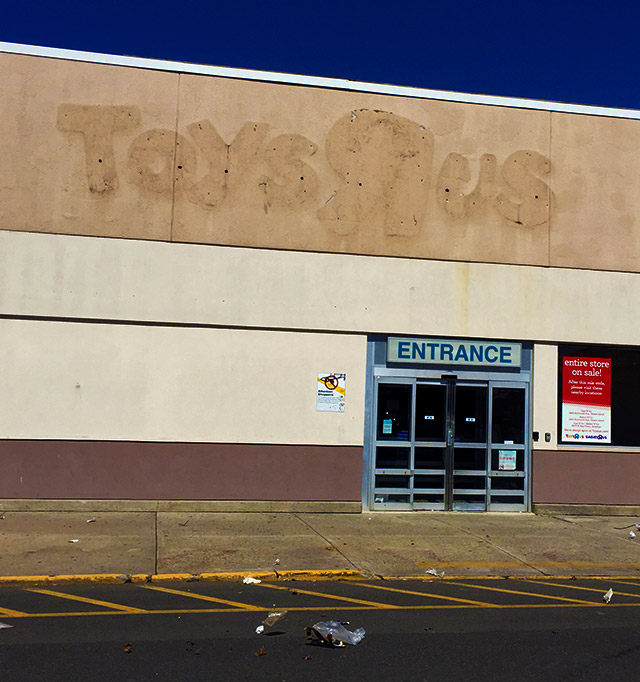 Toys "R" Us!
This wasn't my main Toys "R" Us, but it was my main backup. It'd been around since the 1990s, originally taking the spot of a Lionel Kiddie City. Up until a few weeks ago, you could still buy neon bikes there.
No matter how uniform the stores are supposed to look, each has its own identity. At this one, old stock would remain on clearance racks for far longer than the TRU norm. It wasn't out of the question to find ten-year-old toys hiding in the nooks and crannies.
Some TRU stores just feel trapped in the past. In everything from the haircuts on the employees to the too-soft lighting, walking into this one was like walking into another time. I'm gonna miss it.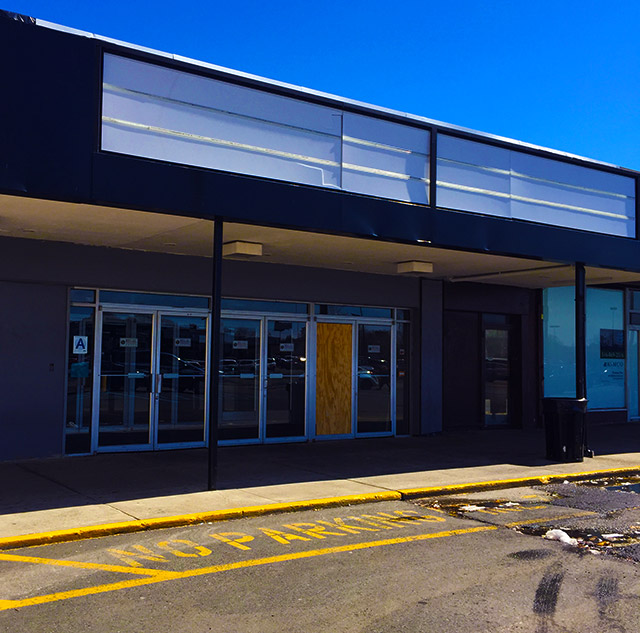 United Artists Hylan Plaza!
Right next to that Toys "R" Us is (well, was) United Artists Hylan Plaza, aka Staten Island's oldest, smallest and sketchiest movie theater.
The place was notorious even twenty years ago. It was the kind of theater you might've seen in a bad '80s sitcom. Small, rowdy, dark and dirty, I wouldn't say that bad things frequently happened there, but they always seemed like they were about to.
I won't pretend to prefer that sort of theater over the more modern behemoths that let me do all sorts of mad scientist shit with Coca-Cola, but I still think there's a place for them.
Even with today's movies, there will always be some that are better served in small, shitty theaters. It's like how hot dogs seem out of place on plates that aren't made of paper. If I'm going to see something sleazy and terrible, I'd rather it be at the theater that still has Capcom Bowling next to the ATM.
Course, I didn't exactly do my part to keep this theater afloat. The last movie I saw there was Spawn, back in 1997. (Which was the perfect movie to see there.)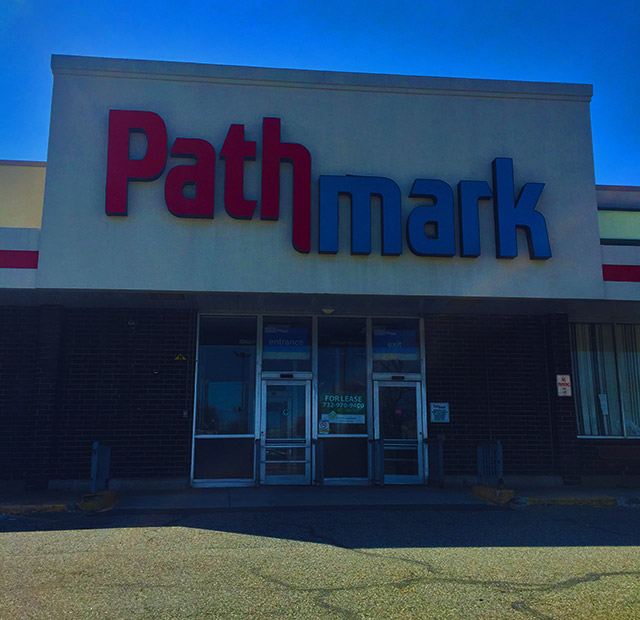 Pathmark!
This is just one of several Pathmark corpses within driving distance. The supermarket chain folded in 2015, but there still remains many locations that haven't yet been rented out by other chains.
In a cliche sort of way, I guess you could've considered Pathmark the "Kmart of grocery stores." The ones around here were always a little seedy and never particularly clean, but they were cheaper, and they carried some of the Halloween candies that no other chain did.
Most of those Pathmarks had been around for as long as I can remember. In fact, it was at one such Pathmark that my Ninja Turtle obsession was born, way back in the fourth grade.
I tagged along with the neighbor kids on their mother's grocery run, and on a whim, bought a spiral notebook with the Ninja Turtles on the cover. At that point, I'd never even seen the show. That dumb notebook inspired me to give it a shot, and the rest is history.
I have a million only-interesting-to-me memories like that, all somehow tied to Pathmark.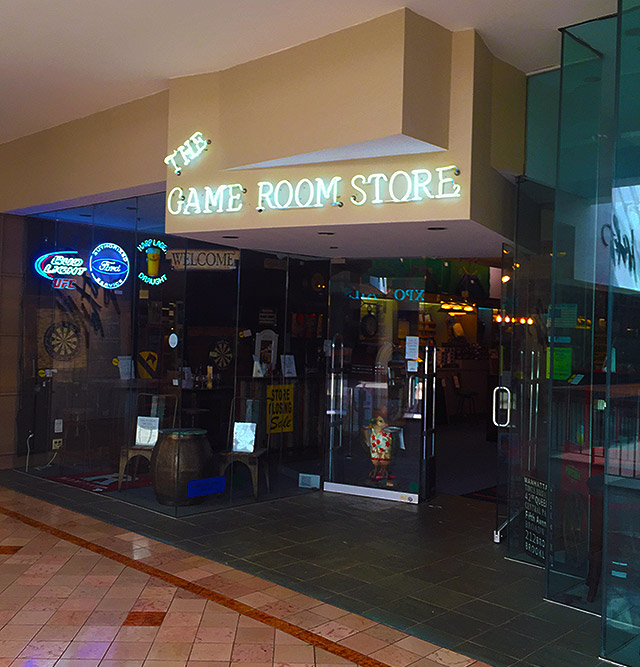 The Game Room Store!
As of this writing, the Game Room in the Woodbridge Center Mall (that's Jersey) is still around, but they're shutting down for good at the end of April.
Having opened in 1974, the store is older than me. The Game Room sells pool tables and jukeboxes and other luxury entertainment items, but for as long as I can remember, they've also stocked roleplaying games and the paraphernalia that goes with them.
Back in the early '90s, the Game Room was one of my preferred haunts. They sold tons of Star Wars roleplaying junk, including sets of those little metal figurines. As a Star Wars-obsessed kid living in a period when the franchise was almost entirely dormant, those metal figurines were a godsend. (I actually wrote about them for the official Star Wars site last year.)
At the time, the Game Room had one of those Ms. Pac-Man cocktail tables. I'd sometimes spend more than an hour in there, all alone, dividing my time equally between Mos Eisley and Ms. Pac-Man.
In so many ways, those were tough years to be a geek. I'll forever be grateful that the Game Room made it easier.
Sportscards & Cigars!
I'll never forgive myself for not doing a story on this place while I still had the chance to do it right.
You see, Sportscards & Cigars used to be Sportscards & Comics. The store opened in the early '90s, right in the middle of the comic book boom.
During that boom, comic book stores sprung up like weeds around here. This was one of the shops within walking distance. One of my shops.
God knows how many hours I wasted at Sportscards & Comics, but between the 7th and 9th grades, I often went there 4 or 5 days in a row. The owner was a little bit gruff, no doubt ticked over the amount of foot traffic from unsupervised children, but he always liked me.
(And why wouldn't he? I was always polite, always alone, and I always bought something — even if it was just a pack of Marvel Universe cards, or those weird pogs with the eight-balls and spiders on them.)
A few months ago, I peeked through the window. The layout hadn't changed much. Same plastic grey shelves, same glass cases, same spinning racks of comics… which were almost definitely stocked with leftovers from the days when I shopped there.
I'm so mad at myself for saving my return for another day. My shirt wasn't that dirty. 🙁
Anyway, I mourn stores like they're people, and in the cases of these five, I couldn't let go until I'd eulogized.
So thank you for reading about Pathmark.
PS: Time is running out if you want in on Dino Drac's April Funpack! Support the site and get a box of retro nonsense for your trouble!