Go on, treat yourself. You deserve it. You deserve old gum and Addams Family trading cards.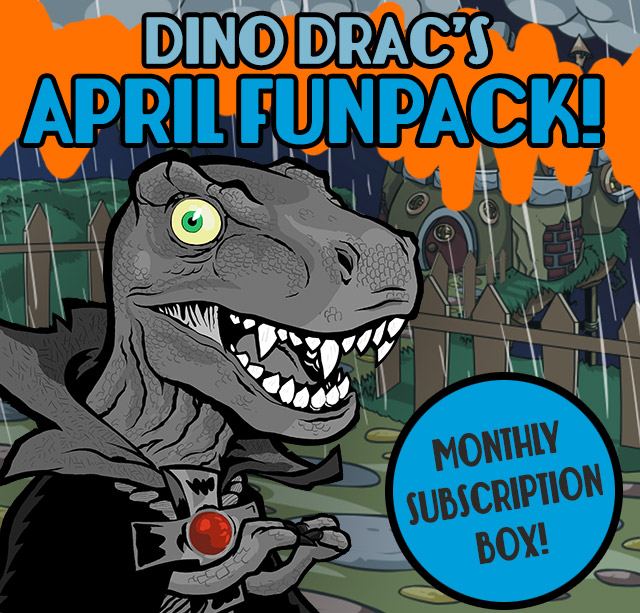 Dino Drac's April Funpack is here!
Obligatory spiel: I create and sell monthly Funpacks, stuffed with old and new nonsense. Without the profits from these boxes, I wouldn't be able to run Dino Drac. So on top of getting cool boxes filled with neat stuff, you're also ensuring another month's worth of Kool-Aid reviews and video store trip reports.
The Funpacks are $25 per month, and that includes shipping. Subscriptions are handled via Paypal. For as long as you choose to stay subscribed, you'll be billed automatically every month and continue to receive Funpacks! Of course, you can cancel at any time without penalty.
To all subscribers, old and new: Thank you so much for keeping the site afloat!
Let's see what's in store for the April 2017 Funpack!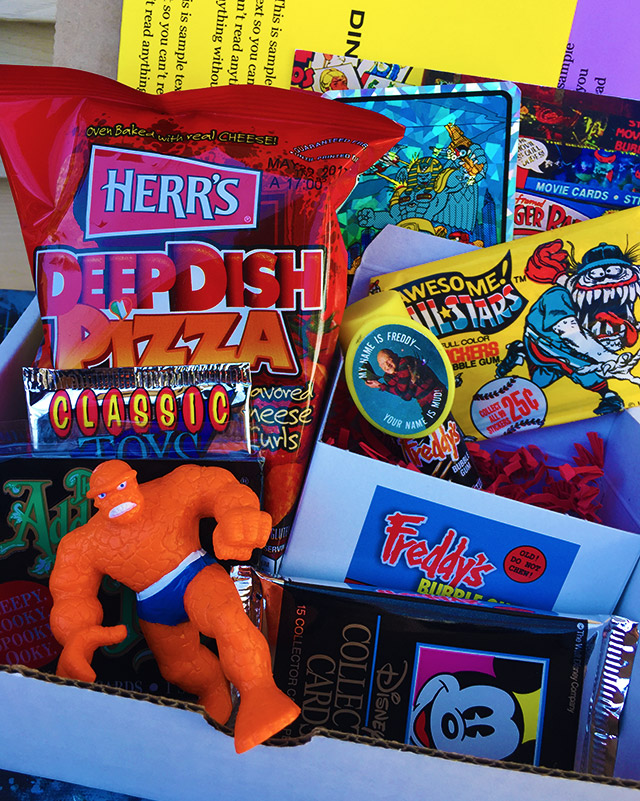 This month's Funpack is totally nuts, like Payday but less literally. There are over ten items in each box, from serious collectibles to awesome snacks to hypnotic Power Rangers stickers. I dare say that this month's Funpack is so good that I'm already worried about trying to match it in May!
Jump to the bottom for ordering info, or keep reading to see everything you'll get!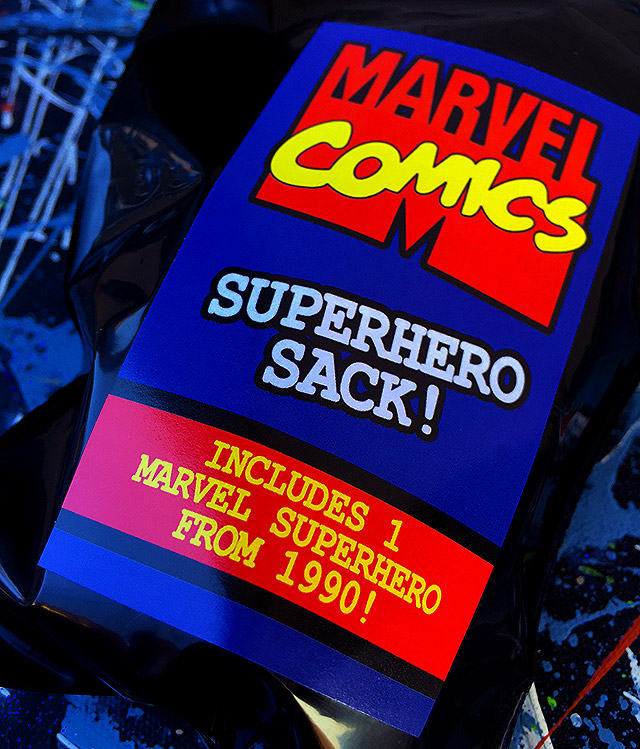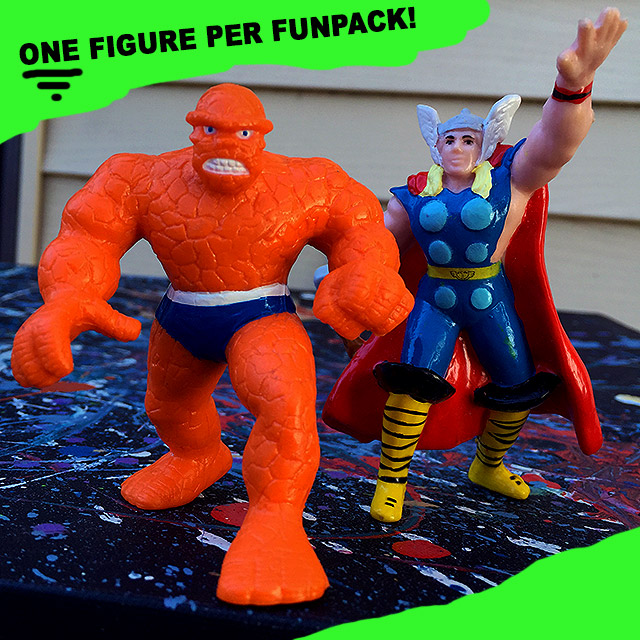 As a follow-up to last month's Bad Guy Bag, check out the Marvel Comics Superhero Sack! Each bag contains ONE Marvel Comics superhero figure from 1990. You'll either get THOR or THE THING.
Sorry, no picking, but both PVC figures are beautiful. Beautiful and BULKY. They barely fit in the bags!
Remember, you'll only get ONE figure with your Funpack! Figures may have slight paint wear, but they've never been played with and are basically in as perfect condition as they were in 1990. These are pretty nifty collectibles that aren't often seen nowadays!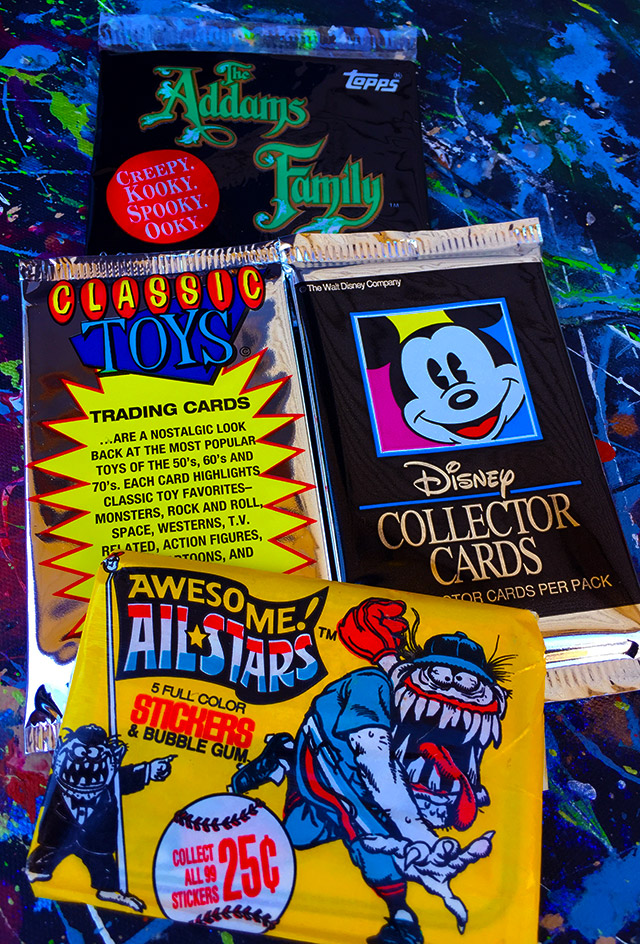 This month's assortment of vintage trading card packs is pretty badass. Every Funpack comes with all four packs shown here!
Included: The Addams Family, Disney Collector Cards, Classic Toys and Awesome All-Stars. (Don't worry about that last one if you're not a sports fan. All of the players are monsters, so you'll love 'em anyway.)
Really eclectic mix of packs this month. Have fun tearing 'em apart!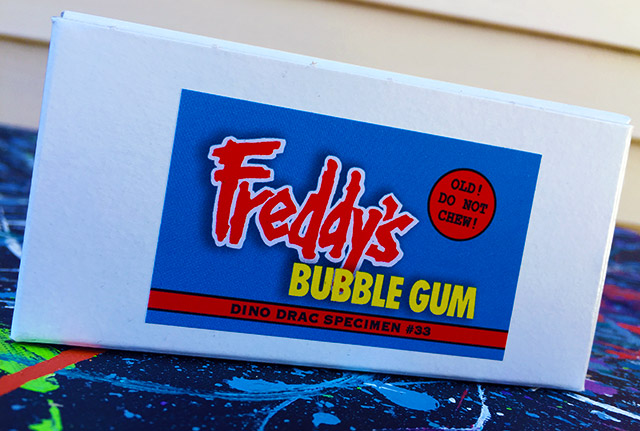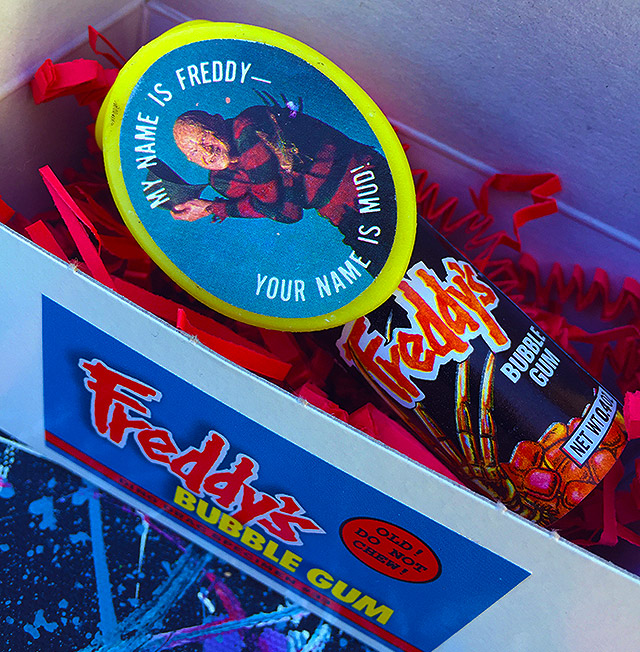 Next… my God.
Next, every subscriber will receive an honest-to-goodness package of Freddy's Bubble Gum, made by Topps in 1989. If you don't know what these are, you obviously haven't read my recent article.
Yes, Freddy Krueger had his own bubble gum. You'll each receive one of the 12 original tubes, with the original gum inside. (Don't chew it. It's old!)
Even better: Each bubble gum tube will come packaged in a Dino Drac exclusive gift box, stuffed with "Freddy red" crinkle paper.
Okay, maybe I'm making too big of a production out of old gum, but I think I know my audience.
NOTE ON CONDITION: All gum tubes are unused and are coming straight out of the original display boxes. Some may have wear to the plastic or stickers from rubbing up against one another for 25+ years. They still display perfectly and have never been messed with!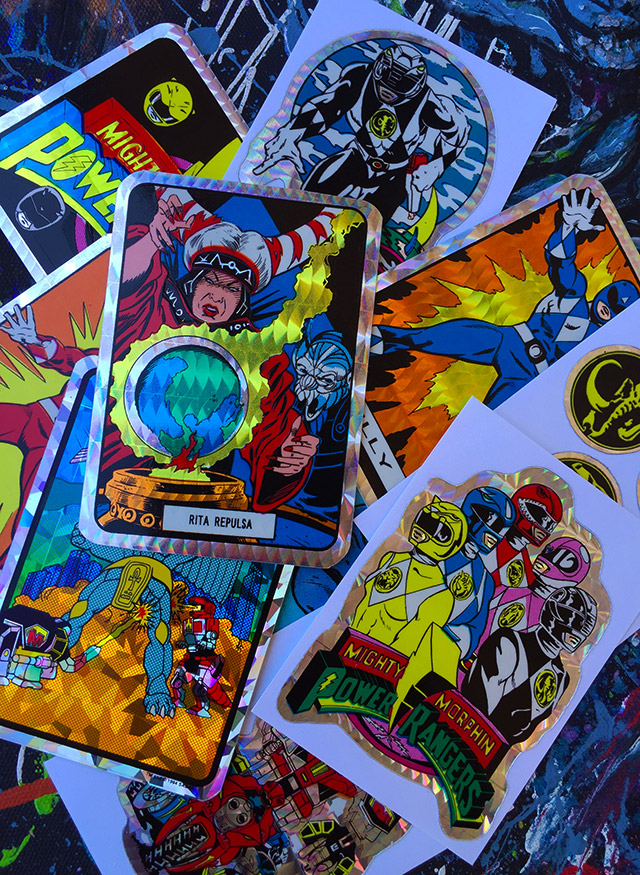 Wait, there's more!
Every subscriber will receive ONE vintage Power Rangers prism sticker. These beauties came out of vending machines back in the mid '90s. There are around a dozen different stickers; you'll receive one at random.
These are seriously gorgeous stickers that will fill you with so much nostalgia, not just for Rita Repulsa, but for the glory days of vending machines!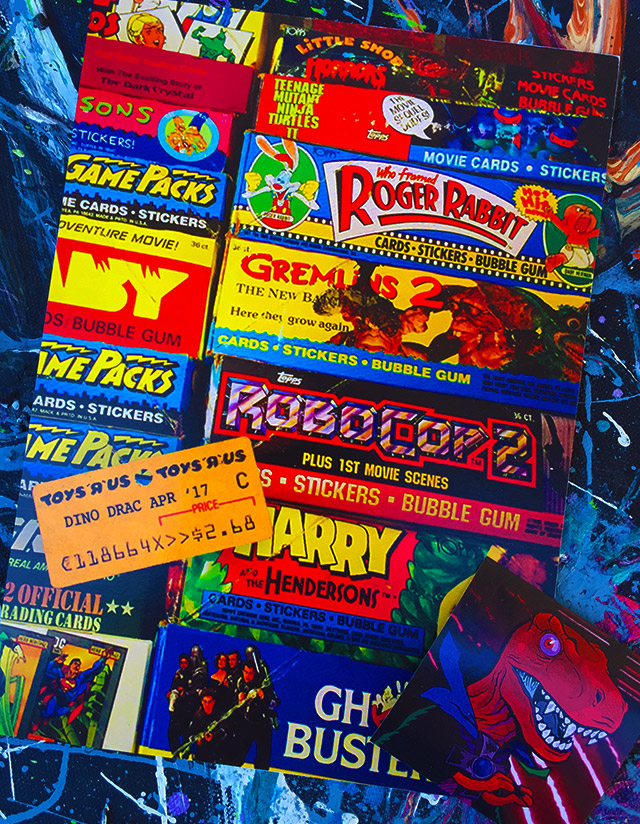 This month's Ugly Mini-Poster isn't so ugly… it's a 5×7" photo of various vintage trading card boxes, printed on decent cardstock and ready to be tacked up wherever you require happiness! (And yes, you'll also receive this month's exclusive Dino Drac sticker, too!)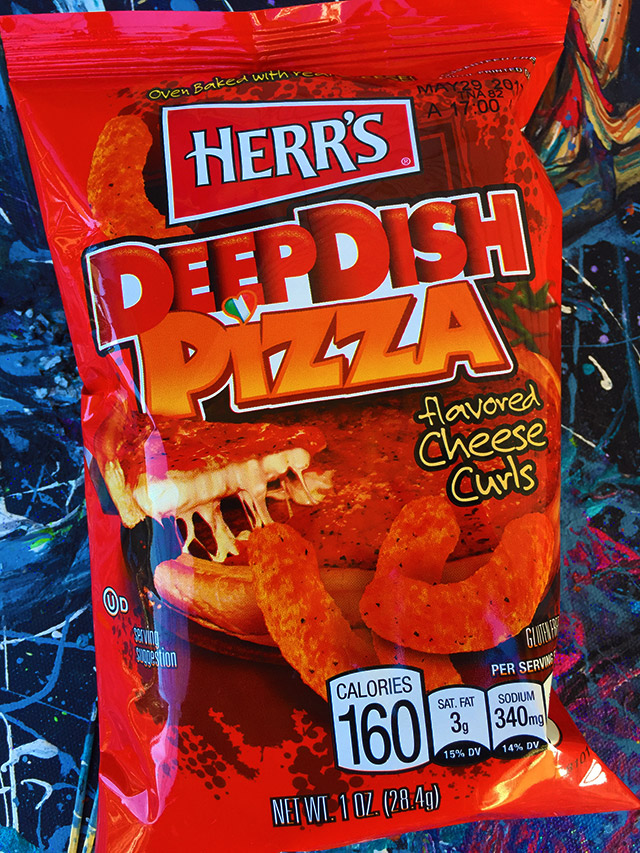 And then we have this month's snack!
It's a bag of Herr's Deep Dish Pizza-Flavored Cheese Curls. They're just as atrociously delicious as they sound. Perfectly zesty and pizza-like. I can't believe they exist, but I'm happy to include them with the April Funpack!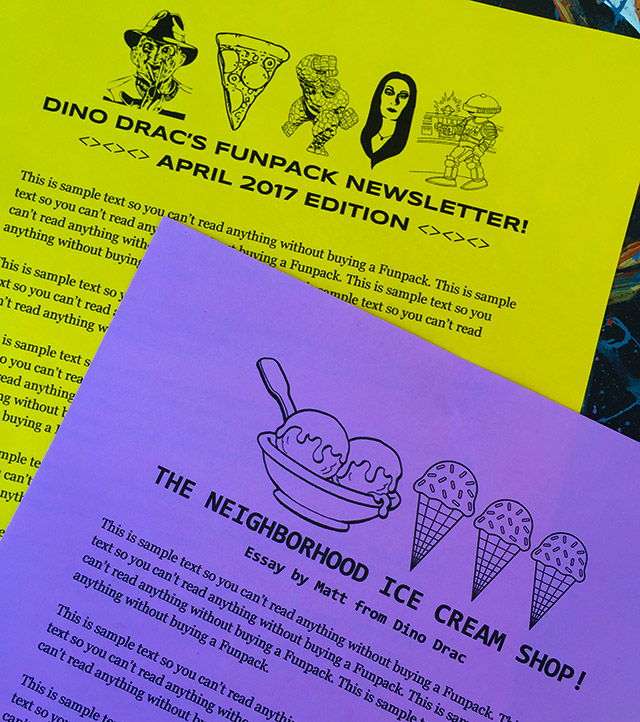 Finally, you'll receive this month's Dino Drac Funpack Newsletter, plus an exclusive essay about my neighborhood's old ice cream shop, which doubled as our go-to place for everything from trading cards to wrestling magazines to Corvette posters. (Essay will never be reprinted on Dino Drac!)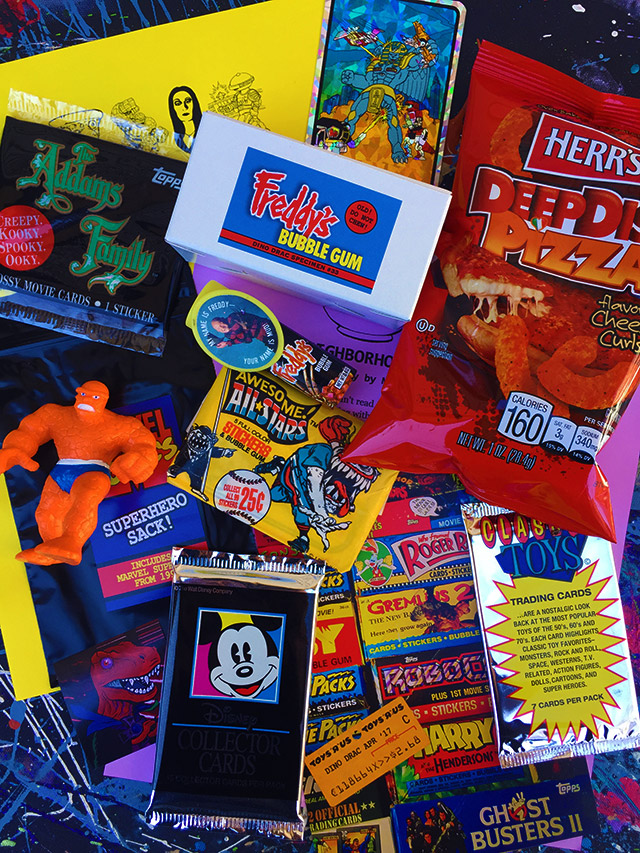 Yep, you'll get EVERYTHING shown above for $25 shipped!
If you're already a Funpack subscriber and you'd like to stay that way… do nothing! You're all set!
If you want to subscribe, please read the following, and then click the button at the bottom of this page!
1. Funpacks are available in the United States only. Sorry!
2. Subscriptions are handled via Paypal. If you don't have an account, it's very easy to make one!
3. Funpacks will be shipped to the address listed on your Paypal account. If you need to change your shipping address, or if you'd like for your Funpacks to be shipped to someone else, simply email me!
4. You will be automatically billed $25 every month. (Yes, that price includes shipping.) If you subscribe today, you'll pay today, and then again in exactly one month. For as long as you remain subscribed, you'll keep getting Funpacks!
5. You can cancel at anytime. (You could subscribe today and cancel today!) If you cancel after you've already been charged for the following month's Funpack, you'll of course receive it just the same as any current subscriber would. (You can cancel via Paypal, or by emailing me.)
6. The April 2017 Funpacks will ship on or before 4/19!
Remember, the Funpacks are *absolutely* what allow me to keep doing the site… thanks so much to all who help to keep it/me going!
To get your subscription started, click the button below!
SORRY, SOLD OUT! SEE YOU IN MAY!