Even the busiest weekend ever couldn't stop me from hitting Englishtown again. Racing against the clock (and serious storm clouds), I only had around 30 minutes to turn total strangers' trash into life-changing treasure.
While the loot couldn't be more different, I'd say that it's at least on par with last week's. Here are my six best finds, which cost a grand total of $16.25: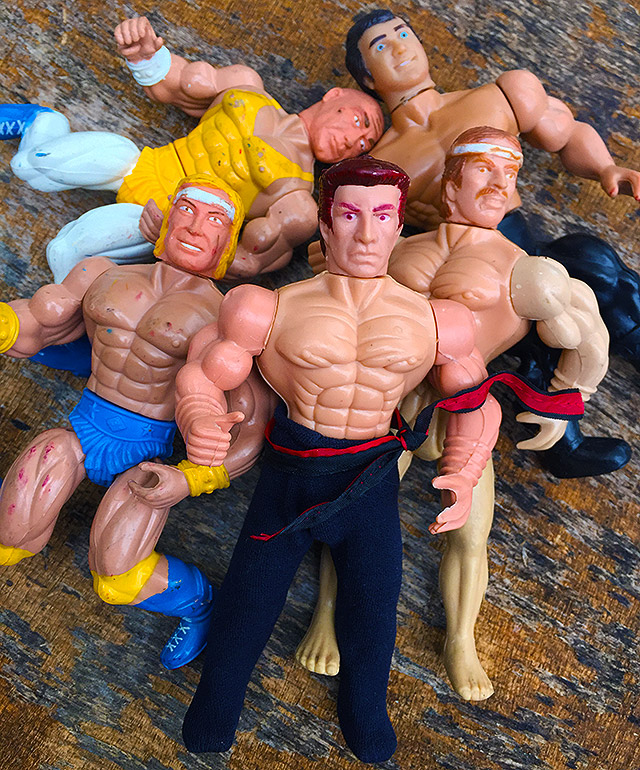 Naked Men! ($3 for the pile)
I only wanted the one in the center, but the seller refused to break up the lot. Weird, since I would've paid a buck or two for just that figure. Your loss, Guy In The Stained Syracuse Orangemen Shirt!
So, the dude in the middle. I had him as a kid. He was part of some generic "ninja" two-pack, which my father bought at the Kay-Bee in Atlantic City's long-dead ship-shaped shopping mall. (God, I miss that mall.)
The gift served as hush money, intended to keep me occupied as my parents took turns playing the slots. The action figure originally came with a full-body ninja suit, and I remember being horrified after discovering the impossibly numerous muscles hiding underneath it.
For whatever reason, his muscles really grossed me out. And I especially hated how his pecs looked like monster eyes. Prior to hitting the flea market on Sunday, I hadn't thought about that action figure for literally thirty years.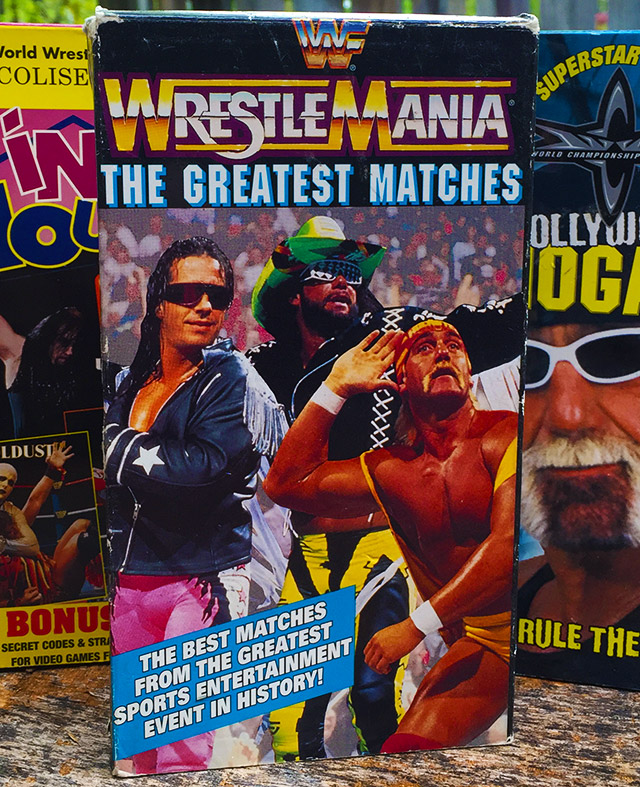 Old Wrestling Videos! ($3 for all 3)
None of the tapes are worth very much, but $1 for old wrestling videos would've been a bargain even if they didn't have their original sleeves. Included in the lot are:
– WrestleMania: The Greatest Matches (WWF, 1994)
– In Your House: Greatest Matches (WWF, 1996)
– Hollywood Hogan: Why I Rule The World (WCW, 1999)
There isn't much on these tapes that I can't already see on the WWE Network, though I might get to hear some old themes that WWE no longer has the rights to. Really, I just bought them because I thought the shelf above our television would look nicer with cardboard wrestlers all over it.
(I was right, btw.)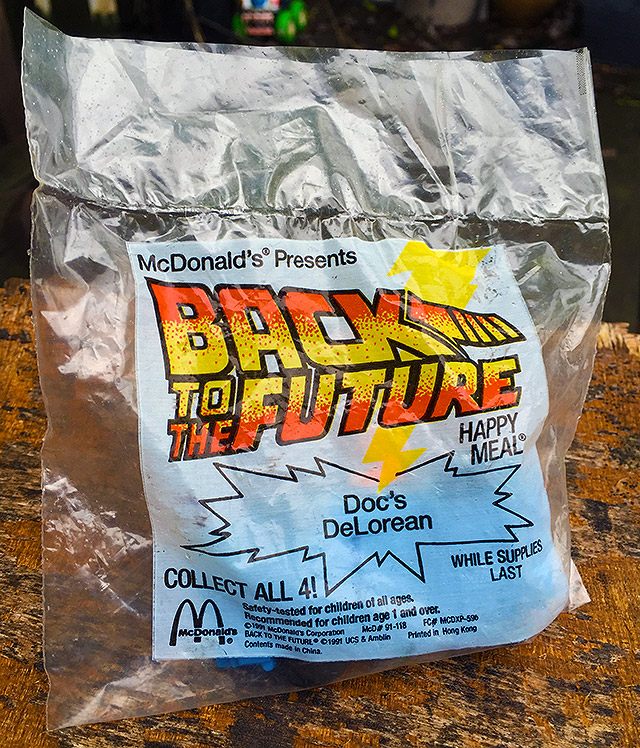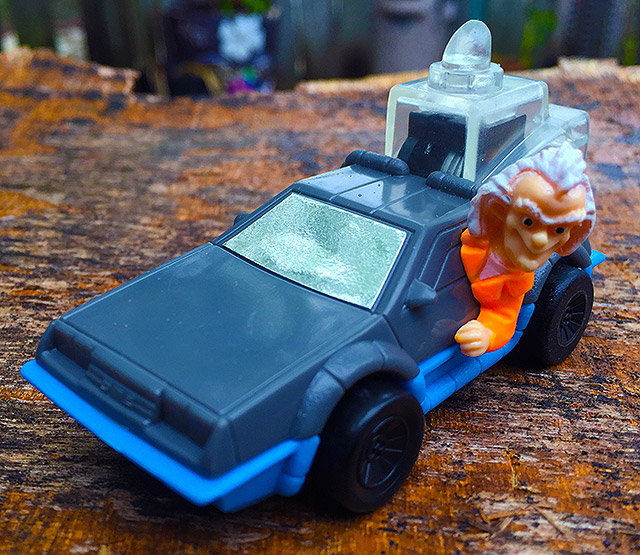 Doc's DeLorean! ($1)
Oof, this one is bittersweet. The seller had a whole box of these DeLoreans, all for a buck each. Several dozen of 'em. I have no idea why I didn't just take the whole lot, and I'm gonna spend all week sweating over the idea that some idiot will beat me to them next weekend.
Doc's DeLorean was indisputably the best premium from the 1991 Back to the Future Happy Meal, which I've written about before. (If Doc looks a little off to you, it's because the toys were based on the animated series, not the movies.)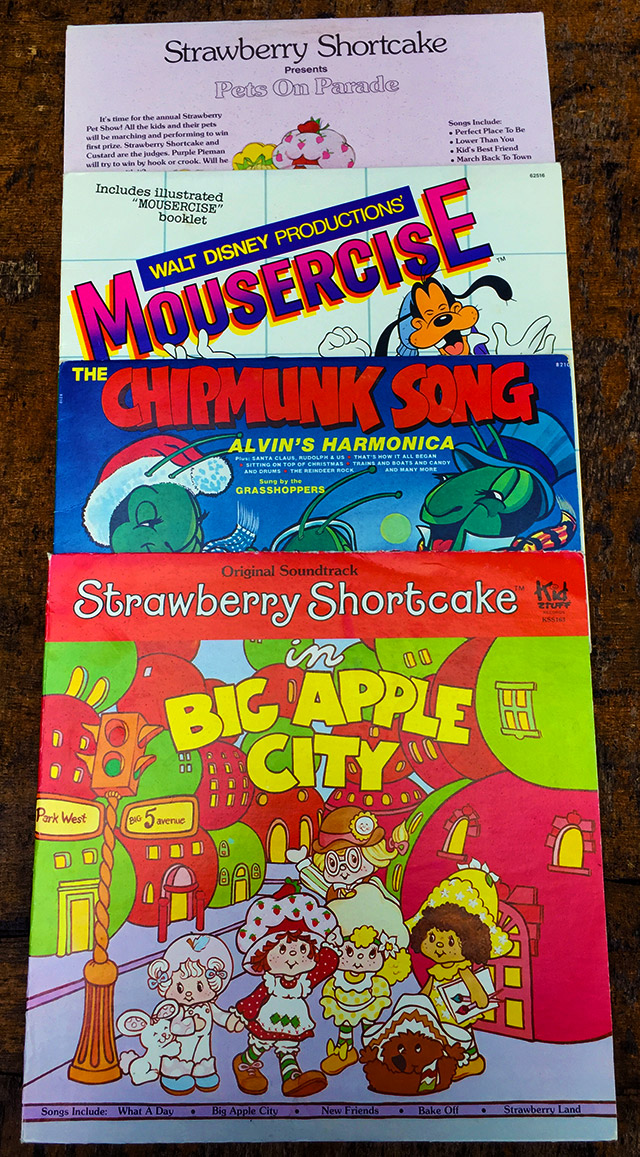 Vintage Kiddy Albums! ($4 for all)
I normally don't do records — that's more of a Jay area — but I couldn't turn down such a great bunch of 1980s kiddy albums at that price.
I was mostly interested in the two Strawberry Shortcake albums. See, my girlfriend stayed home, protesting the idea that we could squeeze in a flea market when we had a giant wedding reception to attend later that day. She was right, of course, but all was forgiven when I came home with Strawberry Shortcake in Big Apple City.
So what if I barely showered and had to drive 6000 MPH to get there on time? WE CAN LEAN PETS ON PARADE AGAINST THE WALL, NOW.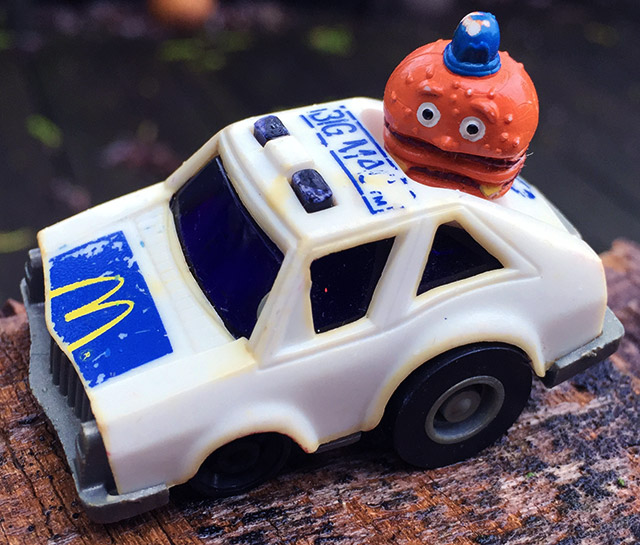 Officer Big Mac's Fast Mac! (25 cents)
Another Happy Meal find, from one of my all-time favorite sets. The 1985 Fast Macs were a bunch of pull-back racing cars starring all of McDonaldland's top dogs, like Ronald, Birdie and Grimace.
Several rungs down the ladder was Officer Big Mac, who even by that point was mostly retired and rarely turned up in the TV commercials. The Fast Macs were Micro Machines in a pre-Micro Machines world, and I was madly in love with them.
Note: I'm calling them "Happy Meal toys," but that's only half true. The Fast Macs were actually sold separately and came packaged on retail-style bubble cards. Whatever, they were only 69 cents, and it's not like I was the one paying. "Happy Meal toys" still applies.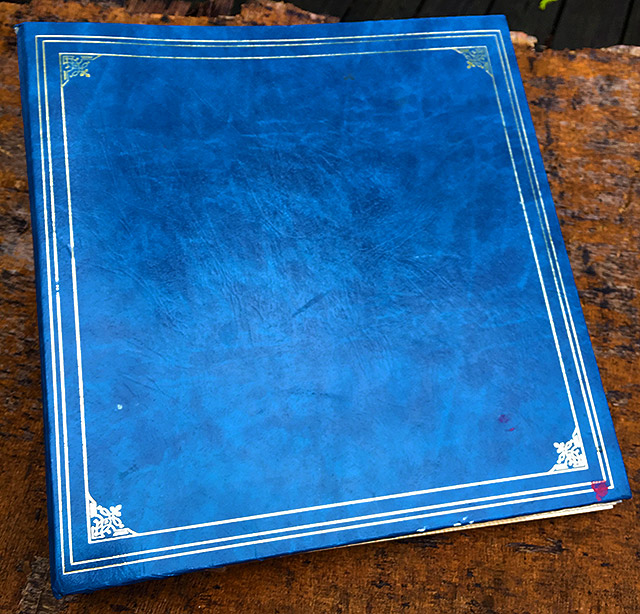 Mysterious Photo Album! ($5)
And now, my best find. Oh boy.
One guy was selling various trading cards. Most were sealed packs or assembled sets, but he also had several albums' worth of "singles," for individual sale. It was great stuff to look at, but I knew better than to go much deeper. Sellers who keep things too organized may as well wear "I Charge 5x Too Much!" buttons. I was in no mood.
But one of the albums seemed too oddly shaped for trading card pocket pages, and I was naturally curious. What I found inside was technically worthless but spiritually invaluable. I can't believe that a guy who wanted $1 for individual Dinosaurs Attack cards let me take the whole album for a fiver: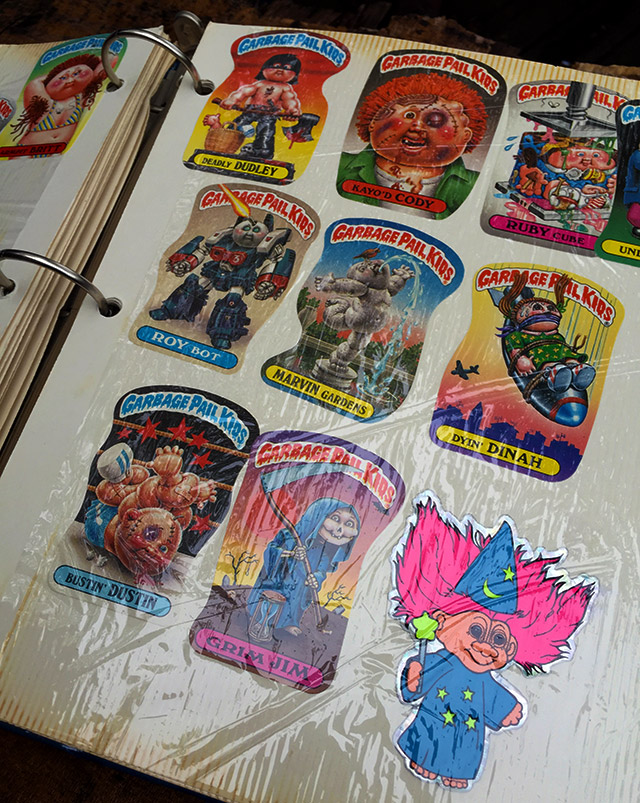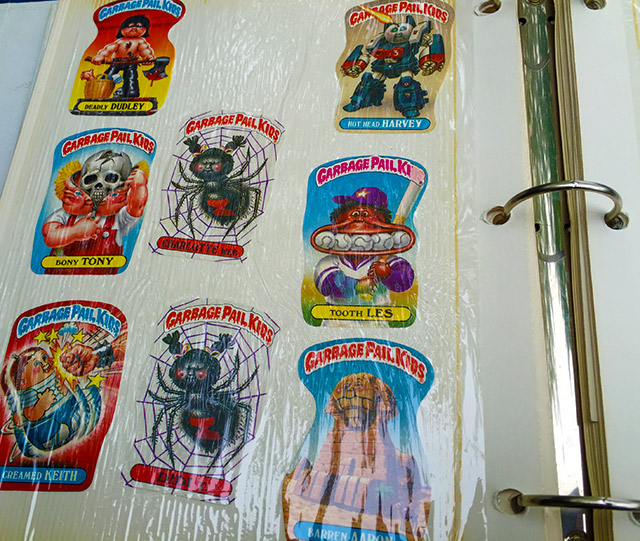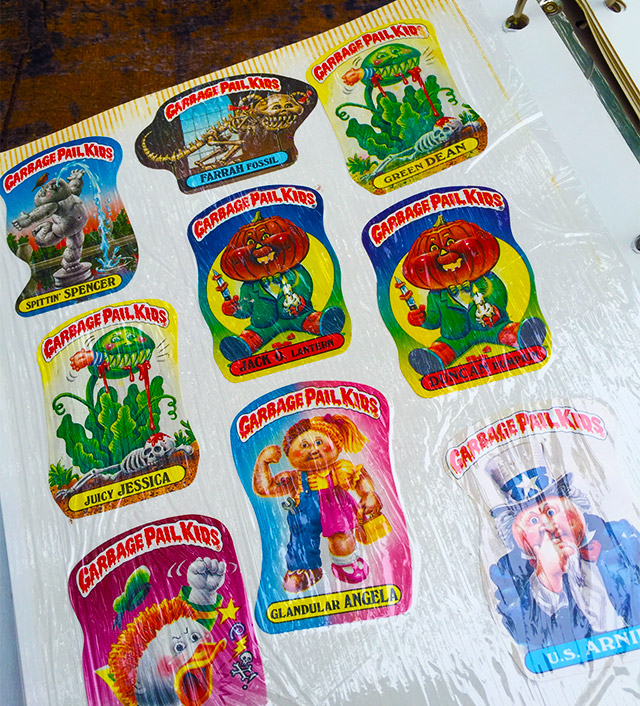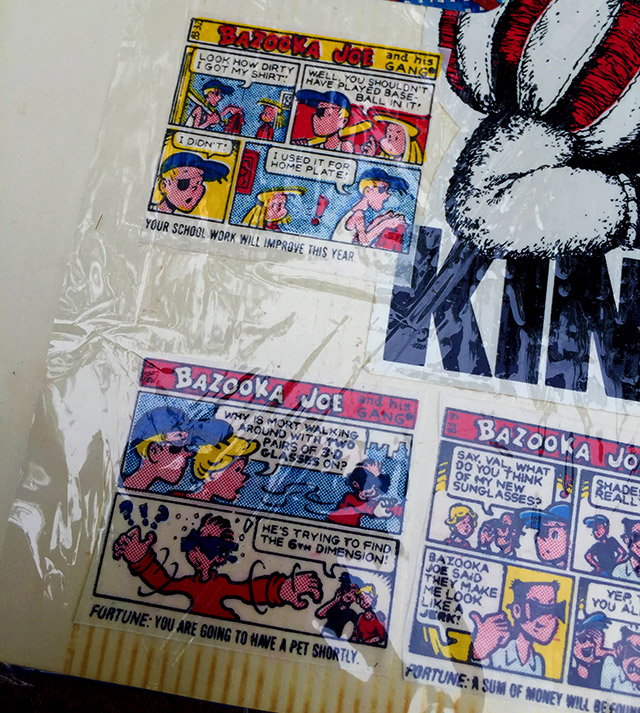 Yep, it's stuffed with vintage Garbage Pail Kids stickers. TONS of them.
Freed from their cards and trapped in a grimy photo album, they have no real monetary value. Even so, they're more attractive to me this way than they would've been in mint condition, because HOW MANY TIMES DID I DO THIS EXACT SAME THING? Repurposing family photo albums in silly ways was basically a rite of passage! Hell, I've already written about my own adventures with that.
The album is 95% Garbage Pail Kids, but there were a few other stickers in the mix — most notably a prismatic, pink-haired Troll. Much to my delight, the album's original owner even tossed in a few Bazooka Joe comics. God! This album is so me that I can't rule out the possibility that it was I who filled it.
Pretty sweet haul. I am satiated. And coughing, because dust.