It's Friday the 13th. Jason's special day. Naturally, I will spend tonight watching movies that I've already seen a billion times. You should, too!
To celebrate, I plugged "Friday the 13th" into eBay and spent way too many hours searching for the weirdest and most obscure Jason Voorhees collectibles. Below are my favorite finds.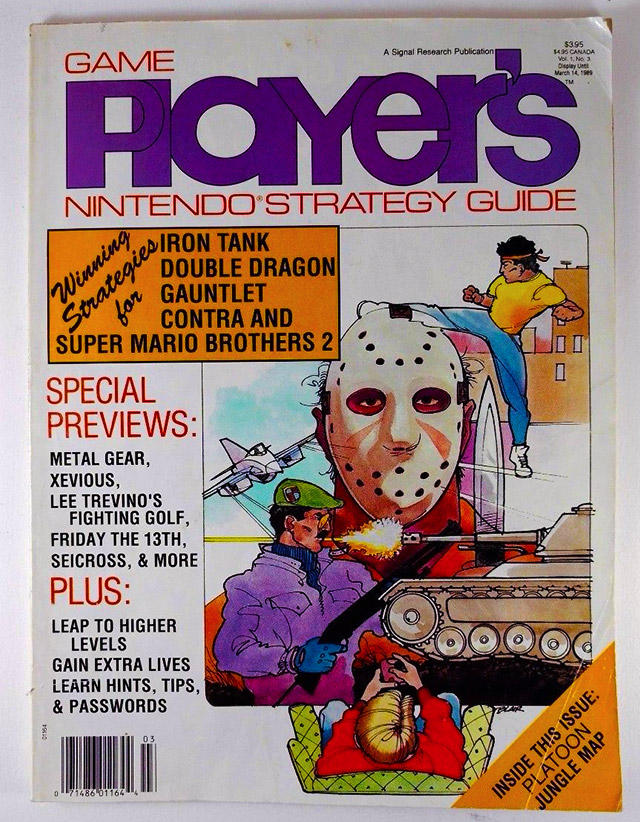 Game Player's Nintendo Strategy Guide #3!
Sold by: joseywales242
Asking Price: $6.00
The Friday the 13th Nintendo game is notoriously difficult and not well-regarded, but I think the mere fact that there even WAS a Friday the 13th Nintendo game kind of auto-validated its existence.
Besides, without that game, we wouldn't have gotten so many Jason Voorhees action figures in purple jumpsuits. C'monnn.
This 1989 issue of Game Player's Nintendo Strategy Guide included a preview of that game, and a super awesome drawing of Jason right on the front cover. The art wasn't remotely official, but that's the charm. He looks more like an old, down-on-his-luck version of Vega.
Please buy this magazine so I don't have to.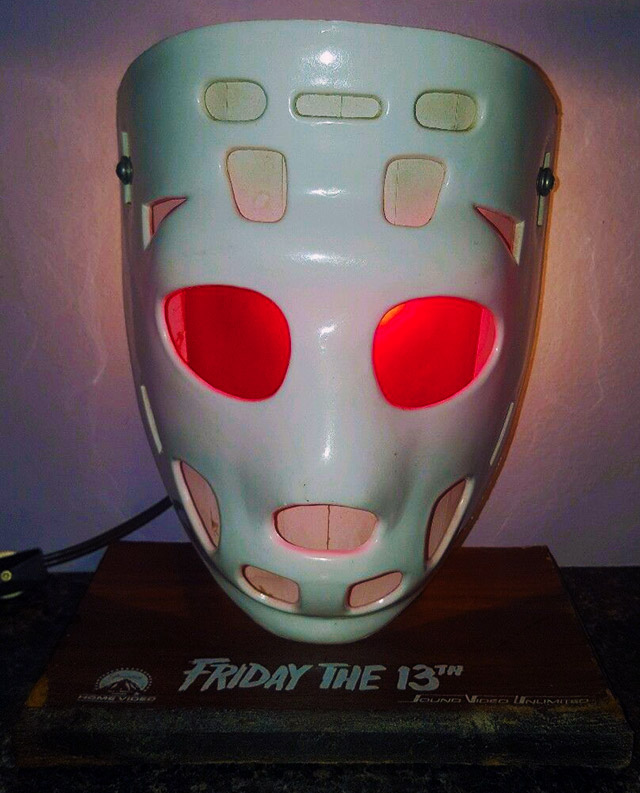 Friday the 13th Promo Lamp!
Sold by: 570collectibles
Asking Price: $199.95
Among the more desired Friday the 13th collectibles is this wacky lamp, which was originally gifted to video stores. Between the style of the mask and the haunting red glow, I'm assuming it was associated with Friday the 13th Part V.
Remember that old episode of Roseanne, where Dan refused to throw away his Canoga clock? I get such a Canoga clock vibe from this lamp. Any item that makes me think of Jason Voorhees and Dan Conner has gotta be worth 200 bucks.
(For the record, that price is actually cheap, as I've seen this lamp sell for more than $200 several times before!)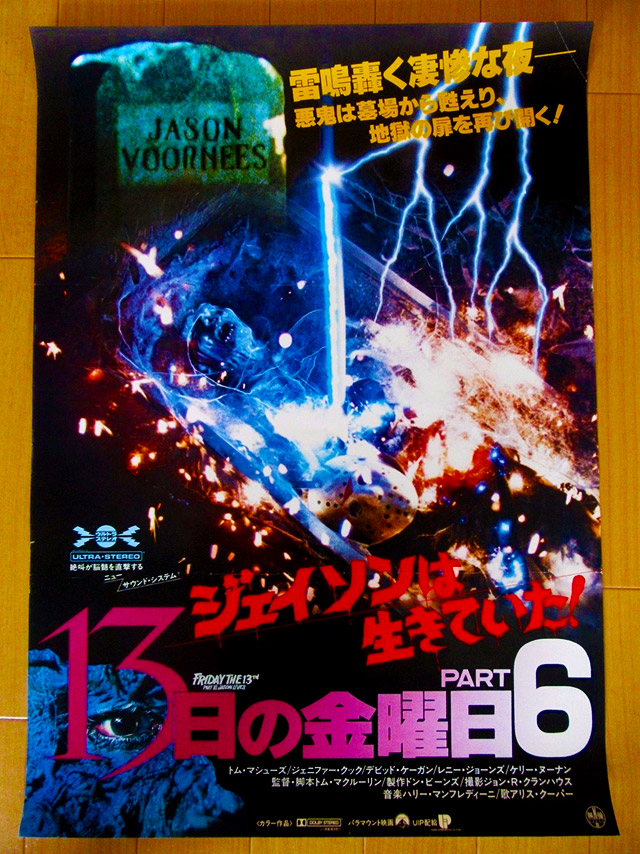 Japanese "Jason Lives" Poster!
Sold by: kk82425
Asking Price: $79.90
Foreign movie posters are often more interesting than their American counterparts, but I'm usually fine with admiring them from afar. With this one, I don't know. I may have to buy it. I'd then need to punish myself with three weeks' worth of ramen dinners, but since I love ramen, the joke will be on AmEx.
This Japanese Friday the 13th Part VI poster is INTENSE. Part VI isn't even close to my favorite Jason movie, but man did they ever make it look like it SHOULD be.
The amazing thing is that all the artists really did was make a collage out of existing art. Many foreign movie posters were bigger productions, with the artists custom-creating every single element with very little guidance.
(PS: As much as I want it, I kinda already blew through this month's frivolity budget on old packets of Kool-Aid. So yeah, one of you should buy this thing. It deserves a forever home.)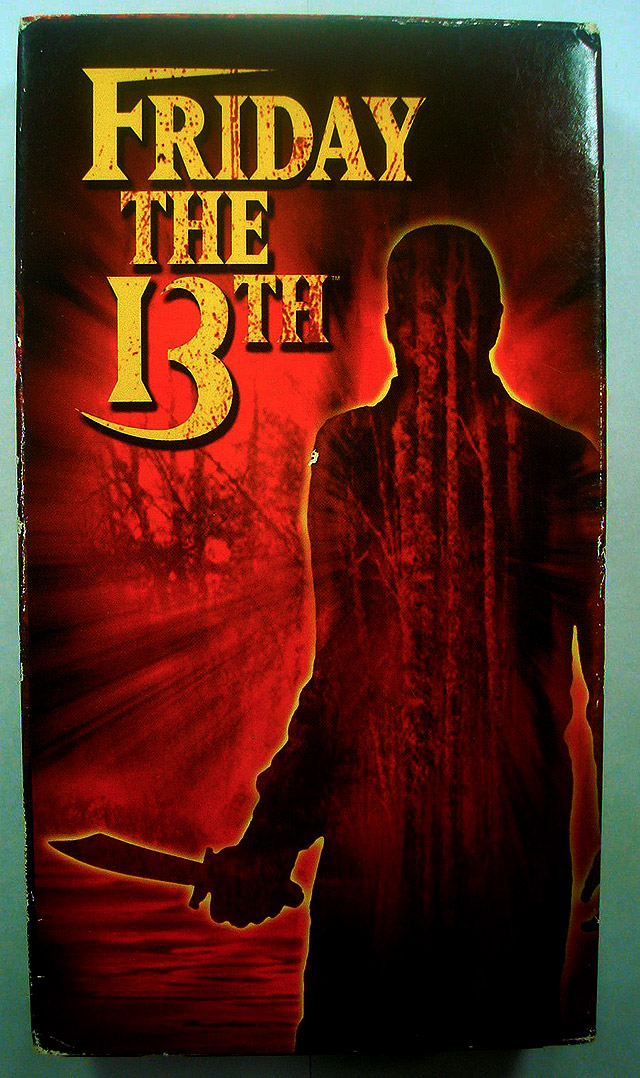 Friday the 13th on VHS!
Sold by: gemcitygeek
Asking Price: $19.99
WHO'S THAT POKEMON?
I'm a huge fan of the old Friday the 13th VHS box designs, but I don't think I've seen this one before. Though the seller listed it as a 1994 release, a closer inspection reveals that it's actually from 2001.
The original Friday the 13th VHS box looked nothing like this, and for the life of me, I can't figure out why this one is so dramatically different. (Given its late release, it was obviously a "discount video," likely sold in Blockbusters and pharmacy chains for $10 or less.)
I still dabble in collecting horror videos, and yes, a different box design is a perfectly just reason to buy the same movie twice. I also dig that the silhouetted figure doesn't really look like Jason, nor his mother, Pamela. Taking the original movie at face value, that actually makes sense!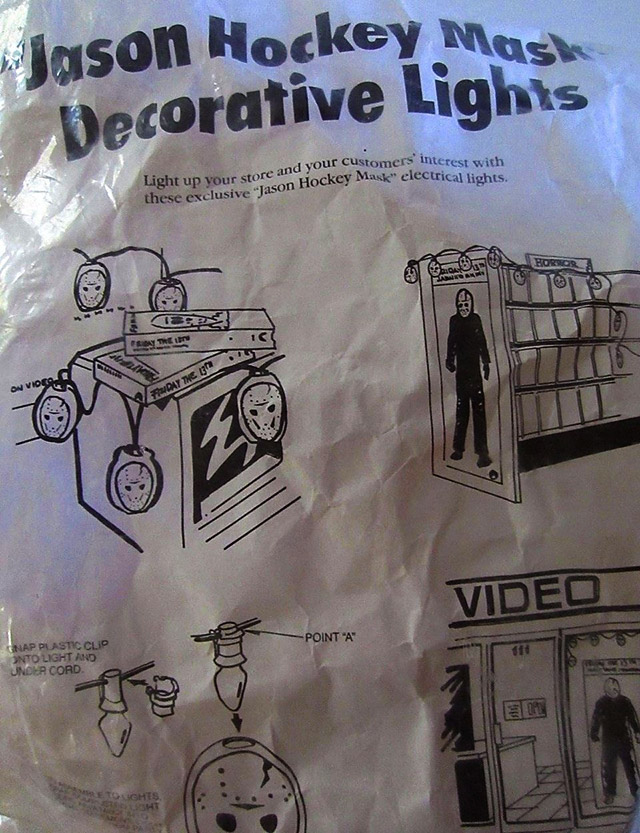 Friday the 13th Promo String Lights!
Sold by: pop-culture-collectibles
Asking Price: $84.99
Like that weird lamp, these string lights were also shipped exclusively to video stores, with the idea being that a video store decorated with Friday the 13th garbage would compel customers to rent Jason's movies.
As wonderful as the lights are, the real treat is the instruction sheet, complete with crude illustrations of the string lights hanging in a theoretical video store. So f'n cool!
Side note: I used to own these lights, complete with the instructions. Since I can no longer find 'em, I guess they got ditched during one of our many shit's-hittin'-the-fan purges. Damn.
Thanks for reading about random Jason junk. By doing so, you saved me approximately 400 dollars. Happy Friday the 13th!