If you've got the post-holiday blues, I'm have the cure: A BOX OF AWESOME JUNK.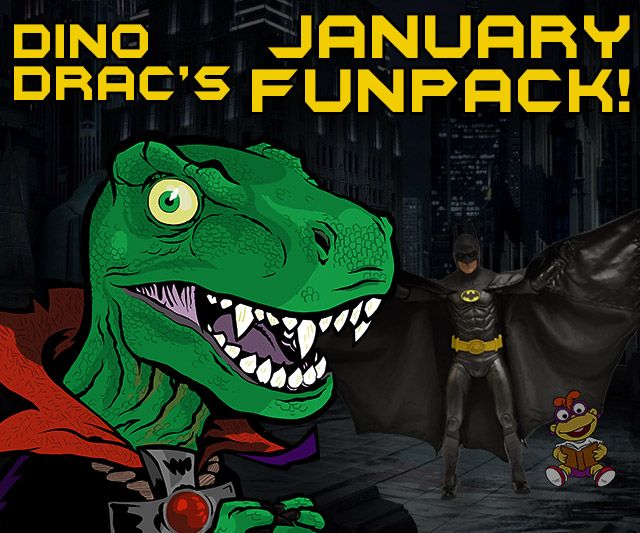 ($25 / MONTH SUBSCRIPTION BOX. UNITED STATES ONLY.)
Dino Drac's January 2017 Funpack is here, and I'll be straight with you… it's an important one. This site is funded almost exclusively through Funpack subscriptions, and when I say that there'd be no site without them, it's not even a tiny exaggeration. Huge, huge thanks to anyone who is (or who has been) a subscriber, because you are literally the thing that lets me do this!
Putting so much time into a site like this means rolling the dice on the future. I consider it a gamble worth making, but I also gotta stay above water in the present. The number of subscriptions coming out of this month will have a direct impact on how much Dino Drac there will be in 2017!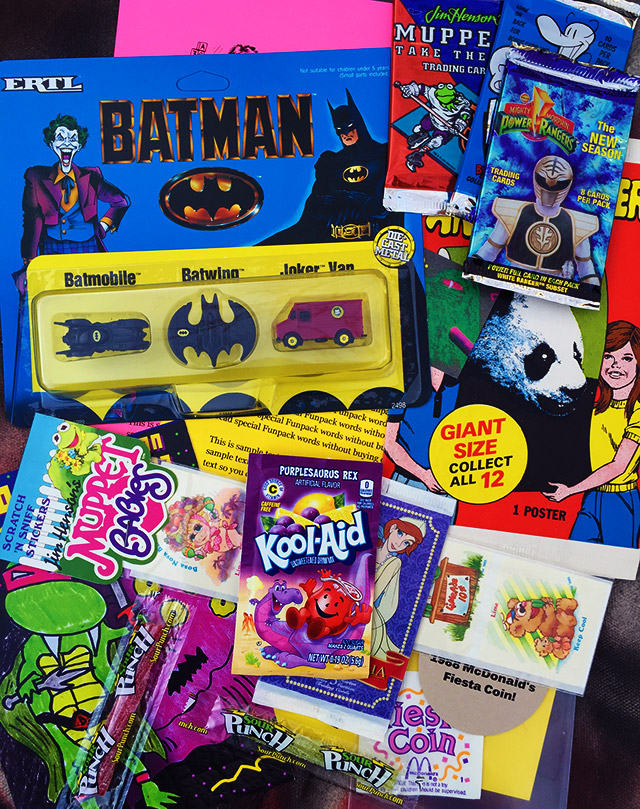 …but maybe that's just lucky timing, because this month's Funpack is seriously bitchin', and I'm super proud of how it turned out!
As a reminder, subscriptions are $25 a month (including shipping) and you can cancel at any time without penalty. For as long as you stay subscribed, you'll get a new box of retro-and-new nonsense, each and every month!
Scroll to the bottom for additional ordering info, or keep reading to see EVERYTHING that's included in the January 2017 Funpack. Around a dozen items in every box!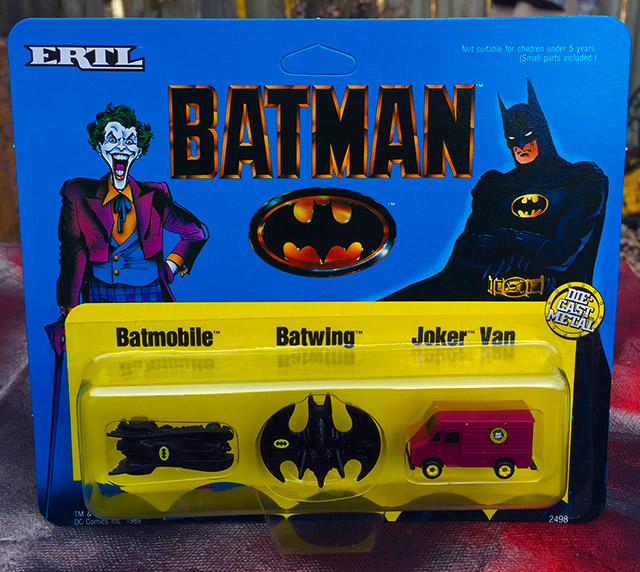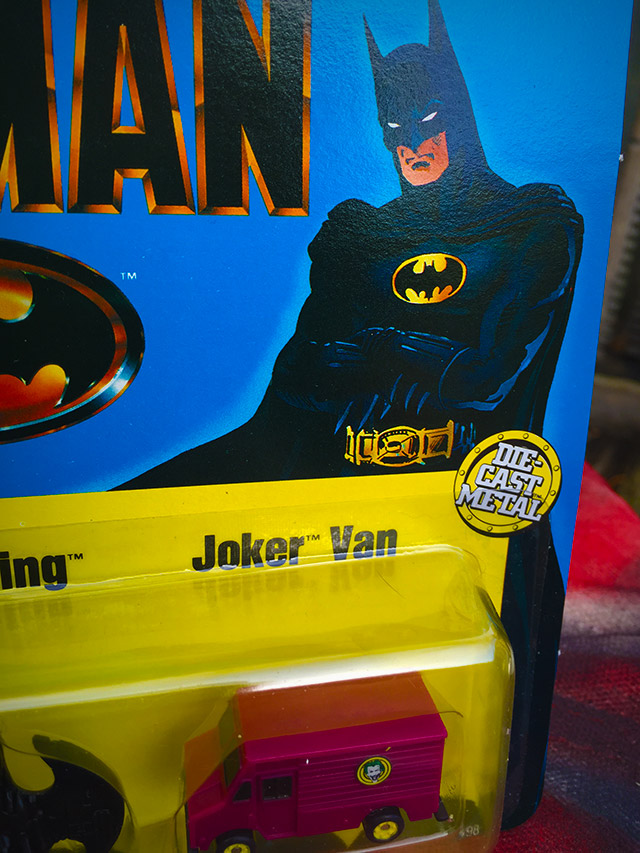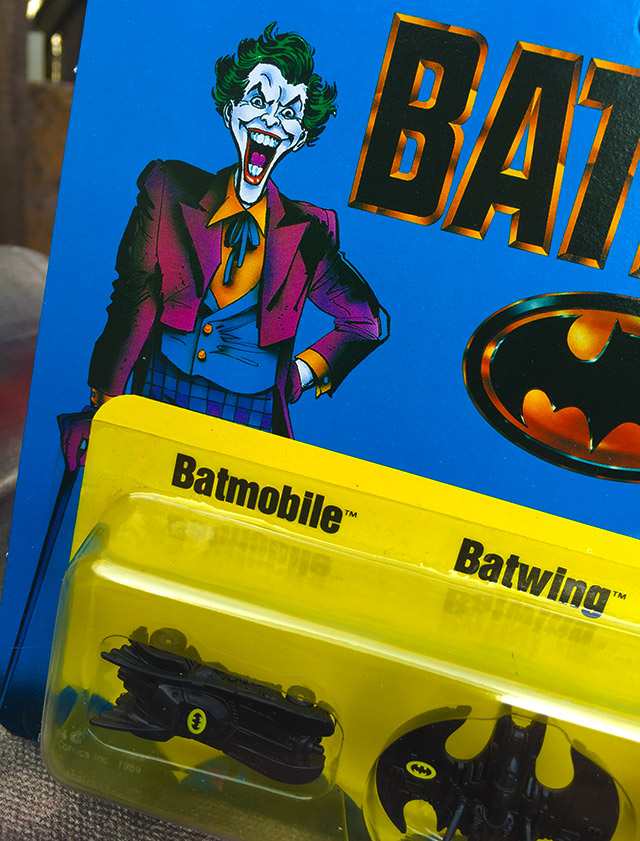 First up, every subscriber will receive a case-fresh, still-packaged three-pack of Batman vehicles, made by Ertl in 1989. This is the REAL DEAL, guys. Easily one of the best items I've ever put in a Funpack, if not THE best.
Each set comes with a micro-sized Batmobile, Batwing and Joker Van, and each set comes in a beautiful package. (The packages are in amazing condition, too — bright, vibrant and untouched.)
This set came out when Burton's '89 Batman movie was the hottest thing going. If you were a kid at the time, chances are good that you remember this set!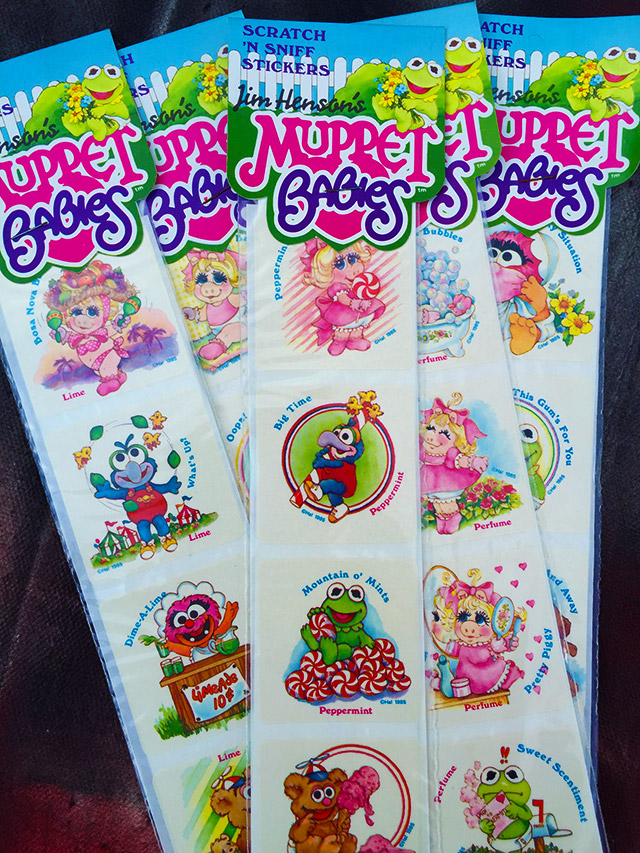 Every subscriber will also receive one sealed package of vintage Muppet Babies scratch 'n sniff stickers. NICE!
These beauties are from 1985! Each package contains four stickers featuring different Muppet Babies characters, with scents ranging from "perfume" to "peppermint."
(They're pretty big stickers, too! In fact, the packages are so large that I'll need to curl them to make them fit in the box. Don't worry, I tested it out and nothing will arrive creased. You're gonna love these!)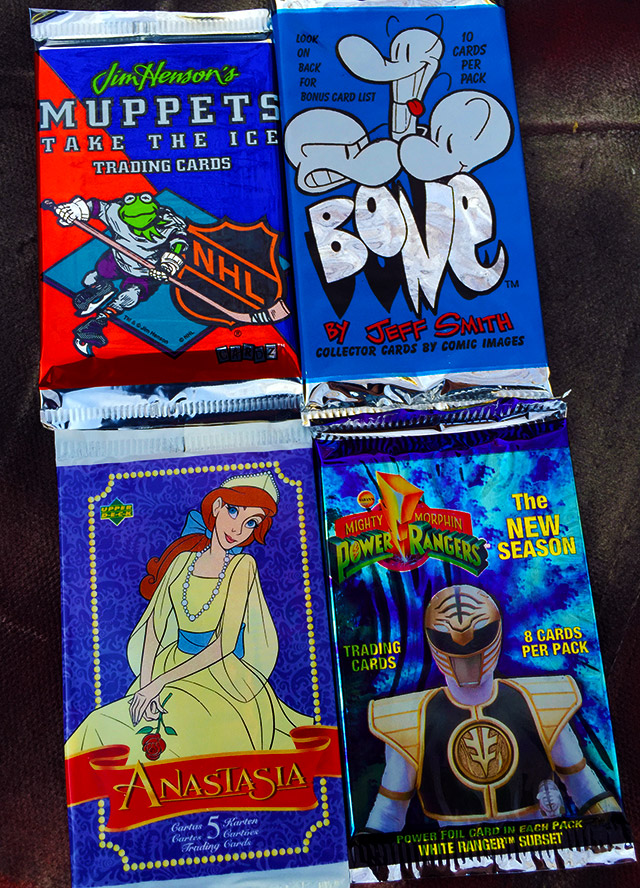 You'll also receive your monthly share of vintage trading card packs. This time, you'll be getting FOUR packs, including Muppets Take The Ice, Bone, Anastasia and Mighty Morphin Power Rangers. Spread out on the living room floor and start tearin'!
Bonus points: Three of the four packs have foil wrappers, so they're pretty to look at even if you don't open 'em!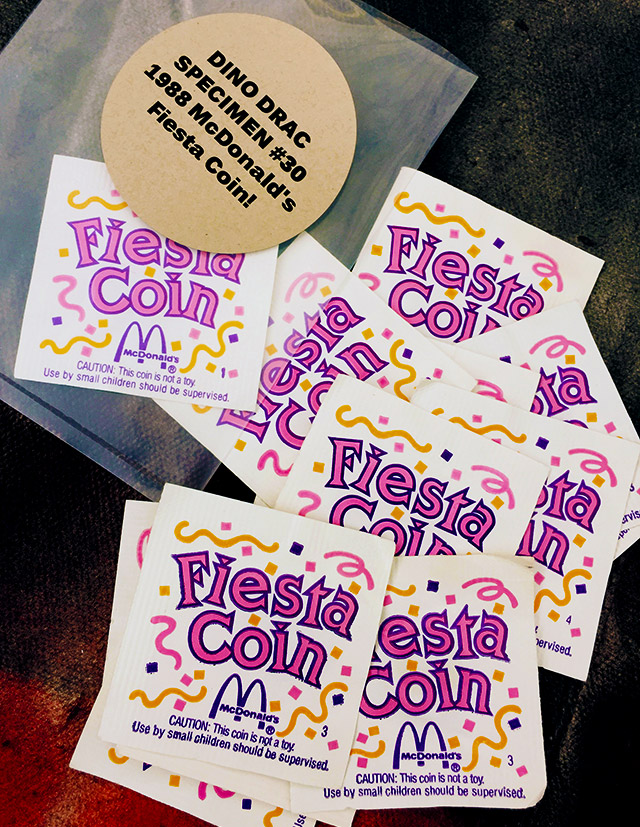 For this month's Dino Drac Specimen, you'll each receive *one* McDonald's Fiesta Coin. Yes, this was a real thing!
Back in 1988, McDonald's had a huge Latin American-themed promotion, highlighted by a number of limited edition McNugget sauces. As part of the promotion, customers could also collect "Fiesta Coins" — legitimate foreign coins tucked inside cute little McDonald's packets.
Everyone gets one! Each will arrive protected in its own Dino Drac baggie.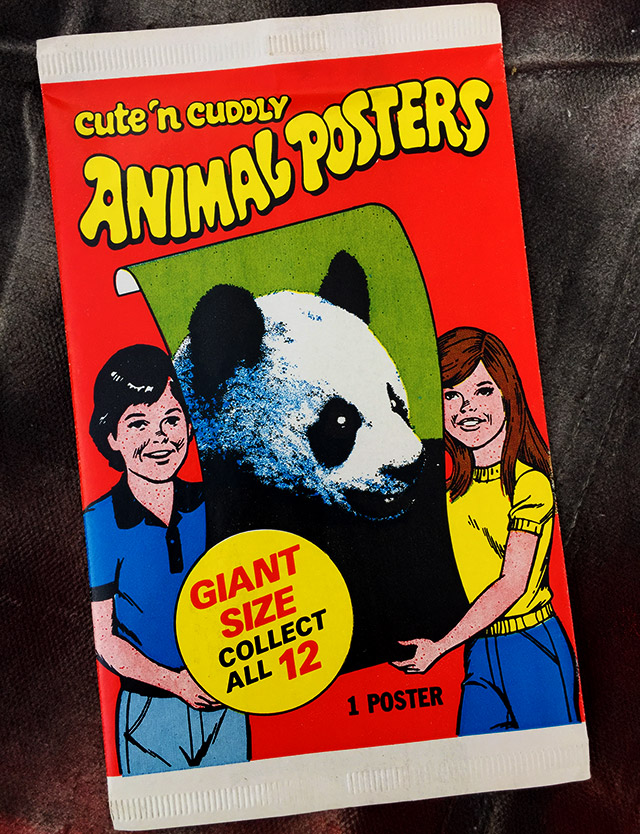 And yes, there's more!
You'll ALSO receive one (huge) vintage pack of Topps Animal Posters. Each pack includes a random fold-out animal poster, but I'd submit that the sealed packs display just fine on their own. These treasures are from 1981!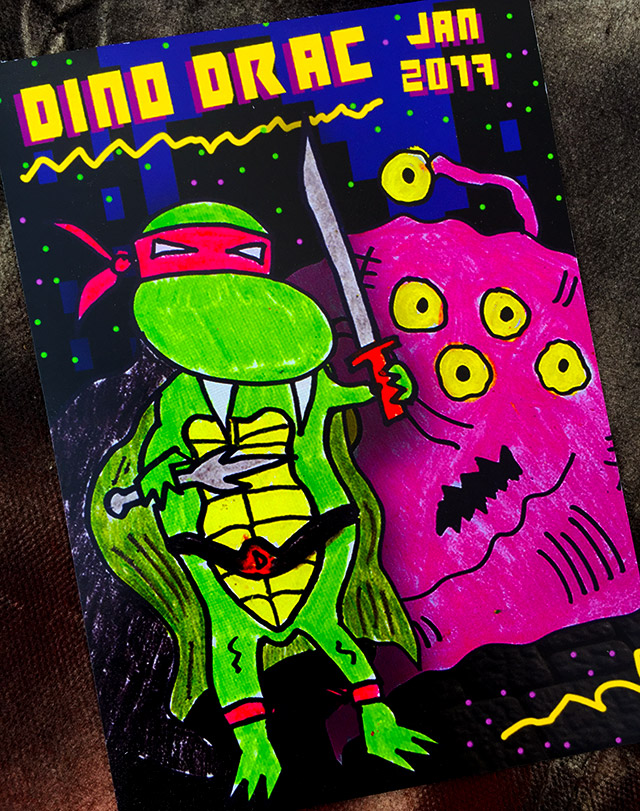 This month's Ugly Mini-Poster — 5×7" — will show you what happens when you mix Dino Drac with a Ninja Turtle with the art skills of a two-year-old capuchin monkey. You know you want it, if only for the bootleg Krang in the back.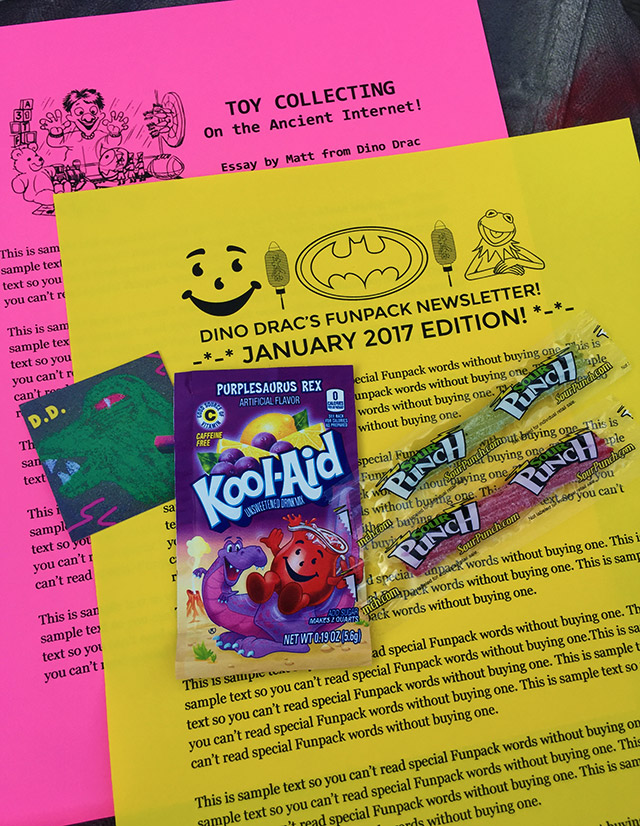 Rounding things out is a packet of Purplesaurus Rex Kool-Aid, because I could think of no better way to start off 2017. (Don't worry, they're good through May!)
You'll also receive a couple of Sour Punch straws, this month's exclusive Dino Drac sticker, this month's Funpack newsletter, AND an exclusive essay detailing my experiences as a toy collector during the early days of the internet. (That essay will never be reprinted on the site!)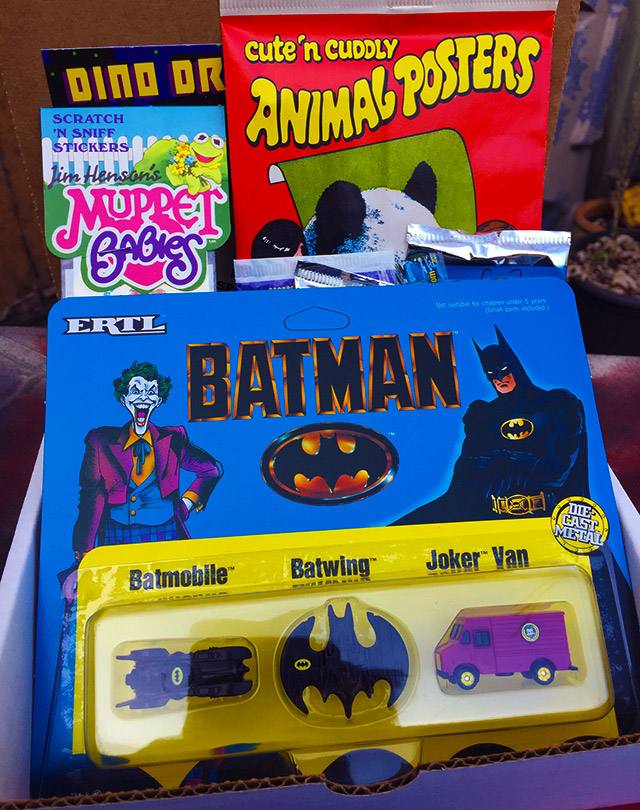 Yep, you'll get EVERYTHING mentioned in this article for $25 shipped!
If you're already a Funpack subscriber and you'd like to stay that way… do nothing! You're all set!
If you want to subscribe, please read the following, and then click the button at the bottom of this page!
1. Funpacks are available in the United States only. Sorry!
2. Subscriptions are handled via Paypal. If you don't have an account, it's very easy to make one!
3. Funpacks will be shipped to the address listed on your Paypal account. If you need to change your shipping address, or if you'd like for your Funpacks to be shipped to someone else, simply email me!
4. You will be automatically billed $25 every month. (Yes, that price includes shipping.) If you subscribe today, you'll pay today, and then again in exactly one month. For as long as you remain subscribed, you'll keep getting Funpacks!
5. You can cancel at anytime. (You could subscribe today and cancel today!) If you cancel after you've already been charged for the following month's Funpack, you'll of course receive it just the same as any current subscriber would. (You can cancel via Paypal, or by emailing me.)
6. The January 2017 Funpacks will ship on or before Thursday 1/19!
Remember, the Funpacks are *absolutely* what allow me to keep doing the site… thanks so much to all who help to keep it/me going!
To get your subscription started, click the button below!
SOLD OUT!