This will be the final edition of 2020's Best Halloween Junk Food, but that's just because I'm running out of time, not candy. I'm so impressed with the volume of snacks we got this year, especially since 2020 "is what it is," and I doubt anyone was expecting that much from it.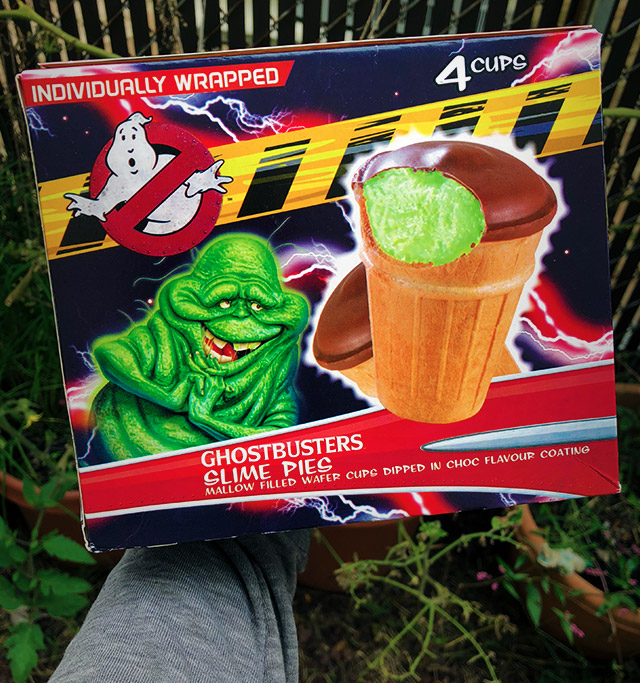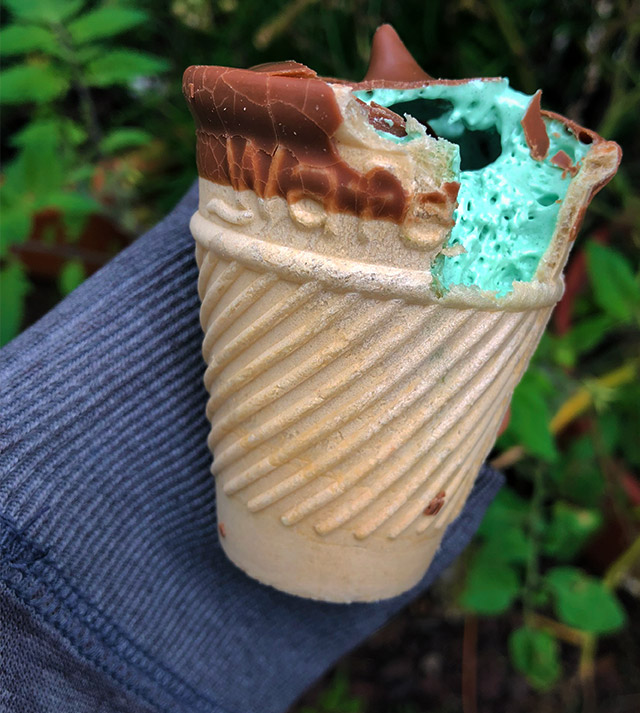 Ghostbusters Slime Pies!
(Available at B&M in the UK)
Before you get too excited, note that these are only available in the UK. (My friend Harry generously offered to send me a few boxes, and I've never said yes faster.)
There are a few new Ghostbusters-themed treats lurking around the UK, but these Slime Pies are the obvious chasers. Of course, they're not really pies, unless "pie" has a wildly different definition across the pond?
Take teensy little ice cream cones, fill 'em with green-dyed Marshmallow Fluff, and top the things with ultra-thin chocolate shells. They're fragile, quick to melt and extremely messy, but let's be real: We're not in it for the mouthfeel or flavor. We're just here for Slimer.
GRADE: A. The delayed release of Ghostbusters: Afterlife surely meant that we lost a few planned candies and novelties, so this was a nice surprise! Definitely worth the trouble of importing, if you can figure out how.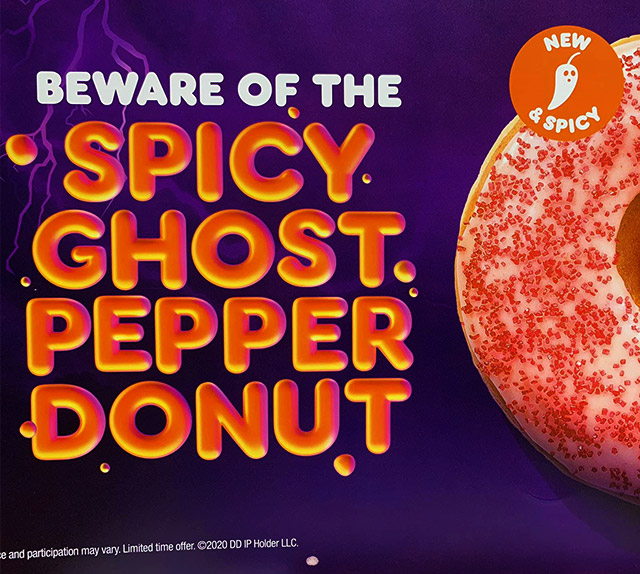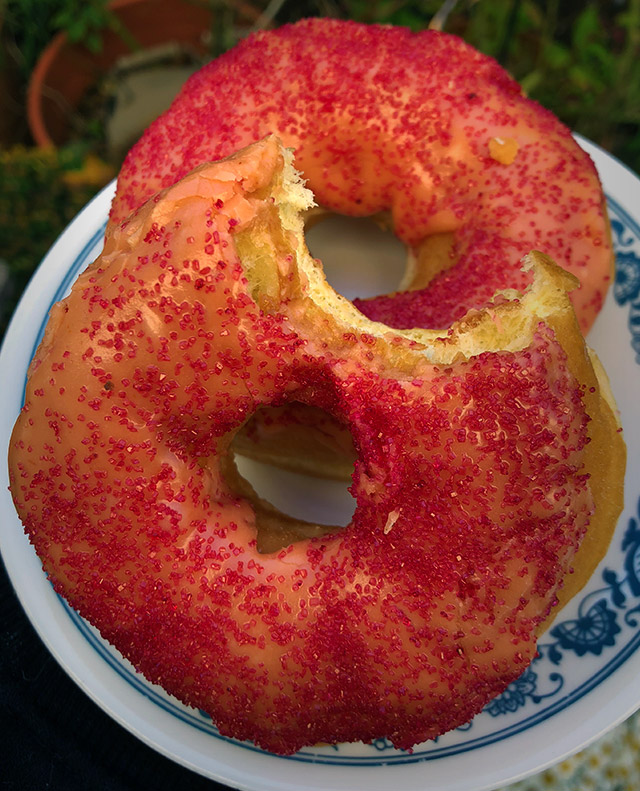 Spicy Ghost Pepper Donut!
(Available at Dunkin')
It looks unassuming enough — like a cross between Homer's donut and a cupcake you might find at your church's annual Christmas fair. While the general flavor is pretty much twins with any regular frosted donut, there's a serious punch of heat that storms your throat once you swallow it.
It's not hot enough to be threatening, exactly, but it was hotter than I expected. If you remember Hot Warheads, the style of the heat is similar, though not quite so spicy. My assumption is that there's a token amount of ghost pepper in the mix — just enough to keep 'em honest — but that the bulk of the heat comes from some sort of cinnamon candy.
GRADE: A+. Few would want hot donuts regularly, but as a one-and-done Halloween activity, this was perfect. The Spicy Ghost Pepper Donut got a lot of publicity this year, so I hope it encourages Dunkin' to "keep it weird" with future Halloween offerings.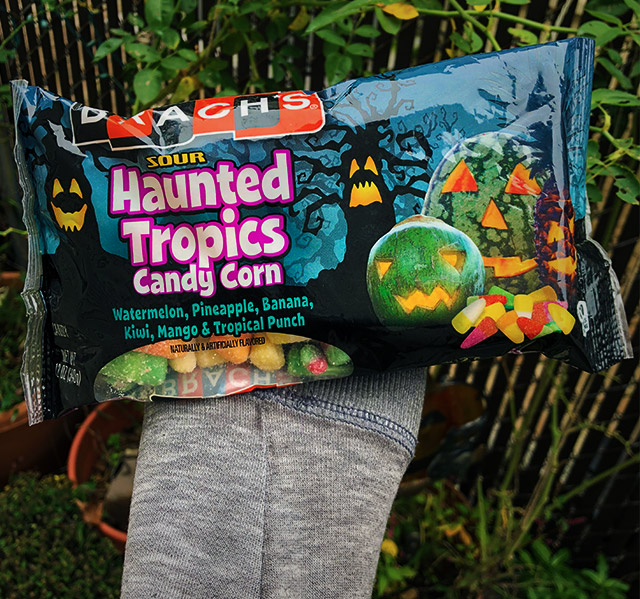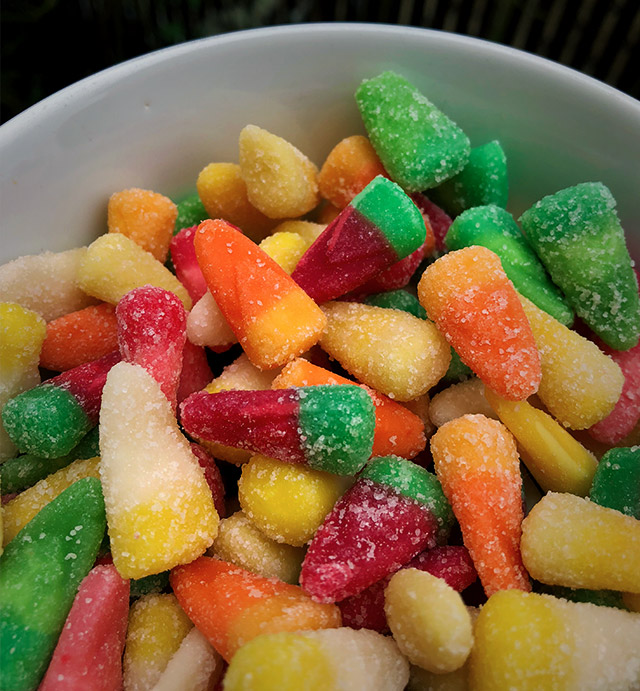 Haunted Tropics Candy Corn!
(Found at Walgreens)
Hmmm. You know, I get that "oh yuck candy corn" is an exaggerated meme at this point, but it's still not for me. Actually, I think I prefer the taste of normal candy corn to these.
It doesn't help that I've never been particularly fond of some of the included flavors, whether they're in candy corn form or not. I appreciate that they went with deeper cuts like kiwi, mango and banana, but those are all fruits that I already approached with caution.
That said, I judge Halloween candy as much on its presentation as its taste, and on that front, Brach's hit a home run. "Haunted Tropics" is such an unusual theme, and that package design is some of the best work I've seen this year.
GRADE: B, because that's as low as I'll go for candy that features a watermelon jack-o'-lantern on the packaging. I'm also sure that people who are less averse to kiwis and candy corn would like these way more than I did.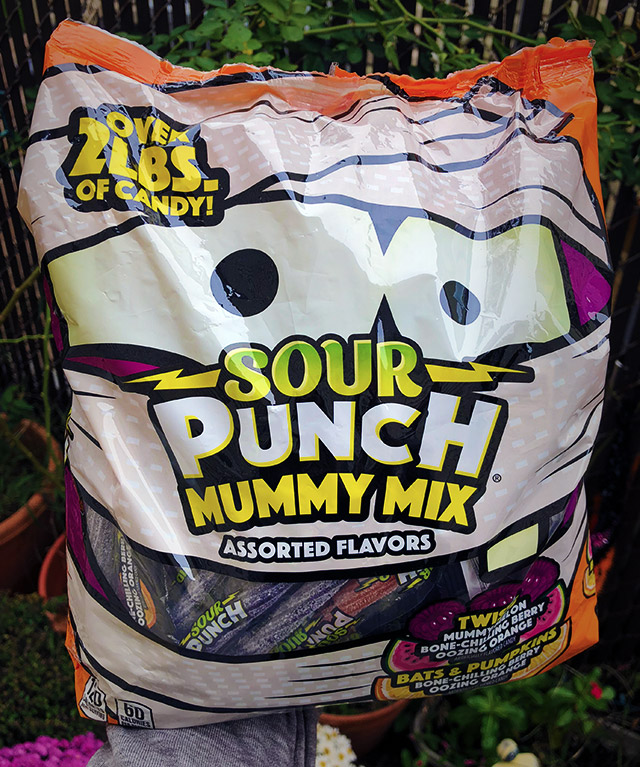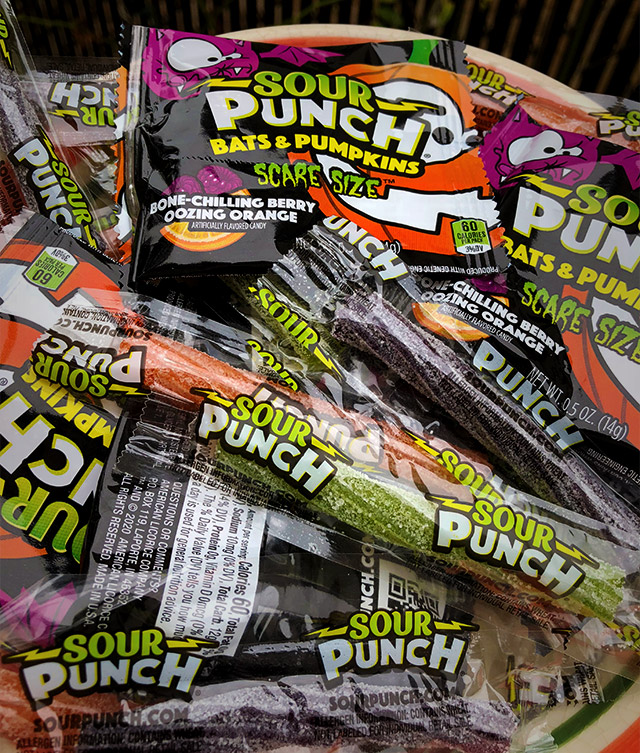 Sour Punch Mummy Mix!
(Found at Target)
While these mummy-themed bags include small packs of fruit snacks, they aren't nearly as good as the also-included Sour Straws twists. Those are phenomenal.
With spooky flavors like Bone-Chilling Berry and Oozing Orange, they're positively addictive. The flavors are much brighter than you'd probably expect, and yes, they're very sour. It's that pleasant type of sour, though — the kind that makes you wanna chew the Sour Straws into big wads and tuck 'em into your cheeks, like they're Skoal or something.
GRADE: A. While the previous candy on this list got high marks for presentation, this one is all about taste. The Sour Straws aren't much to look at, but you're gonna be shocked at how good they are.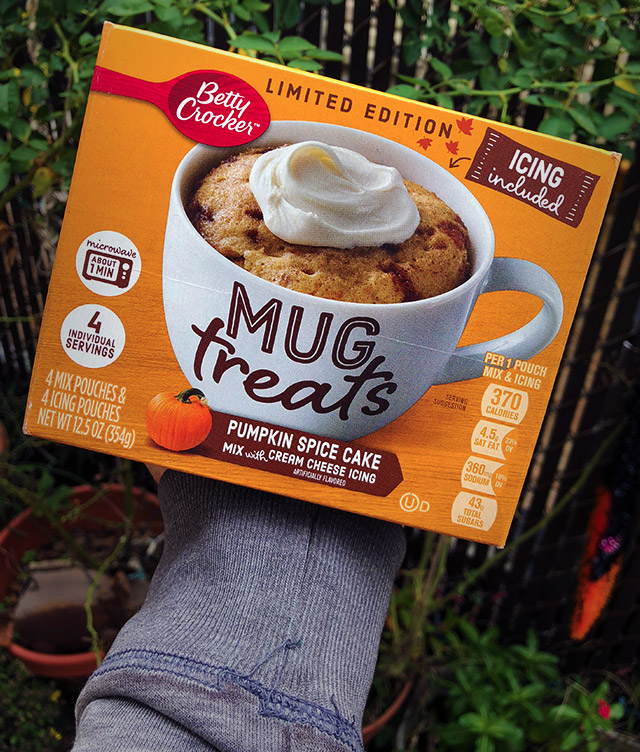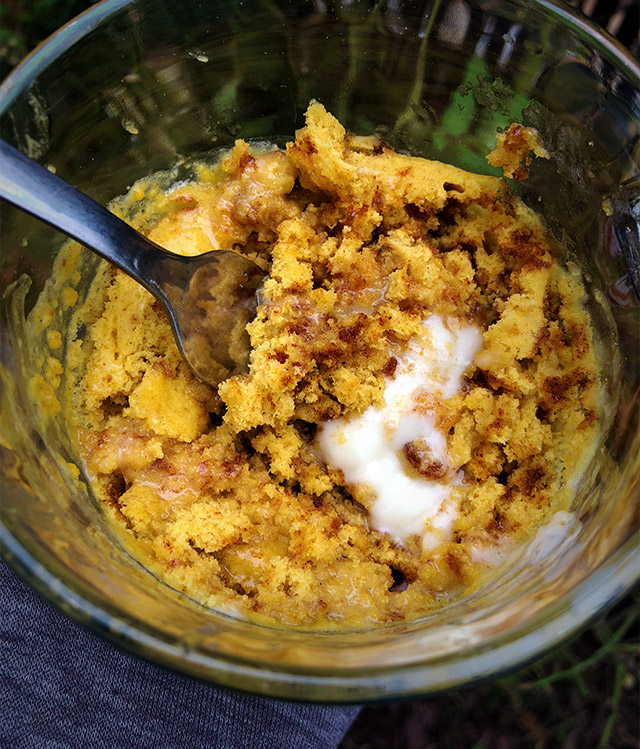 Pumpkin Spice Cake Mug Treats!
(Found at Target)
Betty Crocker's Mug Treats let you microwave little cakes in just over a minute. The chemistry is somewhere between hot cocoa and instant oatmeal.
YOU NEED TO FIND THESE. I don't know if the "normal" flavors are as good, but this Pumpkin Spice Cake version was a revelation. Basically works like a deconstructed pumpkin spice cinnamon roll.
You pour the mix into a big coffee cup, add a little water, nuke for a minute, and then slather the kinda-cake with frosting. Mine didn't look nearly as pretty as the one on the box, but the taste was insane. (Unsurprising, given that each Mug Treat is 370 calories.)
GRADE: A+. Yes, I know that it looks like I tried to impregnate Stove Top stuffing. Doesn't matter. It's SO good. Really surprised that I haven't seen more people making a fuss over this!
Thanks for reading. If you missed the previous editions of 2020's Best Halloween Junk Food, they're here, here and here. I hope I've helped you decide what to eat this season!