The October Funpack is always one of the most important of the year, so I try my best to really make it rock. This year, I think I've succeeded — get a load of the goodies!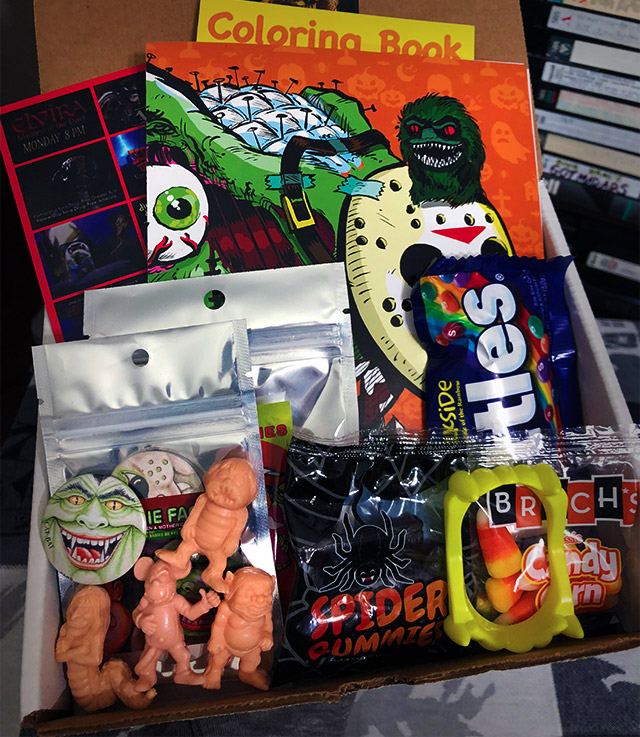 UNITED STATES ONLY! *VERY* LIMITED SUPPLY!
It's a Halloween party in a box, loaded with cool collectibles, awesome art, sinister snacks and even a tub of slime. This is one of my all-time favorite Funpacks, and if you're already a current subscriber, good for you, because these are pretty much sold out already!
I have just a few spares left, which you can order at the bottom of this page. Subscriptions are maxed out for this month, but if you're not a subscriber and you want a shot at just this one Funpack, scroll to the bottom and see if they're still available.
For everyone else: Let's see what's in the box!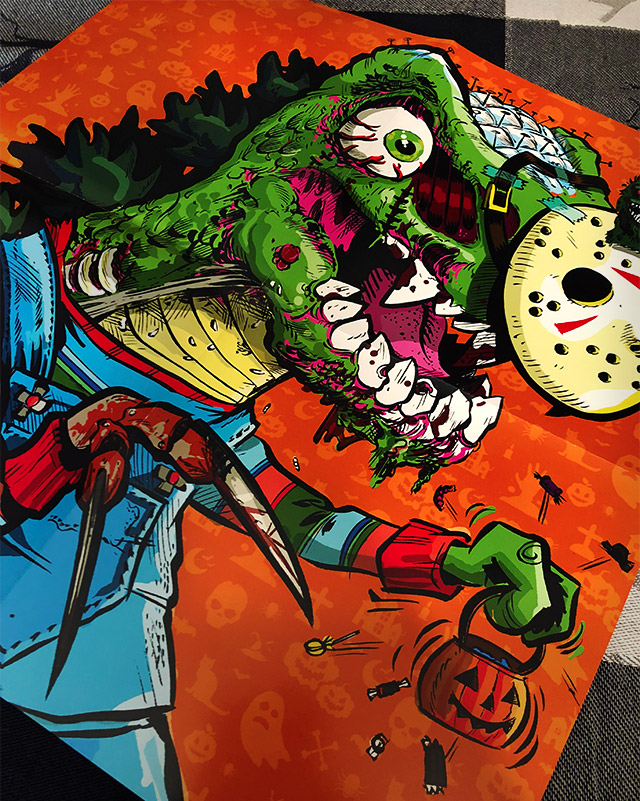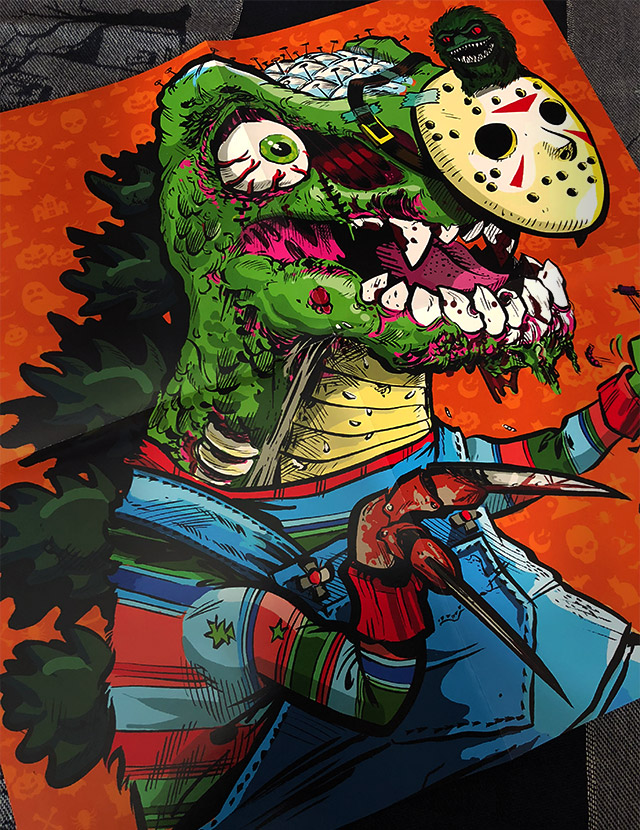 First up is this absolutely awesome Dino Drac Halloween poster, designed by Jason Week! Some of you may remember that art from an old site header, but now you're gonna get the super-sized take-home version! These came out even better than I'd hoped for!
Each poster is 13.25" x 13.25", and since that's way too big for the Funpack boxes, I had them all professionally machine-folded. (Four-way folds, nice and clean.) Each poster will be shipped in a protective sleeve, too. These are seriously gorgeous, if you can call a zombified Dino Drac "gorgeous." I think you can?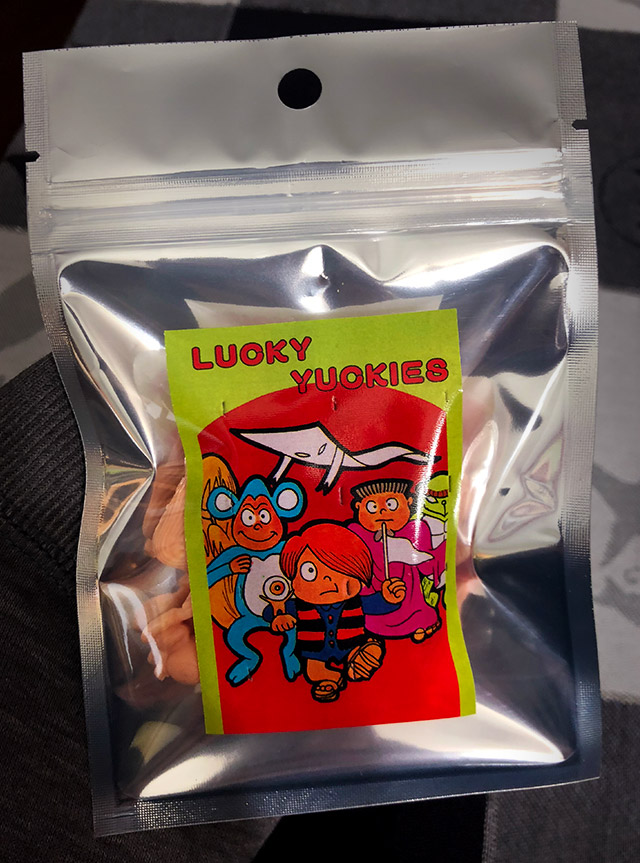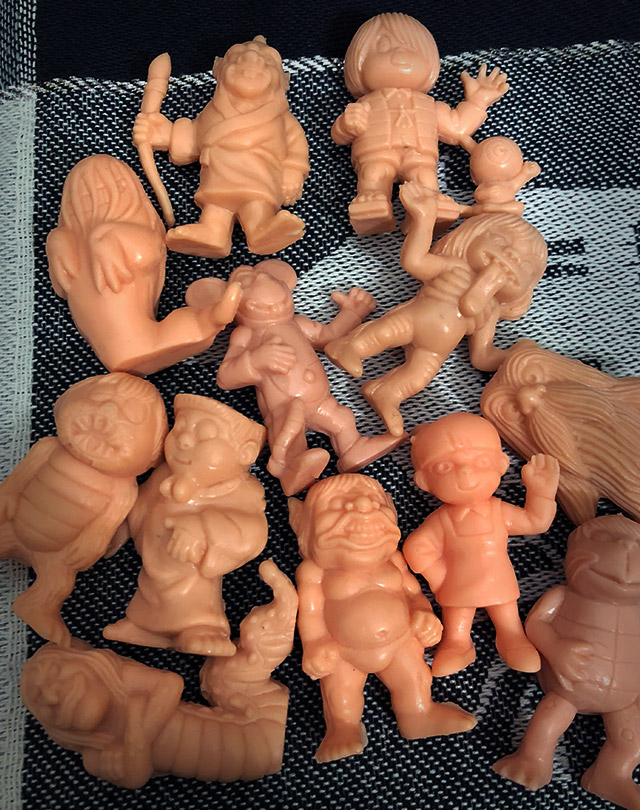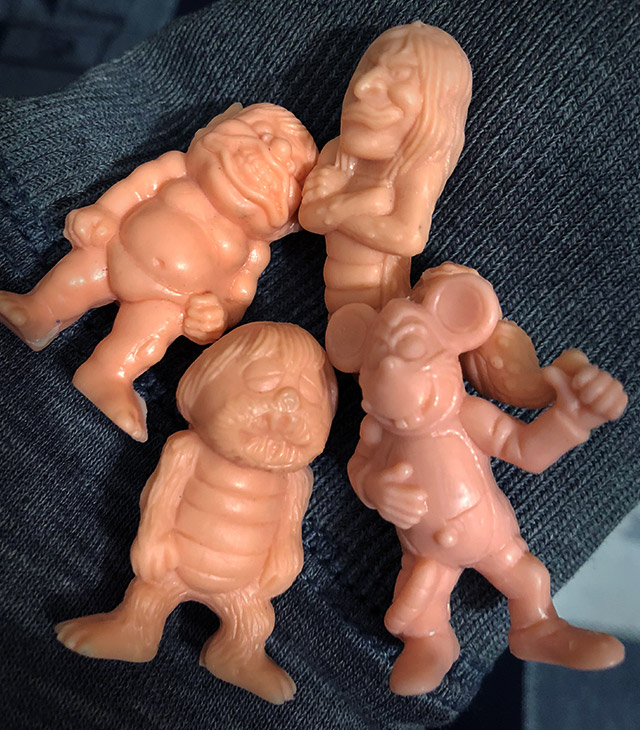 *FOUR* LUCKY YUCKIES PER FUNPACK!
Oh man, I am SO excited about these. You'll each receive a custom Dino Drac pouch stuffed with *four* different Lucky Yuckies figures!
Lucky Yuckies was a strange line of vending machine figures from the 1980s. They're made of a soft, pinkish rubber and are pretty similar to M.U.S.C.L.E. figures, though IMO, some of these characters are even cooler.
The figures have a rich history that you can read about over on Little Weirdos, but the short summary is that each figure was meant to double as a good luck charm for a very specific circumstance. For your purposes, they're just a bunch of neat little monsters from the '80s.
You will get four different Lucky Yuckies, picked at random. (There are 12 figures in all.) Some may have minor spots/flaws from age, but most are a-okay. I gave all of them a nice bath before stuffing the pouches, so they're as clean as they've ever been!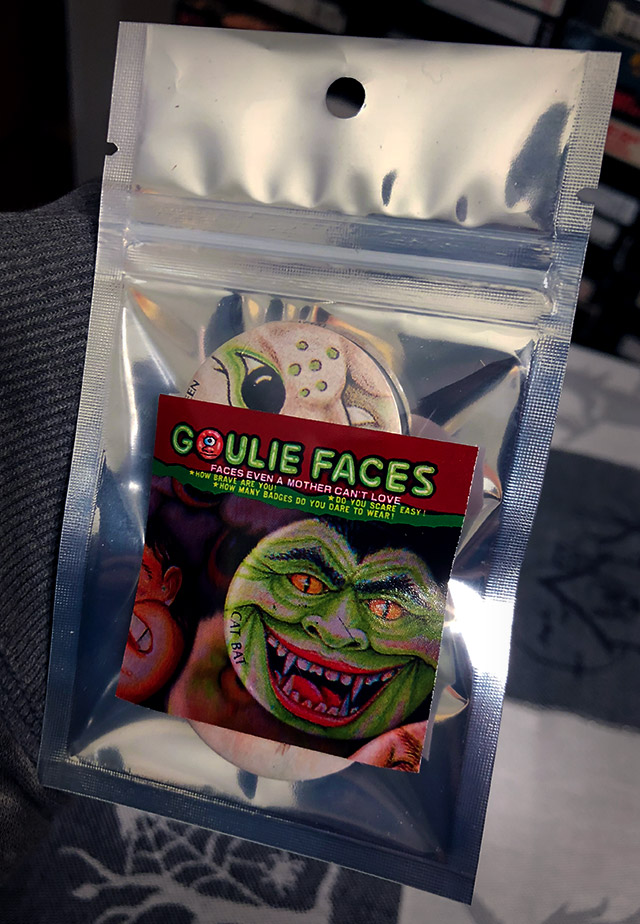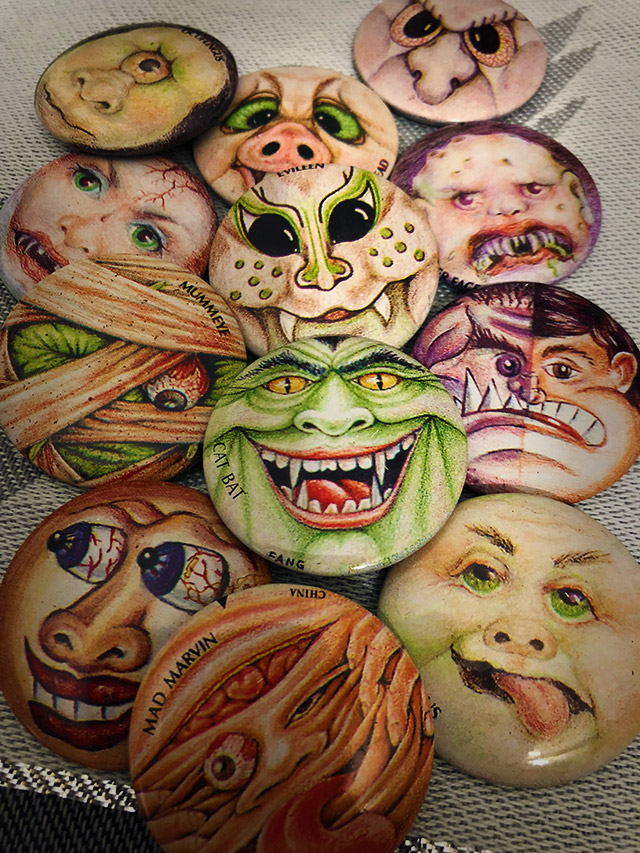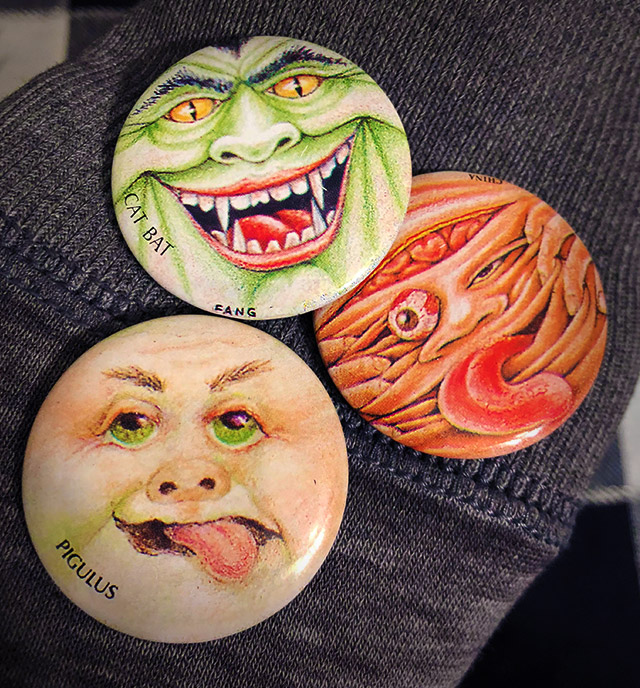 *THREE* GOULIE FACES PER FUNPACK!
And let's go for another hit of vintage vending machine nostalgia! You'll get another custom Dino Drac pouch, this time stuffed with *three* different Goulie Faces buttons!
Obviously inspired by Madballs, this was a collection of strange, cheap monster buttons that kids used to get for a quarter on their way out of grocery stores. There are a dozen oddball characters in the set. You will get three different, carefully tucked into a special pouch.
(If you look close, you'll notice that every button has the character's name right on it! Come for Cat Bat, stay for Pigulus.)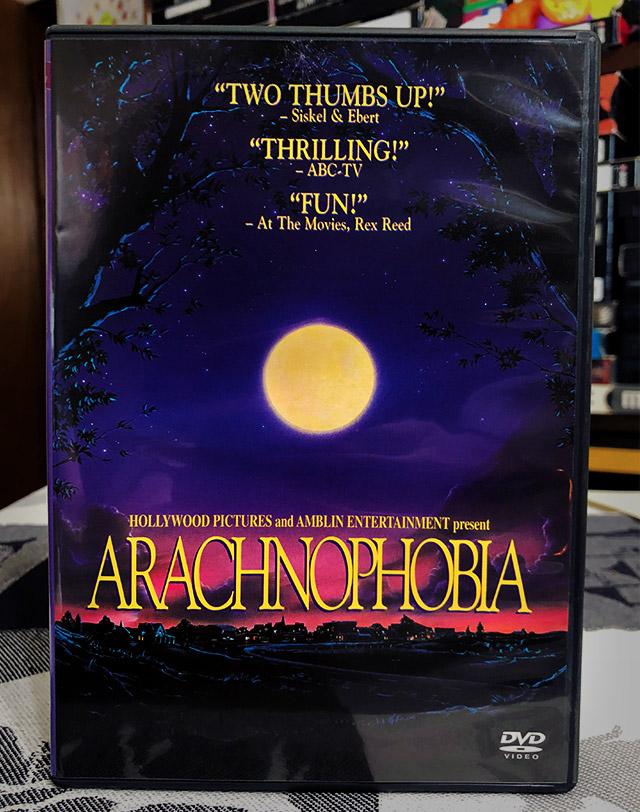 I saw Arachnophobia in theaters back in 1990, and it's one of my all-time favorite creature features. Happy to announce that you'll each receive a sealed copy of Arachnophobia on DVD, so you can revisit that scene where spiders crawl all over Alex Keaton's face whenever ya want.
These DVDs may be old, but they're in case-fresh condition with clean shrinkwrap.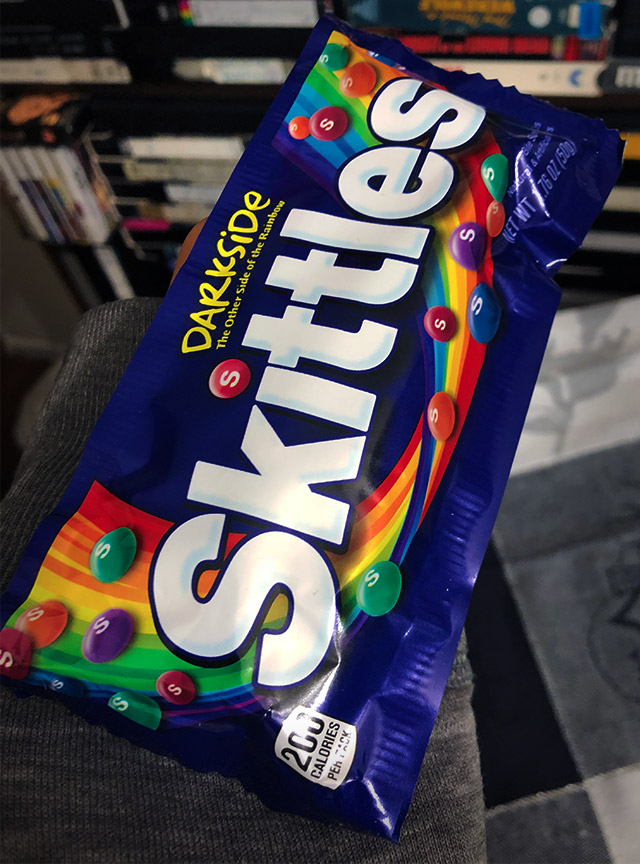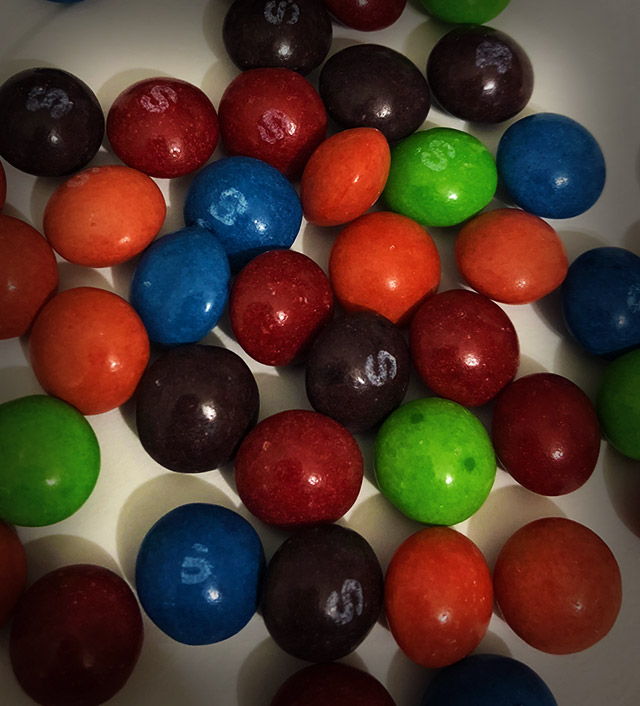 What's Halloween without candy? Chow down on a BIG bag of Darkside Skittles! With colors and flavors representing "the other side of the rainbow," that package is a VIBE.
These are sincerely my favorite of all varieties of Skittles, past or present. The flavors are great, and the aesthetic is so wonderfully creepy and eerie. The perfect snack for the end of October!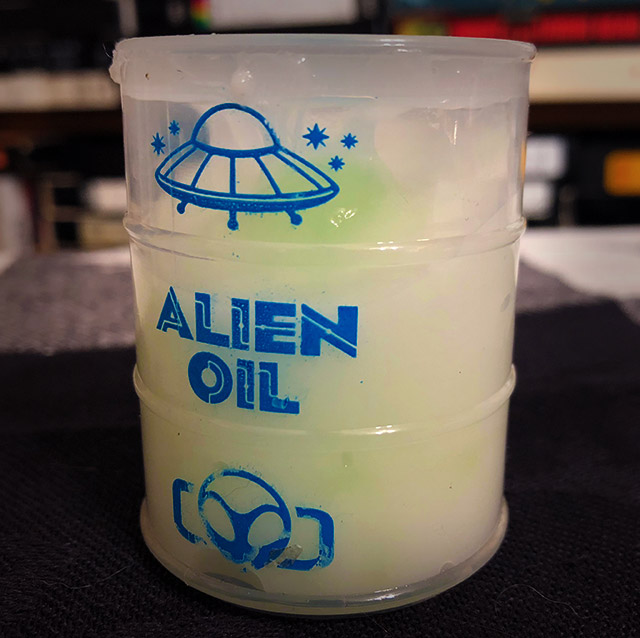 Yep, there's still more. I'll also toss in a plastic barrel full of ALIEN OIL. It's watery white slime barely concealing a teensy little alien figurine. God knows what you'll do with it, but there's a certain therapeutic benefit to messing with slime, and there's no better time of year to do it. Enjoy!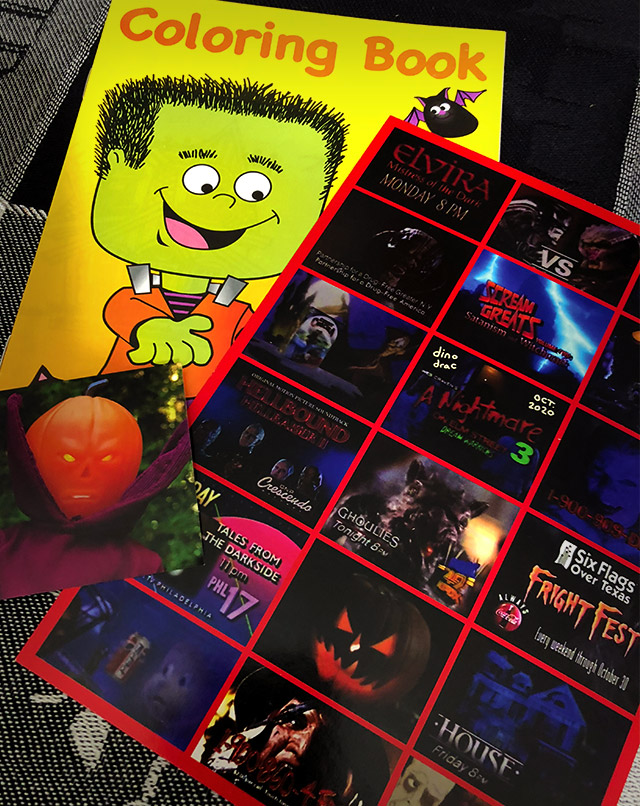 This month's 5×7" Dino Drac Mini-Poster collects screenshots from eighteen different spooky TV commercials. The prints came out a little dark, but hey, that's Halloween for ya. Just something to ogle while you scarf down the Skittles!
Mini-Posters are printed on something resembling cardstock. You'll also get this month's 2×2" sticker, depicting my Samhain action figure. Oh, and just for kicks, I'll throw in a cheap little Halloween coloring book.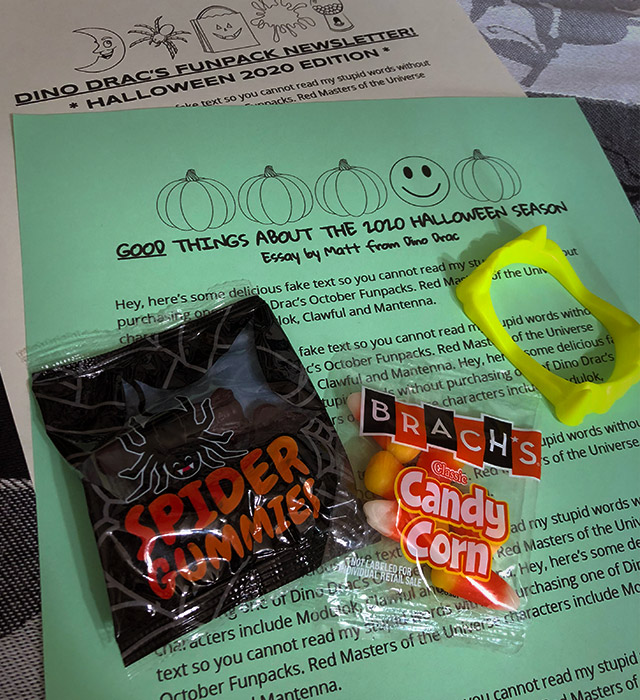 Rounding things out, you'll also receive this month's Funpack Newsletter, plus an exclusive essay that will never be reprinted on the site. (This month's essay names some of the *good* things about the 2020 Halloween season. This year might suck, but Halloween's still had its highlights!)
You'll also get a pair of stupid plastic fangs and that awesome bag of Spider Gummies, which, yes, I *absolutely* expect you to eat while watching Arachnophobia. (Note: Candy corn may or may not be included, depending on weight!)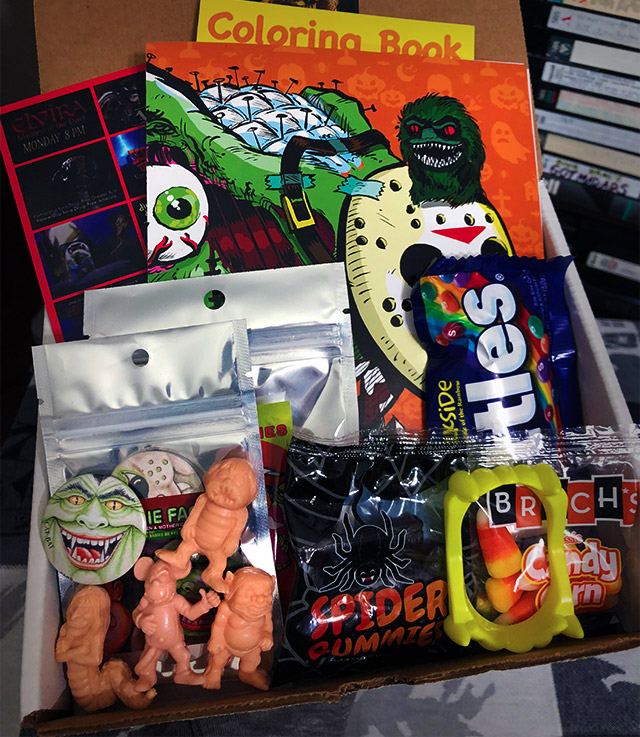 So yeah, you're getting ALL of the above for $25 shipped!
All of the October Funpacks will ship by Tuesday, October 20th. USPS service has been spotty for a while now, but I'm confident that yours will arrive before the big day.
If you're already a subscriber, do nothing, you're all set!
If you're NOT a subscriber, you can purchase one of the October 2020 Funpacks at the link below. Please note that supplies are very limited. United States customers only, please!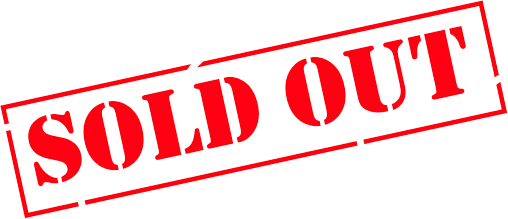 THE OCTOBER FUNPACKS ARE NOW SOLD OUT!
Thanks, everyone! I seriously appreciate your business, and as I'm sure you can tell, the Funpacks have become an increasingly time-consuming part of my life. I take great pride in these boxes, and the fun won't stop with Halloween, either — I have plenty of treasures to share in the months to come!