If you're already a Dino Drac Funpack subscriber, congrats, you are LOCKED IN for the 2021 Halloween Funpack! (The most popular Funpack of the entire year!)
If you're NOT a subscriber, here's the deal: Subscriptions are closed, but I have a fair number of spares to sell on an individual, non-subscription basis. Scroll to the bottom to grab one if you're interested. Once they're gone, they're gone forever, and I'll warn you… even with a bunch of spares, they're probably gonna go quick!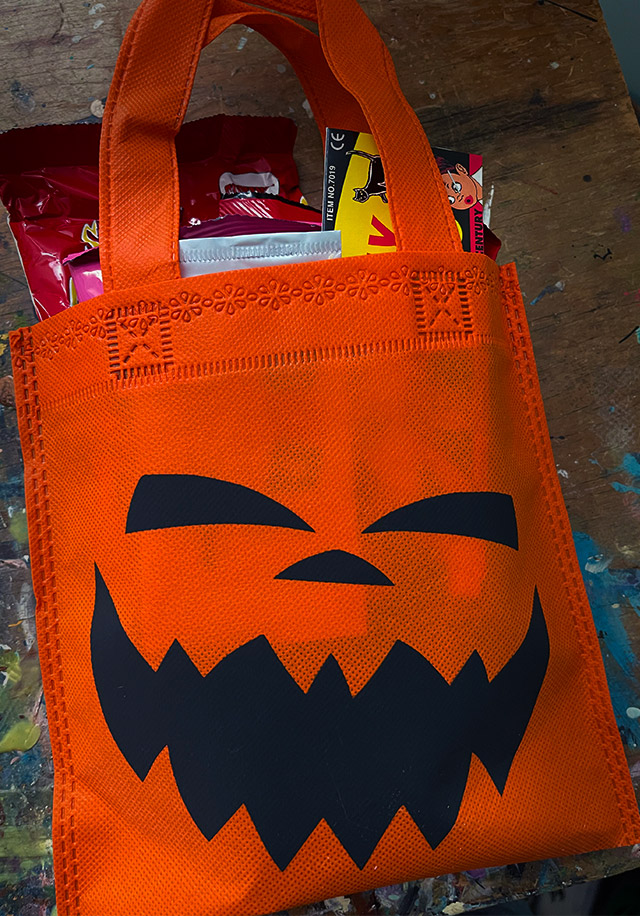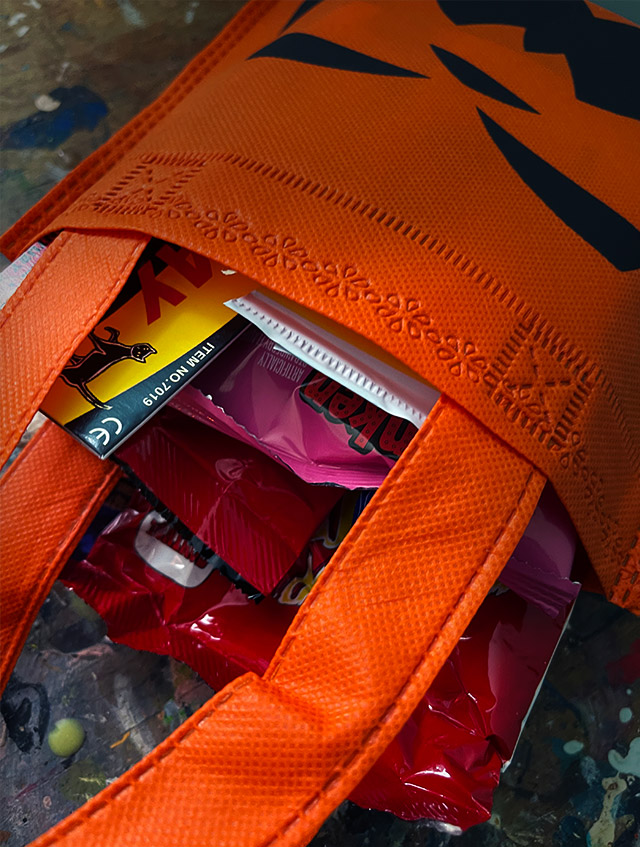 LIMITED SUPPLY! UNITED STATES ONLY!
This year's Halloween Funpack is extra special. Each contains Dino Drac's Treat Sack, an adorable fabric pumpkin bag that's overstuffed with spooky collectibles, candy and other awesome goodies.
Let's see what's inside! (Stop reading here if you don't want to be spoiled!)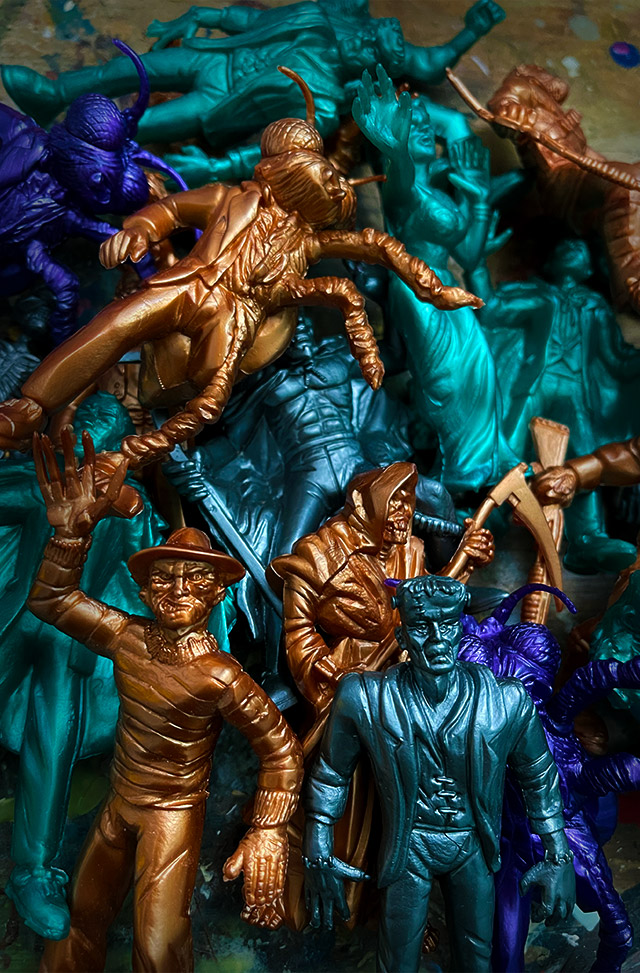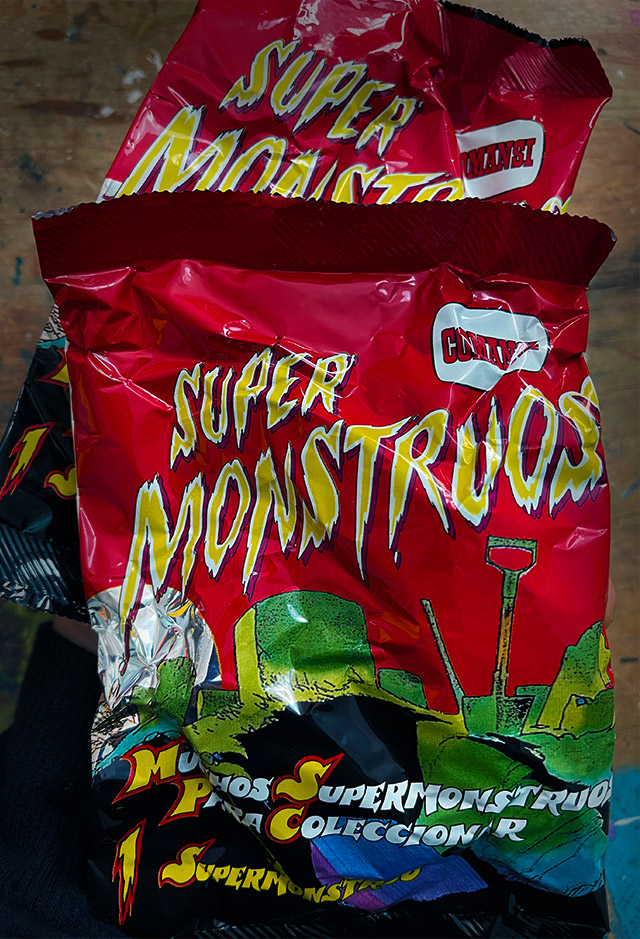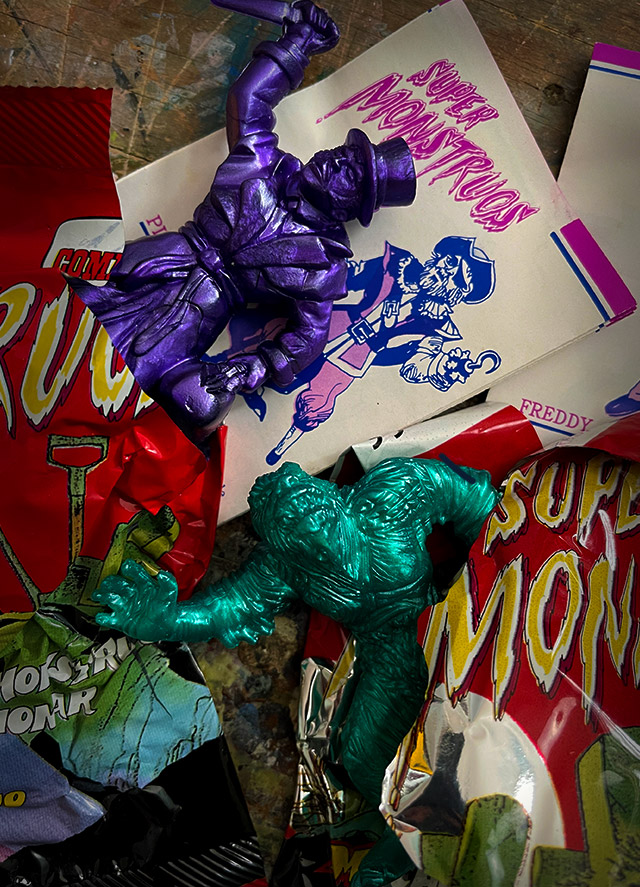 *TWO* SUPER MONSTRUOS BLIND BAGS PER FUNPACK!
BOOM. Guys, this is a major get! You will each receive a pair of Super Monstruos blind bags, made in Spain in the early '90s. These were never available in the United States and are extremely hard to come by today.
Longtime Funpack subscribers will remember Super Monstruos as a line of wickedly great monster figures. While I've put the "painted" versions in certain old Funpacks, all of the figures were also produced in a series of metallic colors. You will get two of those figures, at random, and the entire set is in the mix — everyone from Frankenstein to the Grim Reaper to that weird double-clawed Freddy Krueger. These are coming straight out of factory cases!
Now, while I can't 100% guarantee that you'll get two different figures, I've done everything in my power to ensure that you will. Actually sat here weighing and feeling each and every bag to make sure you get two different characters. So, in all likelihood, you will!
Remember, there are a LOT of figures in the set. While some are more "showy" than others, ALL are very cool. What's more, every bag includes a foldout booklet showing off the entire Super Monstruos figure collection!
You are going to LOVE these, and I still can't believe that I was able to work them into a Funpack. Whether you end up with Dracula, the Yeti, Satan or a slender skeleton, I know you're going to be so happy with these toys. What a score!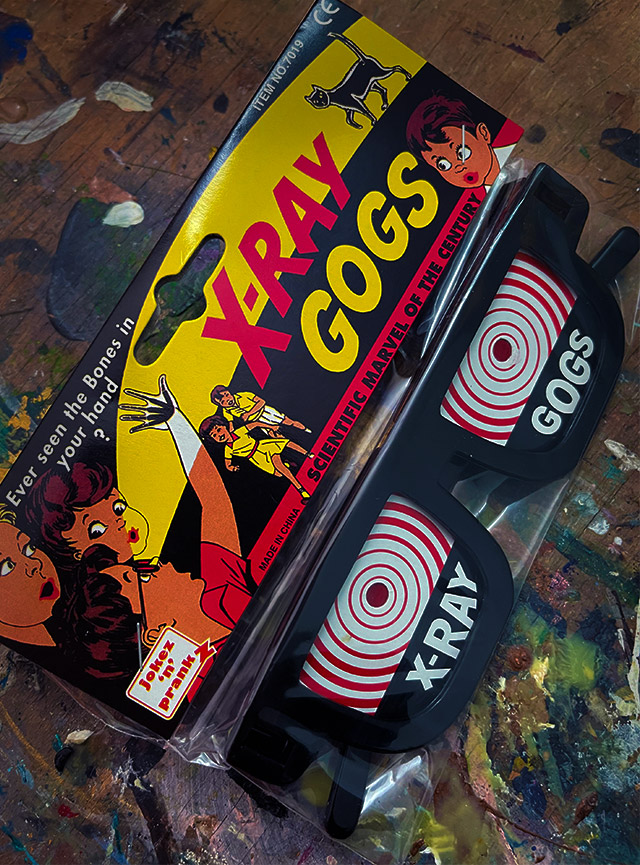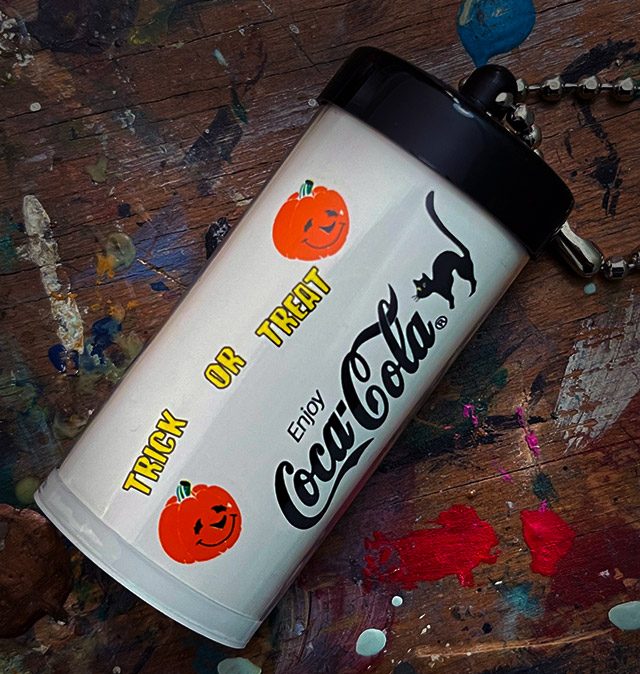 You'll also receive a sealed pair of X-Ray Gogs — a classic gag gift that I grew up obsessing over. Used to order these from the Johnson-Smith Company constantly. They even come in the same style packaging as the ones I grew up with!
The glasses are on the small side, so they might be a tight fit for some, but for the sake of pretending you can see your friends' bones, I think you can deal with that.
Oh, and I'm also including one of those super cute Coca-Cola Halloween keychain flashlights. As I understand it, they were from a promotion during the mid '90s. Incredibly, all of the ones I've tested STILL WORK! Squeeze the middle and a little bulb beams out bright light. Use 'em to read a scary story in the dark! (Yours will arrive unused in its original factory baggie.)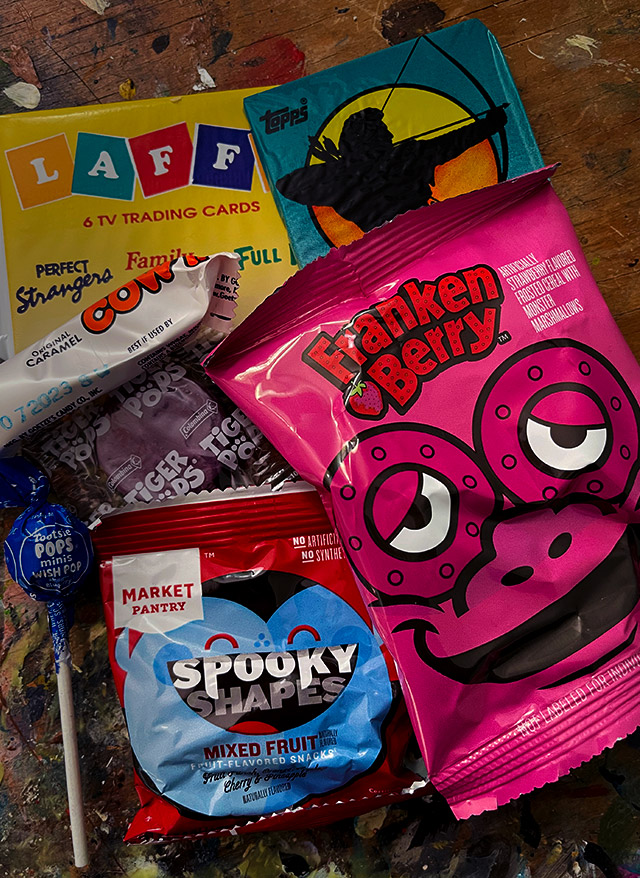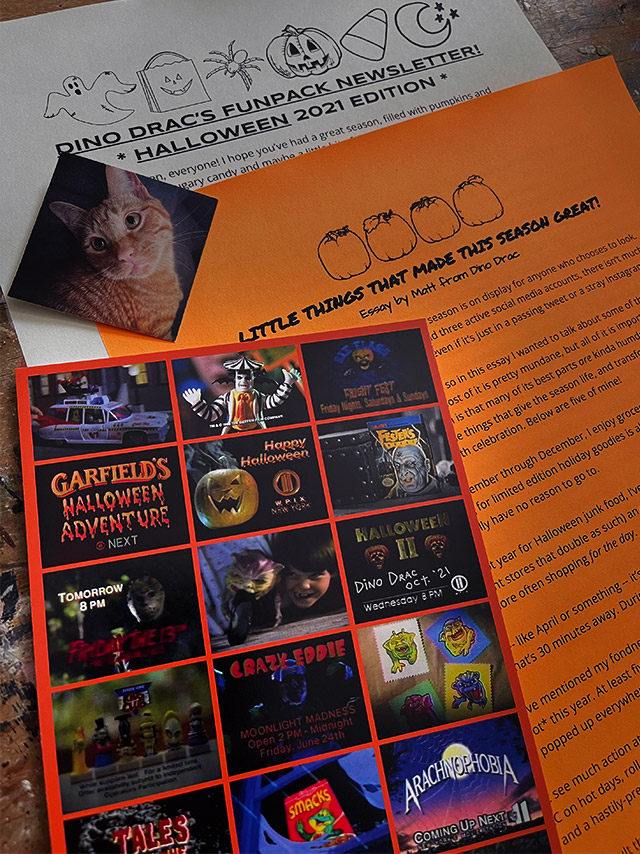 Dino Drac's Treat Sack will be stuffed with assorted candies, of course. Contents may vary, but I'll at least guarantee that you'll get one of those adorable Monster Cereal snack packs!
I'll also toss in a random pair of vintage trading card packs. (Actual packs may vary, but you'll definitely get two!)
Then there's this month's 5×7" cardstock mini-poster, featuring a collage of screenshots from various old spooky TV commercials. When you're done gawking at that, find a place for your new Halloween the Cat sticker. (Yes, I really made a sticker out of my damn cat.)
Rounding things out, you'll also receive this month's Funpack Newsletter, plus an exclusive essay that will never be reprinted on the site. (This month's essay is about some of the more mundane and minor things that made my Halloween season wonderful!)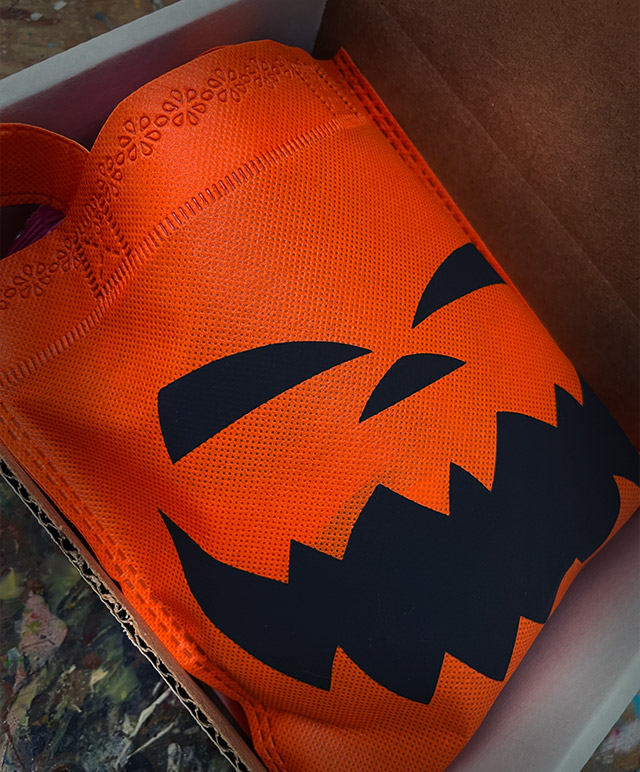 I'll put the paper goods on the bottom, but everything else will be snugly fit into that pumpkin-themed treat sack, and shipped in a sturdy box. I'm confident that this Funpack will be a great late-season spirit boost for all who receive it!
If you're already a subscriber, do nothing, you're all set!
If you're NOT a subscriber and you want in, here's the scoop. They're $25 each, shipped anywhere in the United States. I have a limited number of spares available on a non-subscription basis. You can buy one by clicking the link below!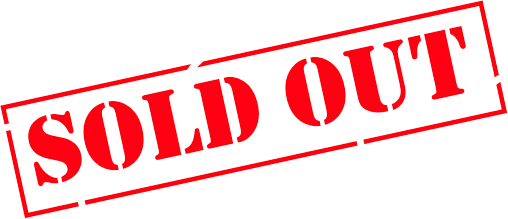 Wow, that was fast! The Funpacks are pretty much sold out, but there MAY be a few left once I complete my double-final counts. If you want to get on the waitlist for one, you can email me (dinosaurdracula on gmail), but no promises!
The 2021 Halloween Funpacks will ship on or before Tuesday, October 19th. This should give them plenty of time to get there before the big day! Thanks, all!