October is here, and you know what that means!
MOOD TABLE TIME.
Well, most of you know that, at least. If you're new to Dino Drac, the Halloween Mood Table is a tradition I started on my old site, way back in 2007. The process involves turning a table — any table, big or small — into the center of your own personal Halloween universe.
Compared to the Mood Tables that I build now, my first one was downright diminutive. Hell, last year, I pretty much turned the thing into a video store from 1987.
Obviously, yours needn't be so complex. The only purpose of a Halloween Mood Table is to give your home — and thus, your life — a static place where Halloween is always happening.
If work or other responsibilities have kept you from being able to "partake" in the season in any major way, the Mood Table is absolutely essential. Whenever you need to breathe and eat Halloween, your Mood Table will be there. Consider it October's Christmas tree.
(Christmas tree slash witchy altar slash toy store.)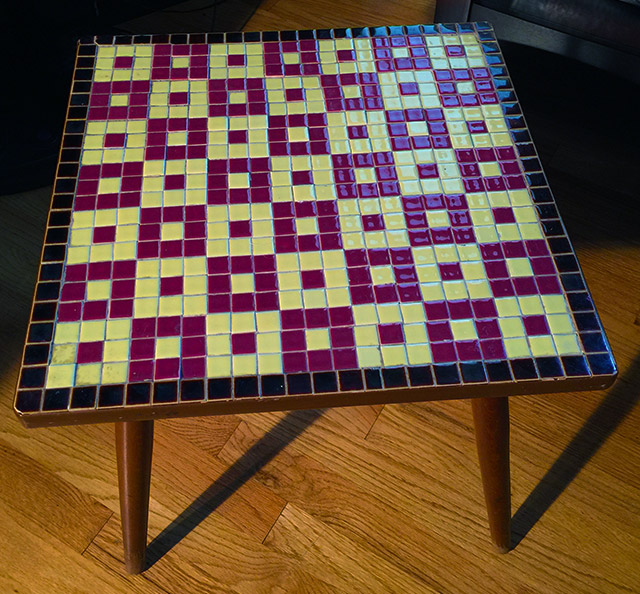 Starting with the same small tile table that's been the backbone of every Mood Table I've ever built, it wouldn't be long before it was rendered unrecognizable. I knew it'd be tough to top last year's Mood Table, but I was willing to die trying.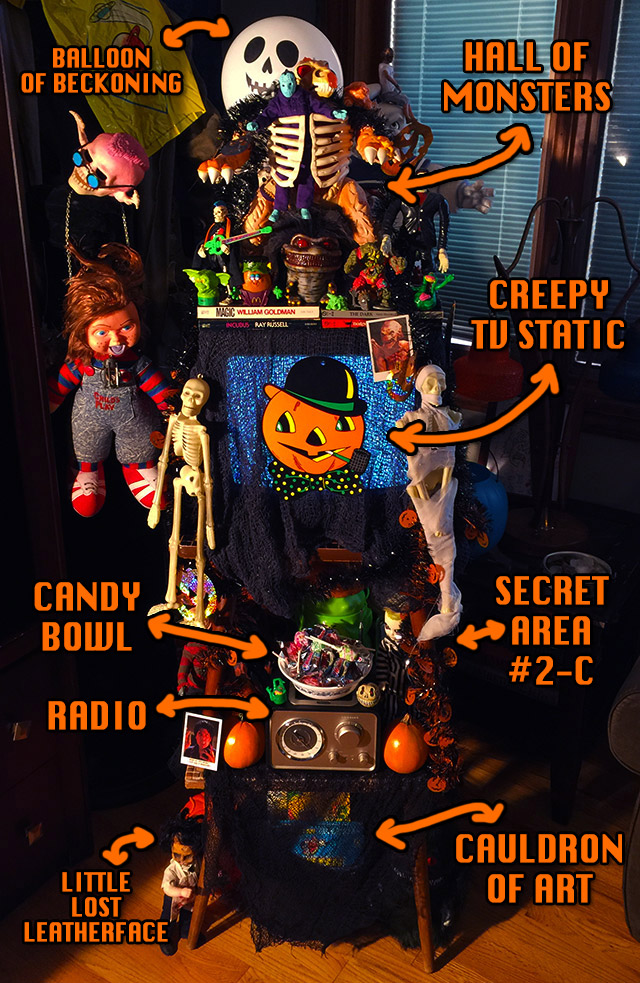 Hours later, my 2015 Halloween Mood Table was complete. Behold, the quadruple-decker TOWER OF DOOM! Standing over five feet tall, it's a massive mess of sights, sounds and SECRET AREAS.
Let's run through the highlights, from top to bottom: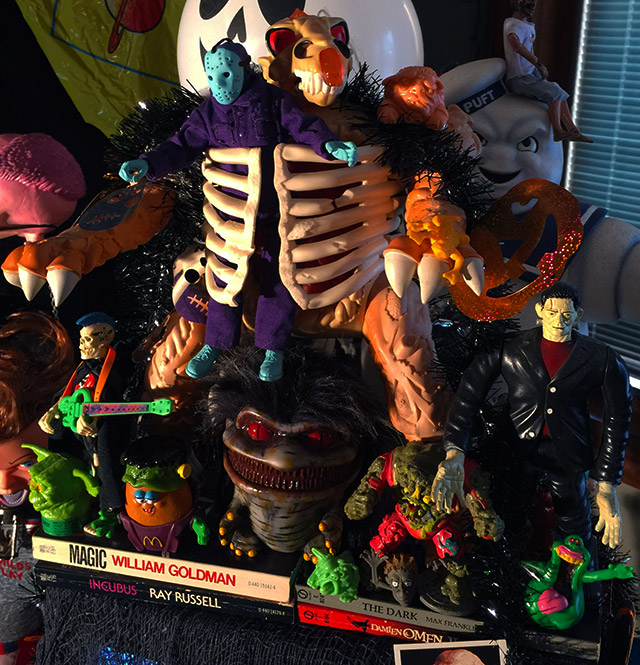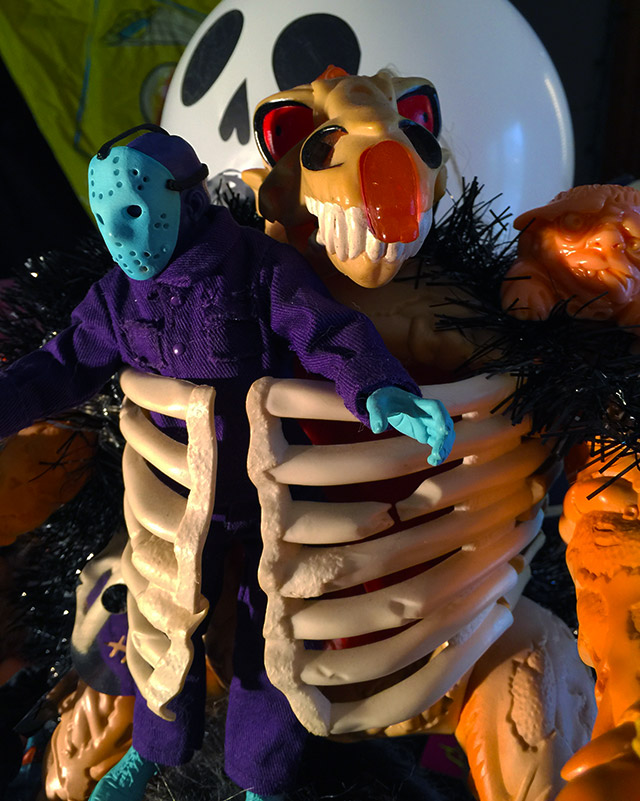 The fourth "floor" — really just the top of a television set — is home to a volley of plastic monsters, which collectively defy nearly every law of physics by not toppling over.
More than two dozen creatures guard my Mood Table, from giants like Stay Puft to a bunch of shrimpy Mini Boglins. Leading the army is D. Compose of Inhumanoids fame, who of course uses his weird chest-jail to keep Jason Voorhees out of trouble.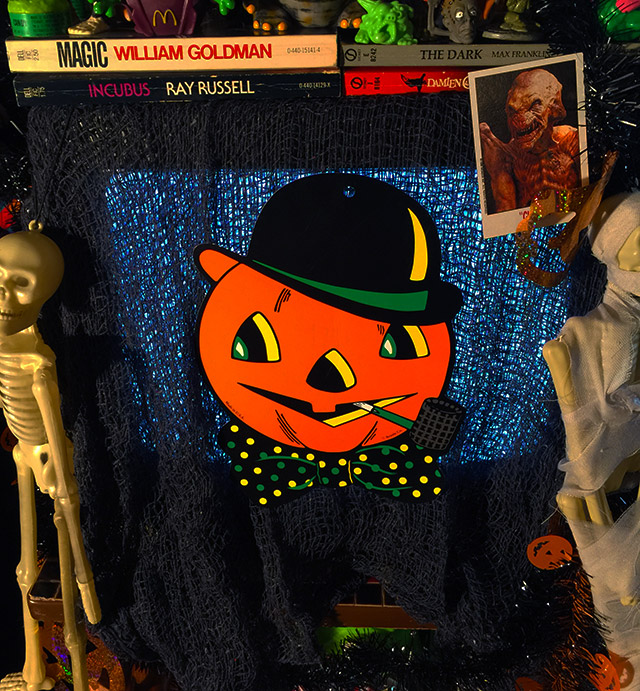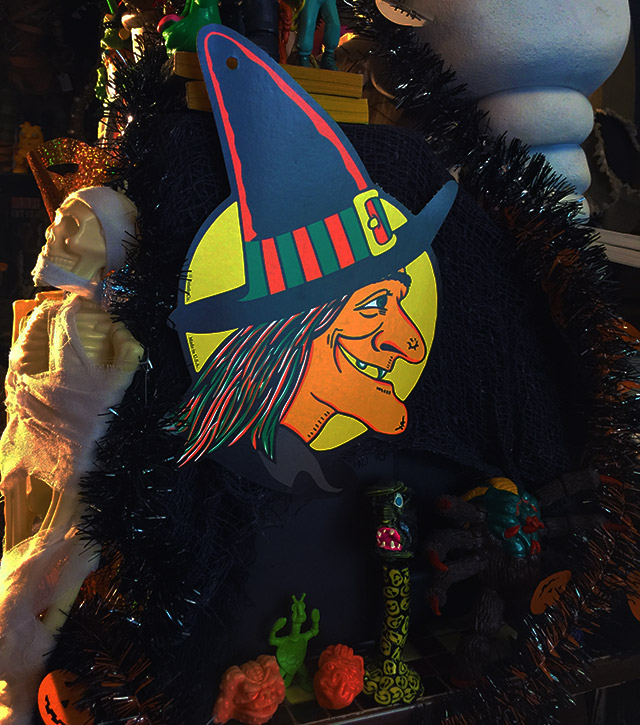 The third floor — this being the second of two stacked tile tables — features a small television set. Since last year's Mood Table already covered the "old horror movies on VHS" thing, I wanted to try something different this time.
Purposely making the TV play nothing but noisy static, I partially obscured the screen with decorations and nets. The end result? My Halloween Mood Table now delivers an unending flow of Halloween Mood Lighting. Love it!
Also: Though few who come here would notice, there are more decorations around the third floor's sides and back. Growing up, I was the only one in my family who'd put decorations on the backs of our Christmas trees, believing that to be the crucial touch that turned dying branches into utopian wonderlands. I'm the same way with Halloween Mood Tables. They need to be ridiculous from every direction.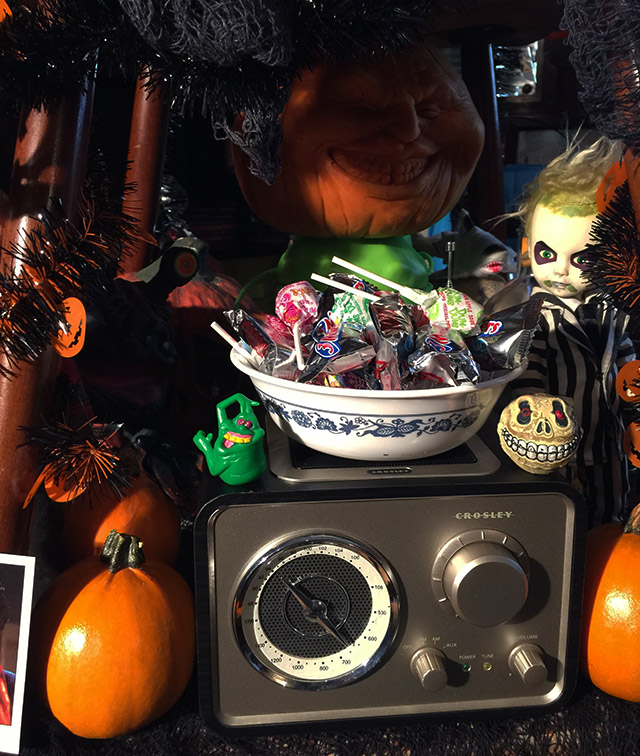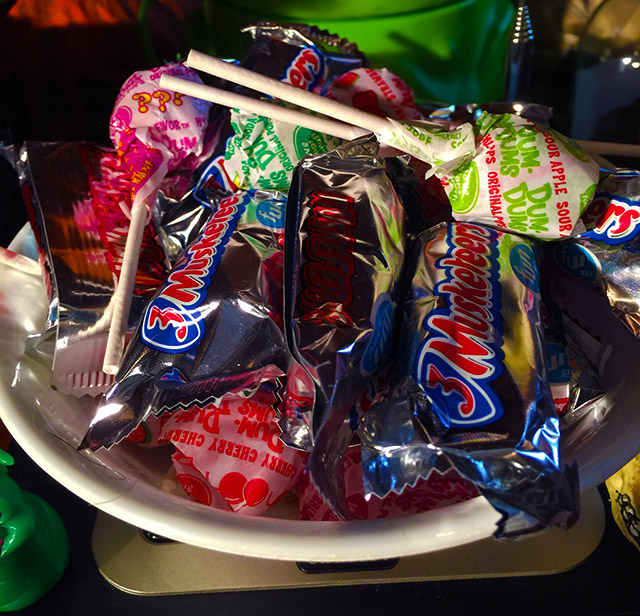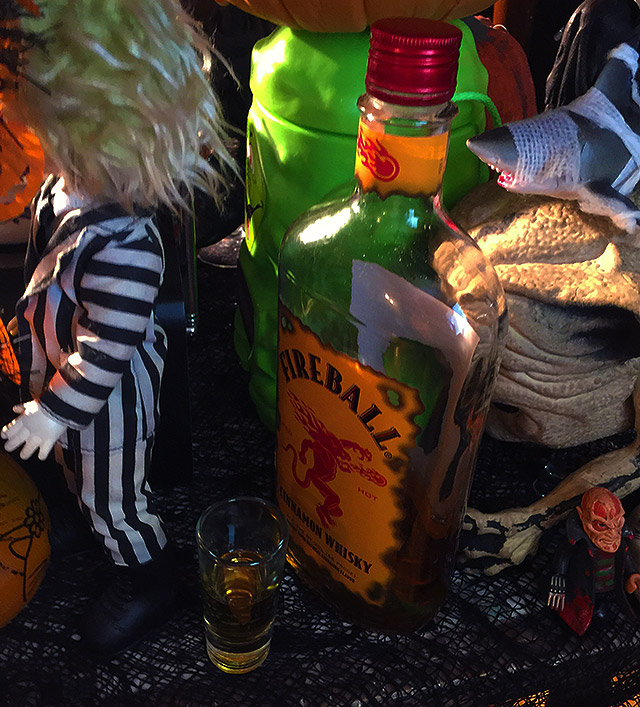 The second floor — now on top of the first tile table — serves many masters.
Tons of monsters are on there, along with a few pumpkins — both decorative and real ones. Most of the creatures are tough to see, but that's actually intentional: It gives me — and any guests silly enough to come here — the impression that there's weird shit happening within the depths of the tower. The fact that you can't see everything makes the Mood Table feel more alive.
There's also the traditional bowl of candy, with the unspoken rule being that it must be entirely emptied by Halloween.
Next we have a radio. The idea is to just leave it on the weirdest AM station I can find. It'll play softly and serve more as eerie white noise than any form of direct entertainment. (Paired with the television static, it's an amazing effect!)
Last is one of the Mood Table's secret areas: A bar!
I've had this mostly-killed bottle of Fireball whisky fermenting since last winter, so now it's a do-or-die situation. I'm thinking it'll be cool to take random swigs on lazy evenings. Not enough to get drunk, but enough to make the idea of sitting under the faint glow of television static seem more appealing. (This too must be entirely emptied by Halloween!)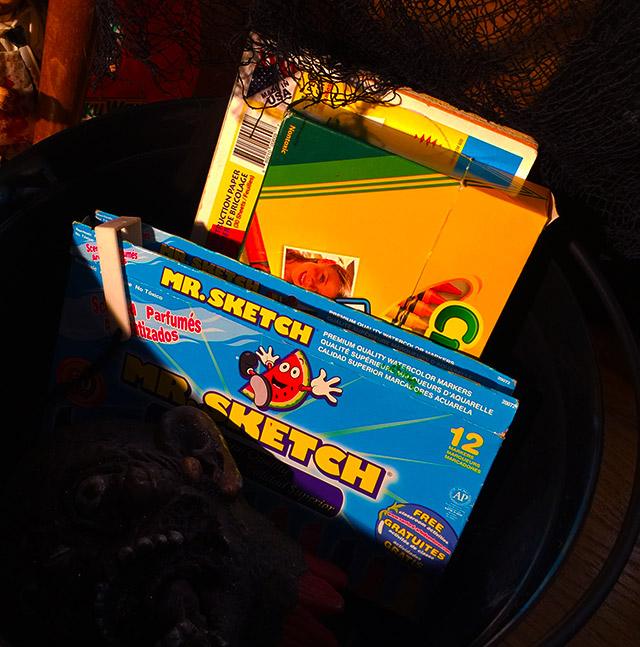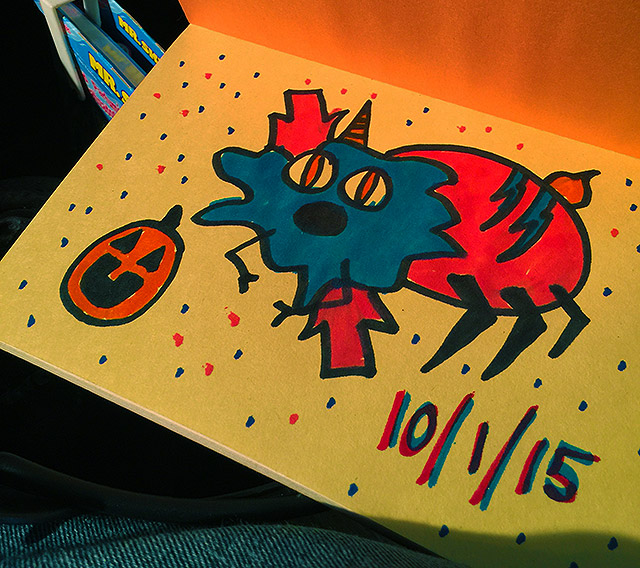 The first floor is technically more of a basement — it's actually under the first tile table.
Here we have a big plastic cauldron, which houses a pad, crayons, markers, and a random severed head. This is the best time of year to draw absolute nonsense, and having all of the materials right under my Mood Table will continually encourage me to do so!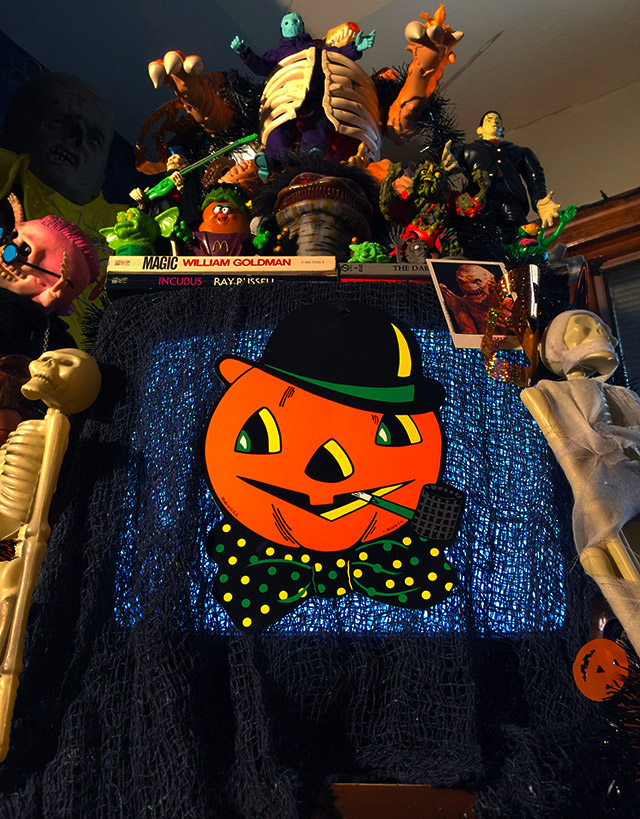 So, let's review. This year's Halloween Mood Table…
– Plays television static.
– Broadcasts AM radio.
– Dispenses candy bars.
– Serves alcohol.
– Encourages arts and crafts.
– Has D. Compose from Inhumanoids on top.
I think that's a win!
Now let's talk about you.
Even in the early years, several readers took the hint and started building their own Halloween Mood Tables. Last year, the idea really caught on, and I'd conservatively estimate that at least 150 people made their own, from personal friends to total strangers to Jorge F'n Garcia from Lost. (You can see a bunch of them on Mummy Shark!)
That Halloween Mood Tables have become "a thing" makes me proud, and it's such a thrill to see what everyone else comes up with. Remember, though: You're supposed to be making these for yourselves. Your Mood Table should appeal to your idealized vision of Halloween. It can be huge, tiny, elaborate or simple. It can have a theme, or it can be a complete mash. So long as you end up with something that makes your place feel Halloweenier, you've succeeded.
If you make one this year, feel free to share a link to it in the comments! You can also hit me up on Twitter or Facebook. If you have a Tumblr account, be sure to tag your post with "Halloween Mood Table," because I'll be reblogging this year's batch on Mummy Shark!)
Once again, half of my living room has been taken over by a giant, tilting garbage dump filled with monsters, mayhem and tiny-sized 3 Musketeers bars. October is really here!