If you're having a hard time getting into the Halloween spirit, I don't blame you. Everything kinda sucks right now. I'd never tell anyone to put trivial pursuits first, but having small respites from the real world isn't a bad thing, either.
Besides, I have the perfect thing for people who want to embrace Halloween but need motivation. Here's this year's Halloween Mood Table!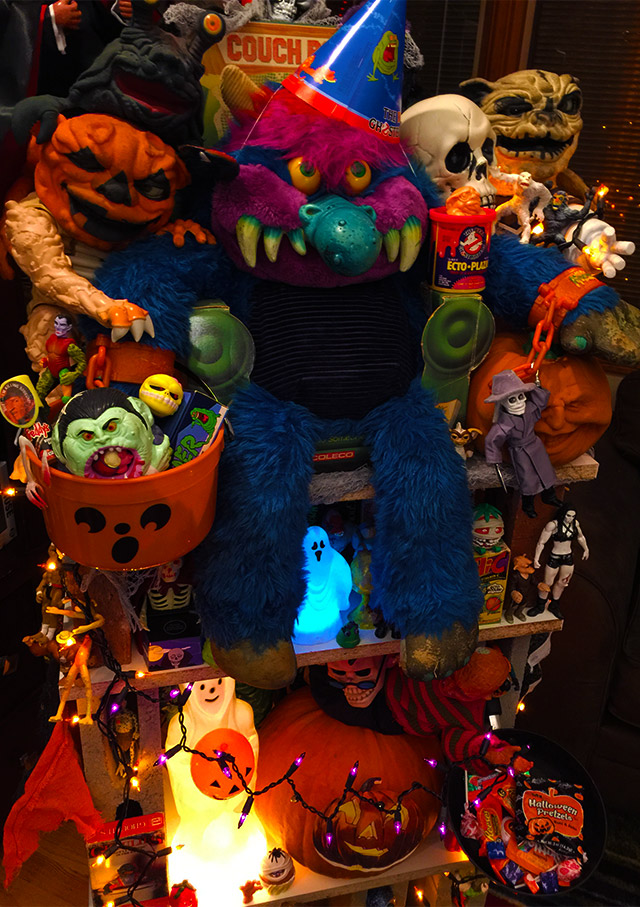 I invented the Halloween Mood Table back in 2007. That year, my Halloween spirit hit rock bottom, and the Mood Table was my way to stop the bleeding. It was just a tiny end table topped with a few decorations, but at heart, that's all a Halloween Mood Table needs to be.
It works a bit like a witch's altar. Having a Halloween Mood Table means that there will always be one easily accessible place where Halloween is constantly "happening." You can turn to it in those minutes of need and get quick fixes of spooky spirit. As an added bonus, it just looks cool!
My Mood Tables have grown immense over the years. In fact, the behemoth you're looking at up there is a bit understated compared to some of the previous editions, which utilized everything from fireplaces to TV sets.
Yours needn't be so involved. If you want to go big, great, but even the smallest Halloween Mood Table will do the job just fine.
Here's a closer look at my 2017 Mood Table, in video form:
I concede that this year's Mood Table is more of a "Mood Shelving Unit," but hey.
I built it out of cinder blocks, bricks and wood planks, which were all purchased specifically for this purpose. If the thought of me going to Home Depot to buy eight cinder blocks seems funny, you shoulda seen it in person.
Highlights include:
1) My Pet Monster, sitting on his throne. (His "throne" being a repurposed box from one of Coleco's old Couch Potato dolls.)
2) A real pumpkin. If this thing collapses, that giant pumpkin will be the reason.
3) A vintage ghost blow mold, which is currently the best thing I own.
4) A tray of random Halloween treats, made from a rusted frying pan that I wedged into one of the cinder blocks.
5) An animatronic vampire that makes the same "sonic ghost" sound effect that all electronic Halloween decorations make. I LOVE THAT SOUND.
Additional photos, down below!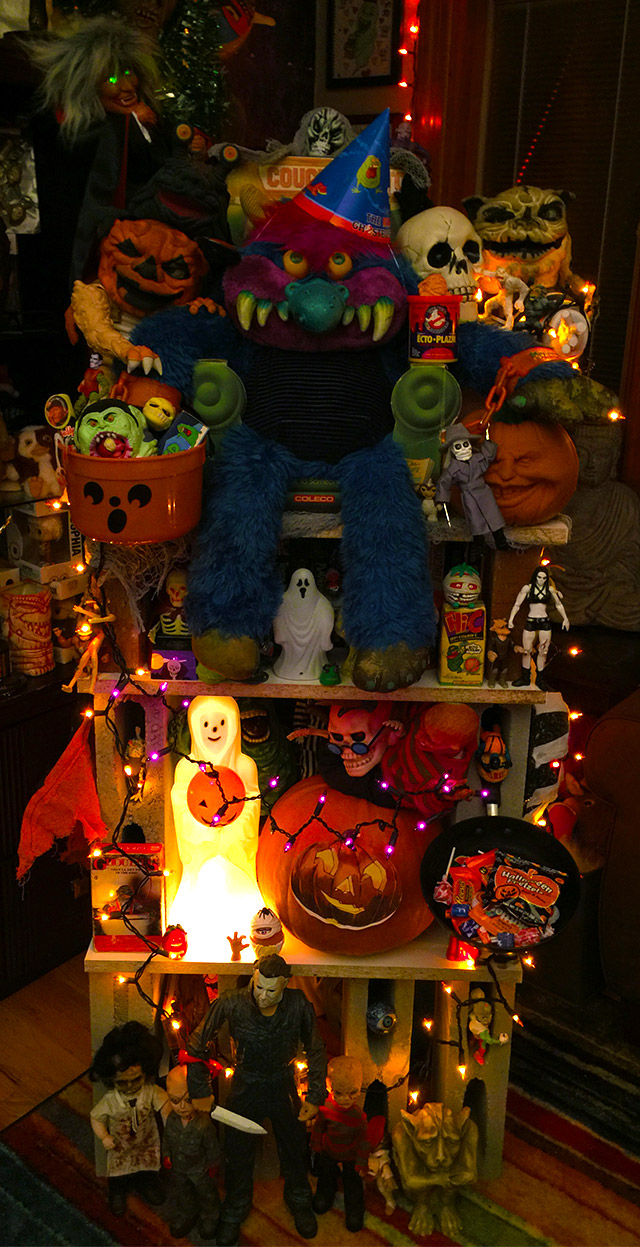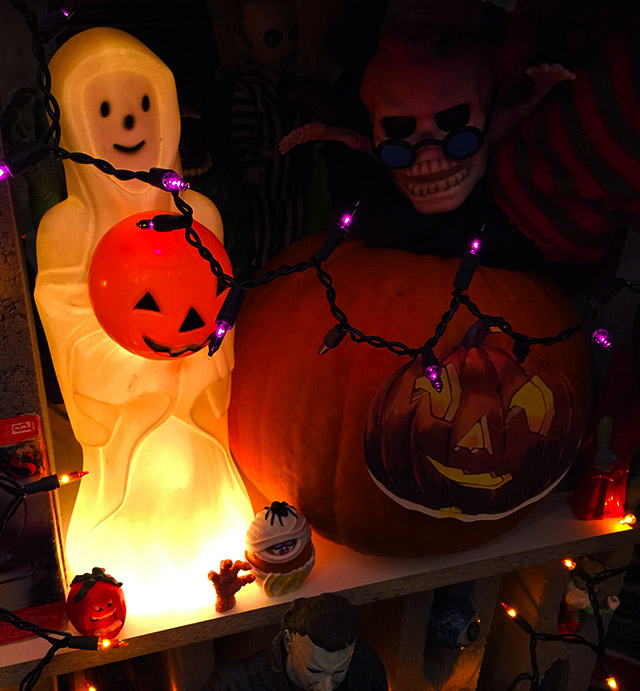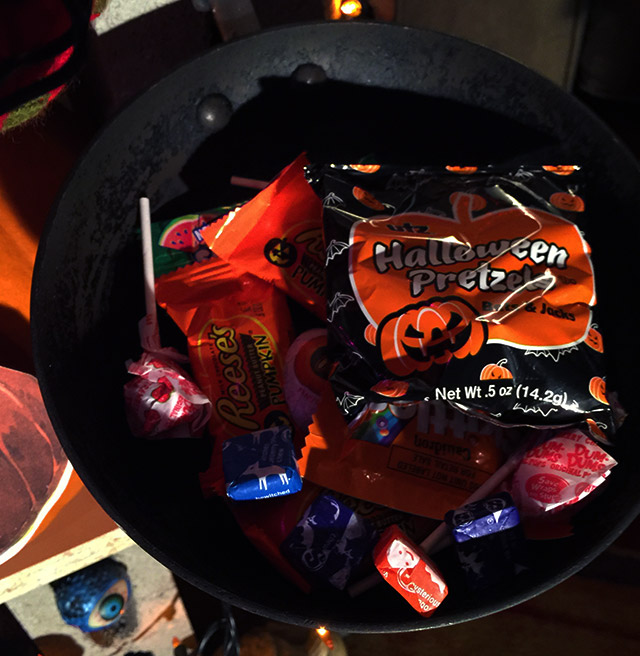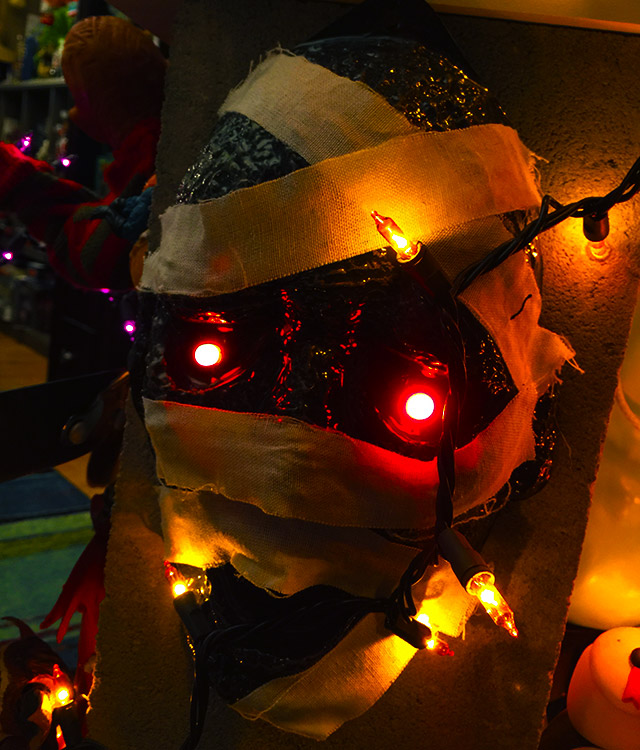 Thinking about creating your own Halloween Mood Table? Good! I'm glad! Hundreds of strangers have taken up the tradition over the years, and I can't think of anything I've been more proud of. Except maybe my imitation of Romy having fake sex with Ramon.
Every year, people ask me for the rules. The beauty of the Halloween Mood Table is that there aren't many rules. Hell, it doesn't even have to be a table! The only rule I can think of is that your Mood Table must put you in the Halloween spirit. That's literally it. Accomplish that, and you win the orange ribbon.
Now if you're asking me for tips, that's another story. Aside from just looking neat, I like to treat my Mood Tables as activity centers. I stock them with spooky books, horror movies, weird candies and other things that I might otherwise go through October overlooking. If you want a little more oomph from your table, try doing the same!
Consider it Halloween's Christmas tree.
I love October, warts and all. Mostly the warts, actually.
…speaking of which, the Halloween Countdown is still only halfway done! Hope you've enjoyed the ride so far, but the best is yet to come!