Time to dust off another recurring feature from Halloween Countdowns past. Get set for a new edition of '80s and '90s Halloween Newspaper Ads! (I promise, it's more exciting than it sounds.)
With this series, my goal is to hit upon some of the less-celebrated aspects of yesteryear's spooky seasons. Stuff you never knew, or forgot you did. "Deep cuts," as the kids say.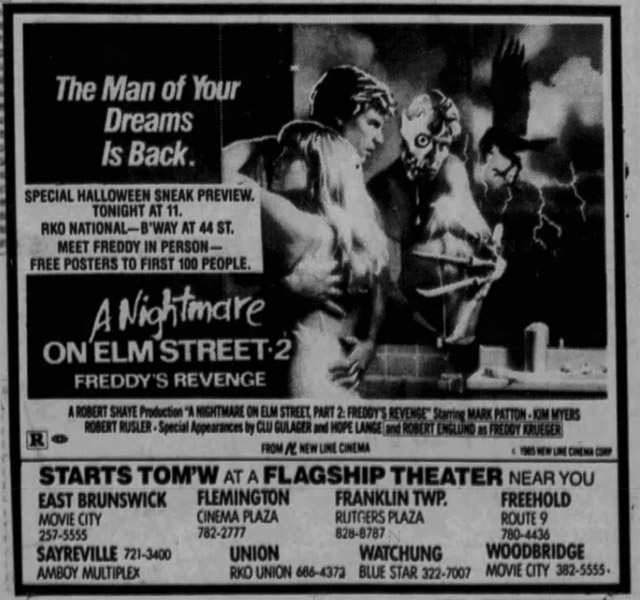 Freddy's Revenge Sneak Preview!
(October 1985)
A Nightmare on Elm Street 2 premiered on November 1st, 1985. October 31st sure would've been a cooler release date, but alas, in 1985, it fell on a Thursday.
Still, some lucky fans did get to see the film on Halloween night, as part of a special screening in NYC. The first 100 arrivals also received free Elm Street posters, and the whole thing was apparently hosted by Freddy Krueger himself!
Guarantee you that anyone who attended this screening still remembers it. (Assuming they're, you know, still alive.)
My guess is that New Line wanted to produce some post-release TV spots with glowing praise from fans, and a quick YouTube search confirms that they did exactly that. I'm such a little detective!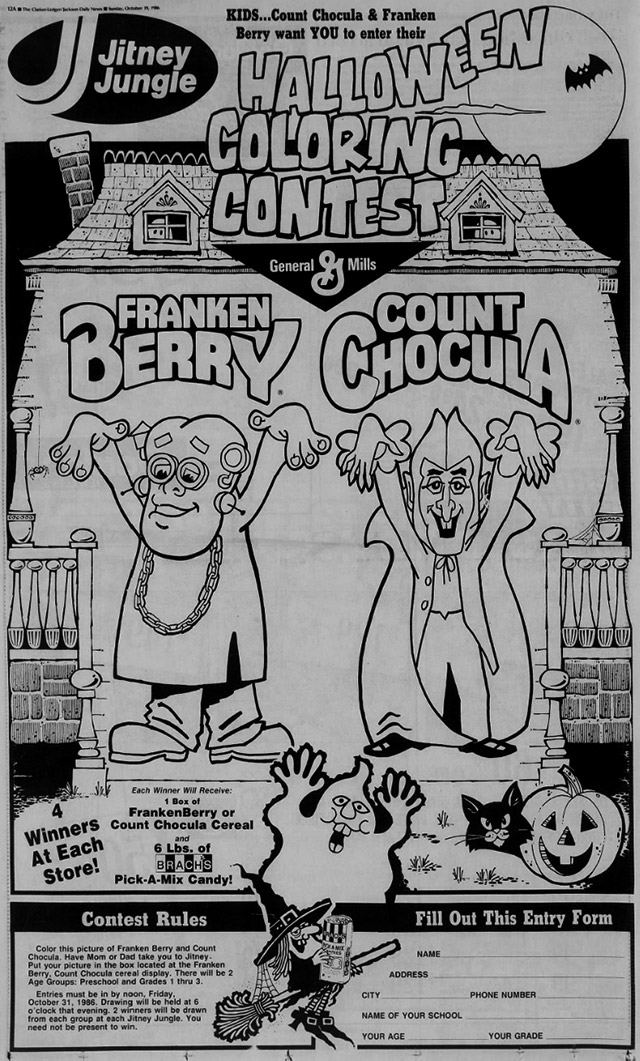 Monster Cereals Coloring Contest!
(Jitney Jungle Supermarkets, October 1986)
Jitney Jungle was a Mississippi-based supermarket chain, and probably also the third level from some stupidly addictive Facebook game.
Back in '86, it gave artsy kids the chance to win free boxes of Monster Cereals. All they had to do was color Franken Berry and Count Chocula, which was without question the best requisite of any contest ever.
The core artwork was pulled from an official source, but I suspect that General Mills wasn't at all involved with this contest. If you ask me, that makes everything so much cooler. This random supermarket got extra-down with Count Chocula just for the hell of it. Nice.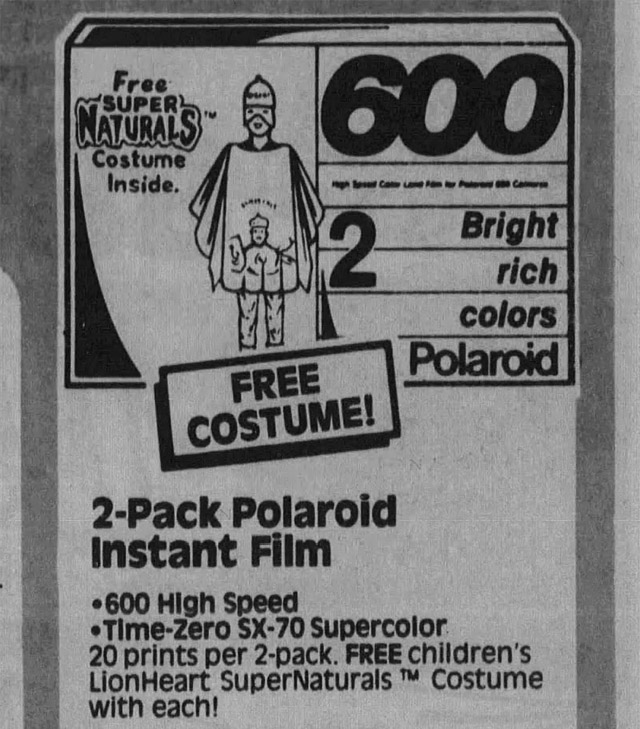 Free Super Naturals Halloween Costume!
(Polaroid, October 1987)
Wait, what? It's mind-blowing enough to learn that there was an official Super Naturals Halloween costume, but then to find out that it came free inside packages of Polaroid film? Are you kidding?!
If you've forgotten, Super Naturals was that amazing action figure line starring ghoulish characters with holographic torsos. The free costume was based on the line's lead hero, LionHeart.
Given that the costumes were crammed inside of small film boxes, they must've been extra cheap versions of those Ben Cooper/Collegeville "smock" disguises. I'm picturing strips of low-density polyethylene held together by spit.
While deep Googling eventually led me to photos of the costume, the Polaroid connection is so little-known that I can't find a single mention of it online. I'm proud to be the first! Proud like a LionHeart.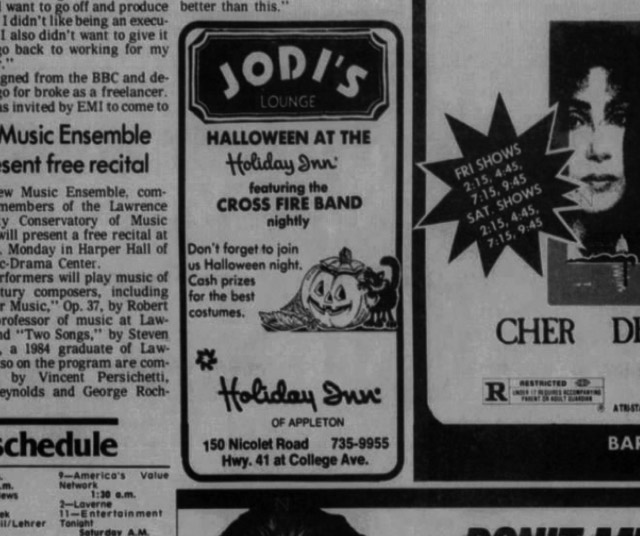 Halloween at the Holiday Inn!
(October 1987)
One of my favorite-if-esoteric things about Halloween is the variety of ways it's celebrated. Millions of parties, staged from places we've never seen and starring people we'll never meet. It's unfathomable, yet still so fun to try to fathom.
So I get that this ad seems humdrum, but the idea of unknown strangers obsessing over a Halloween party at some Wisconsin Holiday Inn just thrills me. It's like the closing scene from Men in Black. Everyone at Jodi's Lounge was in that one earthly marble, oblivious to whatever transpired beyond.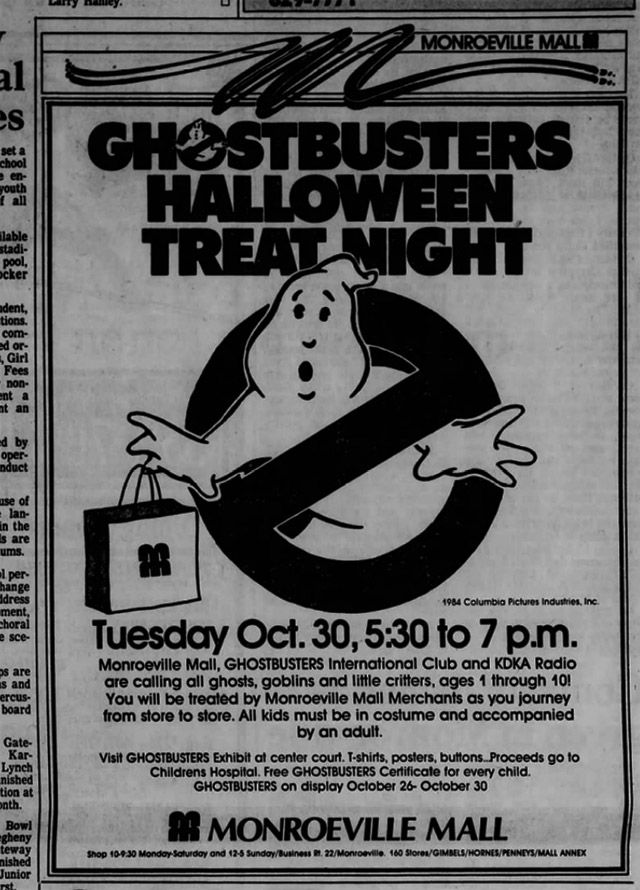 Ghostbusters Halloween Treat Night!
(Monroeville Mall, October 1984)
Shopping malls are still popular on Halloween, but I imagine that today's events are nothing like those from the '80s, when sooo many mall stores gave out candy-or-better.
Back in '84, the Monroeville Mall (of Dawn of the Dead fame) gave trick-or-treaters extra incentive to fish for freebies indoors. Aside from all of the individual merchants armed with candy, there was also a Ghostbusters exhibit right in the center of the mall!
There kids could beg their parents for official t-shirts, posters and buttons, with the profits going to charity. You could even get a free "certificate," which I'm assuming named you as an honorary Ghostbuster. (Back in '84, that was HUGE.)
Best of all, the event took place on October 30th, a day before Halloween. That meant you could get your certificate and hit Babbage's for a pack of Smarties and still have your usual Halloween hootenanny. Love it!
PREVIOUS EDITIONS OF HALLOWEEN NEWSPAPER ADS:
PART 1 | PART 2 | PART 3 | PART 4