Here's another batch of Halloween-themed newspaper clippings from the '80s and '90s, featuring everything from Fruity Yummy Mummy to free goldfish. (If you missed the last edition, it's over here!)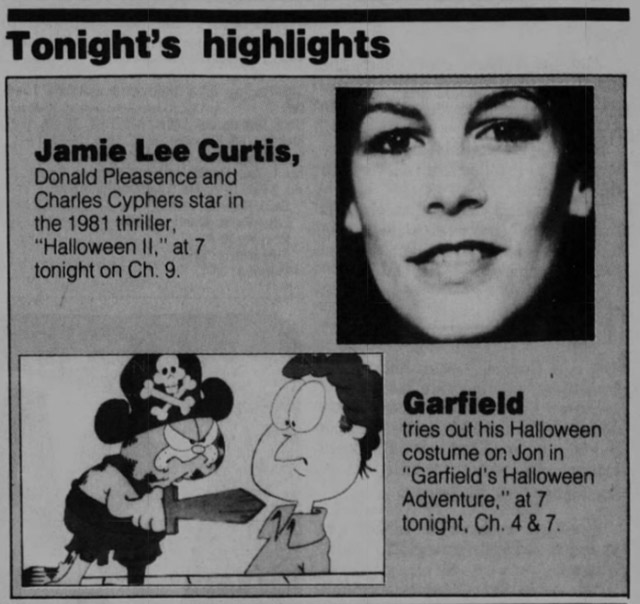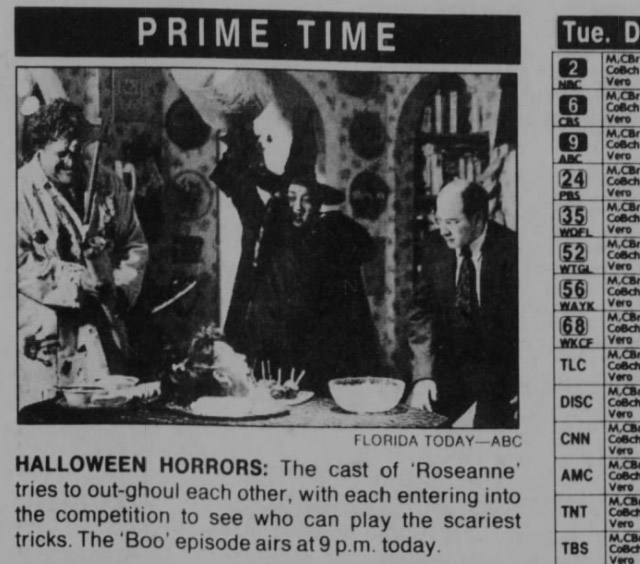 World Premieres of Halloween Classics!
(October 30th, 1985 & October 31st, 1989)
It's so weird to see mentions of Garfield's Halloween Adventure and Roseanne's first Halloween episode from before they made their mark.
Garfield's Halloween Adventure debuted on October 30th, 1985. For a while, it was even more important to kids than Charlie Brown's special. Really, it was Garfield's work here that turned so many of us onto him in the first place.
And Roseanne's first Halloween episode? My God! If you're near my age, think on it: Don't you use that episode to fill in the gaps when trying to remember your own Halloween celebrations? It may have been "exaggerated," but it was still such a blueprint for the perfect late '80s suburban Halloween.
When these articles were published, nobody had any reason to think that people would still be talking about Garfield's songs or Jackie's skeleton pin over 25 years later. But here we are!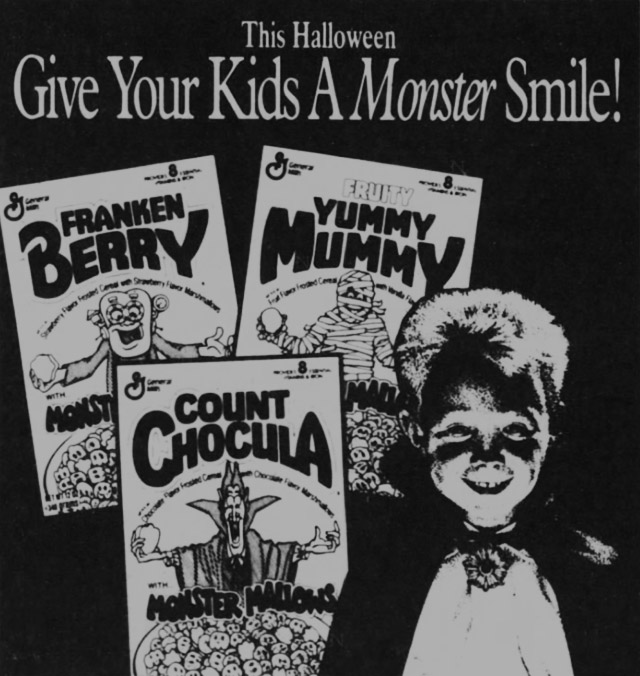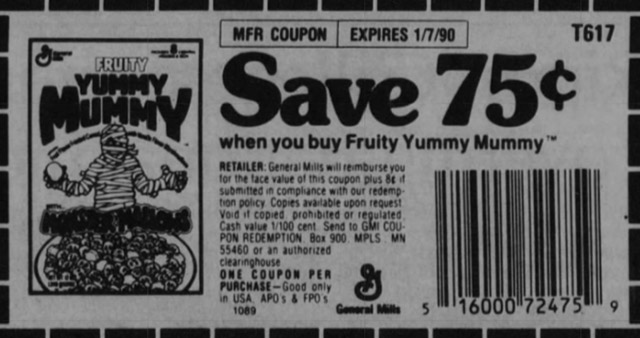 Fruity Yummy Mummy Cereal!
(General Mills, October 1989)
These clippings are from Fruity Mummy Yummy's first run, which only lasted a few years.
Major fans should recognize this box design as the one General Mills brought back in 2014. Every year since, people have (loudly) wondered if General Mills will ever give Fruity Yummy Mummy and Frute Brute one more day in the sun.
Personally, I think there's a stronger chance of General Mills finally unveiling an all-new character and flavor, which is probably the only thing they could do to match 2014's insane level of buzz.
No matter what they decide, my gut tells me that next year will be a big year for the Monster Cereals.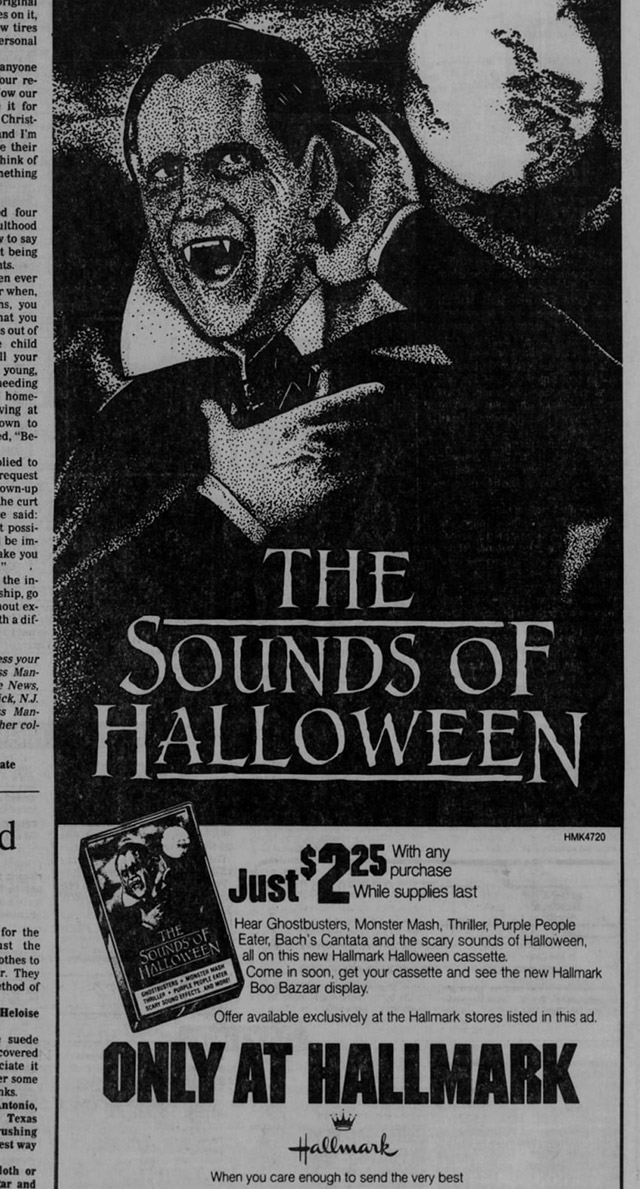 The Sounds of Halloween Cassette!
(Hallmark, 1987)
These days it's just kinda there, but Hallmark used to be THE PLACE during the Halloween season.
Many of the Halloween decorations and novelties we now associate with the '80s and '90s were Hallmark exclusives. Back before virtually every retail chain embraced Halloween as a sort of mini-Christmas, Hallmark was a ghoulish godsend.
Perhaps most notable was Hallmark's line of spooky audio cassettes. The bulk of them only consisted of sound effects and the occasional drone, but on the higher end were cassettes like The Sounds of Halloween.
This was an awesome mix of creepy covers, featuring everything from the Ghostbusters theme to Michael Jackson's Thriller. It was no different from what you'd find on any of today's Drew's Famous mixes, but it meant so much more back in '87.
Sooo many people bought that tape. During the 1987 Halloween season, it was as ubiquitous as fake webs and pumpkin-themed leaf bags.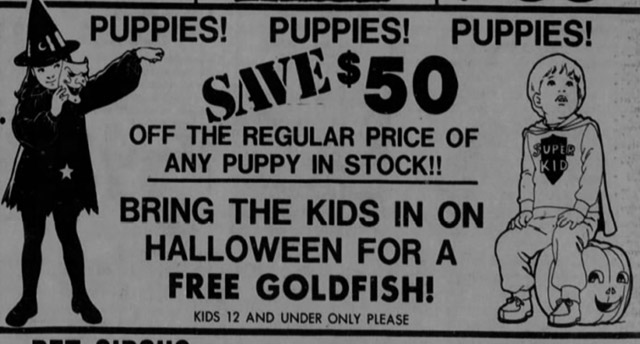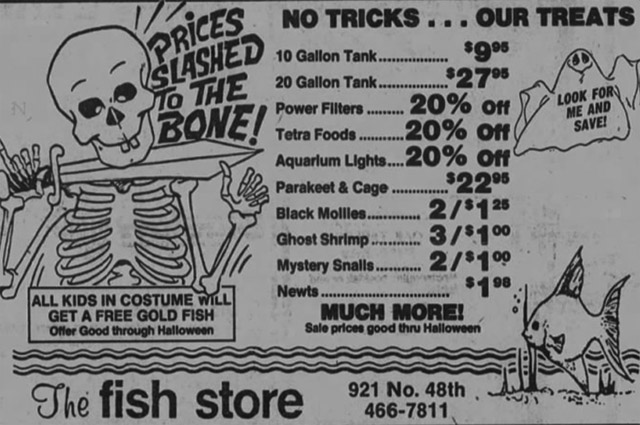 Free Goldfish for Halloween!
(Various Pet Shops, Late 1980s)
These clippings highlight what I'm hoping is a dead trend: Pet shops giving away goldfish on Halloween.
I'll admit it: I loved this gimmick as a kid. The pet shop in our mall was locally famous for running this promotion. Every Halloween, I'd see a few costumed neighborhood kids carrying goldfish around in see-through sacks. They literally got new pets while trick-or-treating, and that sounded freakin' amazing.
But with age comes wisdom, even if that wisdom isn't always fun. This was a step above street fairs using goldfish as carnival prizes, sure, but not a giant one. Not every kid who received a free goldfish had an adequate tank for it, nor necessarily even more than a passing interest in their new pet.
(On the other hand, since the goldfish given away were typically the tiny ones purchased as live food for turtles, I guess being handed out to trick-or-treaters was like winning the lottery for them. At least they had a shot?)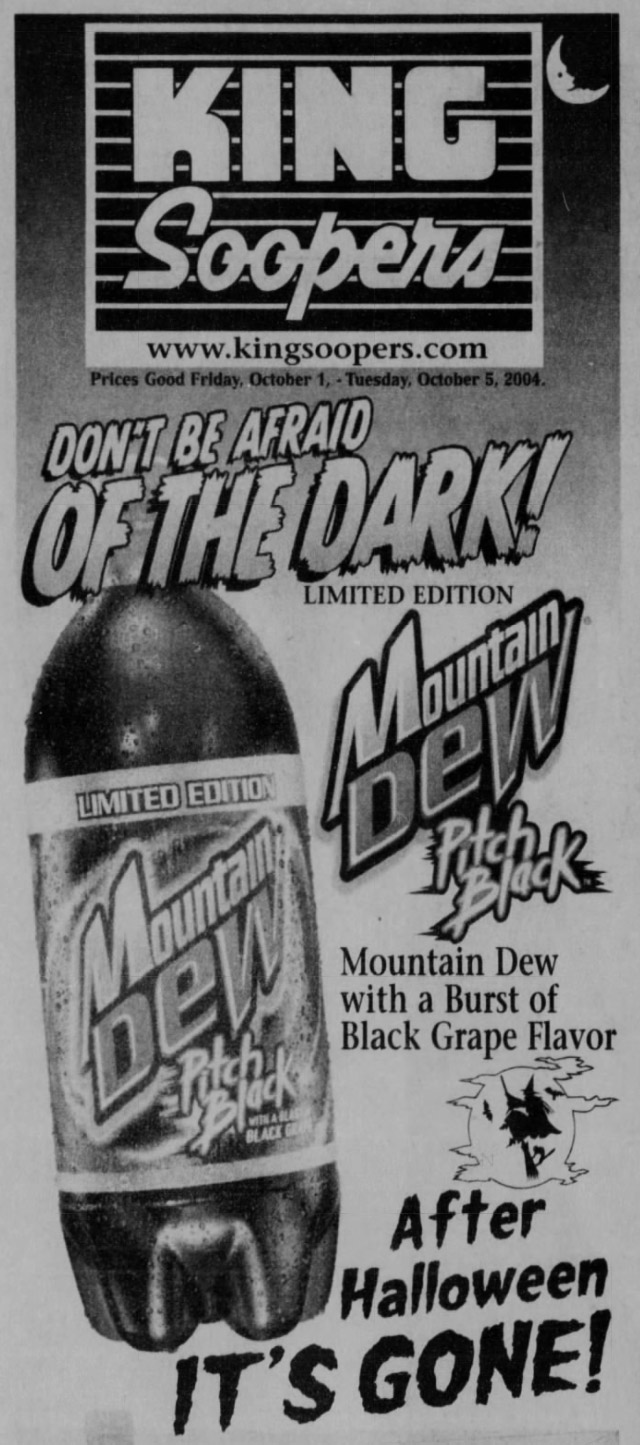 Mountain Dew Pitch Black!
(October 2004)
I'm breaking my rule by including such a "recent" clipping, but I had to seize this opportunity to remind everyone that Mountain Dew Pitch Black was indeed conceived as a HALLOWEEN soda. I've said this a million times, and it's never involved exaggerations or conjecture.
Pitch Black debuted in October of 2004. In my opinion (and also simply objectively), it was that year's hottest Halloween food item. Sadly, the Halloween connection was only literal during Pitch Black's first season. Even when Pitch Black II arrived just a year later, Mountain Dew made no attempt to kowtow to ghost-lovers.
Still, people like me will never forget that 2004 launch, and we'll always view Mountain Dew Pitch Black as the official soda of Halloween. (It's now out permanently, if you hadn't noticed. Don't let October slip by without a sip! It's the law!)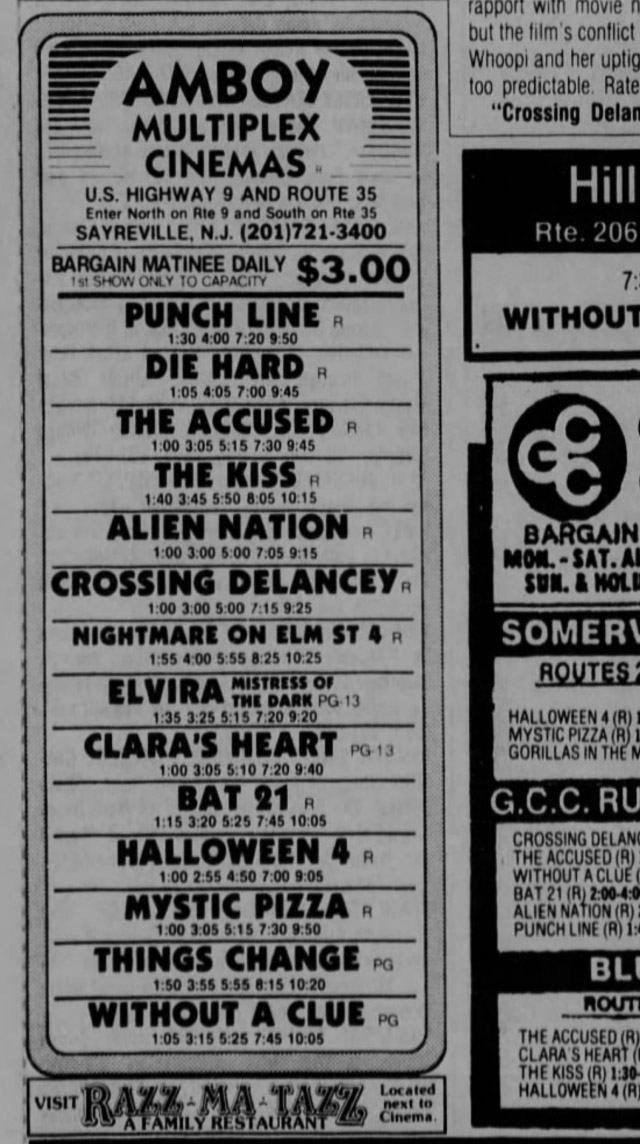 Horror Movies in Theaters!
(Amboy Multiplex Cinemas, October 1989)
While it would seem that I'm featuring this because of the '80s horror movie mentions, that's only part of it.
See, I KNEW this theater. I went to it many times. It wasn't our local theater, but it was a quick hop over the bridge into Jersey.
The Amboy Multiplex was as enormous as it was seedy. But it was the fun kind of seedy, with its enticing air of danger and perpetual Lord of the Flies atmosphere.
The theater's size apparently made it a bear to manage, or even properly clean. (My most distinct memory of the place is how my sneakers would be glued — absolutely outright glued — to the floor by the end of every movie.)
I don't remember seeing any horror movies there (unless you count Jurassic Park), but man, I wish I had. The thought of seeing a movie like A Nightmare on Elm Street 4 at THAT theater? Too perfect!
PS: See that ad for Razz-Ma-Tazz at the bottom? Picture a Chuck E. Cheese's, but make it five times bigger, and then shape it like a Lazer Tag arena. AMAZING place. It was a literal stone's throw from the movie theater, too. For a kid living in Staten Island, a trip into that part of Jersey was as good as going to Disney World.
Thanks for reading!