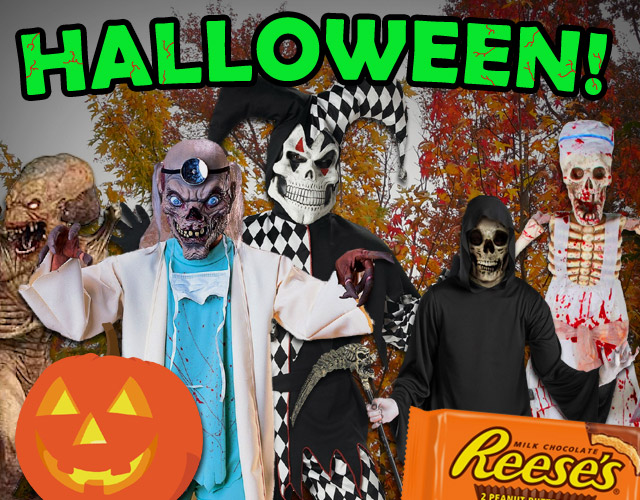 Holy shit, it's Halloween. Finally? Already?!
The 2013 Halloween Countdown isn't over yet (COME BACK TONIGHT!), but I hope you enjoyed it. More importantly, I hope you enjoyed the whole damn season.
I know I have. Usually, Halloween gets here, and there's a tiny voice inside me screaming, "That's it?" Not this year. I may have not been at my prolific peak, but brother, I lived the gimmick. I went to pumpkin patches, a scary amusement park and several costume shops. I saw a horror movie in theaters. (Okay, it was the kinda-sucky Carrie remake, but it still counts.) I partied with friends under the glow of seasonal spirits and Beistle wall decorations. I did it all!
I was close to having no regrets, but the truth is, there was one. I didn't carve a pumpkin this year. It's the one tradition that got away from me, and while I guess there's still time to make it happen, I decided on a different last-minute activity: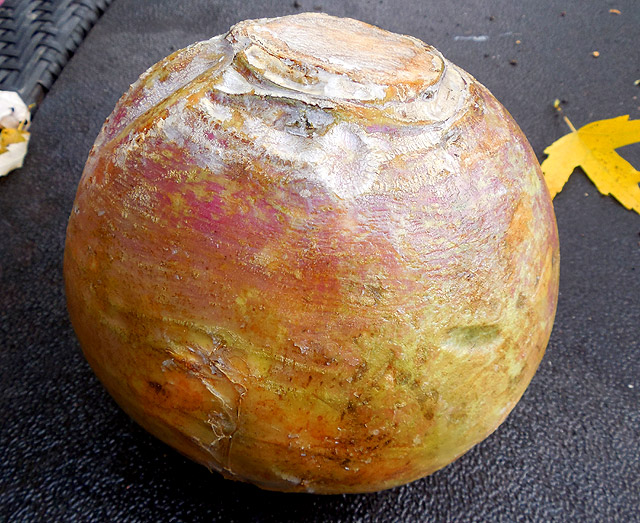 This year, I carved a TURNIP.
This was suggested by Goob over on Dino Drac's Facebook page, and it made perfect sense. Many say that jack 'o lanterns originated in Ireland, where people killed turnips instead of pumpkins. I loved the idea. I also loved how my nearest supermarket actually carried super gigantic turnips suitable for such a task.
We'll get back to the turnip in a few. First, other things!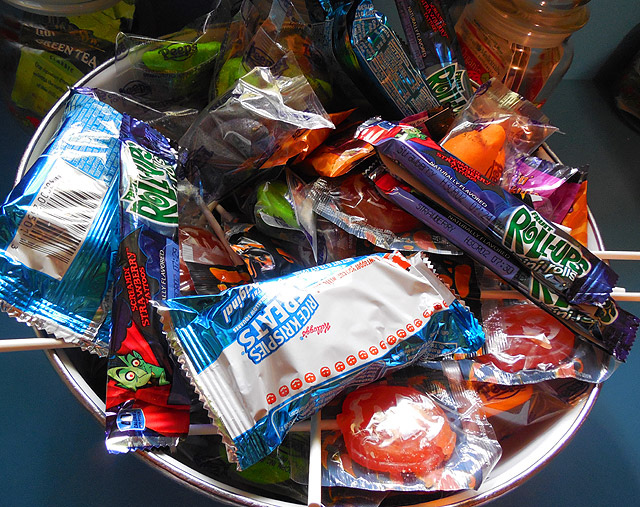 That's today's candy bowl. Bring it on, trick-or-treaters.
Longtime readers know that this is kinda weaksauce for me. I usually give out entire Ziploc bags filled with treats and toys. I'm taking it easy this year, because the mere thought of going out to buy Ziploc bags right now is literally capable of making me puke.
But it's not like the kids will only get one piece of candy. I'll throw big handfuls into each sack. Trick-or-treating seemed to be a slowly dying fad around here, but after last year's hurricane-related cancellations, I'm betting that we'll get more than ever. Kids have good memories. They'll remember getting dicked over last Halloween, and go to twice as many houses this year.
At least, that's what I'd do.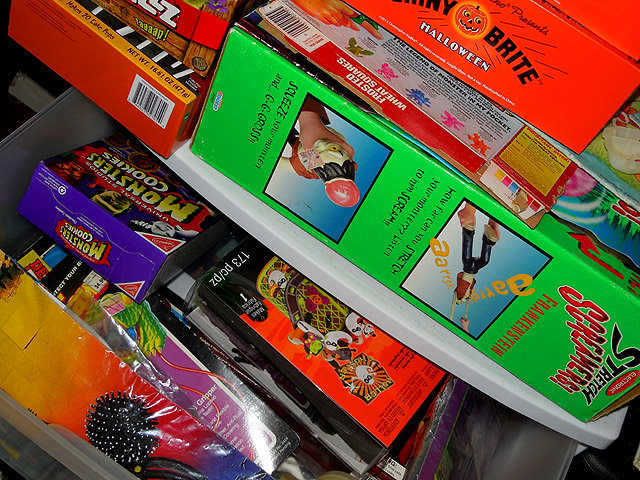 The sad thing about ending the Halloween Countdown? There's so much junk that I never got around to writing about. This happens every year!
Much of it will be lost or tossed, because there's always collateral damage. But the good news is that many of the leftovers aren't really specific to the season, and now I'm armed with spooky topics for whenever I feel like writing or vlogging about 'em.
Honestly, my main takeaway from the 2013 season is that I don't want its fun and flavors to end with it. Spooky stuff can be enjoyed all year!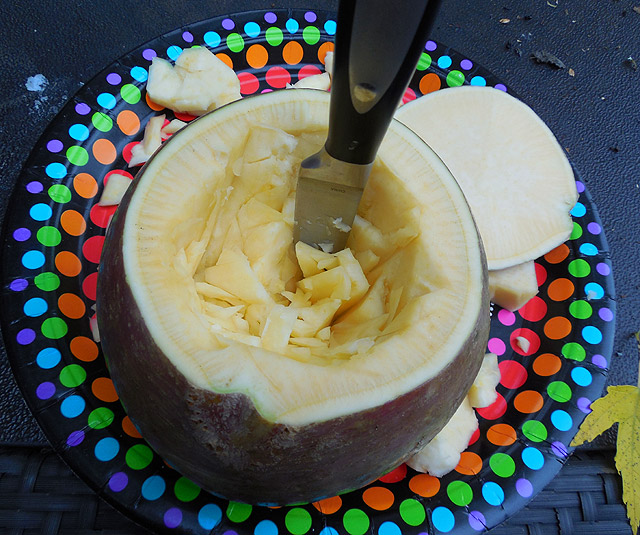 Okay, back to the turnip.
Carving it is a biiiitch. I knew I was in trouble when even the most encouraging turnip carving guides barely stopped short of suggesting that this could drive a person to suicide. On the other hand, I learned that there really ARE turnip carving guides, and that's terrific.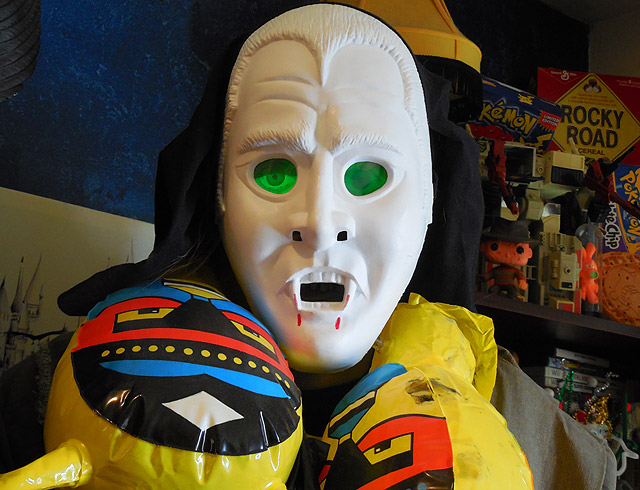 Looking over Dino Drac's archives, my Halloween season doesn't seem as full as it was. Actually, for one reason or another, I didn't write about all of my experiences. I mentioned them in the intro, but here are a few specific memories that I'll cherish for at least two weeks:
1. Visiting Freddy In Space HQ with Ms. X, and being treated to a fun and hilarious cider festival, where myriad vendors tried to convince you that their two ounces of alcoholic cider were better than everyone else's two ounces of alcoholic cider. Mr. and Mrs. Freddy were awesome hosts and became great friends, and I'm hoping our meet-ups won't only happen during the orange months.
2. Going to see Carrie with Jay from The Sexy Armpit, if only for this one specific part: We went on a Sunday afternoon, and the theater was almost totally empty. The only other people there were a family of four, sitting in the middle of the last row. Jay asks me where I want to sit, I say "you pick." Despite the forty thousand empty seats at our disposal, Jay marches with authority right toward this family, and sits three seats away from them. During the whole long ass walk, I'm watching their faces, and they obviously think we're psychopathic murderers. Also, I was completely stoned.
(PS, did you know that I cameo'd in Jay's Halloween special? I did!)
3. Since I spent much of the Halloween season as an arguable bum, I had time to help Ms. X shorten her commute with several pickups. Here and there, I've had plenty of great drives, blasting spooky music while soaking in distant neighbors' Halloween decorations. I freakin' loved it. (Just don't tell Ms. X. I pretended to hate it so I could cash in for a later favor. Oh, so we're supposed to go to your cousin's wife's brother's son's third birthday party? Nuh uh, I spent half of October driving you around fucking Bayonne.)
4. Oh, and there was the time we went to a local pumpkin patch, which is really just a garden center that throws piles of pumpkins over hay. This place usually has a small haunted house attraction (a trailer, basically), and though we never went inside, we sure loved looking at it.
Well, while buying whatever we were buying, we got into a discussion with the owner about it. He said that the attraction fell into disrepair after Sandy, but he still wanted to hear about our favorite parts. We came up with horribly vague answers, because despite clearly telling this man that we'd been going on his attraction for years, we never once actually did. I have no idea why we lied, but it's not like we could've expected this sort of inquisition. His line of questioning was so specific and trap-filled, I nearly broke down and cried the truth. Instead, we kept saying things like, "Oh the WHOLE THING was great, we can't pick one favorite part!" I'm not exaggerating: The conversation went on for a full fifteen minutes.
Ah, Halloween. I'll miss you, baby.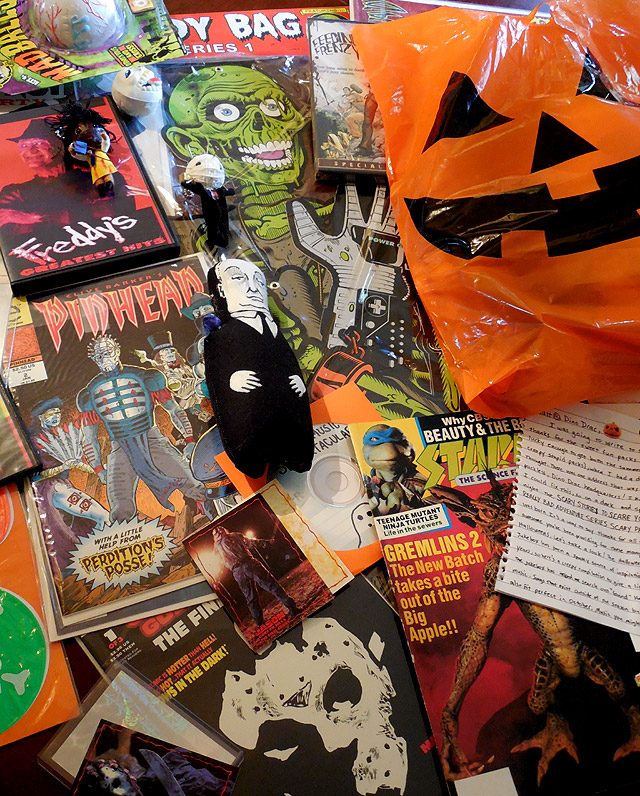 In another way, I'm glad that Halloween is almost over. For someone who does what I do, it's a grind, and there isn't a lot of time for mindless futzing.
Now I'll have plenty of time for that. Now I can finally watch all of the horror shit that's been collecting on my DVR since August. Now I can play with all of my TOYS!
Shown above are just some of the fun things that I haven't had a chance to enjoy just yet. I can't wait to dive in. Some of it was bought, some of it was gotten through trades, and some of it was sent to me by kindly internet folk. Saturday is going to be like Christmas morning. I'm gonna spread everything across our living room floor, and roll around like I'm a cartoon cliche in a pile of money.
Some of what you see came from two of my favorite online seller types. Kyle from Electric Zombie and Ross from 8-Bit Zombie (Notice a theme?) both do INCREDIBLE work, and it's been amazing to see them branch off from wearables into totally insane bric-a-brac. Check 'em out, and tell 'em I sent you. They've been good friends to Dino Drac!
(While I'm near the subject – special thanks to Judson. He knows who he is, and he knows why he's being thanked!)
(And oh yeah, I shouldn't leave out Billy, from Veggie Macabre. Bill has been as good of a friend as a weirdo blogger could possibly have, and I urge everyone go to read his mile-tall pile of spooky posts.)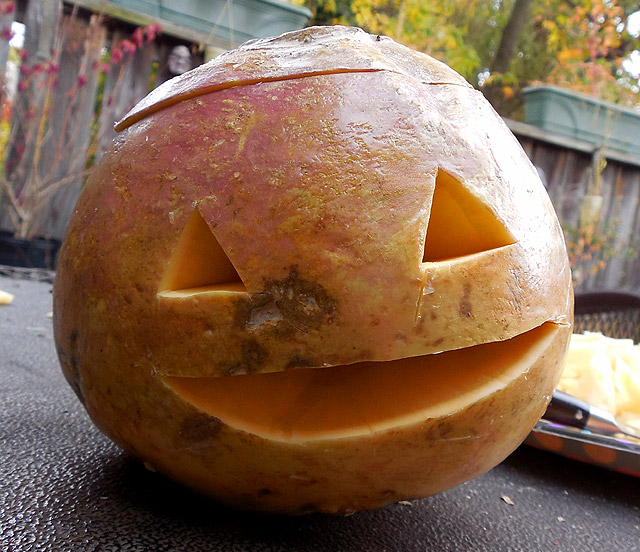 AND NOW BACK TO THE TURNIP.
It's finished, and it's pretty good! I didn't get too creative with the face, I guess because ANY face on a turnip seemed miraculous enough. This may need to become a new yearly tradition. I like messing with turnips way too much.
Thanks to everyone for reading/watching Dino Drac, and for your amazing (seriously AMAZING) support and encouragement. You make it so easy for me to never stop doing this, and I appreciate that to death. Have a wonderful Halloween!
(And come back later! I'm not done! There's still one stone left unturned. If you've been reading me for a while, you probably know what it is.)