Dudes. I don't know if you've ever heard of panettone, but in my family, no Christmas is complete without one on the table. Even if nobody touches it. Few ever do.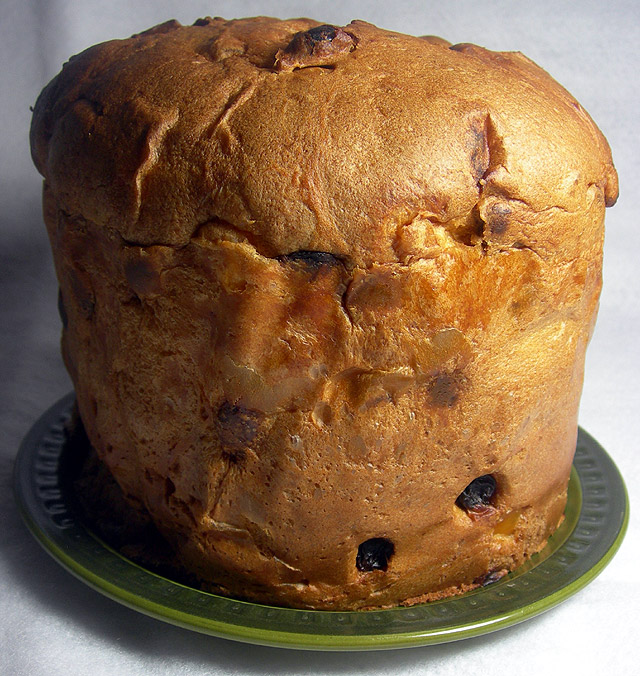 It's basically bread masquerading as cake. It's sweet, faintly fruity, very Italian, and eating it is like trying to chew through an oil-soaked sponge. I can't tell you more than that, because this isn't one of my go-to desserts. It's just something that MUST BE ON THE TABLE come Christmas Eve.
For me, the attraction finds root in its shape and its size. It's that perfect midpoint between a giant overcooked cupcake and a giant overcooked human head.
The obvious next step is to transform this into some kind of monster.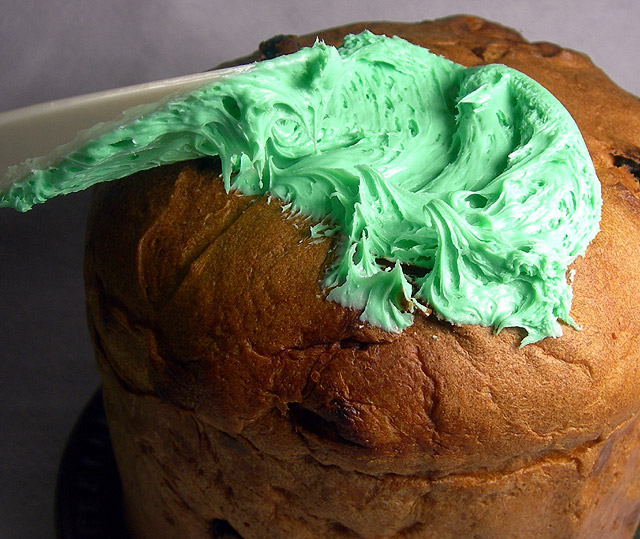 It started with Pillsbury's "Holiday" frosting, which is vanilla-flavored but colored like green sidewalk chalk. I think they were going for "Christmas tree," but I know green sidewalk chalk when I see it.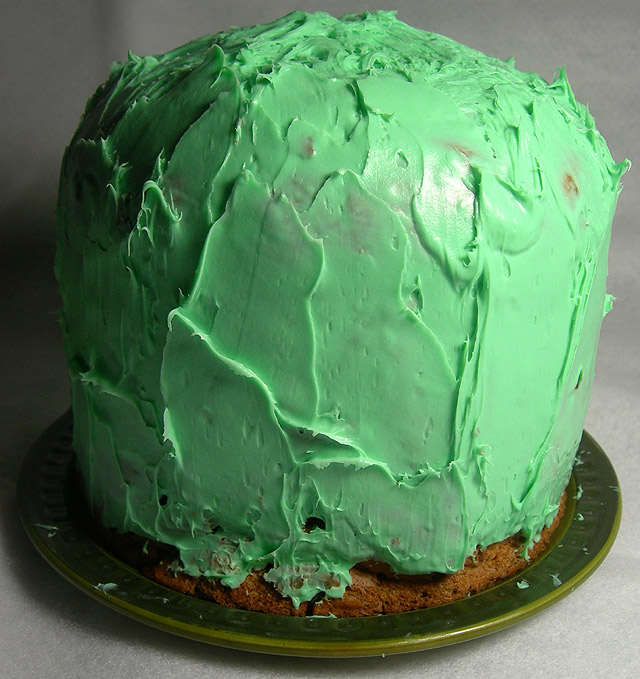 I have to admit, part of me wanted to stop here. I felt like I'd already stumbled onto something great. Has anyone iced panettone before? Google says "maybe," but I doubt anyone's iced it with "sidewalk chalk green" frosting before.
It probably would've been fantastic, just like this. Alas, I had a show to run. A promise to keep. I had to turn this bread-cake-thing into a monster.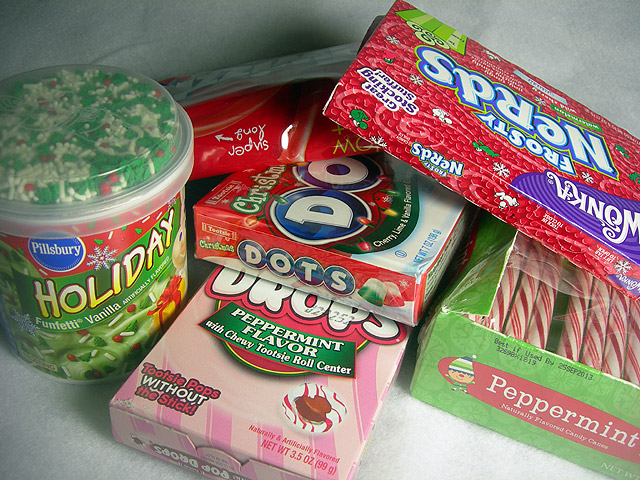 Those were my tools. A bunch of Christmas candies, along with something I'd never heard of until this past Sunday: "Twizzlers Super Long Nibs." (Yes, that is really the name!)
You have to see these fuckers. Picture twelve-inch uncut strands of Nibs. Now, while maintaining that image, devise a way to make it 700 times better without changing a thing. It sounds impossible, but the people at Hershey's have done it.
Also, "Twizzlers Super Long Nibs" works nicely as monster hair.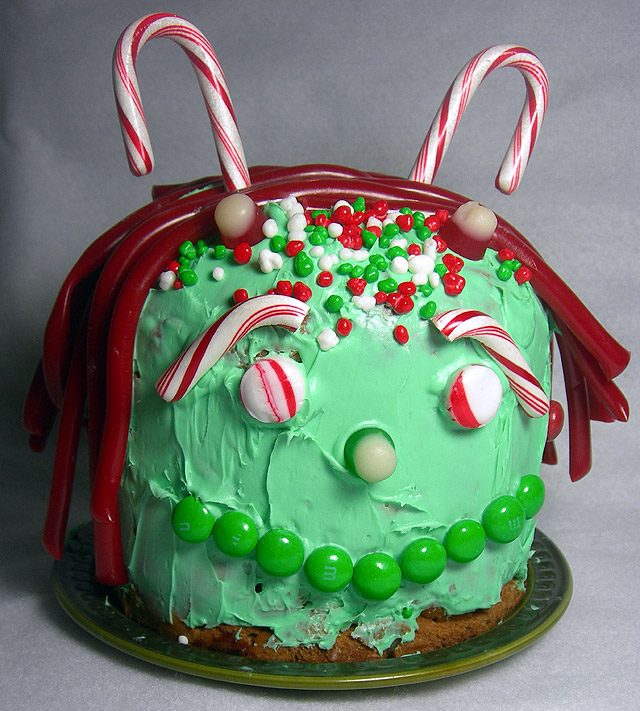 TA-DA.
I'm not being a braggart; that's just his name.
"Ta-Da, the Panettone Cake Monster."
One thing I'm especially proud of is how it's still palatable. This isn't the first time I've made a monster out of food, but the resulting creatures have generally been for show purposes only. It's like when you're watching one of those Food Network challenges, and someone wins with a breathtaking statue made from salmon guts.
I also admire my restraint. You have no idea how hard it was to leave so much "face area" unmolested. I mean, I had a *lot* of Nerds left.
But "completion" does not always mean "saturation." Adding anything else to Ta-Da would have only detracted. Truly, he was already "there."
Normally, when I'm through with these explorations, I throw my works of art in the trash. I know it's going to end up there eventually, so it's better to do it like a Band-Aid.
This time, I just couldn't. Ta-Da is now on a shelf in the living room, inches from the television. Now I can't watch Forensic Files without seeing him, too. That was my plan all along. If you doubt the validity of this, I dare you to challenge me. Go ahead. Wait until January 10th, and make me prove it. I have a camera, and I will still have Ta-Da.
Nothing this good could ever go bad.
FEBRUARY 2013 UPDATE!!!
A reader wanted to make sure I wasn't lying about keeping Ta-Da after the holidays, so here you go: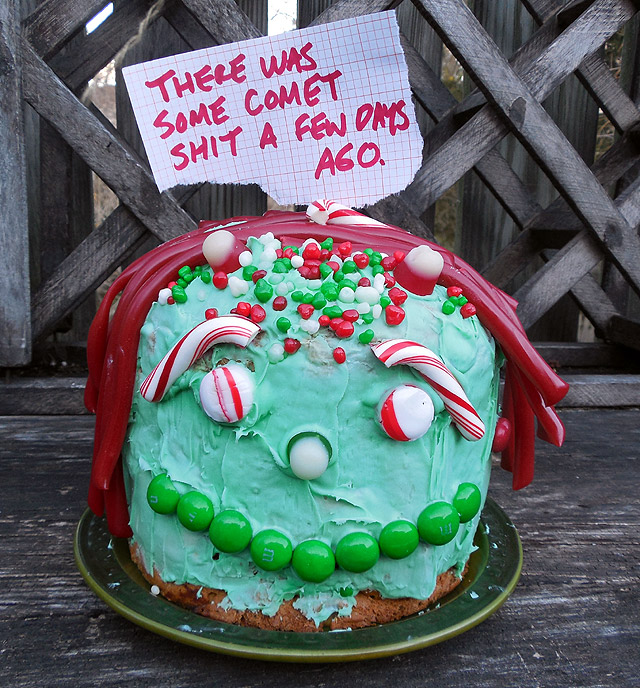 I added a reference to the 2/15 Russian comet deal for date verification purposes. Ta-Da lives!