Hi, I'm Matt, and I collect old Kool-Aid.
Below are five of the most valuable packets in my collection. A few are so rare that even many hardcore Kool-Aid collectors probably have no idea that they exist. These are my babies, and I cradle them at night.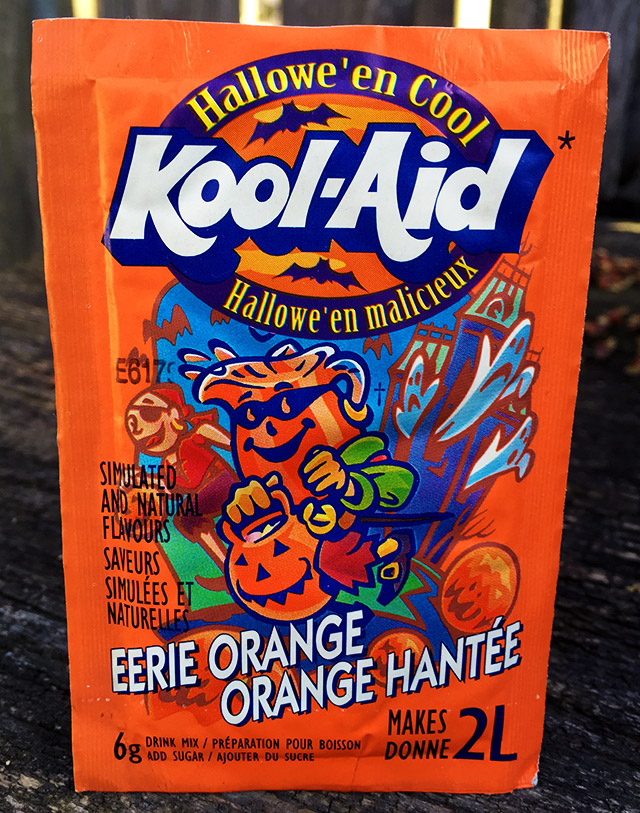 Hallowe'en Cool Eerie Orange! (1996)
Most of you are familiar with Ghoul-Aid, Kool-Aid's famous Halloween flavor. Now only sold in Jammers form, Ghoul-Aid debuted back in the '90s as a traditional powdered mix.
What fewer know is that Ghoul-Aid was just one of three spooky Kool-Aid flavors sold during that era!
Released in 1996 as Canadian exclusives, Scary Black Cherry and Eerie Orange were just repackages of existing flavors. It sounds like a cheat, but taste was secondary when you had trick-or-treating Kool-Aid Men in assorted Halloween costumes on the packets.
Both flavors are now absurdly rare. Even photos of the Canadian exclusives are scarce. I just about died when I saw a packet of Eerie Orange for sale, and by "died" I mean "bid too much on eBay."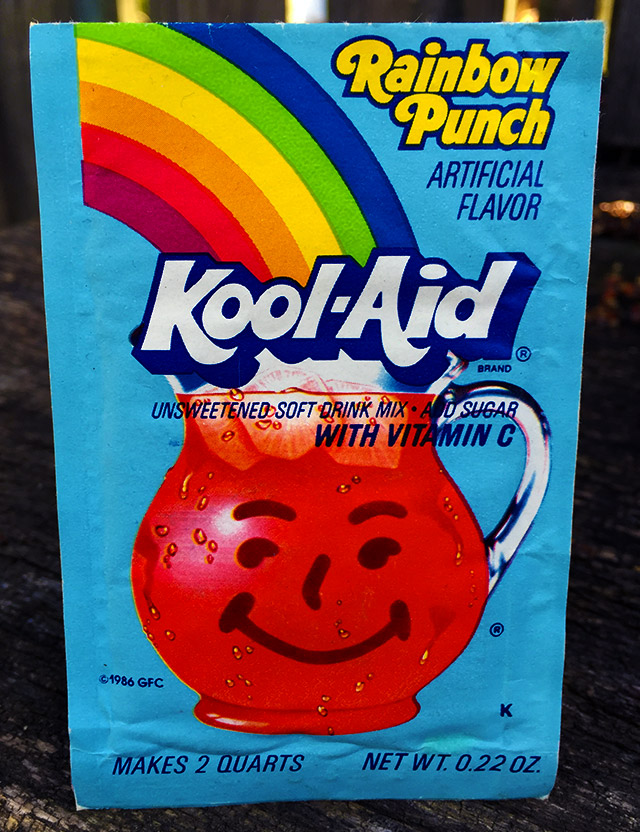 Rainbow Punch! (1985)
Rainbow Punch isn't as rare as the other packets featured here, but it can fetch even higher prices just because it's so popular.
The 1980s Kool-Aid "punches" — like Surfin' Berry Punch and Mountain Berry Punch — are now the most-desired among collectors, owing to the mysteriousness of their flavors and the complete badassery of their packet designs.
Rainbow Punch was said to be a mix of six different flavors — a kind of "Super Kool-Aid" that stole souls like Shang Tsung and was all the better for it.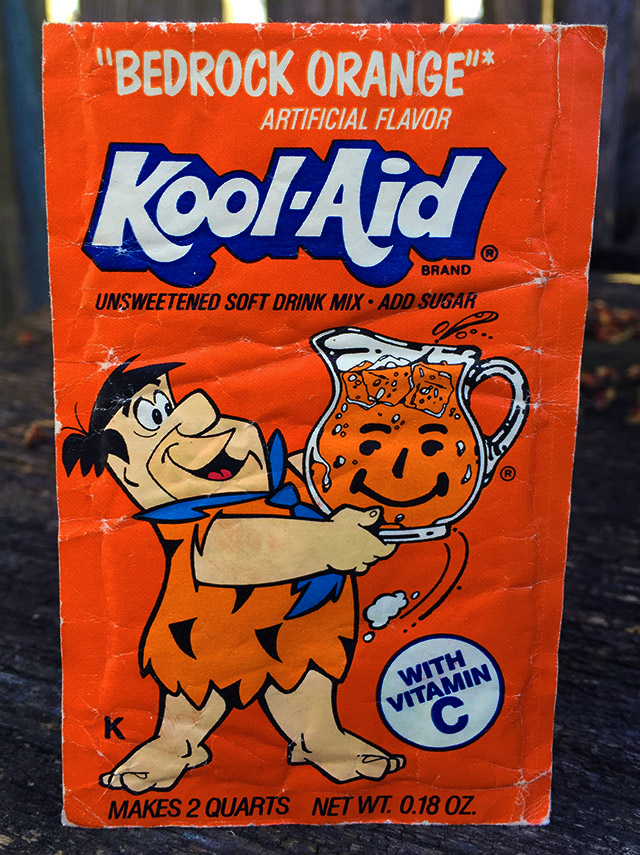 Bedrock Orange! (1988)
Back in 1988, specially-marked boxes of Post Pebbles Cereals came with free packets of Kool-Aid. That was fairly extravagant for a cereal premium, so they totally could've gotten away with using existing packets.
Instead, Kraft came up with two exclusive Flintstones-themed flavors, which were only available in cereal boxes and only around for a few months. I was elated to find Bedrock Orange after a search that literally lasted longer than a decade, but Yabba-Dabba-Doo Berry — clearly the cooler of the two — still eludes me.
I love how this promotion canonically brought Fred Flintstone into the Kool-Aid universe. If you're on a Kool-Aid packet, you live in a world where six-foot Kool-Aid Men surf, sing and play basketball all around you. The thought of Fred and the Kool-Aid Man lending each other power tools warms my winters.
For those wondering, Bedrock Orange was regular orange Kool-Aid under a different name. The back of the packet says as much. (Yabba-Dabba-Doo Berry was just strawberry.)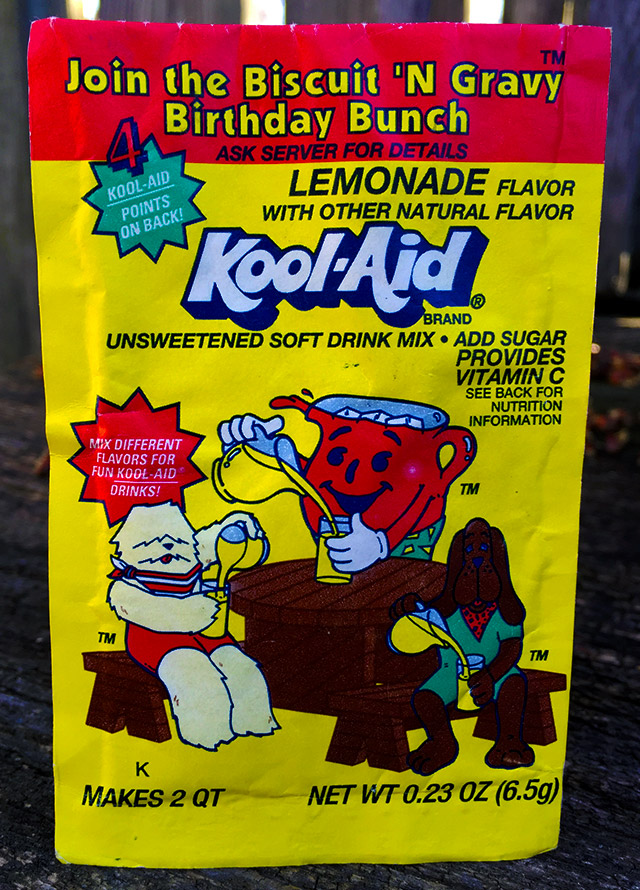 Birthday Bunch Lemonade! (1995)
This packet variation is so obscure that even the most "complete" list of Kool-Aid packets is sure to miss it. It's arguably the rarest packet in my collection, even if it's just plain lemonade with dogs on it.
You could only get this packet while dining at a Bob Evans restaurant, which took it out of contention for me. (My nearest Bob Evans is more than 50 miles away, and until researching this packet, I thought those were tire stores.)
From what I can gather, Biscuit and Gravy were the chain's mascot characters, always ready to give kids free ice cream on their birthdays. The art is adorably crude in a Y1 Neopets sort of way. Best of all, any kid who picked Kool-Aid over soda earned FOUR Kool-Aid points in the process.
(If you've forgotten, Kool-Aid points could be collected and eventually traded for exclusive Kool-Aid bric-a-brac. A pair of plastic mugs might've cost 20 points, while a battery-operated dancing Kool-Aid Man would've run closer to 250.)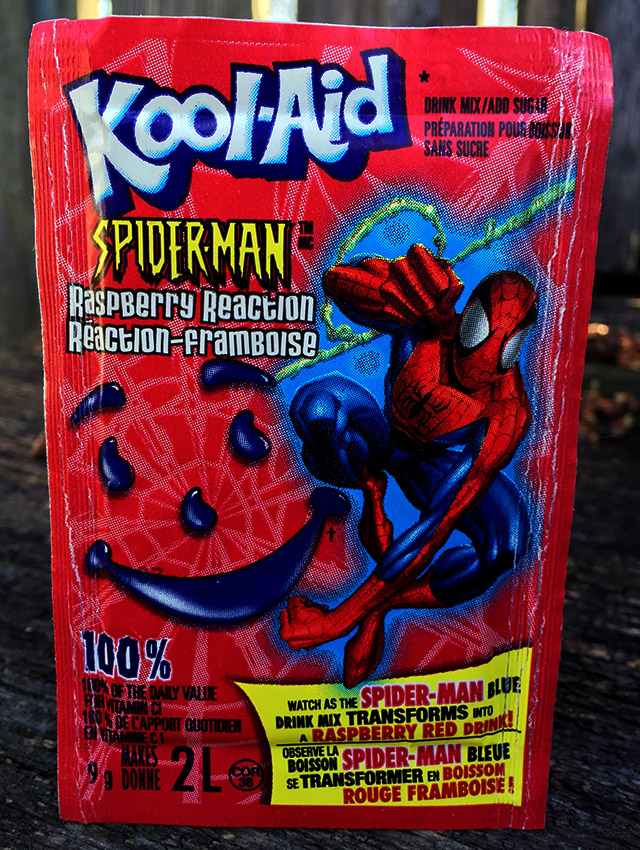 Spider-Man Raspberry Reaction! (2003)
I believe this was another Canadian exclusive, but even if not, it didn't have a wide release in the States.
Spider-Man Raspberry Reaction was a revamp of an existing Mad ScienTwists flavor, where pure blue powder magically created a bright red punch. (Thereby reflecting the colors of Spider-Man's costume, you see.)
You could only get this packet by purchasing a special Kool-Aid ten-pack, which came in a Spidey-themed tin. I'm not sure if it was promoting the comic or one of Spider-Man's cartoons, but I guess it could've easily done both?
I found this packet when it was still relatively new, but it's wildly rare now. I can only find a single mention of it online, which I hope means that it's worth millions and I can finally move into full-time philanthropy.
Thank you for reading about old Kool-Aid.