My obsession with old Kool-Aid packets takes me to strange places. Like the back pages of Spider-Man comics from the late '90s.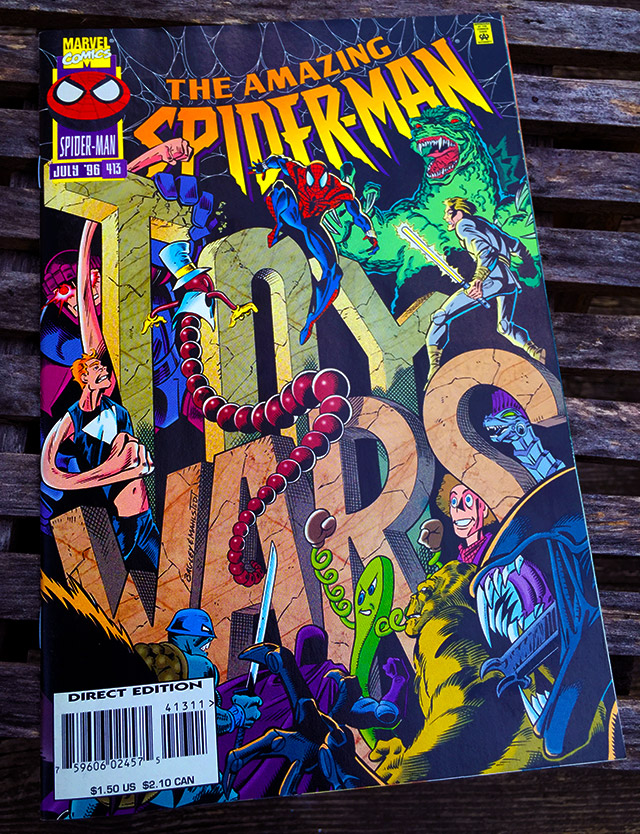 Thanks to a hot tip on Twitter (love you, Aaron and Skinslip), I learned that the July 1996 issue of The Amazing Spider-Man was hiding something awesome inside. For those looking to play along, it's issue #413. The one with Godzilla and Luke Skywalker on the cover. No, seriously.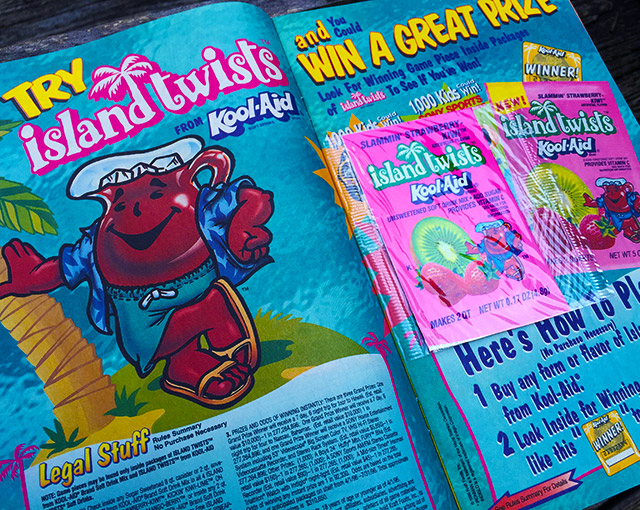 Freebies had been stuffed inside of comic books before, but it was usually just a random trading card, or at best a foldout poster. In the summer of '96, the Kool-Aid Man set a new standard. Dude always does.
Indeed, every copy of The Amazing Spider-Man #413 came with a free packet of Slammin' Strawberry-Kiwi Kool-Aid. Protected by cellophane and sandwiched between a two-page Kool-Aid advertisement, the fact that I've gone this long not knowing about an issue of Spider-Man with fucking Godzilla on the cover THAT CAME WITH FREE KOOL-AID is sobering and embarrassing. By all rights, this should be my seventeenth article about it.
A closer look: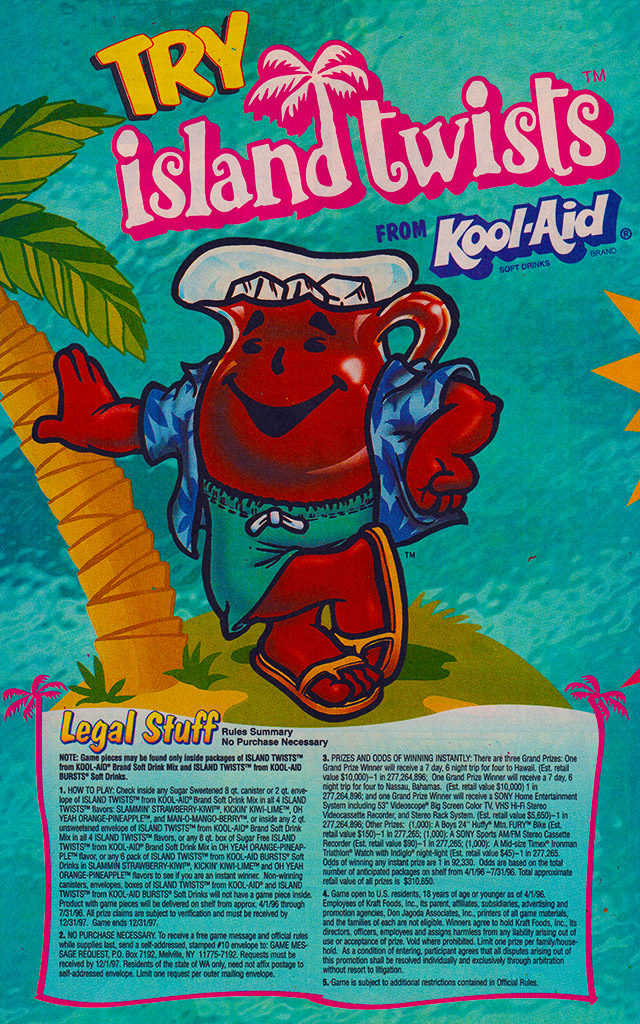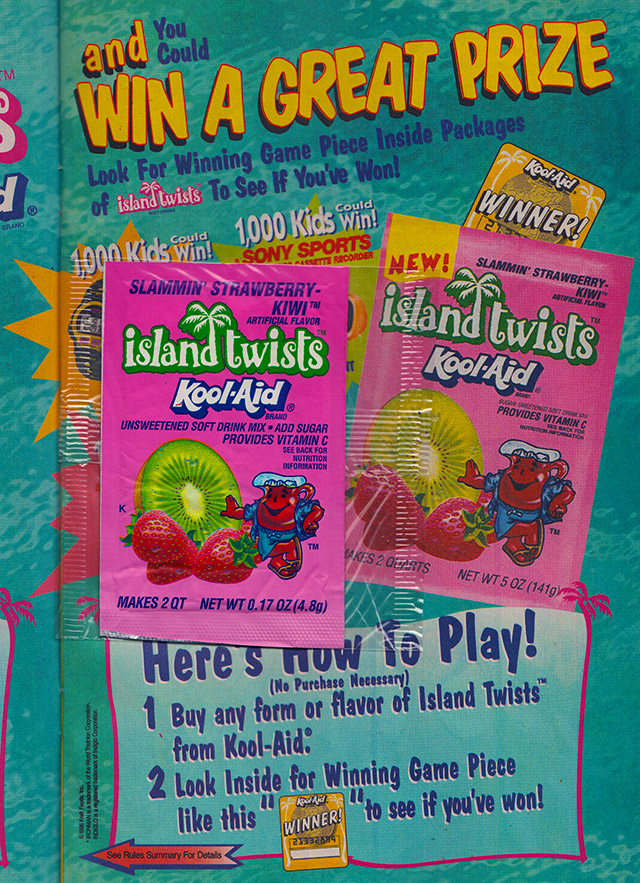 Interestingly, the print ad made little fuss about the FREE SAMPLE KOOL-AID, and instead focused on a pedestrian sweepstakes for shit like digital watches and Huffy bikes. Nice prizes, but I feel like the 100% guarantee of free Kool-Aid was worth a hell of a lot more than the .00001% chance of winning a free bike. Priorities, Kool-Aid Man. Stir your brains and get them in order.
So, Slammin' Strawberry-Kiwi. That was one of the second season debuts during Kool-Aid's Island Twists era, when every flavor featured two fruits and the Kool-Aid Man wore clamdigger shorts. If your list of hobbies included sangria and Jimmy Buffet, Kool-Aid was never better than in the late '90s.
By that point, there were at least three other Island Twists flavors available, including Kickin' Kiwi-Lime, Oh Yeah Orange-Pineapple and the aggravatingly-named Man-O-Mango Berry.
Those were hardly my preferred Kool-Aid flavors, but the Island Twists collection did deliver one of my all-time faves: Ice Blue, a raspberry/lemonade concoction that looked remarkably similar to Windex. I've long felt that the best Kool-Aid flavors let you pretend you're Christopher Plummer in Star Trek VI.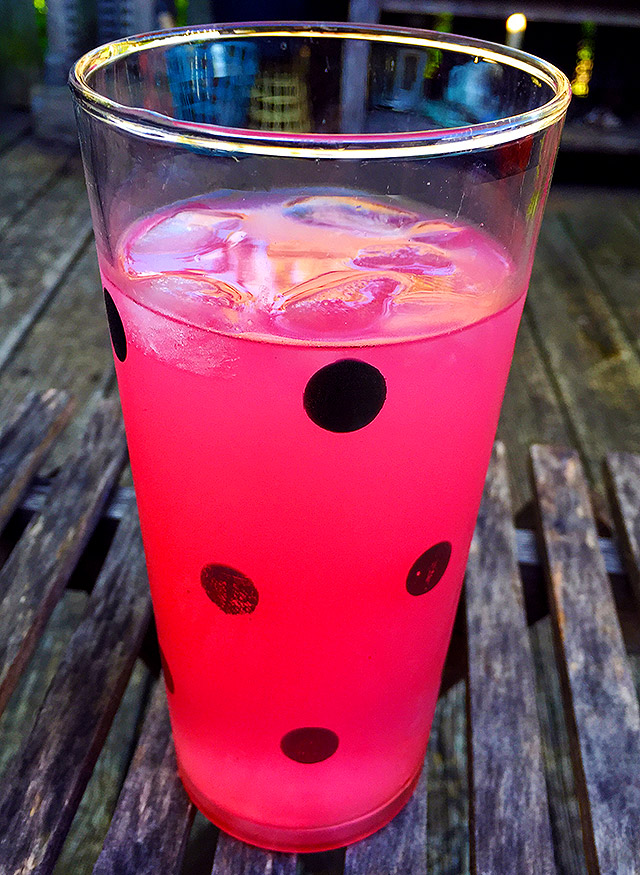 Naturally, I had to give this a go. Copies of The Amazing Spider-Man #413 with the sample still intact are shockingly easy to find, so it's not like I'm melting Scrooge's dime by dismantling this one. Besides, I wouldn't have much of an article without a Slammin' Strawberry-Kiwi taste test. Frankly, I'm not so sure about what I have even with it.
THE SMELL: Pleasantly fruity, but on the lighter side. Like a watered-down punch.
THE COLOR: So deliciously pink! I started yelling at it like I was Ray Stantz and this was my psychomagnotheric slime. Then I used it to turn four pet turtles into ninja teens. (I'm a radical Matt.)
THE TASTE: I'm afraid of kiwis, so I won't pretend that I was terribly excited to try this. Fortunately, it tasted nothing like kiwis, nor even strawberries. I'd put its flavor much closer to watermelon Jolly Ranchers. It's sweet without being too sweet, like someone who buys you flowers from the supermarket.
And yes, the Kool-Aid is expired. It expired in 1997, I believe. Though Kool-Aid does go bad, it goes bad at a much slower pace than most foods. Only when I dive back into my '70s stock do I regularly find soiled mixes. So long as you keep it dry and away from temperature extremes, Kool-Aid gets like, a Chewbacca lifespan.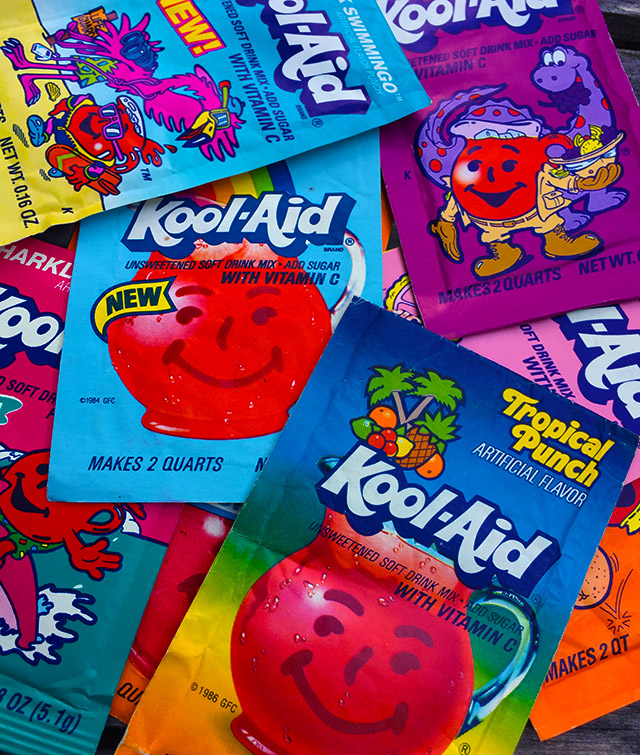 I'm aware that this article won't mean much to most of you, and that's okay. Sometimes I'm out here throwing haymakers; other times I just use you as an excuse to spend whole days obsessing over Kool-Aid packets from 1996. Just sit there and smile and nod, and tomorrow we'll find our chemistry again.
Seriously though, this is the kind of shit I live for. Old Kool-Aid packets stuffed inside of Spider-Man comics! It could only be more me if the cover featured a bootleg Gumby fending off a bootleg Xenomorph.
Oh wait, it does.
PS: If you're checking Dino Drac on a mobile device, you probably noticed a big difference today. Thanks to the mighty assistance of Cliff from Cliffpro, Dino Drac finally has a dedicated mobile version. Enjoy, I hope!