If you like to spend the Halloween season making frivolous purchases, this should be up your alley: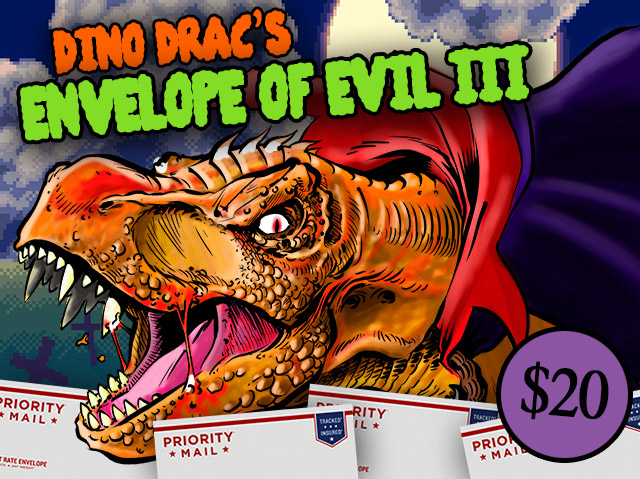 ($20 SHIPPED VIA PRIORITY MAIL! UNITED STATES ONLY!)
Yes, it's the return of Dino Drac's Envelope of Evil! The third edition is stuffed with strange reading material and goofy goodies, and you can take it all home for twenty bucks shipped! (Via Priority Mail, to boot!)
I should warn the pickier among you that Dino Drac's October Funpack is debuting in just a few days, so if you can only afford to buy one stupid thing from me, I won't hold it against you if you'd prefer to wait. That said, quantities are super limited, and once these are gone, they ain't coming back!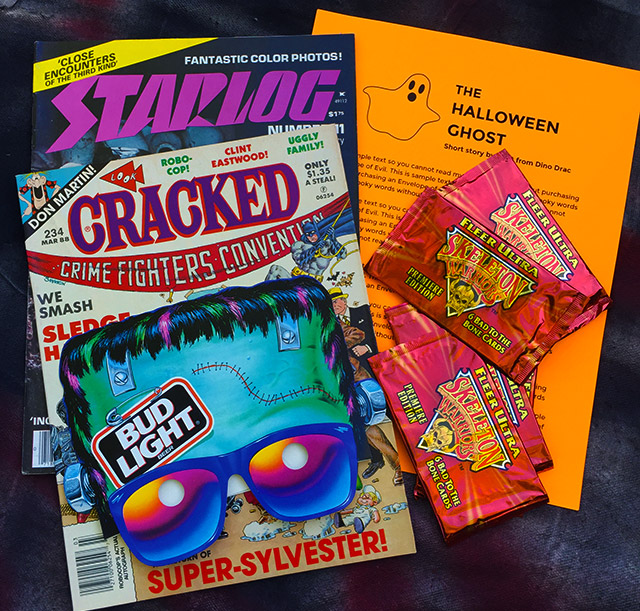 For twenty bucks, you'll get everything shown above, shoved neatly into a USPS Priority Mail envelope. In a happy coincidence, I noticed that every Envelope of Evil contains something from the '70s, something from '80s and something from '90s. So you're technically getting three decades' worth of weirdness, here. Hard sell!
Ordering info is at bottom, but first, a closer look at everything in Dino Drac's Envelope of Evil III!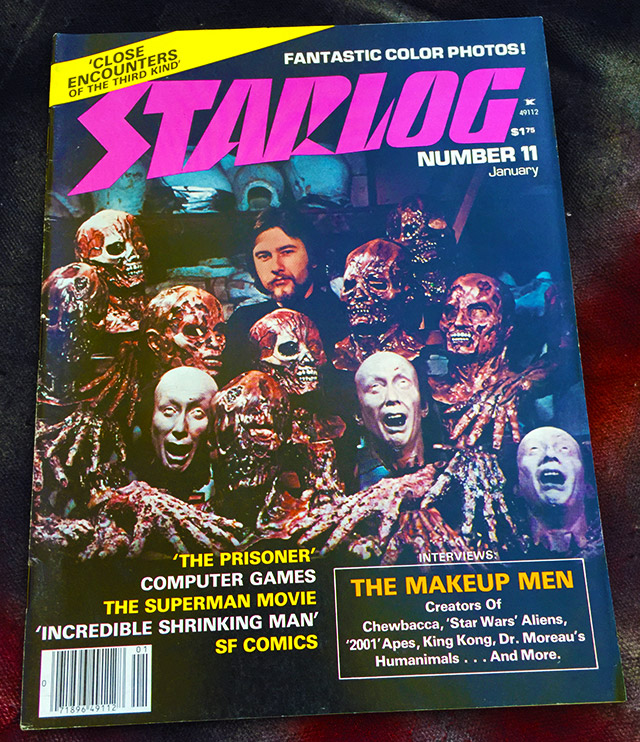 1) A random issue of Starlog Magazine from the 1970s!
So cool! Starlog was basically the sci-fi version of Fangoria, but it also had its fair share of horror features. You will receive one random Starlog issue from the 1970s. It could be the one pictured above or a completely different one, but they're all from the late '70s and they're all filled with killer stuff. (Including some to-die-for ads!)
Magazines show nominal wear, but they are NOT used copies. No weird stains on the pages or anything like that!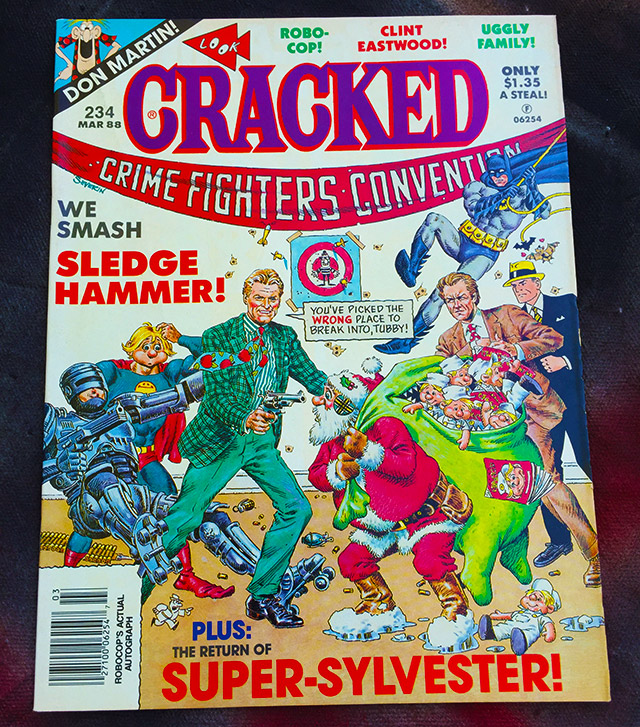 2) March 1988 issue of Cracked Magazine!
Okay, I confess that there's nothing Halloweeny about this, and in fact, it looks like none other than Santa Claus is on the cover. Don't worry — you'll still love it. This issue of Cracked is loaded with pop culture parodies of late '80s sensations, up to and including Robocop!
Like with the Starlog issues, your copy may show minor wear, but it's totally unused with clean-as-hell pages.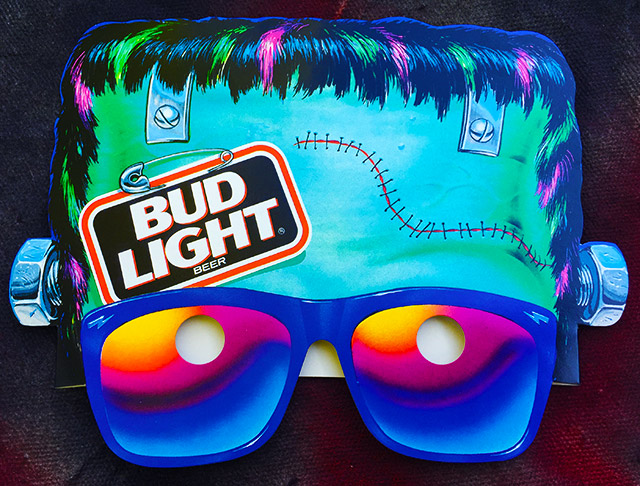 3) 1990s Budweiser Halloween Mask!
OH YES. These are amazing. Every Envelope of Evil comes with one Budweiser Halloween mask, in either a Frankenstein or Dracula style. These promotional masks are made of bright cardboard, and though I'd wager that you'd need an exceedingly small head to make the most of them, they're still so monstrously adorable.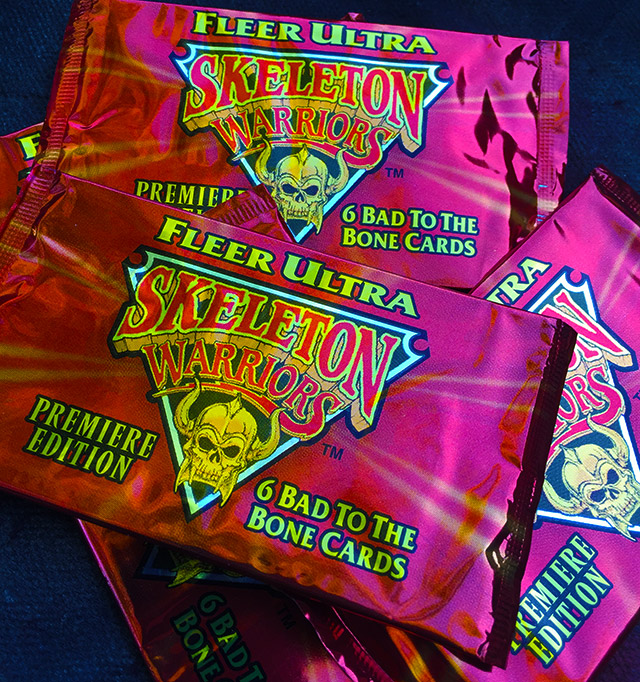 4) FIVE packs of Skeleton Warriors trading cards!
Hell yeah. This gorgeous, scary card set has long been a favorite of mine, and I know that you'll love it, too. Every Envelope of Evil comes with FIVE packs of Skeleton Warriors cards, so you'll be well on your way to completing the set!
These cards are from the mid '90s, and they absolutely look like they're from the mid '90s. You'll dig 'em, trust me.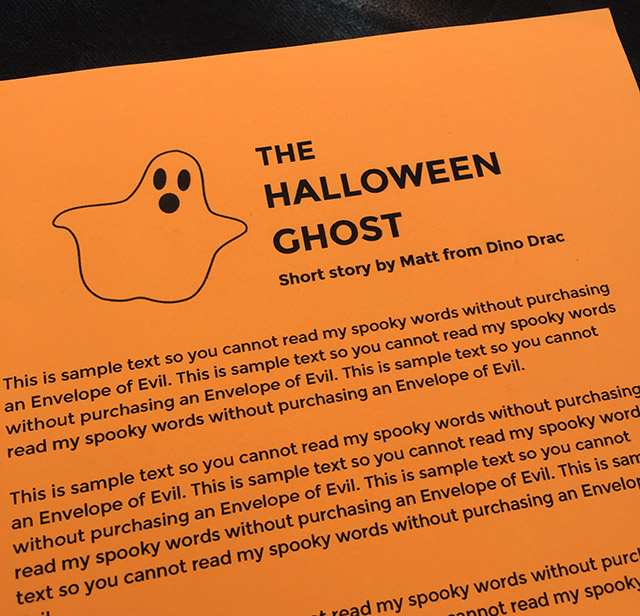 5) An exclusive short story, written by me!
What's The Halloween Ghost about? You won't know unless you order an Envelope of Evil! This short story is exclusive to Dino Drac's Envelope of Evil III, and will never be reprinted on the site. And yes, it's pretty spooky!
Want to order? Here's what you should know!
1) The Envelope of Evil III is available in the United States only.
2) Price is $20, and that includes shipping via USPS Priority Mail.
3) Orders will be shipped no later than 10/13.
Easy peasy. Not only will you get a cool envelope stuffed with haunted junk, but you'll also help Dino Drac out during its busiest time of year!
Click the button below to order via Paypal.
Thanks a ton!