Who wants to win a set of Dinosaur Dracula trading cards?
Yes, Dinosaur Dracula trading cards!
After teasing them for over a year, it's finally time to give them away! Between now and Halloween, there will be at least fifteen winners of the full 30-card set!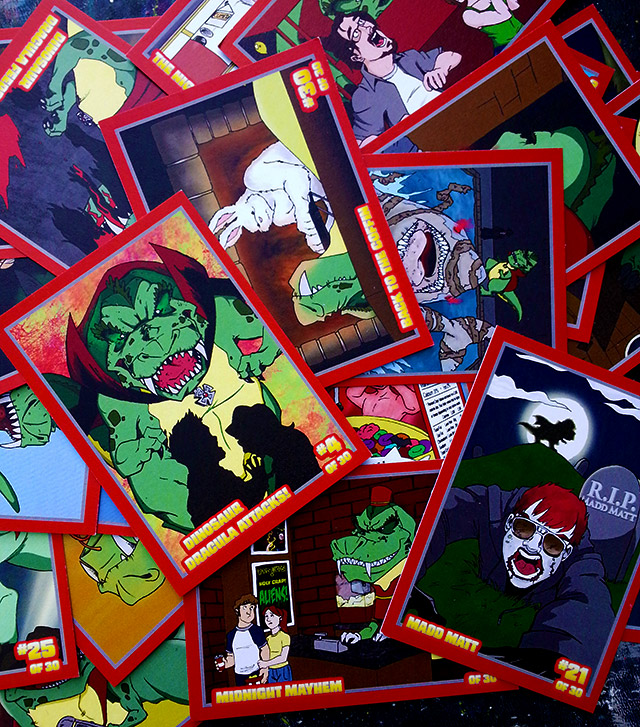 The cards feature gorgeous art, sinister stories and plenty of references to Dino Drac characters and culture, and I… had absolutely nothing to do with them!
The set was the brainchild of my friend Steve, who very casually told me that he and his friends created a Dinosaur Dracula trading card set. Well, holy shit!
Before I tell you more about the cards, let's give kudos to their creators!
Magic Steve – Conception & Story Writer
Wil Brendel – Artist & Inker
Jake Crunk – Colorist
These guys did this totally on the arm and created the whole set before I even knew about it. They asked for absolutely nothing in return, so the least I could do is ask everyone to follow these creative masterminds on Twitter! (Their names link to their accounts!)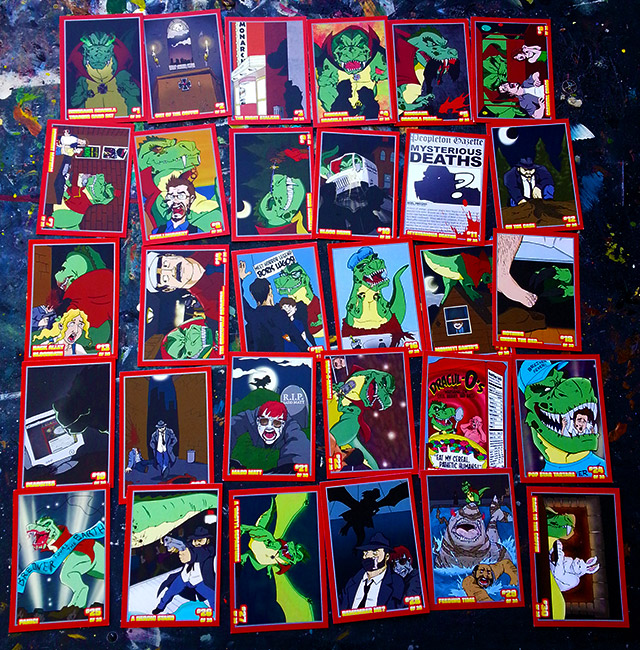 My photos don't do the set justice at all. The cards are incredible. In art and tone, it's like Batman meets Dinosaurs Attack. The double-sided cards feature text on the backs, so there's even a full story told through the set. Dino Drac is the star, but you'll find cameos from Madd Matt, Leviathan, and even Mummy Shark. (That last one might be my favorite card in the whole batch, but it's hard to pick!)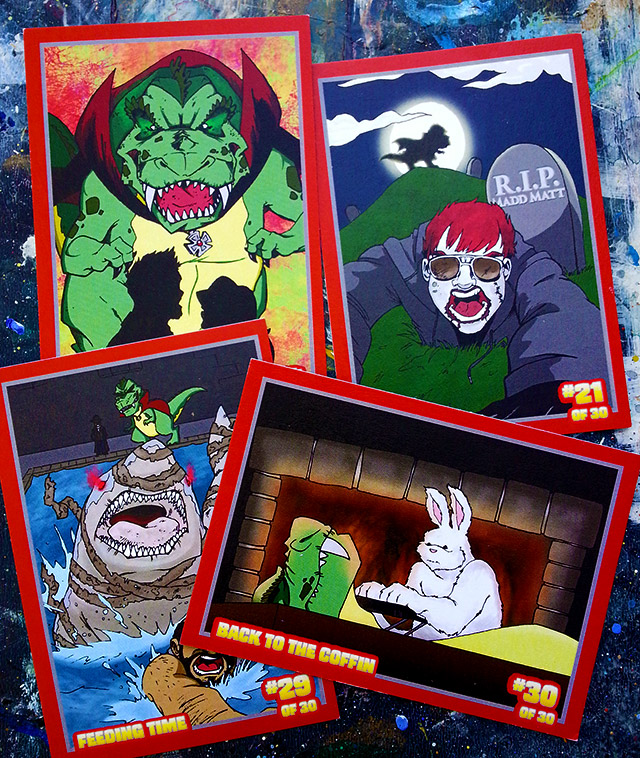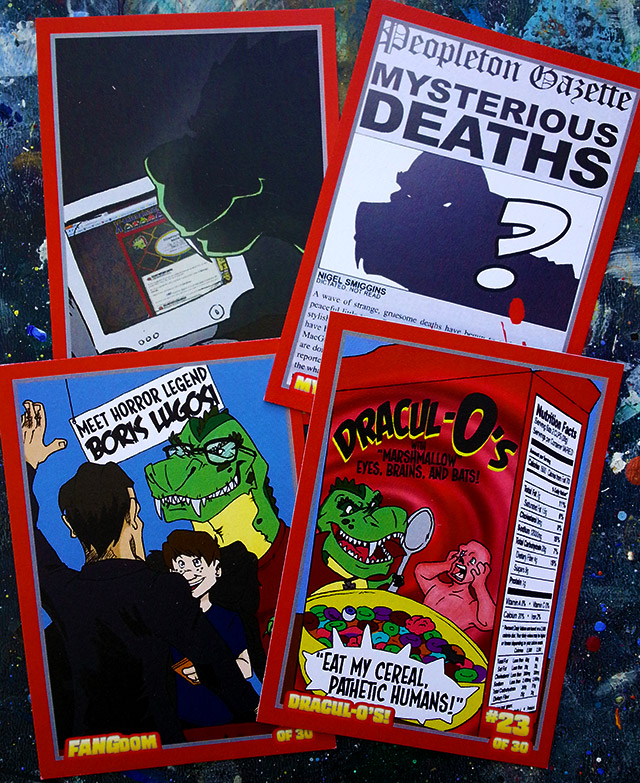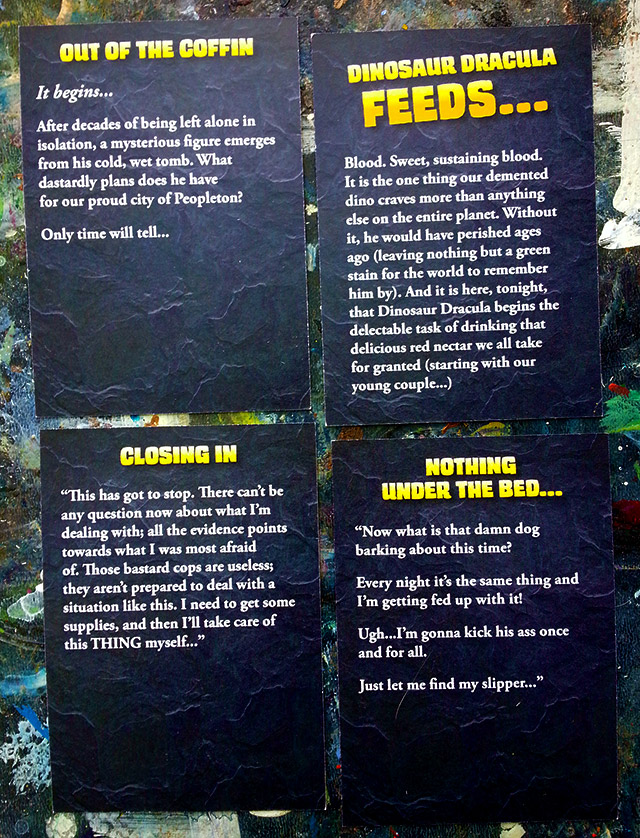 Steve gave me permission to do whatever the hell I wanted with them, but since he and his team were so generous, it only seemed right that the cards be given away rather than sold.
Between now and Halloween, I'm going to give away at least fifteen sets. These giveaways are available to everyone, worldwide.
So, how can you win? Well, there will be various methods. I'm gonna start by giving away three sets right now. I'd also suggest following Dino Drac on Twitter, Facebook, Instagram and Tumblr, because you never know when or where the next set will be given away!
To get the ball rolling, there will be THREE winners randomly selected from the comments on this post. Below are the rules!
1. In the comments section, tell us what character scares you the most. The character can be from anything — a movie, a TV show, a video game, whatever. And tell us WHY.
2. Make sure you're logged in with a legit email address when commenting. (Not doing so won't necessarily disqualify you, but if I can't contact you, I'll have to choose a different winner!)
3. Your answers are just for fun. Winners will be chosen at random. This giveaway will end on Tuesday 10/20 at 12PM. (Under a day away!) I'll announce the winners in this post right after that.
Thanks again to Steve, Will and Jake! You guys are amazing. I still can't believe that there's a Dinosaur Dracula trading card set. A Dinosaur Dracula trading card set!
Good luck, everyone!
PS: Later on, I'll post the full set online, so even the people who don't win will be able to see all of the cards in all of their glory!
UPDATE: This contest is now closed. Our winners are Leah A., Nick M., and Steffanio! Congrats, guys! Please check your email. Thanks for playing, all, and don't worry — I still have more sets to give away over the next two weeks!