I'll never turn down the chance to go through someone's wallet. It doesn't matter if I like the person, hate the person or even really know the person. I just want to see what's in there, and make a totally unfair analysis of the wallet's owner based on its contents.
I don't think this is exclusive to me. We're all voyeurs.
A few nights ago on Dino Drac's Facebook page, I asked everyone to describe the weirdest things in their wallets. Satisfied with the answers but really wanting to see the goods, I then made a formal request for photos and explanations.
Twenty-two of you complied, with a barrage of oddities ranging from flattened souvenir pennies to what looks like drugs but are actually beans. Below are the results. (I won't be participating, as I've already described my wallet contents in this post.)
Just a note: I blocked out some names/photos even if I wasn't directed to, imagining that there may come a time when someone might not wish to be immortalized so publicly. If you see a big red rectangle on your photo, I only did it out of love.
A big thanks to our 22 guinea pigs! Let's see what makes them tick…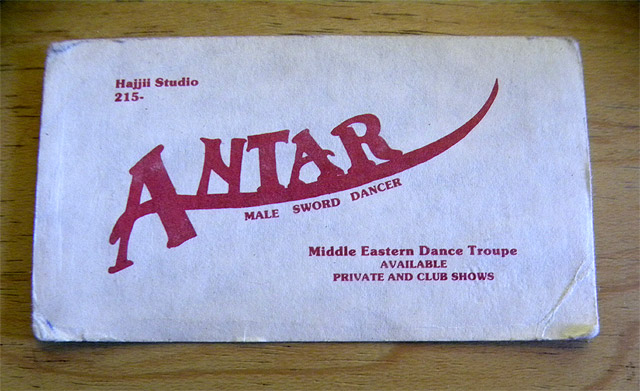 From Crystal:
"The weirdest thing in my wallet is my dad's old business card he used when he was a middle eastern sword dancer called 'Antar' in Philadelphia. It all started in 1979 when my dad met my mom. She was a middle eastern dancer at the time, and he started to go to gigs with her. He learned some routines and started dancing with my mom. Eventually he got solo gigs sword dancing at clubs, and had business cards made."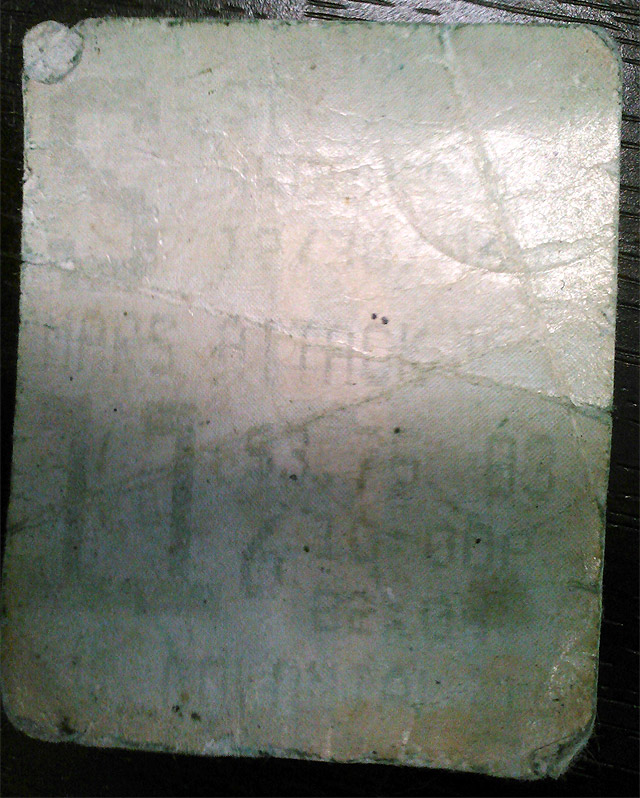 From Jason S.:
"This is a movie ticket stub for the 10pm showing of Mars Attacks from December 30, 1996.  I've kept in my wallet(s) over the years for no reason that I can think of other than to see how long I can keep it in my wallet."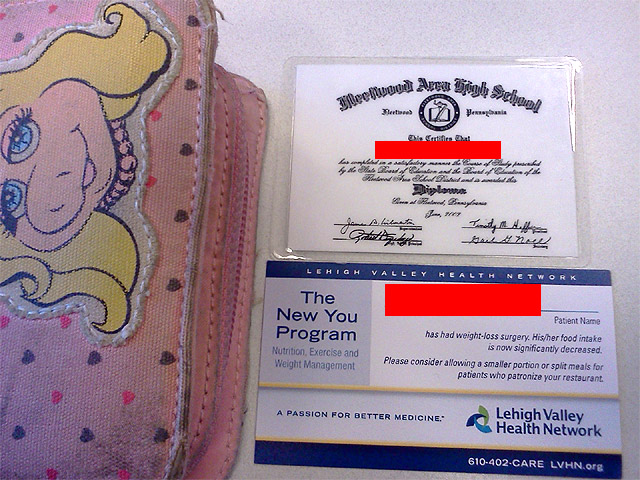 From the incomparable Mystie: 
"I can't decide which one of these is weirder, but the top one has a better back story. It's a card-sized copy of my high school diploma. I have these recurring dreams that I never graduated high school. In some of them I'm balancing high school and work, but in others I can't remember if I graduated or not, so I just keep going back and taking classes year after year. I keep the card in my wallet to remind myself that I did, in fact, graduate.
The other is a magic 'cheap date' card I got from my doctor's office. It lets me lean on restaurants so they'll let me order off the kids menu since most of my stomach was removed. It gives me the perfect excuse to order chicken fingers, save a bunch of cash, and make it look like I'm giving a bigger tip."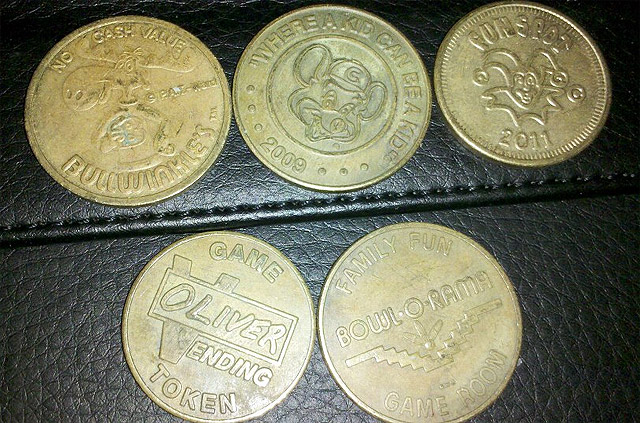 From pureval:
"The weirdest thing in my wallet is a collection of tokens from various arcades. Whenever I go to an arcade I try to snag a token for luck. The first one is a Bullwinkle token I found at a gas station. Then a Chuck E. Cheese token from the last time I took my son. The third is from Funspot, the largest arcade in the world; that is from the day I hit my first ever jackpot on a ticket machine. Fourth is from an arcade that sprang up at my local mall last year and disappeared 3 months later. Finally one from a bowling alley that was torn down a while ago."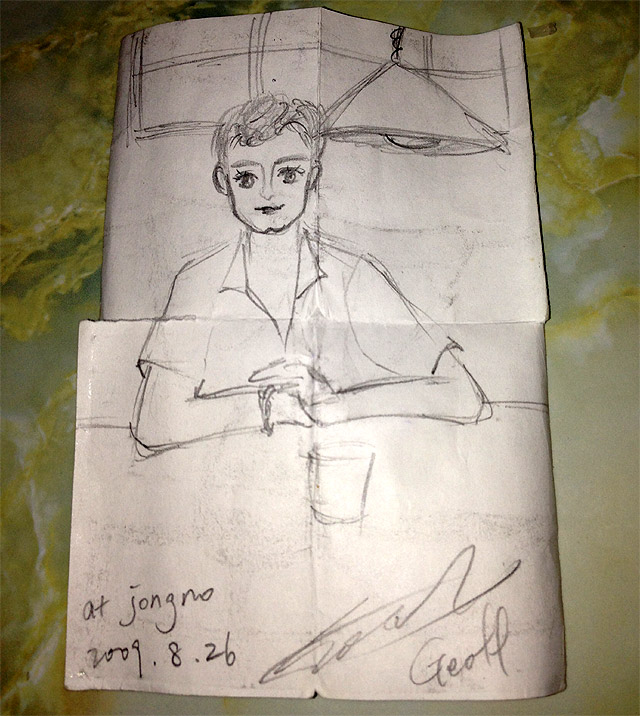 From Geoff B.:
"A very feminine looking picture of me drawn by a former girlfriend at a sushi restaurant when I lived in South Korea in 2009. Why I still carry this around with me is beyond me."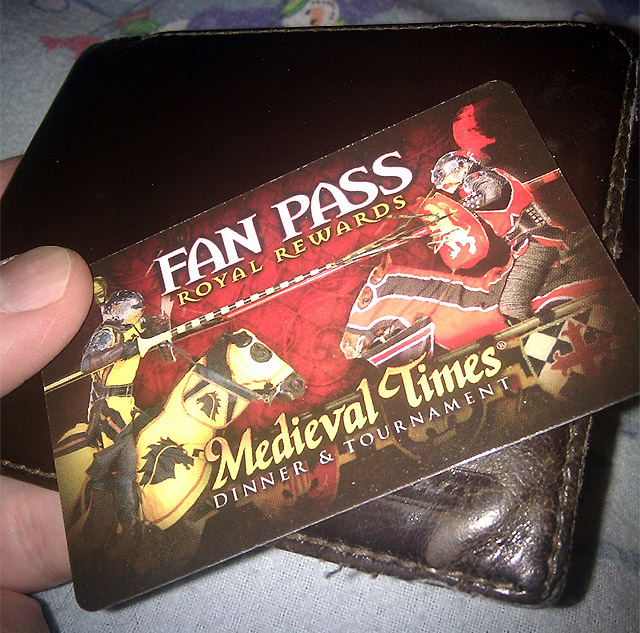 From RudyEats:
"My Medieval Times reward card."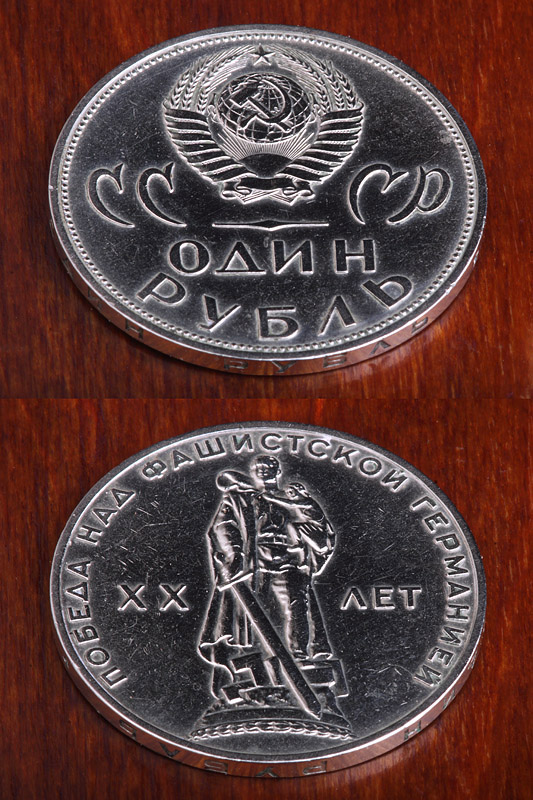 From Jugendsehnsucht:
"I suppose the most out-of-the-ordinary object currently in my wallet would be a 1965 one ruble Soviet coin commemorating the 20th anniversary of 'Victory over fascist Germany'. One side has an image of the WWII memorial statue in Treptower Park, which consists of a soldier holding an orphan with one hand and destroying a swastika with a comically huge sword in his other hand. A nifty looking thing, it's even got the date and denomination printed in tiny letters running along the outside edge. Not sure why I put it there in the first place, but I've had it in my wallet for around a decade now."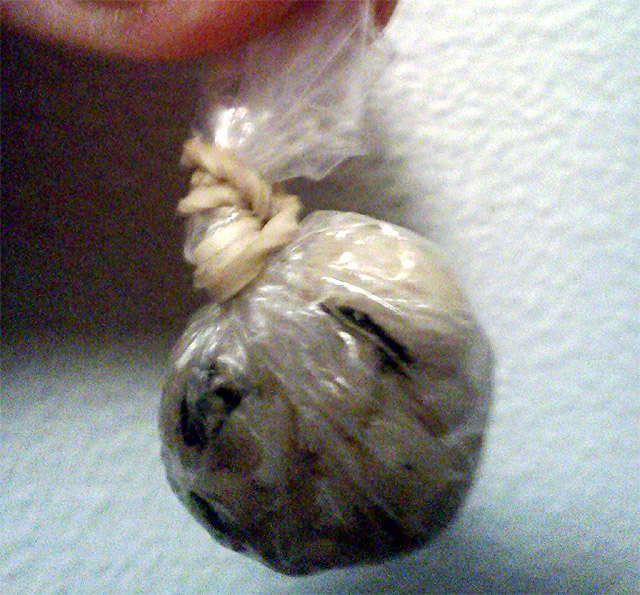 From Joel P.:
"It's a tiny baggie with 7 black-eyed peas in it. It was given to me at New Year's, and I was told that if I kept it on me for the whole year, it's supposed to bring good luck. 7 peas for 7 days of the week. It appears that at least half of the peas have already been crushed, so I'm thinking not so much luck for at least half of every week."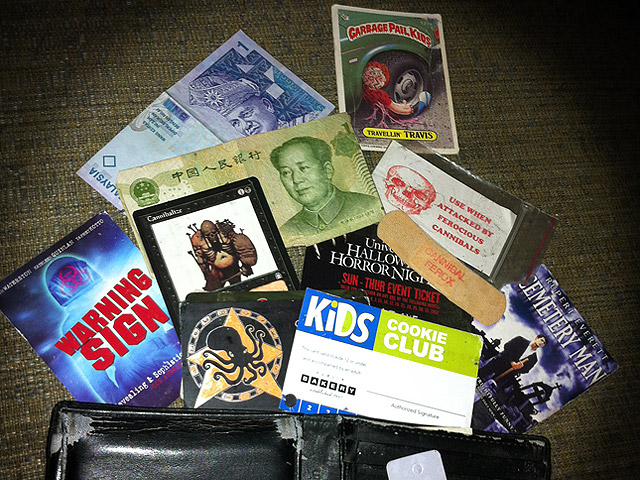 From Travis A.:
"Out of all the odd stuff I keep in my wallet, my favorite has to be my cannibal survival kit bandage from a Cannibal Ferox VHS I bought years ago. It keeps me safe in this green inferno that is Tampa, FL."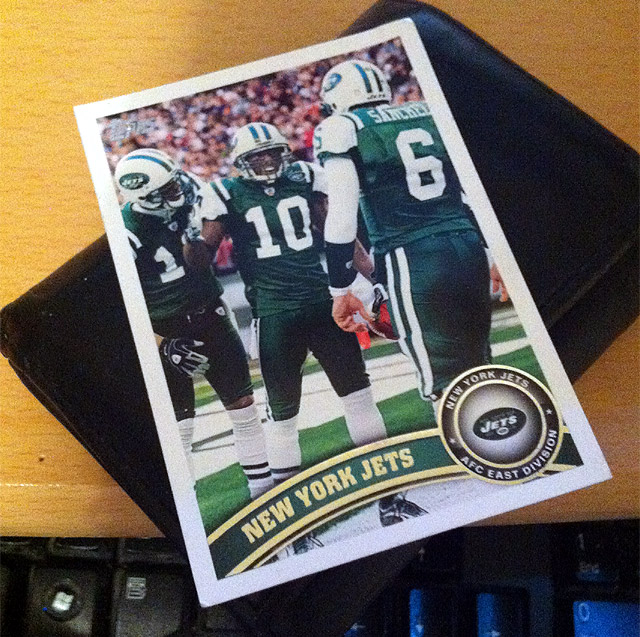 From David U.:
"I wish I had a better story for this. A guy at work found out I like the Jets so he gave me this football card. I stuck it in my wallet and then completely forgot about it until your Facebook post. If you want to jazz things up I'll claim that a gypsy put a curse on it and that's why the Jets had such a horrible season this year."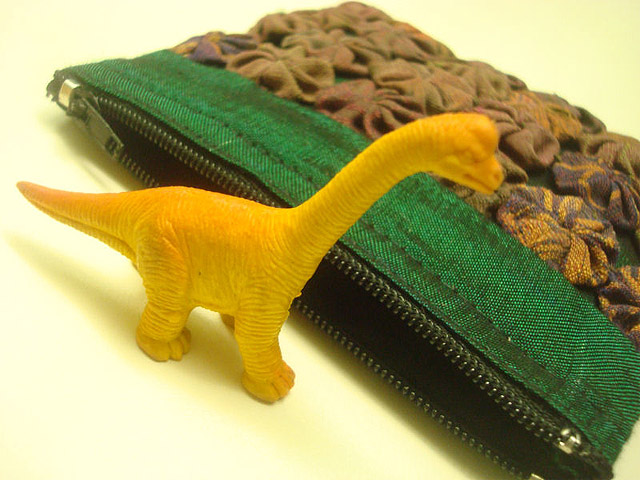 From raptorface:
"I started keeping this plastic longneck dinosaur in my wallet back when I was about 18, because I love dinosaurs. Plus I am an anxious person and it was nice to have something to fidget with in my hands. I am 24 now and I feel like it would be a crime to go anywhere without him."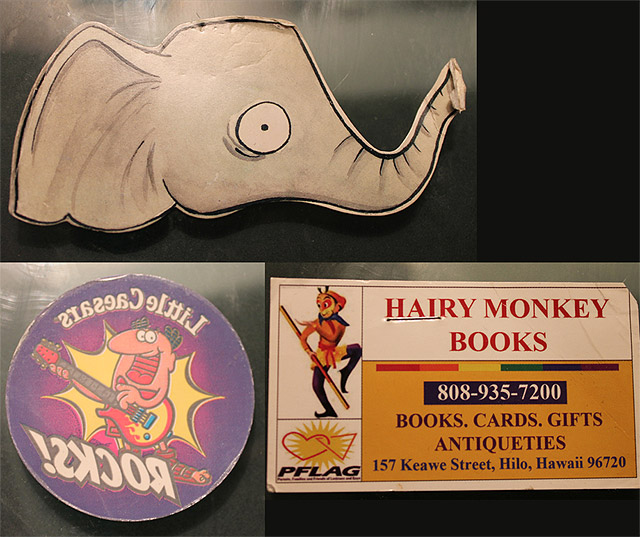 From Mandy K.:
"All three of these are from my stint in the backroom at an indie bookstore. The top one is an elephant head from a damaged children's pop-up book that fell out as I was returning it. His shocked expression was far too endearing to just throw him in the trash. The bottom left one is a Little Caesars Pizza temporary tattoo that a coworker of mine found and gave me to 'keep forever'. The bottom right one is a business card I found stuffed in a used book for a different bookstore many many miles from ours. The awesome name of the store combined with my love of Wukong from Chinese folklore made this a keeper."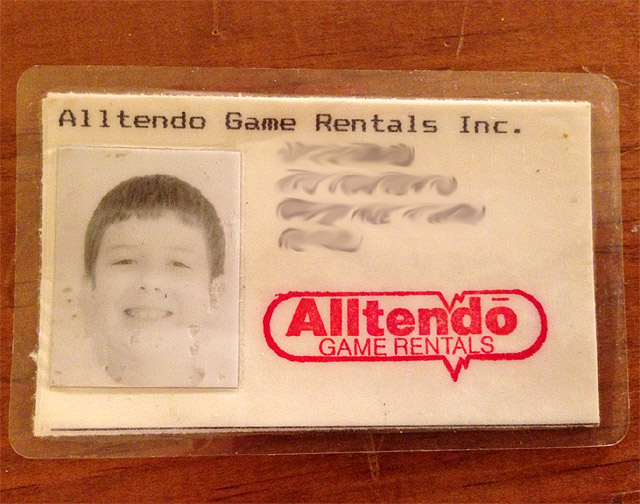 From Jim J.:
"This is a picture of my Alltendo Game Rentals ID card from 1990 when I was 8 years old. Every kid in the area rented console games from this place, and Charlie the owner was infamously crude. The last time I was in there was at the end 1998 when I overheard a conversation between him and a shady individual. 'Everyone thinks I know all the secrets of Ocarina of Time. Hey – where's the princess' panties? Well kid it's on my dresser because I fucked her last night.' The place closed down shortly afterwards, and the word on the street was that he had been selling drugs out of that store for a while and it finally caught up to him."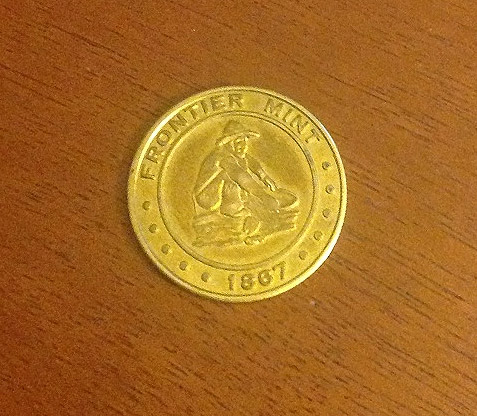 From Big McLargehuge:
"Here is a photo of the Alaska coin I carry around in my wallet. Got it as a free gift from some shop at an unknown port of call whilst on an Alaskan cruise. I carry it around just in case I need to flip a coin, as there is no threat of me spending it on anything."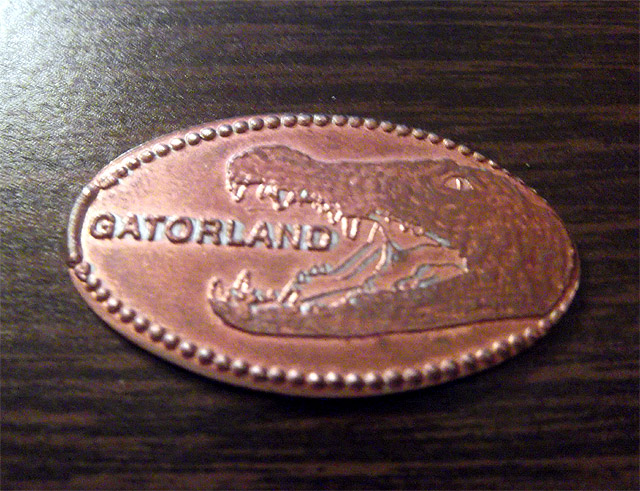 From Kelly:
"The weirdest thing in my wallet is a stamped penny from Gatorland in Orlando, FL. I made this during vacation on April 26, 2010. My husband and I love visiting old tourist attractions and buying weird or old-style souvenirs. In these and all areas, Gatorland does not disappoint. After we returned home, I apparently didn't know what to do with this tiny souvenir, so it has stayed in my wallet for three years. I consider it a good luck charm. For no reason."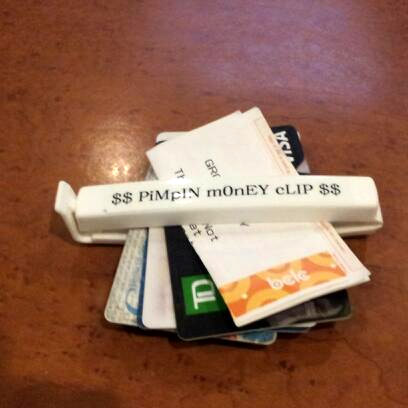 From Sean M.:
"My oddity is my wallet. It is a chip clip from the dollar store."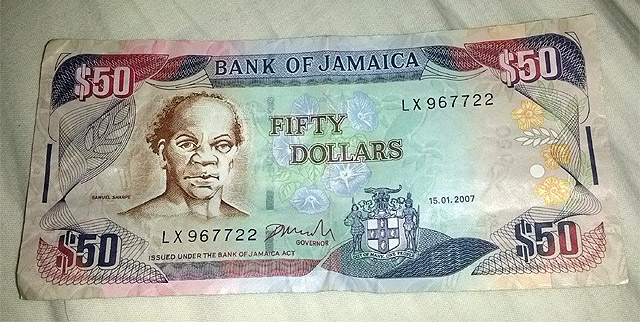 From Cesar L.:
"I have a $50 dollar Jamaican bill in my wallet. I've never been to Jamaica. Somehow I have a dream that if I ever needed to leave the country fast, I could go to Jamaica and start over. Of course, it's probably only worth a single chicken egg there, but I can dream."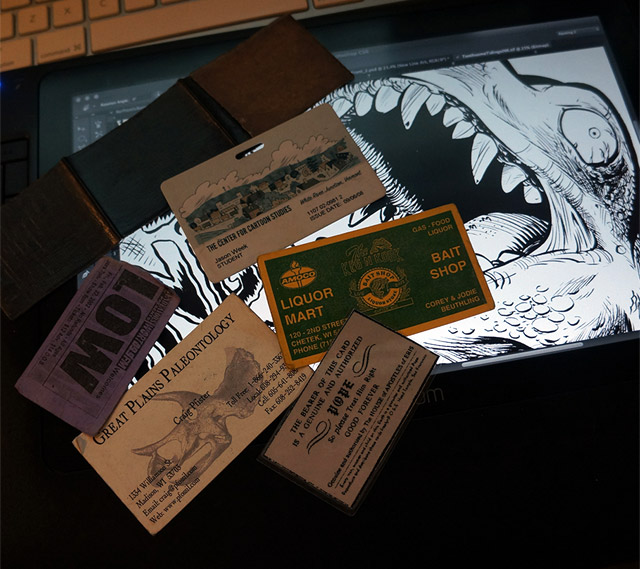 From Dino Drac designer, Jason Week:
"Think you hit a nerve with this one. Love my wallet stuff."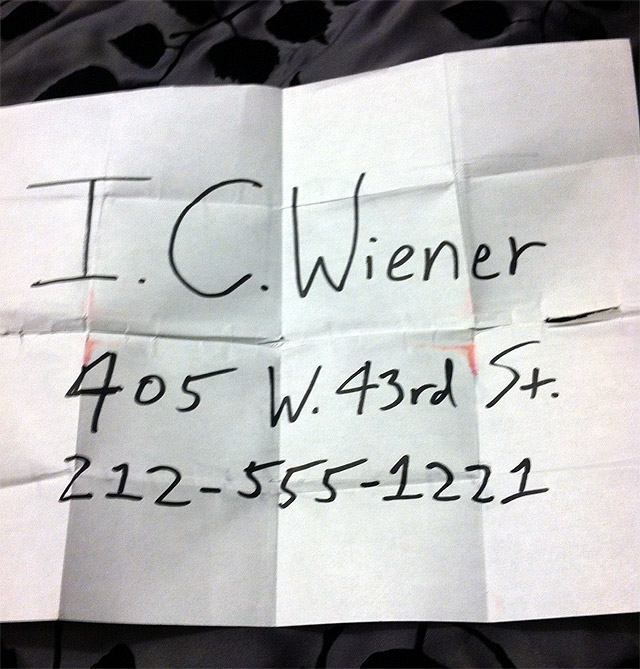 From Dan:
"This is from my Halloween costume a few years back. I was Fry from Futurama, and in case you don't watch the show, it's a pizza delivery prank. And actually, it was Cliff who wrote it for me — the dude who helped with the site coding. He's my brother-in-law. That note has been in my wallet ever since and it makes every day just a little brighter, knowing it's there."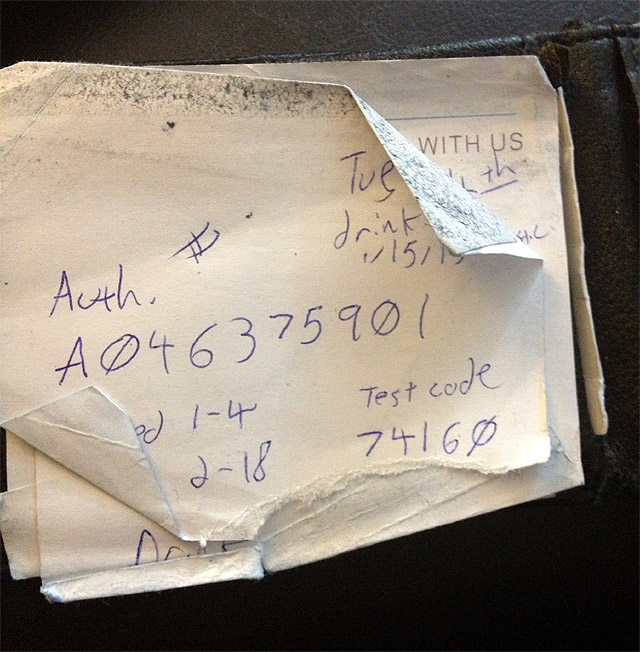 From Stephen S.:
"In my wallet is a slip of paper with the cryptic message Auth. # A046375901. I have no memory of what this actually authorizes, but if the world ends in nuclear war you know who to blame. Upon further inspection I see a test code number and that I was supposed to drink SOMETHING on January 15. The plot thickens… (Matrix?)"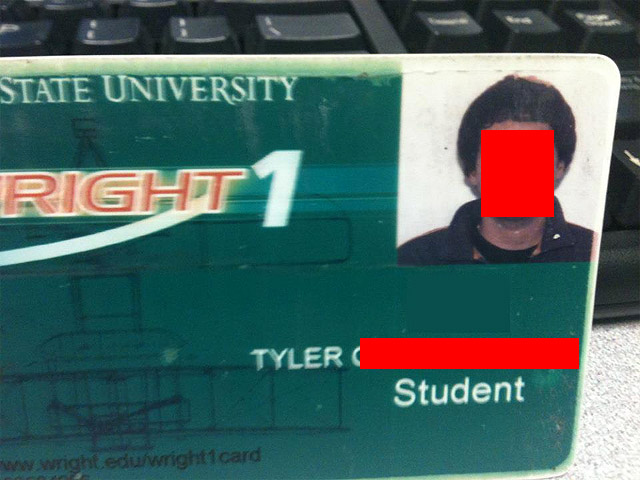 From Tyler:
"My old college ID card from 7-8 years ago…it's only weird because I use it nowadays to scare myself into getting a haircut when I think I can put it off a while longer."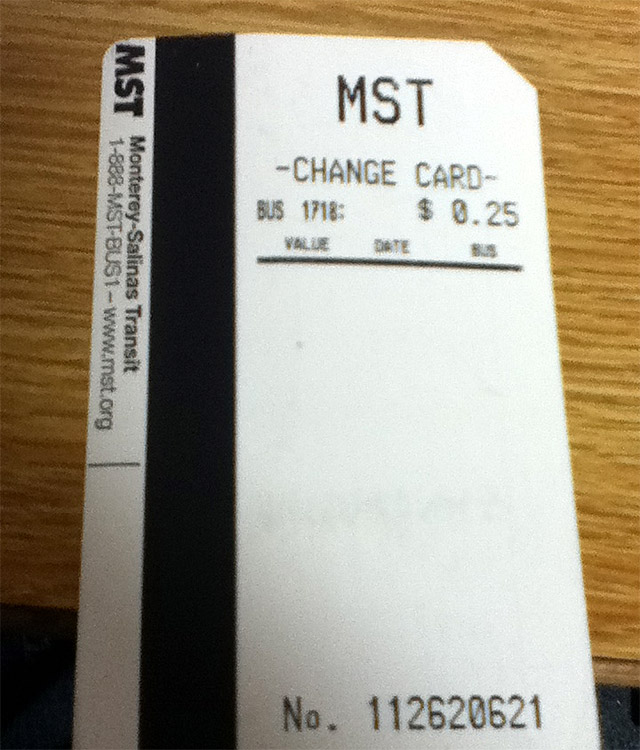 From Ben S.:
"I have an endless supply of these $.25 bus tickets, they really are not good for anything at all but I can't bear to part with them in case I ever need them."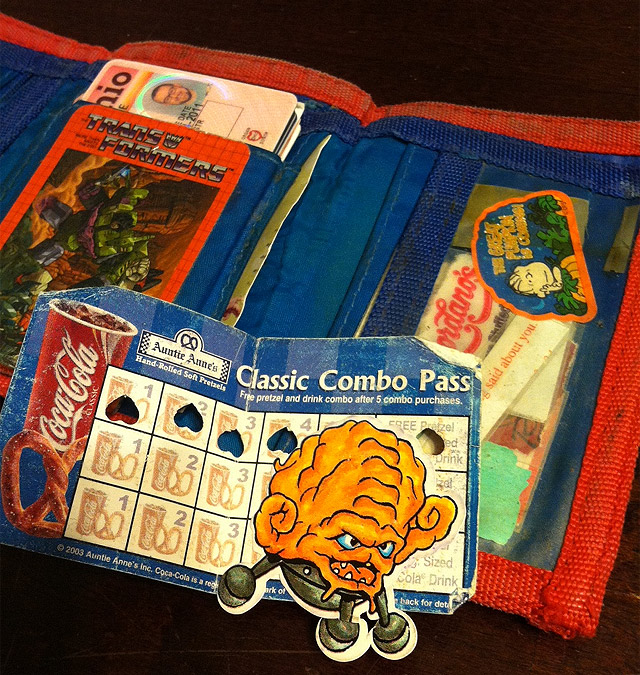 (NOTE: This is a bonus #23, because I'm an idiot who missed an e-mail.)
From Brian H.:
"Most odd thing in my wallet?  Upon closer inspection there was a lot of weird stuff in there.  I narrowed it down to a vinyl Krang and an Auntie Anne's combo card that expired in 2003.  I was working at a Steve & Barry's store at the former Cincinnati Mills mall at the time and loved the almond pretzel/Cherry Coke combination on my lunch break.  Not sure why I still have the weathered card a decade later!  Disregard the various bric-a-brac in the background including Great Pumpkin and Transformers stickers, a fortune from a cookie that reads in broken English 'Good thing are being said about you', a piece of napkin from Giordano's Pizzeria, a paint chip from my childhood putt-putt golf spot, gold confetti from a Rocket Summer concert, etc."
Thanks again to everyone who participated! I'll try to think up some other weirdo challenges for you in the weeks to come.