It's WrestleMania weekend, and I'm crazy excited. It's just another Sunday for most people, but for wrestling fans, it's five straight days of blissful mayhem. To say that it's our Super Bowl totally undersells it.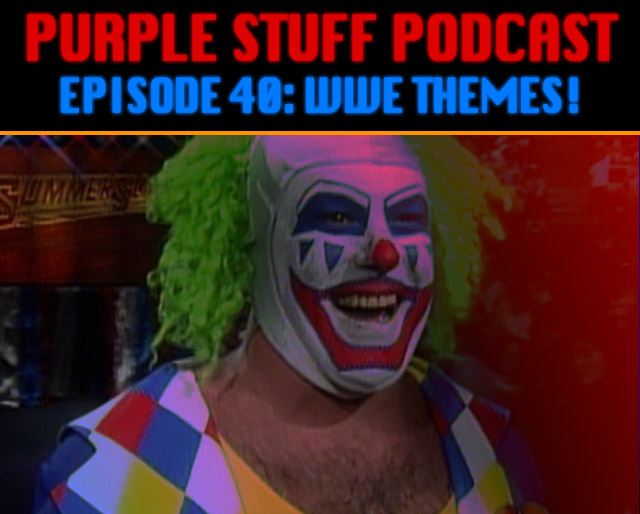 Me and Jay from The Sexy Armpit are thrilled to add to your wrasslin' festivities with the 40th episode of The Purple Stuff Podcast, wherein we name a dozen of our favorite WWE entrance themes from the past and present.
(Well, mostly from the past.)
Rather than pick the easy ones that everyone names for these sorts of lists, we aimed for themes that are undeniably great but maybe don't get enough love. Tl; dr: Don't expect Demolition's theme, but definitely expect Doink the Clown's.
It's a super-sized 75 minute show that'll give you something to do in-between the Hall of Fame, NXT TakeOver and WrestleMania. Give us a listen by clicking the giant, ugly play button down below!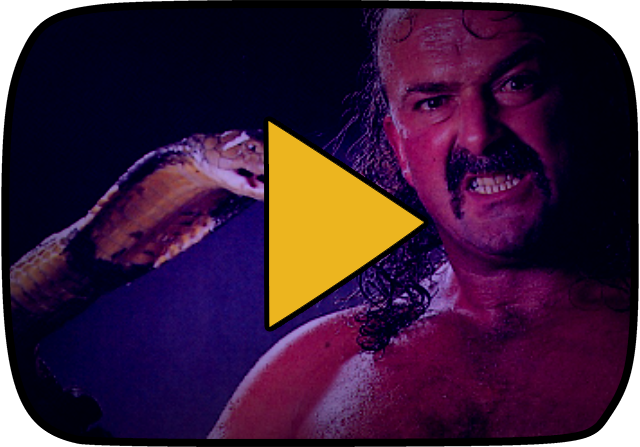 You can also download this week's episode by right-clicking here.
Thanks as always for listening, and for sharing the show with your buds. You're one hell of a motivating listenership. (And, bonus, I just learned that "listenership" is an actual word and not something I made up.)
For shits and giggles, here are my predictions for WrestleMania 33: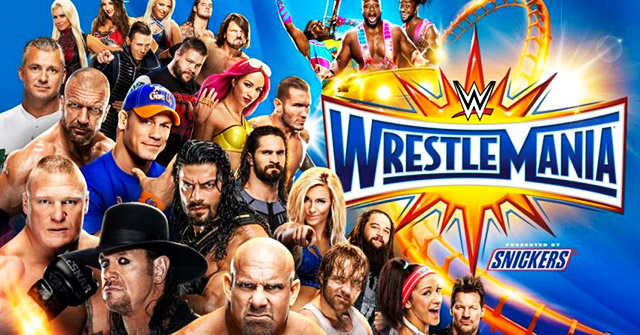 (Keep in mind, I'm not at all concerned with the quality of the show. I've seen great WrestleManias and bad WrestleManias, but they're always a fun time, and for me, the excuse to become a giant laughing pizza monster is all I really need.)
Goldberg vs. Brock Lesnar:
I wouldn't be shocked if they swerve us by keeping the title on Goldberg, but since Brock's been made to look like a chump in this series, I think it's time for payback. Brock wins clean.
Bray Wyatt vs. Randy Orton:
I guess Orton has to win, but if that's gonna happen, I hope they do a complete double-turn in the process. (Wouldn't both guys be dead in the water if they didn't?)
Undertaker vs. Roman Reigns:
There is no way Undertaker wins this one. Roman, 100%.
Triple H vs. Seth Rollins:
Well, I don't even know what sort of match they are having, or if it will even qualify as a match. (Hope it does, if only for another HHH WrestleMania entrance.) My brain says Seth wins, but I'll go for the big bet: HHH.
Shane McMahon vs. AJ Styles:
If they don't want Shane to become the biggest heel in Florida, Styles has to win.
Cena/Bella vs. Miz/Maryse:
Obviously Cena and Nikki.
RAW Women's Title Match:
I think Bayley retains here, and Sasha finally turns on her Monday night.
Smackdown Women's Title Match:
Naomi is in this one, right? If so, then her, mainly for that Florida pop.
Jericho vs. Owens:
I'd love it if Jericho won as it would signal his continued presence, and it's also kind of his revenge match, but naaaaah. Owens wins.
Ambrose vs. Corbin:
Corbin will take the IC belt eventually, but not here. We'll consider this payment for Ambrose's match last year. Ambrose retains.
RAW Tag Team Championship Triple Threat:
The Club retains, and then one of the other teams takes the belts on Monday.
Neville vs. Austin Aries:
My money's on Aries, but Neville has been doing incredible work. I want him to win, but I don't think he will.
Battle Royal:
Braun or bust.
Man, that's a lot of matches. No wonder WrestleMania is 6000 hours long.
Enjoy this week's episode… and WrestleMania!
PS: If you wanna sprinkle even more wrestling into your weekend, check out our WrestleMania podcast from last year, and also this list of amazingly weird WWE collectibles over on DealNews!