As confessed last year, I grew up loving the Christmas editions of Woman's Day, which were collected by my mother and left to die in the same little-used cabinet that otherwise housed obsolete phone books and broken AC adapters.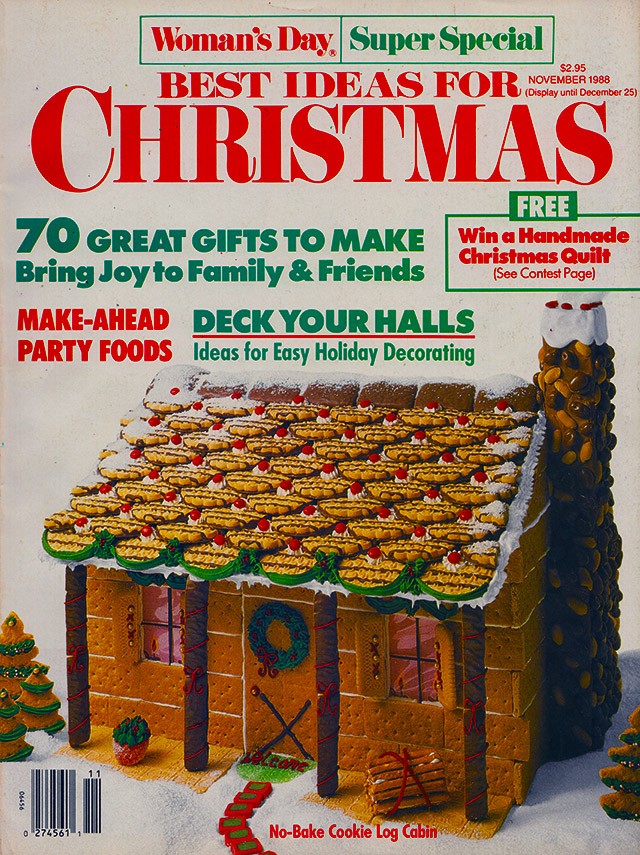 I'll admit that this wasn't something I bragged about at the schoolyard, but whatever. I just couldn't get enough of those wacky recipes for super intricate holiday appetizers, which typically called for unflavored gelatin, fennel seeds and other weird shit that nobody used for anything ever.
Mostly, though, I was in it for the advertisements. Those companies may have been pitching to females four times my age, but I believe it's ME who holds the distinction of being the only person who was ever truly interested in pairing Lindsay brand black olives with pepperoni and strawberries.
Below are a bunch of advertisements culled from various '80s editions of Woman's Day, each with a holiday theme. May you find them more interesting than you think you will now.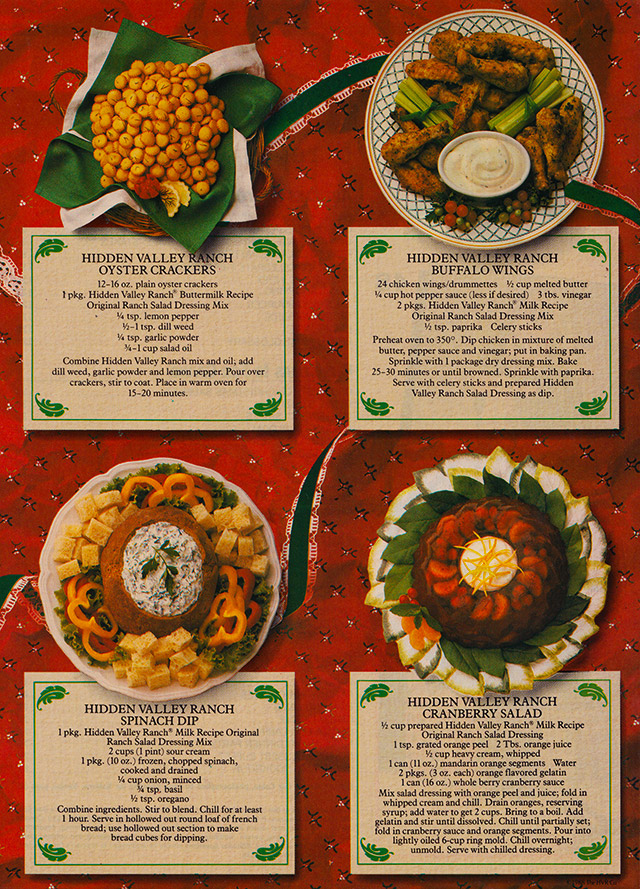 Hidden Valley Ranch Recipes! (1988)
This was the last half of a two-page ad for Hidden Valley Ranch's salad dressing mixes, which were little envelopes full of salty dust that could be combined with other things to create tangy dips and dressings.
I was obsessed with this page as a kid, mainly due to the two leftmost recipes. Oyster crackers have always been my jam, and the thought of turning them into spicy, oily holiday appetizers just floored me.
As for the spinach dip in the beautiful bread bowl, I will never believe that this exact ad — which was repeated in many magazines for several years — wasn't chiefly responsible for that particular dish's rise to prominence. It's literally the only creamy "dressing" that I'll make an exception for, partly because it tastes awesome, but mostly because the bread bowl made me feel like I was eating out of a goddamned volcano.
Seriously, look at that thing. A boulder filled with spinach dip. Give me that platter, and I wouldn't notice the entire world burning down around me.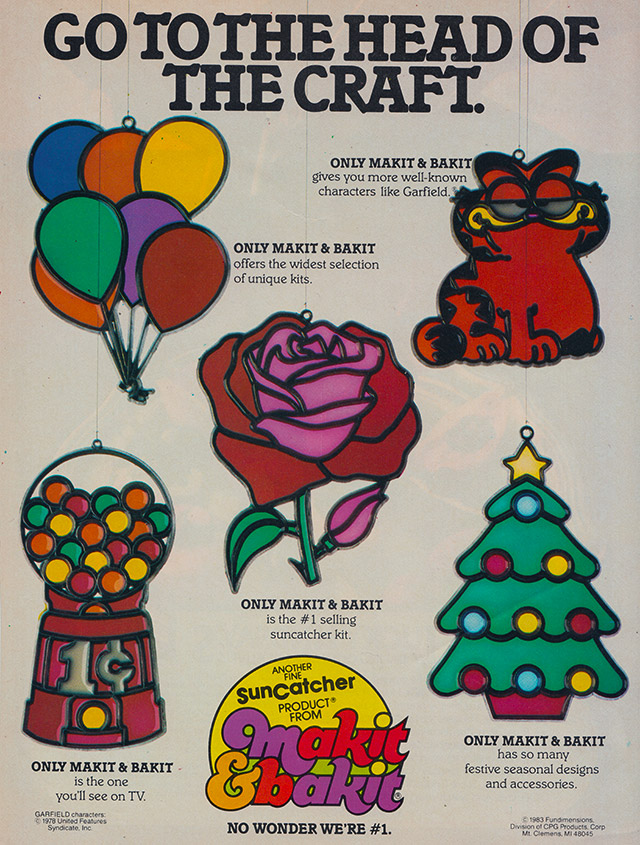 Makit & Bakit! (1983)
Though Makit & Bakit kits are still produced today, I can't imagine that they're nearly as popular as they used to be. When I was a kid, they were almost as beloved as Shrinky Dinks!
These crafts projects were like a mix between stained glass and cupcake baking. Each kit came with one (or several) indented "frames," shaped like everything from roses to Garfield. You'd fill the appropriate spots with spoonfuls of colorful plastic crystals, and after "cooking" them, the crystals would melt into even beds of color. Voila, suncatcher. Now you had something to decorate your windows with!
Among Makit & Bakit's many kits were a number of holiday-themed editions. Though I don't remember them being advertised as such, those versions made for great Christmas tree ornaments.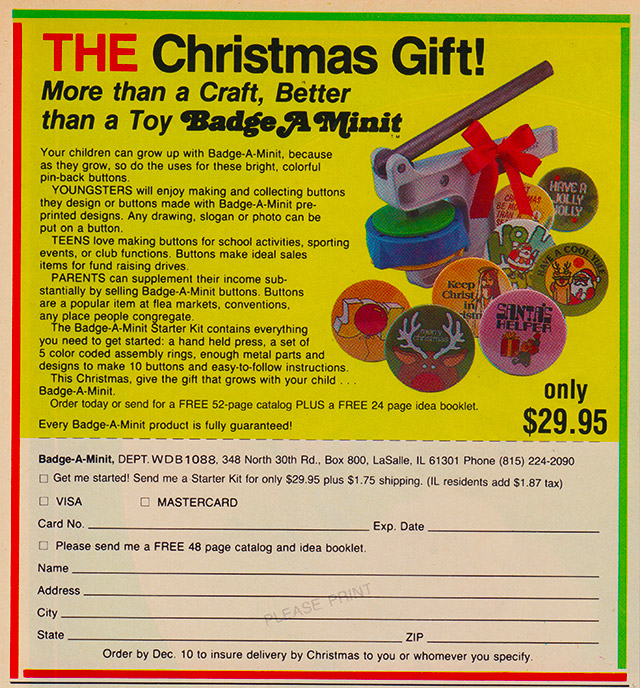 Badge A Minut for Christmas! (1988)
I first encountered ads for Badge A Minut in the back pages of Boys' Life Magazine, where the button makers were pitched as a get-rich-quick scheme. I never actually owned one, but the thought of having a steady income at age 8 just by selling crappy buttons kept my gears turning all night long.
This rare holiday version of their usual ad downplayed the sales opportunities, instead positioning Badge a Minut as THE Christmas gift for 1988. Adults presenting other adults with button makers that looked like broken staplers sounds awkward, but I would've loved the person who gave ME one.
(Did any of you have one of these? I bit the hook as a kid, but the cynic in me says that they couldn't have possibly been that easy to work with. Tell me your stories!)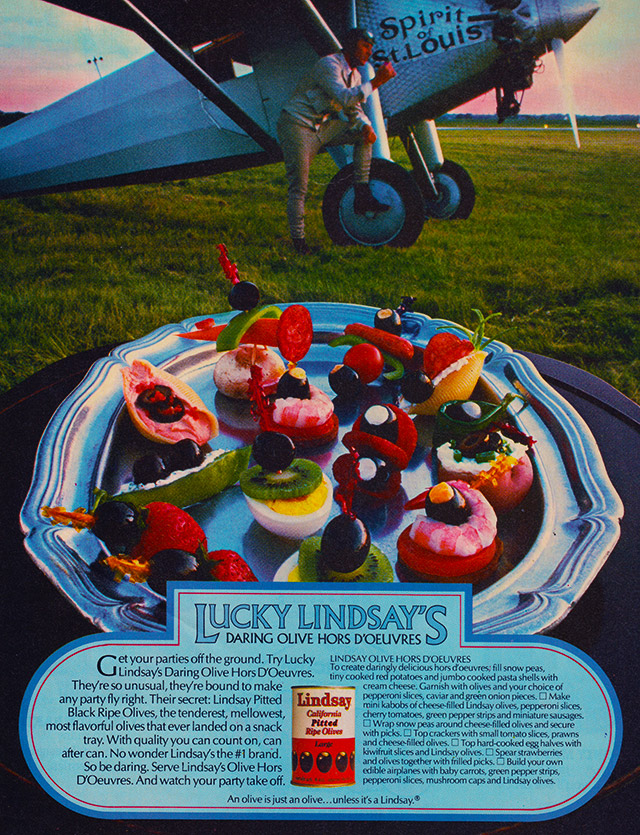 Lindsay Pitted Olives! (1988)
Though found in a Christmas edition of Woman's Day, I admit that this ad has little in the way of holiday flair. Still, I think it's on target, because advertisements like this are part of what led me to make my family really inane appetizers throughout my youth.
Remember Cher's line from Clueless, about that one girl being a Monet? I feel the same way about these appetizers. They look good from far away, but when you really inspect them, they're a big old mess. A hardboiled egg topped with an olive and a slice of kiwi? I'm not sure I could handle that without making a donkey face.
Still, the presentation is grand, and I'll never let a big holiday slip by without a plateful of similar nonsense gracing some far corner of the table. Most of the curious hands just glide right over it, but deep down, everyone's glad it's there. After all, the best appetizers look like G.I. Joe-scale Delia Deetz sculptures.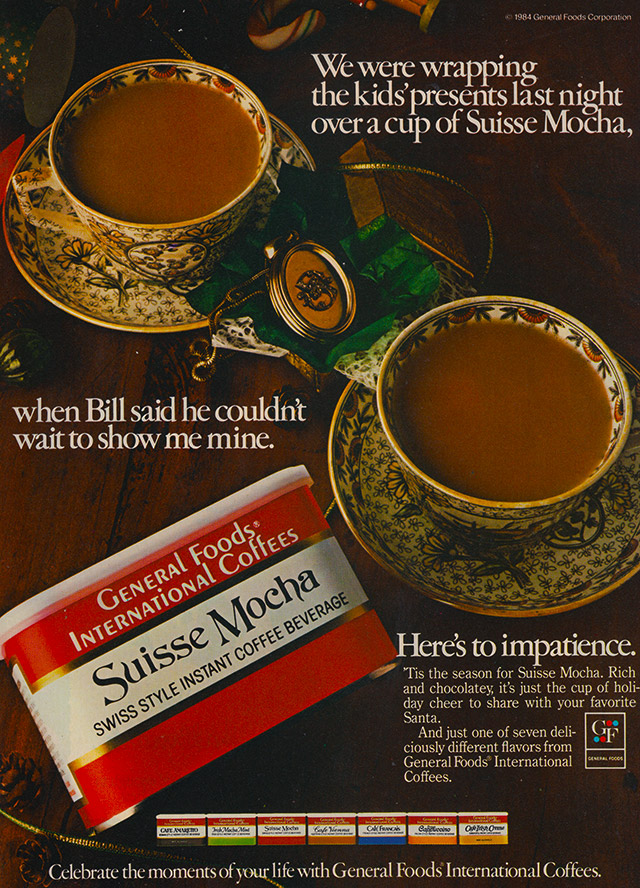 General Foods International Coffee! (1984)
I have an odd relationship with this coffee. I can't recall ever drinking it myself, but those little tins were always in our kitchen, tucked into the mysterious spice cabinet, where nothing was "for me" but everything looked so damn interesting.
Some of you should remember its old school and ultra-saccharine television commercials, which typically ended in that singsong tag, "Celebrate the moments in your liiiiiife." As a child, I took the campaign to mean that this was the coffee specifically meant for familial bonding. As if instant coffee was the prime component of some witchy ritual that would never be successful without it.
Growing up, people were constantly making pots of coffee in our house, leaving little need for this version. It only seemed to leave the spice cabinet when we had "special" guests over, whether they were distant relatives or friends who rarely visited. Only now do I realize what this means: My mother totally bought the pitch, too!
Master of Mixes' Mistletoe Punch! (1983)
Bizarre and frantic as they were, the holiday celebrations of my youth were still filled with every cliche, and I'll always appreciate that. Everything from the mistletoe to the half-broken gingerbread houses. We had it all.
Well, almost.
We never had the big red bowls of punch.
Decades later, and I'm still pissed about that. Look, I've seen a LOT of Christmas episodes from a LOT of old sitcoms, so I know how everything was supposed to look. Gold forks, red ribbons and a GIANT BOWL OF PUNCH.
Of course, as a kid, I never realized that most holiday punches were spiked, and that I wouldn't have been able to try them anyway. Maybe it's for the best that those beautiful punch bowls were absent. Being told that I couldn't drink what was so obviously cherry Kool-Aid would've KILLED me.
This particular recipe sounds amazing. Like a bunch of melted strawberry daiquiris doused with sour mix and soda. I'd let Larry Drake take one of my fingers for a bowl of that right now. But only if he wears the suit.
PS: This might be your last call for Dino Drac's November Funpack! If you want in… act now!