Hey! It's time to unleash Dino Drac's latest Funpack! Get excited!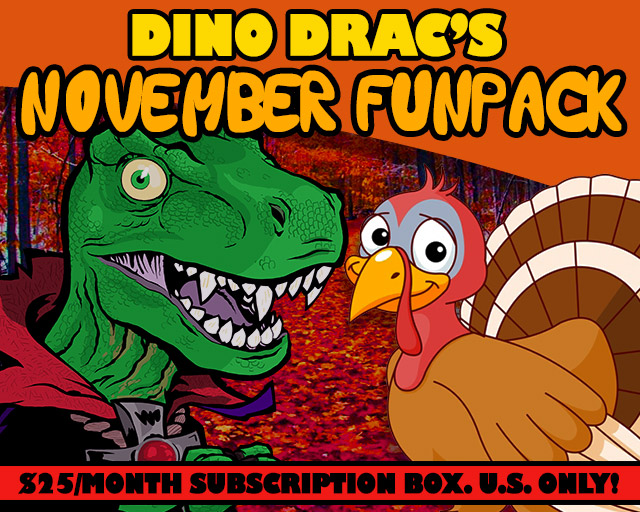 Dino Drac's November 2015 Funpack is available now! Each box has a little hint of the holidays and a whole load of nostalgia.
New to the site? The Funpacks are what fund it. Every month, I mail out boxes of retro fun to everyone who subscribes. Without the Funpacks, I wouldn't be able to do the site, so thank you times x1000, whether you're a longtime subscriber or a new one!
Subscriptions are available in the United States only, and the cost is $25 per month. (That INCLUDES shipping!) Subscriptions are handled via Paypal, and you can cancel via Paypal anytime without penalty. For as long as you stay subscribed, you'll keep getting more Funpacks!
Skip to the bottom for complete ordering info, or keep reading to see what's in the November 2015 Funpack!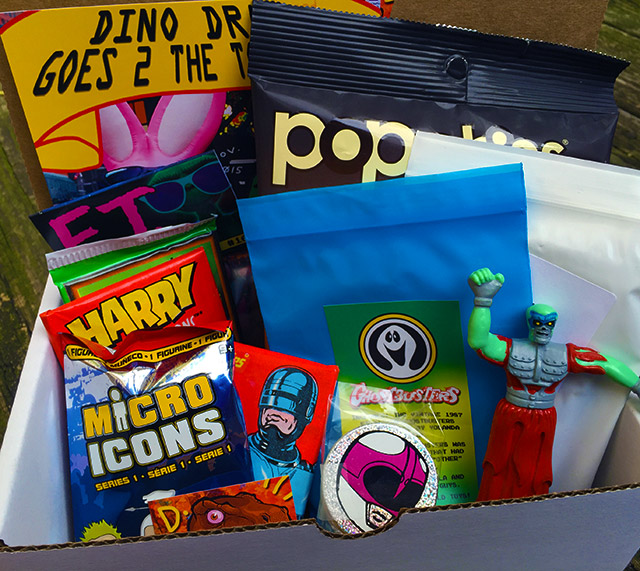 Behold! There are over ten items in every Funpack, from old cards and action figures to brand new snacks, and even some reading material! I know you can't tell much by that photo, but don't worry, I'm about to walk you through the complete list of contents!
EVERY subscriber will receive ALL of the following: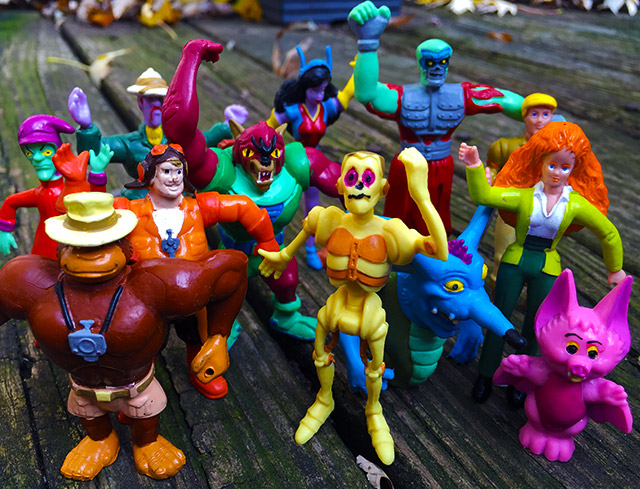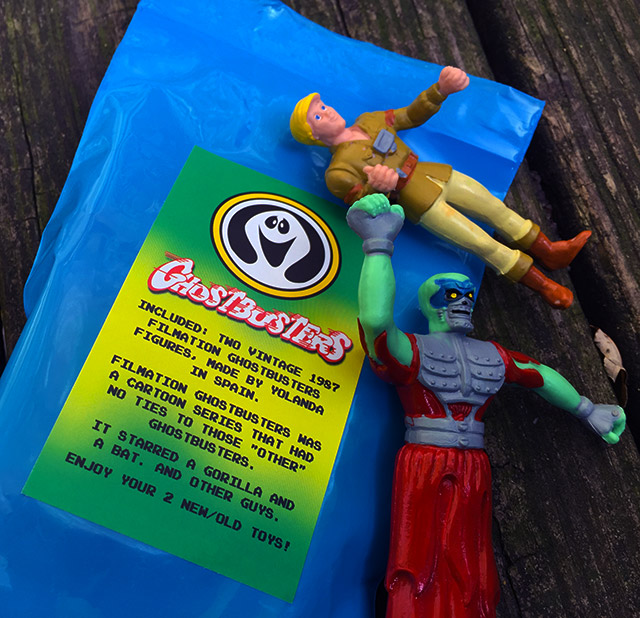 This month's top drawer item: Every subscriber will receive TWO DIFFERENT vintage Filmation Ghostbusters figures, made by Yolanda in 1987. These Spanish PVC figures stand just a few inches tall and have adorably crude paint jobs.
I'll be drawing from the complete set (yes, even Mysteria, who I forgot to include in the picture), and every subscriber will receive TWO figures at random. (Well, not SO random, because I'll try to ensure that everyone gets one of the "cooler" figures. Can't promise Prime Evil to everyone, of course, but you should be happy with your duo!)
If you don't recall, Filmation's Ghostbusters was an animated series unassociated with The Real Ghostbusters. While I'll admit that certain figures have a little trouble standing, they're all super cool and I know you're gonna love them.
Your two figures will be sent in a custom Dino Drac bag, too!
Characters you might receive: Jake Kong, Eddie Spenser, Tracy, Jessica Wray, Futura, Belfry, Prime Evil, Brat-A-Rat, Fib-Face, Haunter, Fangster, Mysteria or Scared Stiff!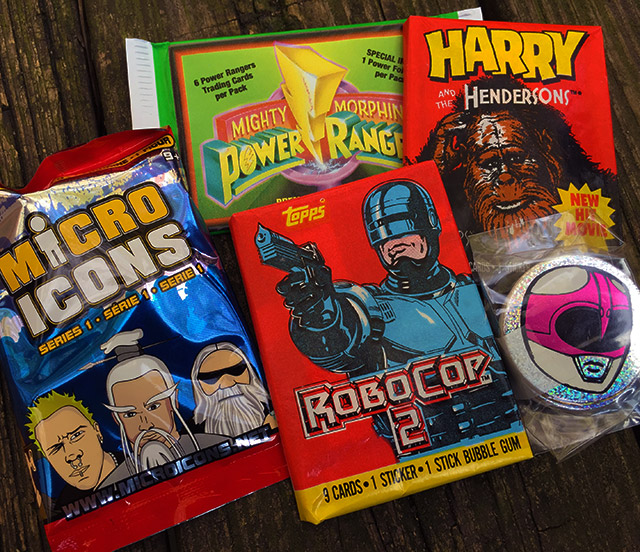 Next, a big pile of cards and stuff! All subscribers will receive three vintage packs of trading cards, including Robocop 2, Harry & The Hendersons and Mighty Morphin Power Rangers. Have fun tearing 'em open! (Don't eat the gum — it's OLD!)
You'll also be receiving a sealed Micro Icons figurine! (The Micro Icons are a ragtag bunch of miniscule characters ranging from bikers to wrestlers.)
UPDATE: Due to a stock issue, the Power Rangers pogs may not be included in every order… however, the replacement item will be of similar or better value and will still be Power Rangers-themed!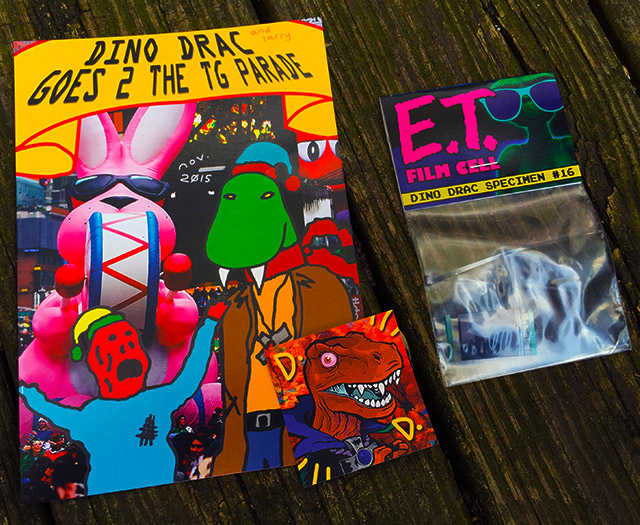 Well, it's a crappy photo thanks to November's scattered sunlight, but you'll also be receiving an honest-to-goodness E.T. film cell in custom Dino Drac packaging! Yep, that's this month's SPECIMEN! These are legit film cells from the film, albeit ones with cruder cuts than the high dollar ones you might find in collectible shops. Still super cool novelty items, and you'll love the really dumb packaging they come in! (I'll add a better pic to Instagram later!)
You'll also receive Dino Drac's November 2015 Mini-Poster, where Dino Drac and Larry visit the Thanksgiving Day Parade! (And yes, you'll each get a random Dino Drac sticker, too!)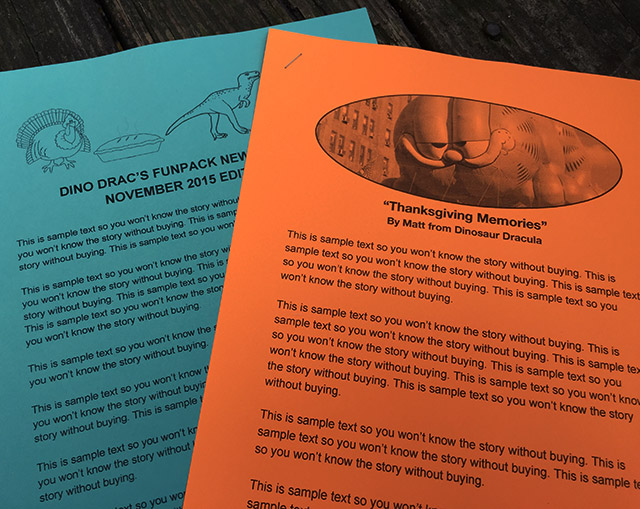 Every Funpack comes with the November 2015 Funpack Newsletter, which is no big deal, but I'll ALSO be throwing in a two-page essay about the Thanksgiving celebrations of my youth, which will never be reprinted on the site! (So hey, now your Funpack comes with things to play with, things to eat, and things to read!)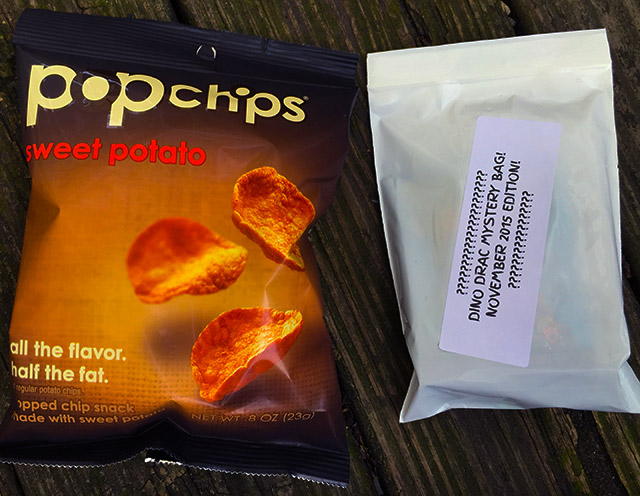 If we can agree that "sweet potatoes" are a Thanksgiving food, then I made the right call by including a small bag of Sweet Potato Popchips with every Funpack! Enjoy! They really are sweet!
Last but not least, you'll each receive a new Dino Drac Mystery Bag! It's a Funpack within a Funpack, stuffed with random little things and some holiday treats! Each is a little different, but I think you'll enjoy the surprises!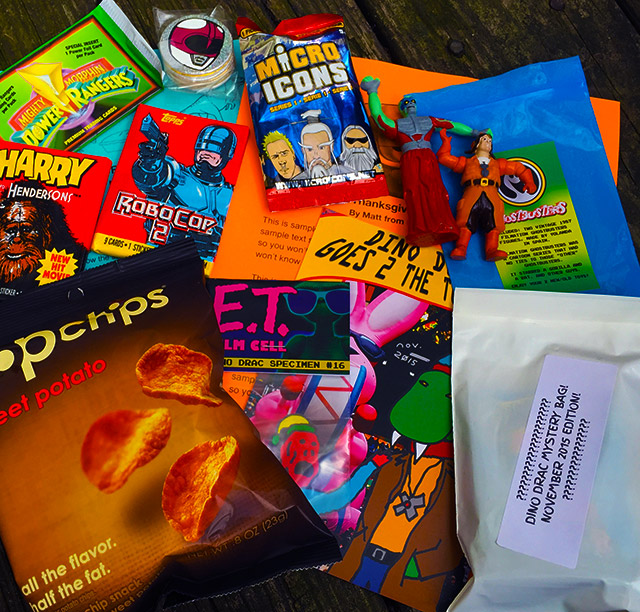 Whew. All that stuff for $25 shipped!
If you're already a Funpack subscriber and you'd like to stay that way… do nothing! You're all set!
If you want to subscribe, please read the following, and then click the button at the bottom of this page!
1. Funpacks are available in the United States only. Sorry!
2. Subscriptions are handled via Paypal. If you don't have an account, it's very easy to make one!
3. Funpacks will be shipped to the address listed on your Paypal account. If you need to change your shipping address, or if you'd like for your Funpacks to be shipped to someone else, simply email me!
4. You will be automatically billed $25 every month. (Yes, that price includes shipping.) If you subscribe today, you'll pay today, and then again in exactly one month. For as long as you remain subscribed, you'll keep getting Funpacks!
5. You can cancel at anytime. (You could subscribe today and cancel today!) If you cancel after you've already been charged for the following month's Funpack, you'll of course receive it just the same as any current subscriber would. (You can cancel via Paypal, or by emailing me.)
6. The November 2015 Funpacks will ship on or before 11/16!
Remember, the Funpacks are what allow me to keep doing the site, so if you like all of these giant articles about old toy catalogs and TV commercials, subscribing to Dino Drac's Funpacks is the best way to guarantee more of them!
Supplies are limited… once they're gone, they're gone!
To get your subscription started, click the button below!
REPEATED UPDATE: The Power Rangers pogs shown above may not be in every Funpack due to a stock issue. However, a replacement item has been selected and it's still Rangers-themed, and I think you'll be satisfied with it! The milk caps were not one of this month's major items, so that's good, but obviously I wanted to let you know!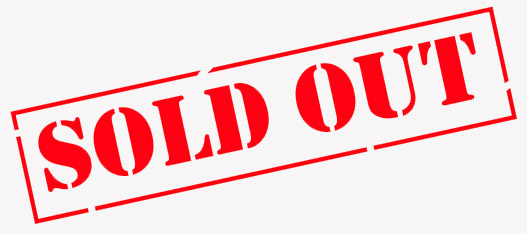 Sorry, the November Funpacks are sold out! Stay tuned for December's extra special Funpack, coming soon!