Creepy Commercials Countdown: Easter Seals Halloween Coupons!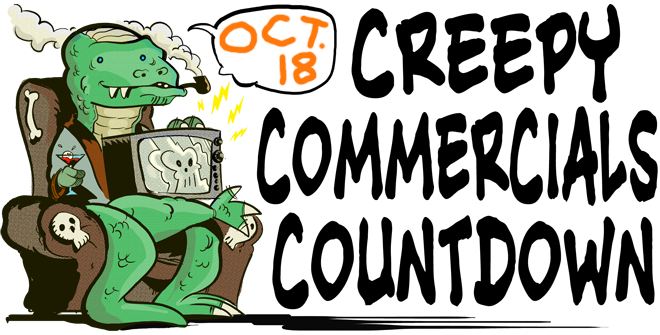 The Creepy Commercials Countdown!
October 18th, 2012: "Easter Seals Halloween Coupons!" (1990)
I was too busy making videos about Michael Myers to get anything resembling a full night's sleep, so if this one lacks my usual cohesion (ha!), that's why.
In what was assuredly a charity/fundraiser deal, Vincent Prince (he's baaack) encouraged us to buy Easter Seals Halloween coupons. You were supposed to give 'em out to trick-or-treaters instead of candy. Nobody claimed it would make you popular.
The ad didn't clarify exactly what the coupons could be used for, but for argument's sake, assume they were for things like free sundaes at Friendly's.
Getting a piece of paper instead of a peanut butter cup sounds like a lame proposition, but I've always appreciated those sorts of oddball treats. They helped add a little variety to our candy sacks, and they inspired dreams of a brighter future. "Snickers tonight, free ice cream tomorrow!"
All well and good. The only weird thing is Vincent Price. This isn't the Vincent Price I've come to know and love.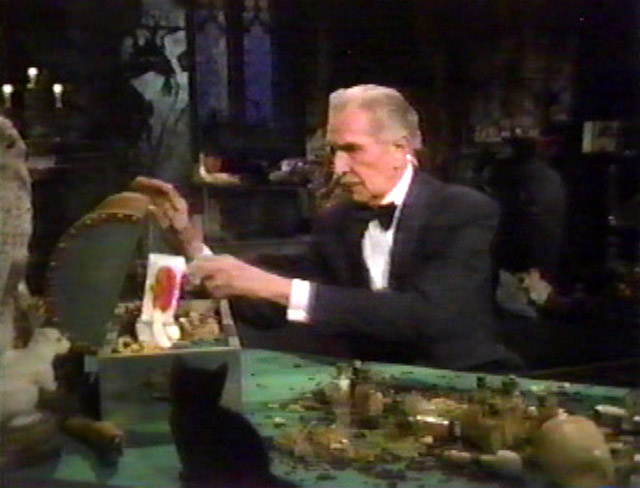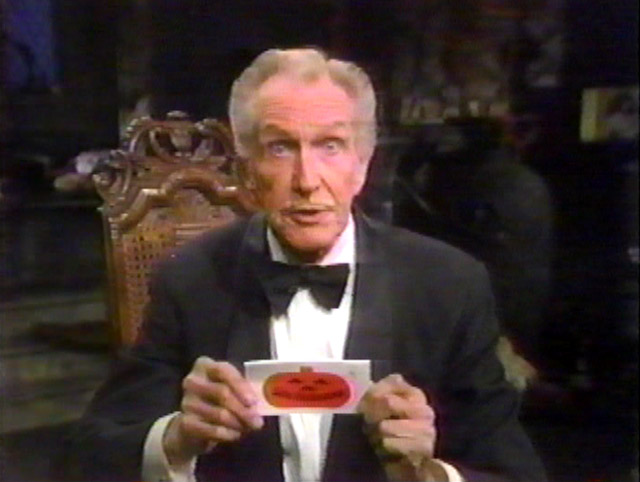 He seems a little off his game. Unsure of himself. It's surreal to see Vincent Price without his typical rock solid confidence. It's also surreal to hear him say "q-pons."
As many of you know, I work in the promo industry. At least, I do when I'm not spending my annual three months as a webmaster of middling success. I've worked on many projects and I've been on many sets. I feel I have enough experience to say that something wasn't quite right about this production.
Maybe Price was assured that there'd be a teleprompter, only to get there and learn that there wasn't one. Maybe there were last second script changes, because if anything could've created that kind of chaos, it was a spot where so much hinged on a disembodied hand pushing coupons out of a treasure box.
I know I'm not being crazy, here. Just look at Price's tuxedo. It barely fits him. It's a miracle this ad came out as well as it did.
On the other hand, it's kind of nice to see a vulnerable Vincent Price. I had no idea that Price could even do "vulnerable." I'm glad he could, but I hope he was a real tyrant on set. I have a feeling they deserved it.
PS: Notice how they kept pushing the coupons as "safe" Halloween treats? It's like they were using the old "poisoned candy" hysteria for personal gain. For shame, Easter Seals. You're supposed to be better than that.