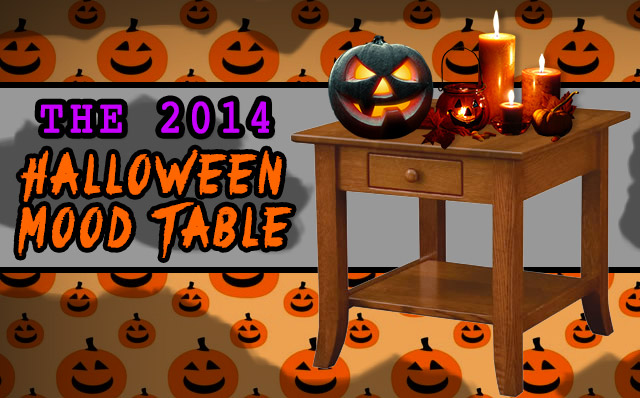 October is here, and you know what that means. MOOD TABLE TIME.
This is a yearly tradition that many of you are aware of, but for the few that aren't, I'll explain.
I've been running the Halloween Countdown since 2003. The only Countdown that I fouled up was in 2007, owing to real life issues that made blogging about Halloween candy the lowest possible priority. In effect, my Halloween spirit was shot.
…but then I discovered a way to get it back.
THE HALLOWEEN MOOD TABLE!
What's a Halloween Mood Table, you ask? It can be a small end table, or a larger coffee table, or a desk, or hell, even a chair. The idea is that you'll saturate "some surface" with Halloween junk, and put it somewhere that you're guaranteed to see it often. You could call it a "shrine to Halloween."
What you put on it is totally up to you. You could mix pumpkins with random horror toys and a bowl of candy. Or you could add a dozen candles and hope you don't burn the whole city down. Whatever!
There is no wrong way to do a Halloween Mood Table. My first one looked like this, and my last one looked like this. Yours might only have a few things on it, or it could have a hundred things on it. It's a fun little art project, sure, but the point is that you'll have an "area of focus" to keep your Halloween spirit in check.
You'll be surprised at how effective it is! Last year's Mood Table article went semi-viral, and dozens of folks posted photos of their own versions. Many confirmed what I've been saying all along: It's fun to make and it's cool to look at, but the Halloween Mood Table really does make Halloween feel like Halloween… even when everything else in your life doesn't.
I specifically save this exercise for October 1st, and with good reason. If you're like me, you've already spent a month "Halloweening." You've been to all of the stores, you've seen all of the movies, you've eaten all of the candy. The problem is that you haven't saved much for October. Sure, things will pick up in the final week, but what about NOW?
THIS is the solution.
So, without further ado, I proudly present Dino Drac's 2014 Halloween Mood Table!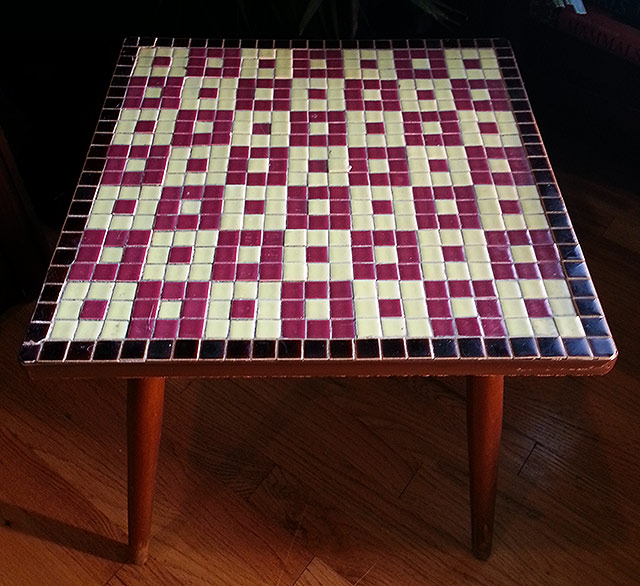 I started with one of those barely-standing, tile-topped tables that I've been using for almost ten years now. This is my canvas.
I knew I'd never top the insanity of last year's Mood Table, and I wasn't about to try. And besides, since our whole apartment is currently overflowing with Halloween stuff, I didn't see much point in localizing everything to one corner of the living room.
Instead, I tried something different — and something I've been wanting to do for a while. This year, my Halloween Mood Table would have all of its usual bells and whistles, but it would also serve a very specific purpose. Read More…