After our successful trip to Heights-Terrace Video in Hazleton, we drove another 40 minutes into the bowels of Pennsylvania, looking for more old video stores.
That led us to the city of Wyoming. If the little we saw was indicative of its totality, Wyoming is a mix of a sleepy college town and a place where affluent couples go to buy antique rocking chairs. We liked it.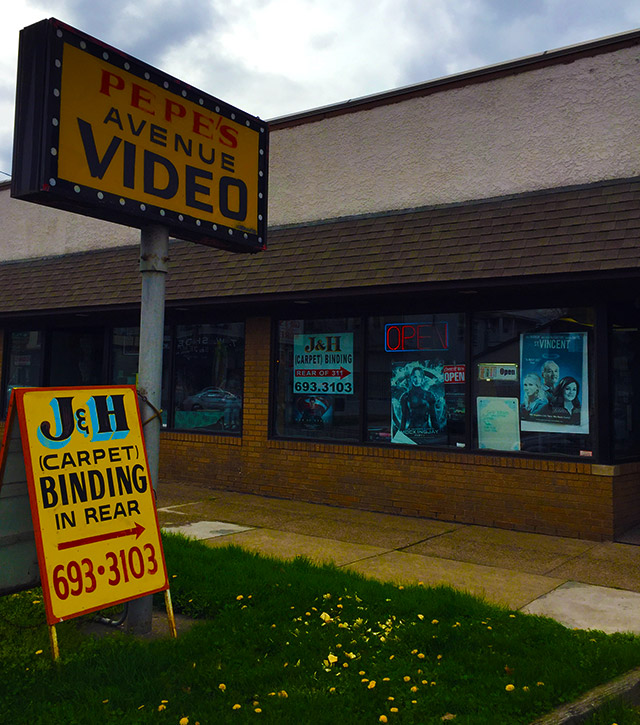 Finally, we hit our target. Pepe's Avenue Video. I was only half-sure that Pepe's was still in business, but the few photos I'd seen suggested that it was worth the risk.
We had to kill an hour before we could go inside, because apparently the only things that open in Wyoming before 3PM are wineries and Dollar Generals. Read More…
We took a trip to Pennsylvania on Saturday, hunting for more old video stores. My heavy foot shaved an hour from what should've been a 3+ hour drive, but it was still a long day on the road.
The itinerary led us through parts of Pennsylvania that were only suburban in a borderline way. As someone who previously only knew the state for whatever was in Philly, it was so cool to see the smaller, quirkier towns, which felt trapped in the past in all the best ways.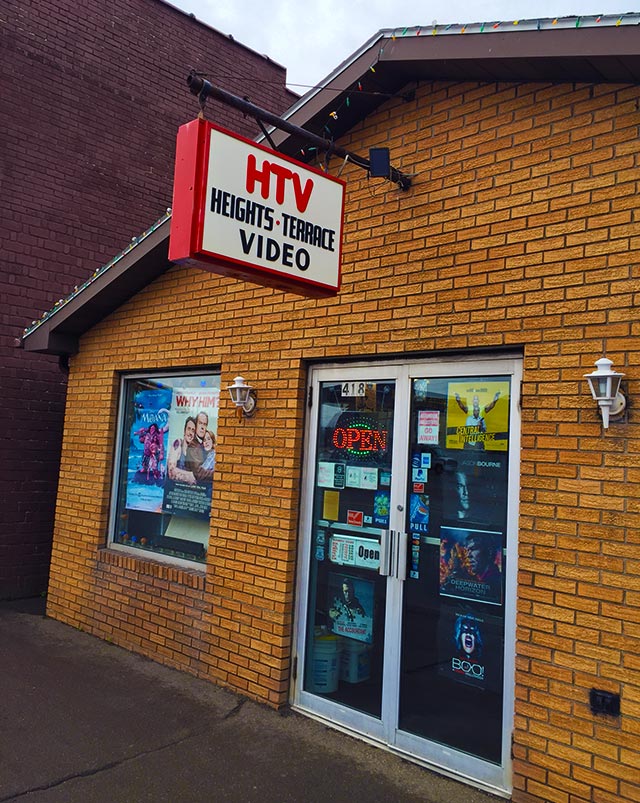 Our first stop was Heights-Terrace Video, in Hazleton.
I don't know when it opened, but it's obviously been around for longer than some of you have. Read More…
Welcome to the 39th edition of Five Random Action Figures.
Just one more to go before I'll have reviewed 200 different figures in this series, which I'll of course use as an excuse to buy fancy old toys that aren't already collecting dust in the unsightly bins stacked exactly four feet behind me.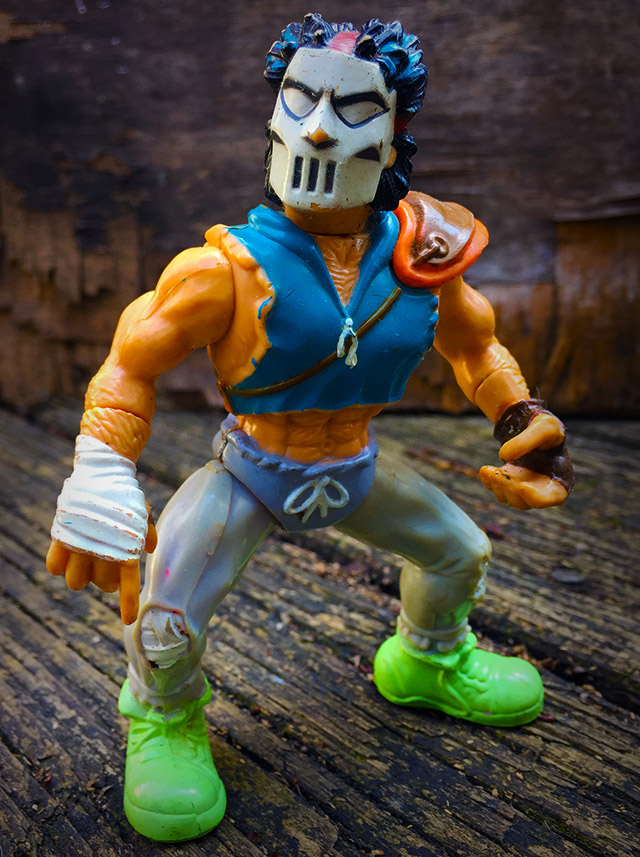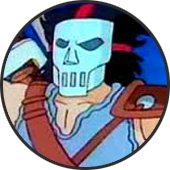 Casey Jones
Teenage Mutant Ninja Turtles (1989)
During the original TMNT boom years, Casey Jones was the man. In the cartoon, he came off like Jason Voorhees mixed with the Toxic Avenger mixed with Wolverine. In the live action movies, he was more like Captain Lone Starr mixed with a friendlier CM Punk. Both medleys worked. Crazy worked.
Naturally, the action figure was based on Casey's appearance in the cartoon. I don't know how to describe his outfit, other than to say that it looks like something you can only wear if you live on boiled chicken and Bowflex Max Trainers. I only live near them.
The mask is decidedly more "Jason" than "random goalie," while the sneakers look like some special edition pair that were only on sale for one day at select boutiques. We all have our vices. Read More…
Apologies in advance for what promises to be a screwball article with narrow appeal. Sometimes I do these just for me.
Over the last few months, several of my favorite local stores went out of business. Before their sad remains are forever lost, I thought I'd pay tribute to them with thick paragraphs and overexposed photos.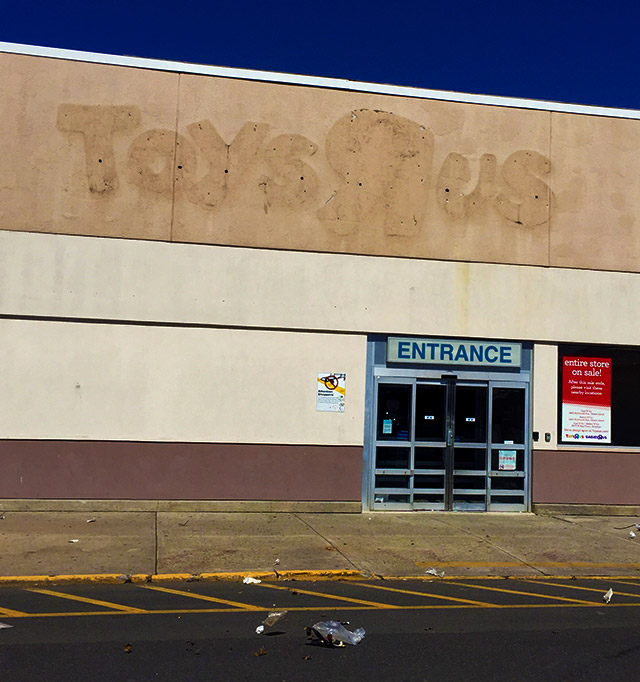 Toys "R" Us!
This wasn't my main Toys "R" Us, but it was my main backup. It'd been around since the 1990s, originally taking the spot of a Lionel Kiddie City. Up until a few weeks ago, you could still buy neon bikes there.
No matter how uniform the stores are supposed to look, each has its own identity. At this one, old stock would remain on clearance racks for far longer than the TRU norm. It wasn't out of the question to find ten-year-old toys hiding in the nooks and crannies.
Some TRU stores just feel trapped in the past. In everything from the haircuts on the employees to the too-soft lighting, walking into this one was like walking into another time. I'm gonna miss it. Read More…
It's flea market season, baby. An excuse to spend every weekend with grimy hands and a pocketful of also-grimy singles.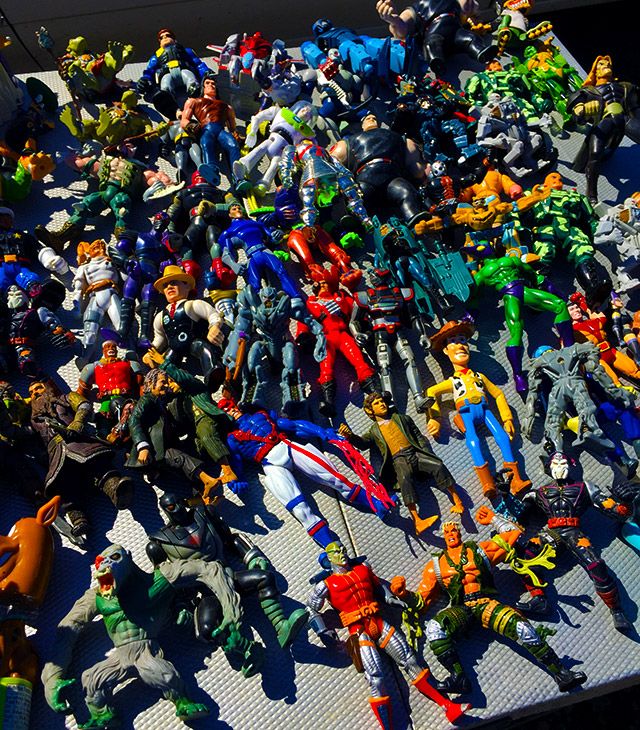 We had gorgeous weather on Sunday, so it was off to Englishtown, home of one of New Jersey's biggest and longest-running flea markets. (…which you may remember from various Dino Drac articles over the past few years.)
The place was as packed as I'd ever seen it. Between the crowds, the mud and the heat, only the promise of cheap action figures kept me from hiding under a table until dusk.
Below are my best finds. I'd say I'm off to a decent start!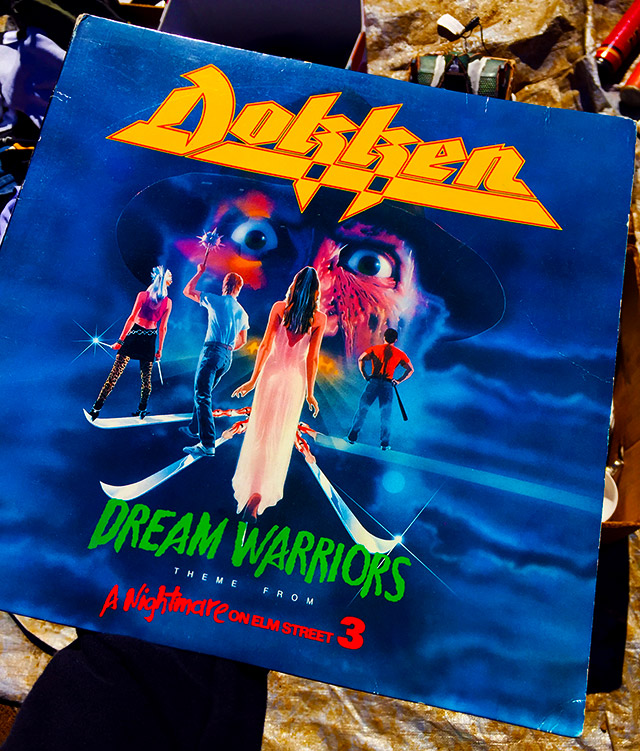 Dokken's Dream Warriors Single on Vinyl! ($1)
SCORE. There are thousands of used records at this flea market, but I almost never sort through them. (I'm interested in so few records that it's just not worth the time. For every "maybe," I'd have to thumb through 2000 "definitely nos.")
Fortunately, this obvious must-buy was sitting right on top of an open box. It's Dokken's 1987 Dream Warriors single, and I have no idea what it was doing in Englishtown. Best of all, the seller only wanted a buck, which even for a used, sun-beaten copy was an enormous steal.
As the theme for the same-named movie, Dream Warriors is one of my favorite "horror songs" ever, and the art on that sleeve is an absolute beast. The fact that there's a photo of Freddy Krueger chilling with Dokken on the back just iced the cake. Read More…