And here we go! Time to debut Dino Drac's 2019 Halloween Funpack!
If you're already a subscriber, good news: I can't take on any more right now, so you guys are the only ones who are LOCKED IN.
I do have some spares that I can offer on an individual basis. Quantities on those are very limited, so if you know you want one, I'd advise skipping straight to the bottom and placing an order before someone beats you to it.
For those who've asked, I expect that official subscriptions will open back up next month!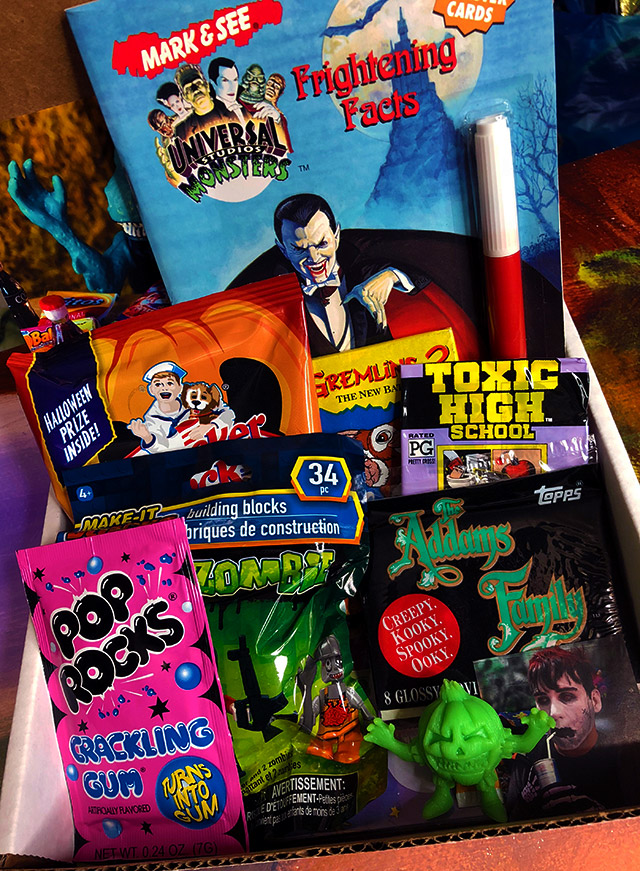 UNITED STATES ONLY!
The October 2019 Funpack is a Halloween party in a box. There are over ten items inside, and they'll help you close out the season in spooky style. It's a total you-on-the-couch situation, reading, rummaging and eating Cracker Jack. (No, seriously, you can do all of those things with this Funpack.)
Let's run through the contents!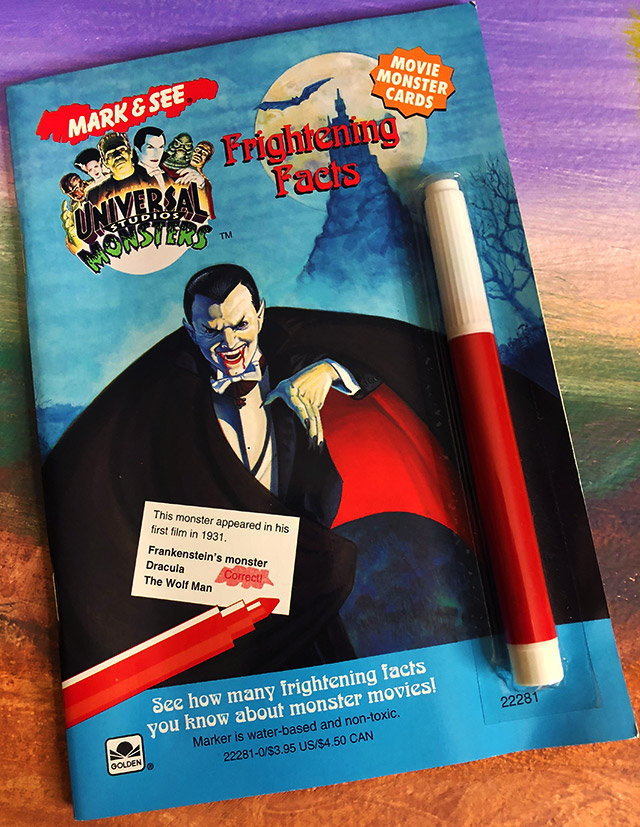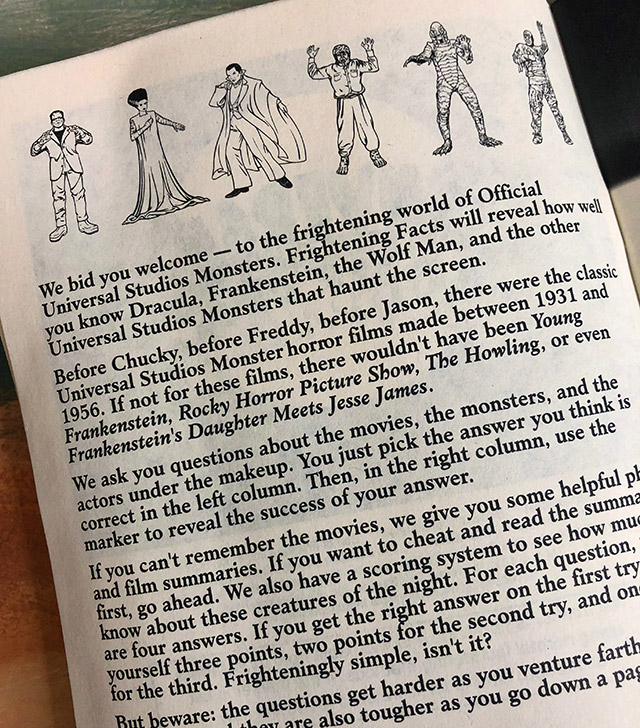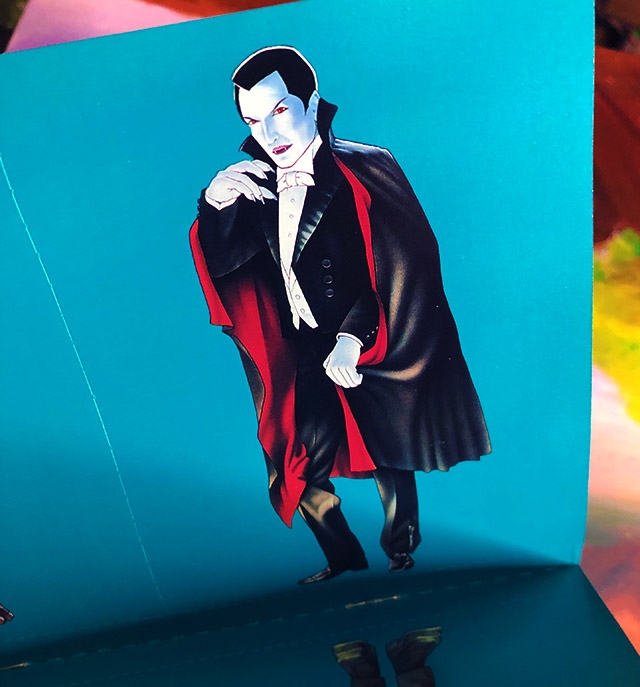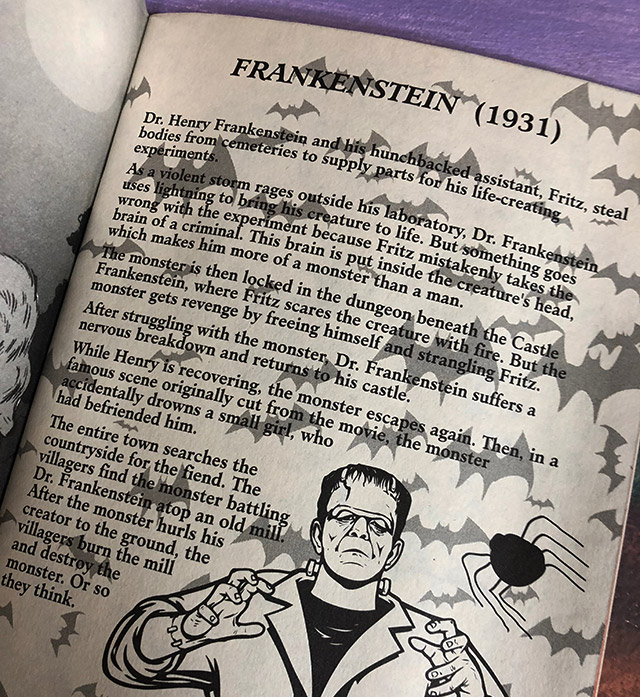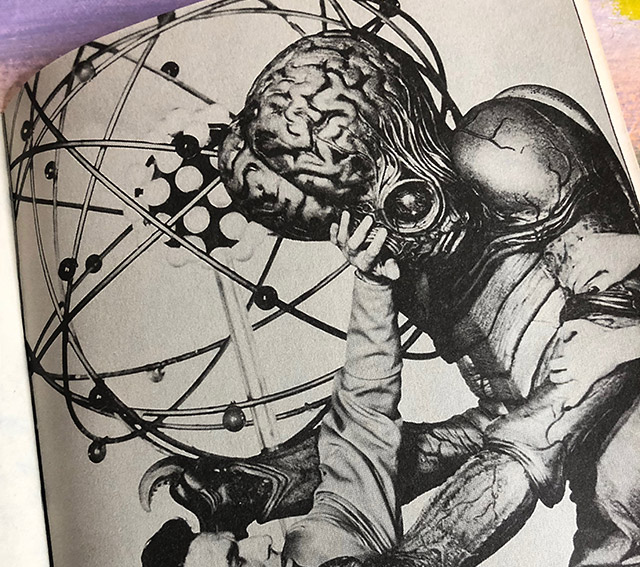 The star of this month's box is one of my favorite Funpack items ever. From way back in 1992, it's Golden's Universal Monsters Frightening Facts book, in never-read condition. Yes, you're really receiving this.
Each book comes with a special marker that reveals the answers to various trivia questions peppered throughout its 48 pages. (That is, if you can stand to mess up the cover by pulling the marker off. For what it's worth, I did test one, and amazingly, the marker still had some juice.)
The book is just fantastic. It's loaded with facts, quizzes, photos and illustrations, and there are even four cutout color monster cards in the middle. This screams "HALLOWEEN" like few other things do. You are going to love this. Total knockout item, and I'm thrilled to share these with you.
NOTE: All of the books are in unused condition, but many have a bit of "curl" to them thanks to the way they were factory cased way back when. All still look great, though!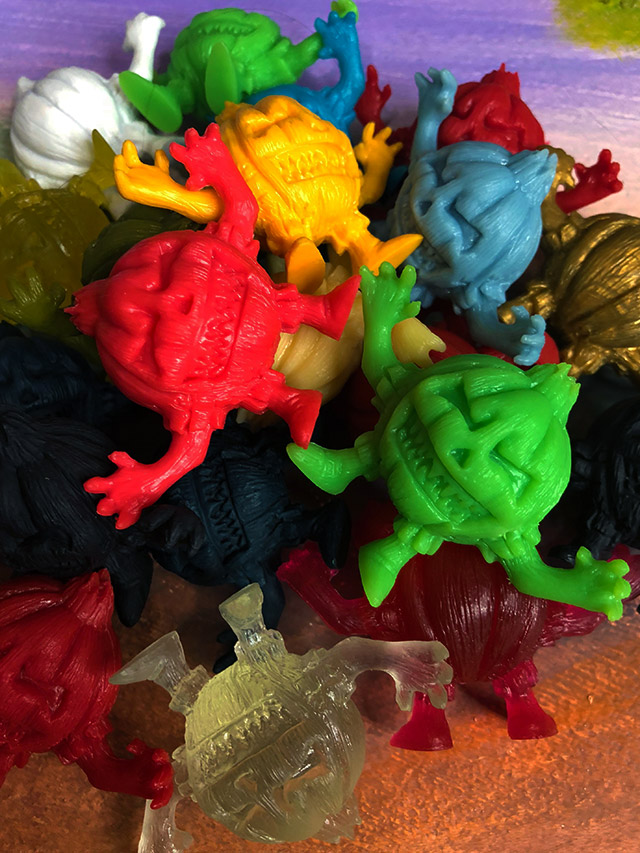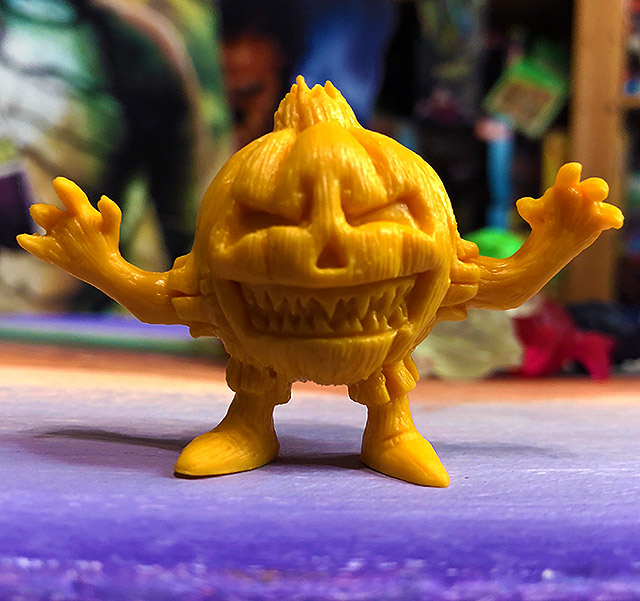 ONE FIGURE PER FUNPACK!
Next up, you'll each receive one of these super cool GRIMM GOURD mini figures, which were part of the OMFG series from October Toys back in 2012. (If you've never heard of OMFG, it was a "boutique" collection of awesome monster figures that kept the spirit of older lines like M.U.S.C.L.E. alive.)
A guy named Gregory M. created the concept for the Grimm Gourd figure. He reached out to me a few years ago, knowing these would be terrific for the Funpack. He was right, and I was quick to strike a deal! These figures rule.
I have MANY different colors available, including quite a few rare ones. You'll get one at random. Colors range from jet black to translucent blue, and everything in-between. You are so going to carry your Grimm Gourd figure around like an inanimate pet, whether it's October or not.
(I'm counting this as this month's Dino Drac Specimen, too. Yours will arrive bagged and labeled.)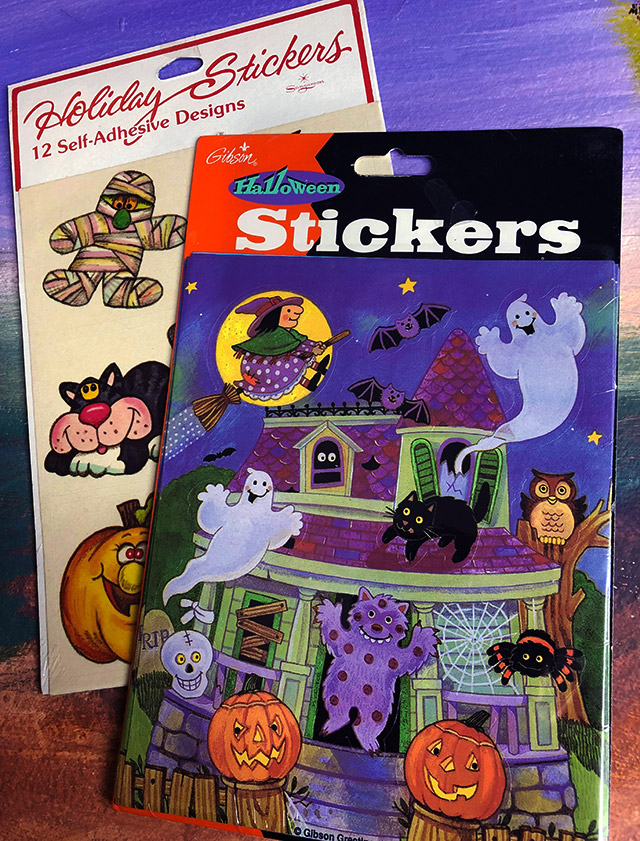 ONE STICKER PACKAGE PER FUNPACK!
Ah, and why not? Lemme throw y'all yet another pack of vintage Halloween stickers. You'll receive ONE of the two packs shown above — either the 1996 Gibson set with the quirky haunted house, or an undated (but probably even older) Sangamon set featuring a dozen screwball Halloween characters.
Neither package has ever been included in a prior Funpack. You're gonna dig the hell out of these.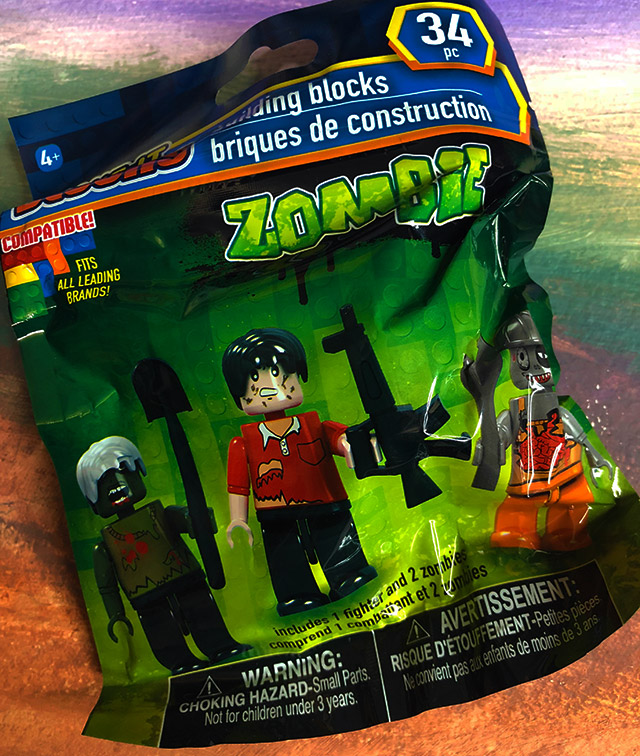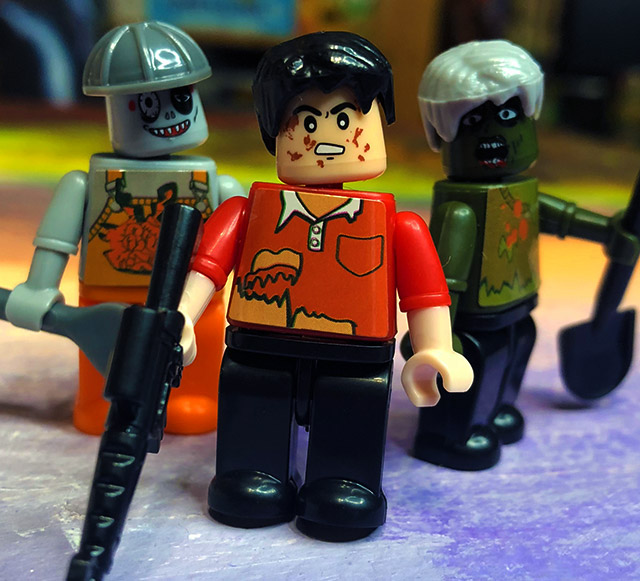 Moving on, you'll each receive a three-pack of Make-It Blocks Zombies, which are compatible with LEGO bricks even if they're definitely not LEGO quality. Actually, I find their crudeness to be part of the charm. Look at these guys! I feel like I made them myself. (I guess I did, in a way?)
I have an assortment of styles available, so yours may come with different figures. Each set includes two zombies, plus one human character for them to rip apart. They will somehow take you 30 minutes to assemble, and you will love/hate every minute of it.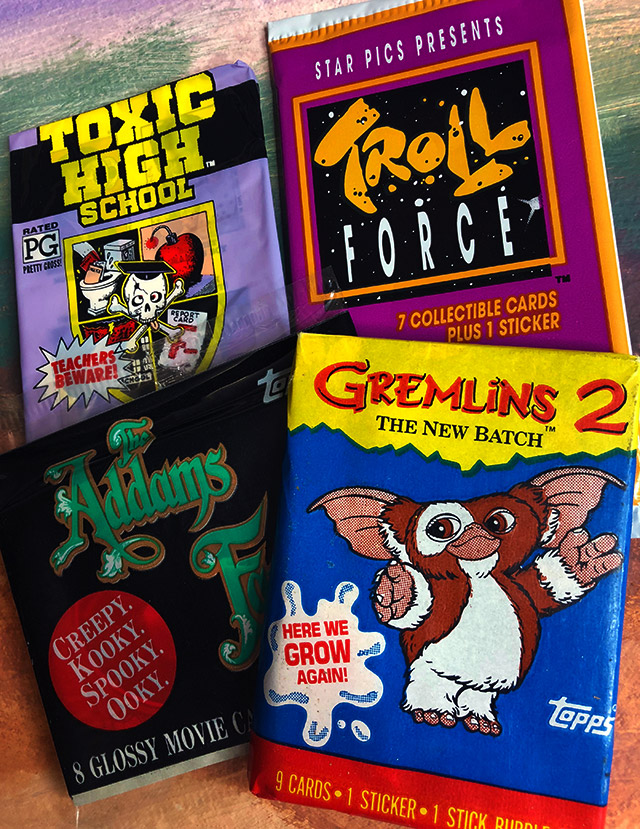 You didn't think I'd forget the vintage trading card packs, did you? This month, I'm revisiting sets that were featured in much older Funpacks. I thought they all deserved another day in the sun, and after all, they're all SPOOKY packs!
You'll receive all of the following:
– Pack of Gremlins 2 cards (1990)
– Pack of Toxic High School stickers (1991)
– Pack of Addams Family cards (1991)
– Pack of Troll Force cards (1992)
Have fun tearing them open. (If you do, toss the gum!)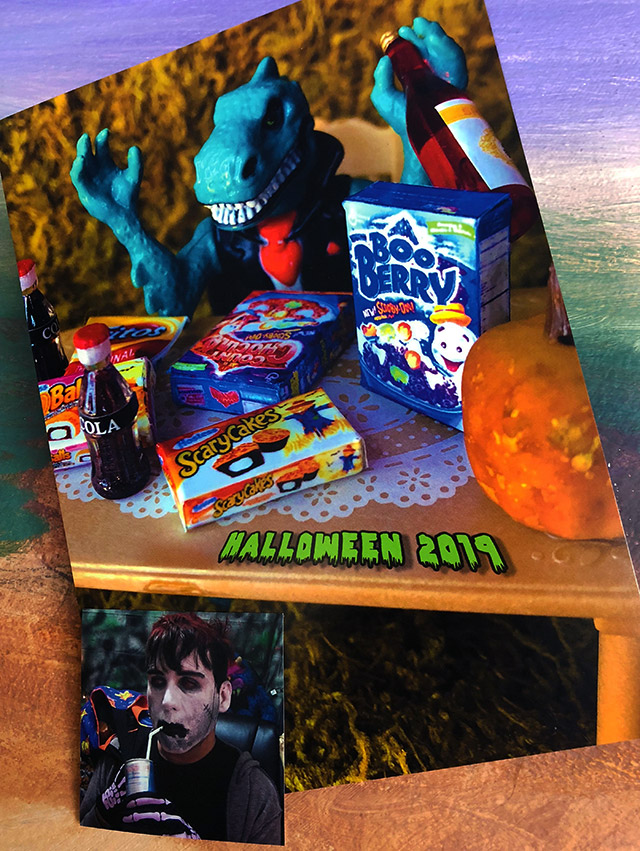 For this month's exclusive Mini-Poster, we have Dino Drac feasting on an assortment of Halloween goodies over what's either moss or a shag rug. And then for this month's exclusive Dino Drac sticker, Madd Matt drinks Red Bull from a straw? Okay!
Mini-Poster is 5×7" and printed on something close to cardstock. Sticker is 2×2" and printed on whatever stickers are printed on.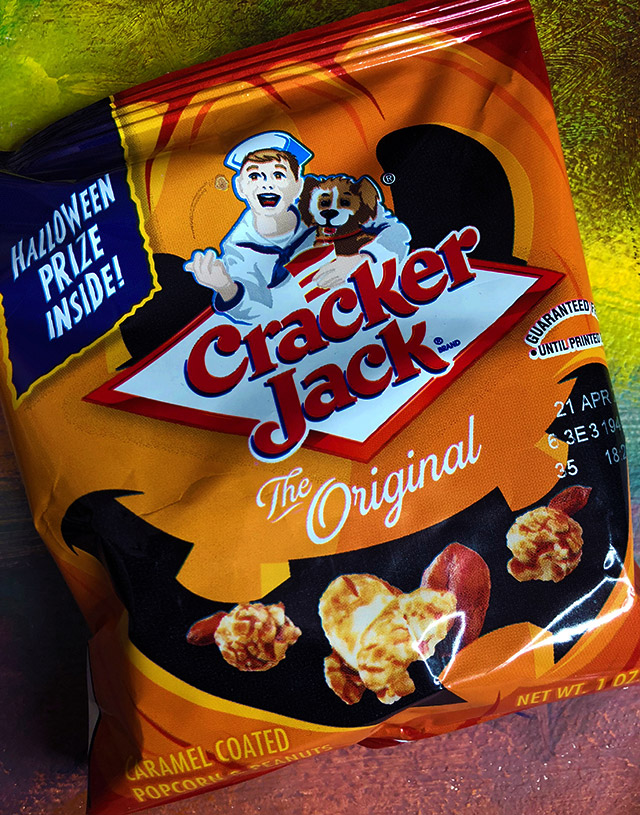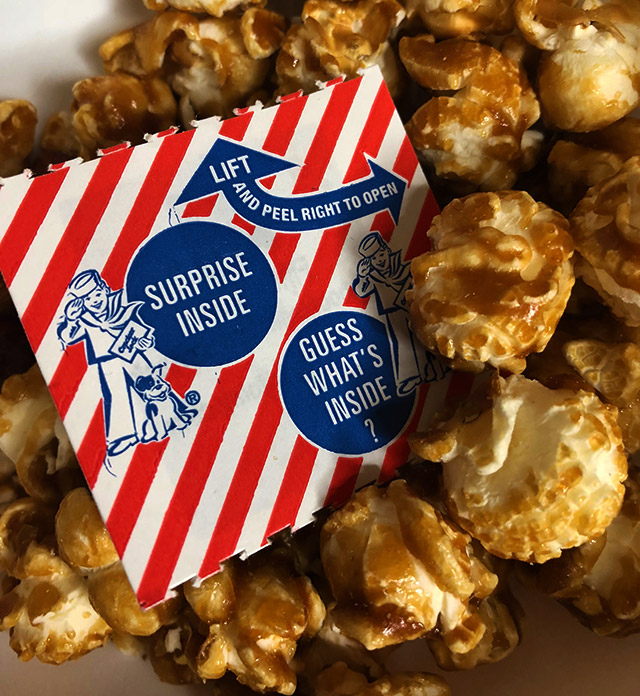 This month's snack is a little Halloween-themed bag of Cracker Jack. You haven't eaten Cracker Jack in fifteen years, and I guess I just felt that it was time. The bags are spooky and cute, and yep, they even come with Halloween-themed prizes!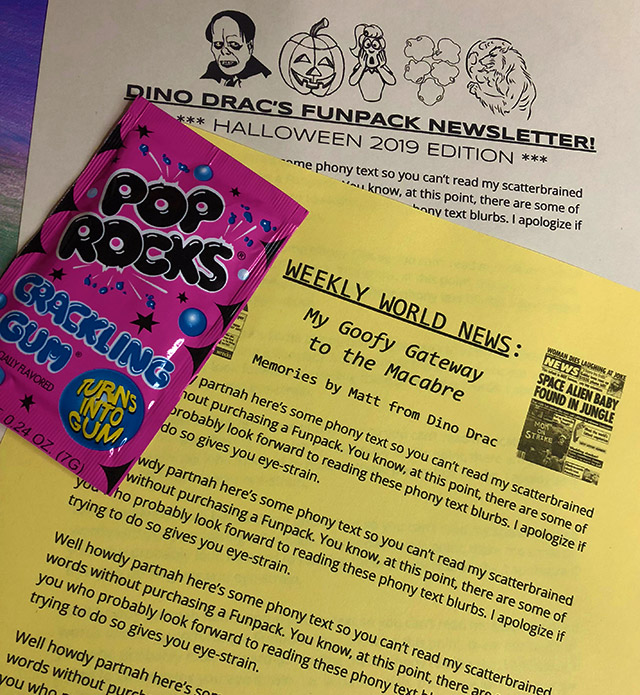 Rounding things out, you'll receive this month's Funpack Newsletter, plus an exclusive essay that will never be reprinted on the site. (Oh, and I'll also throw in a pack of Pop Rocks Crackling Gum, because Halloween is all about sugar.)
This month's essay dives into my childhood obsession with Weekly World News, and how it helped shape my lifelong fascination with all things strange and macabre. It's more Halloweeny than it sounds, believe me.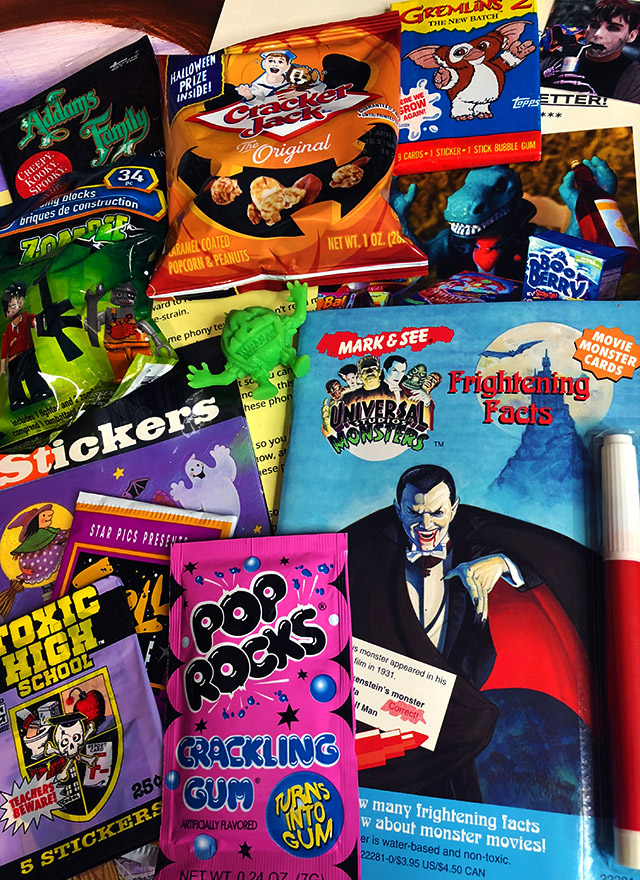 So yeah, you'll get all of that for $25, and that includes shipping to anywhere in the United States!
The October 2019 Funpacks will ship on or before Tuesday 10/22, and will arrive just in time to end this season with a bang boo.
If you're already a subscriber… do nothing! You're all set!
If you're NOT a subscriber, I have a limited quantity of October Funpacks that I can sell on an individual basis. Please note that these purchases will not include a subscription — you'll just be buying this one Funpack. Click the button below to grab one, while ya still can!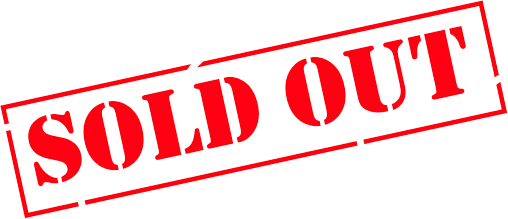 Sorry, my spares are sold out — but I MAY have a few more once I do my final counts! Shoot me and email (dinosaurdracula on gmail) if you want in, and if I dig up enough, I'll let you know!