Ohhh, man. Gonna be honest, I can't get a feel for how this month's Funpack looks on paper, but I can promise you that it's one of my ultimate favorites in all of the years that I've been doing this. When you get these babies in the mail, your socks will be rocked.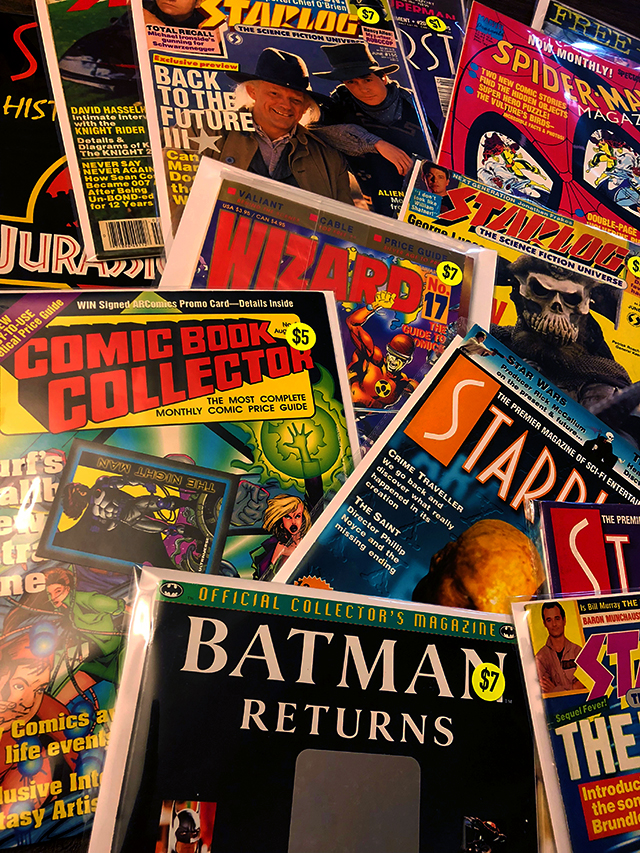 AVAILABLE FOR THREE DAYS ONLY! UNITED STATES ONLY!
By now you've all seen me gush about old school geek magazines, and how important they were in nurturing (if not outright shaping) our hobbies during pre-internet times. I've even worked geek mags into a few older Funpacks, but never quite like this.
This month, you'll each receive FOUR different vintage geek magazines, each individually bagged and boarded. I'll tell you more about this in a minute, but first, here's the usual Funpack spiel:
Funpack subscriptions are $25 per month, and that price includes shipping. For as long as you remain subscribed, you'll keep getting new boxes filled with old awesome nonsense each and every month. (Well, boxes or envelopes, as the case is this month!)
Scroll to the bottom for ordering info, or keep reading to learn about everything you'll receive in this month's Funpack!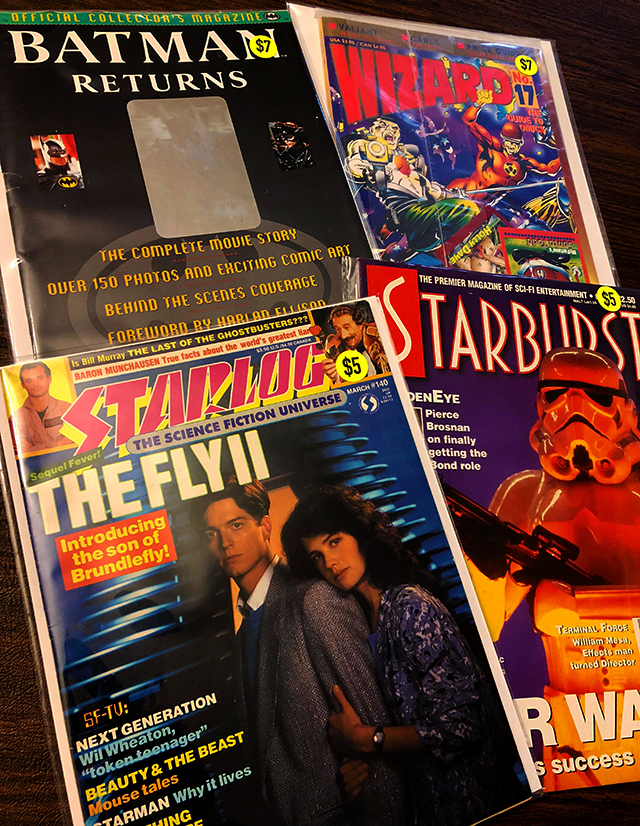 *FOUR* VINTAGE MAGAZINES IN EACH FUNPACK!
So yeah, you'll receive four different vintage geek magazines, stuffed into a USPS Priority Mail envelope. It took MANY months to gather the materials for this Funpack. TONS of effort went into making them as killer as possible.
Shown above is just one example of a possible mix. Each issue is individually bagged and boarded, and for extra "convention" flavor, I even put phony price tags on each one.
While no two mixes are exactly alike, all have been personally curated by me for maximum diversity and coolness. These aren't worn, junky copies pulled from cheap longboxes — most issues are in like-new condition, and there's barely anything in the whole assortment that would even quality as being in "used" condition. (In fact, a substantial number of Funpacks will include a still-polybagged issue from one publication or another!)
Below are a few more example mixes: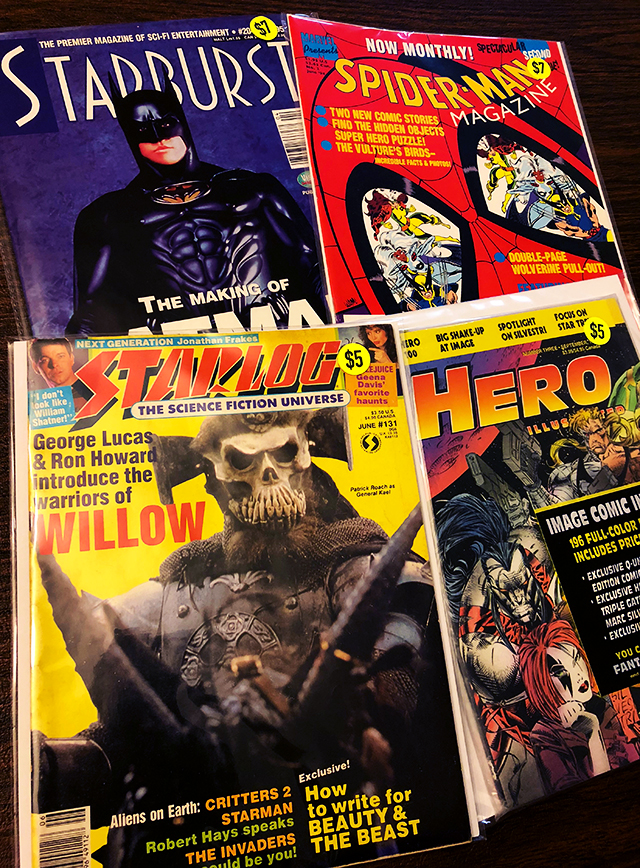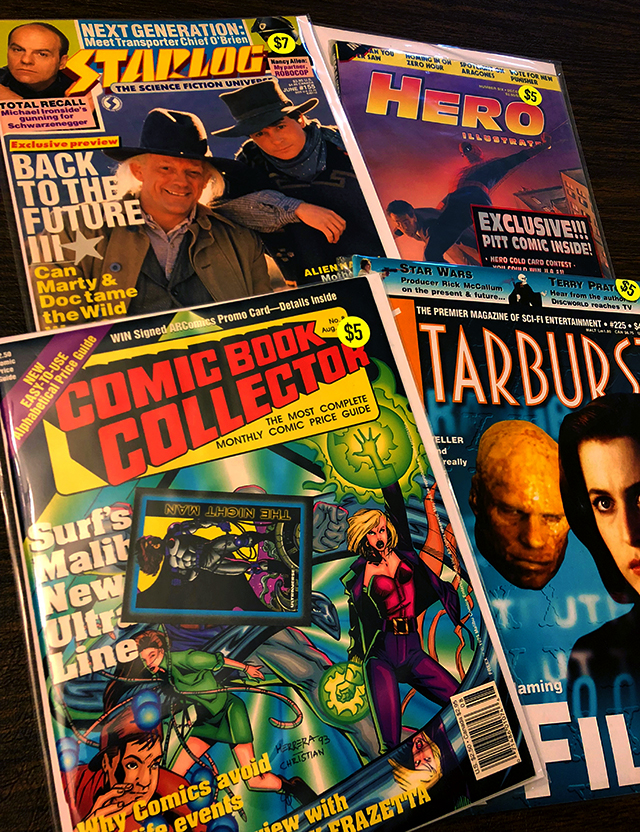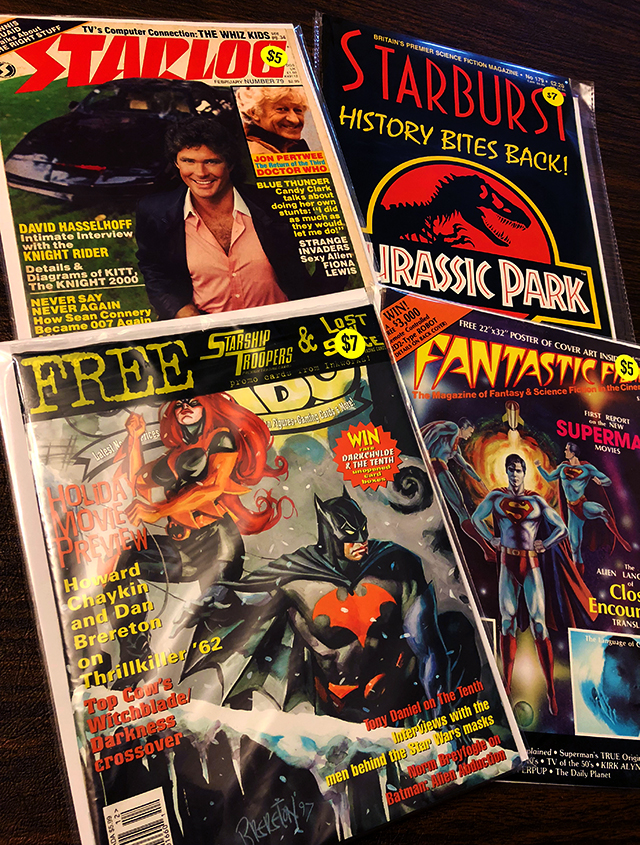 ACTUAL EXAMPLES OF MAGAZINE ASSORTMENTS!
Honestly guys, this Funpack is gonna blow your mind. I'm only showing you the tip of the iceberg in these photos — there are so many INSANE magazine issues in play.
While I obviously can't guarantee you any specific issues, I can promise you this: Your assortment will include four different magazines from four different publications, ensuring an amazing spread of topics and eras.
Publications in play include Wizard Magazine, Hero Illustrated, Starlog, Starburst, Combo, Fantastic Films, Comic Book Collector and more. There are also several weirder "wildcard" magazines in the fray, including the official Batman Returns souvenir magazine and various issues of the old Spider-Man cartoon mag. Just absolutely wild stuff, and I'm personally assembling everyone's assortments to make sure that they all hit the right buttons.
Mileages vary, but if you're into the sort of stuff I cover on Dino Drac, I can't imagine that you'll be anything less than thrilled.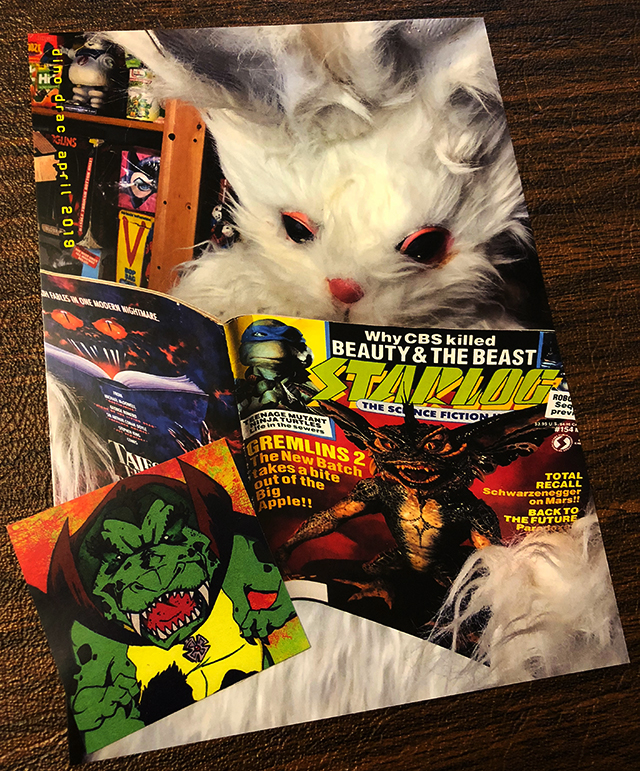 Aside from your four vintage geek mags, you'll also receive this month's exclusive 5×7" Dino Drac Mini-Poster and 2×2" sticker.
This month's poster features Leviathan getting in on the magazine fun, and yes, one of you will end up with that very issue of Starlog. Poster is printed on something resembling cardstock. (And thanks to Magic Steve for the awesome art used for that 2×2" sticker — I'll tell you more about that another time!)
Serving as this month's Dino Drac Specimen, you'll each receive a vintage Nightmare Before Christmas bookmark, which should come in handy when you're darting between issues of Wizard and Fantastic Films. (Bookmarks come in various styles, but all are great!)
Rounding things out, you'll also receive this month's Dino Drac Funpack Newsletter, plus an exclusive essay that will never be reprinted on the site. (This month's essay is a tribute to old school shopping mall bookstores, which were the exact places where I used to buy so many of the mags featured in this Funpack!)
Oh, and I'll also toss in a piece of Airheads candy. You're welcome.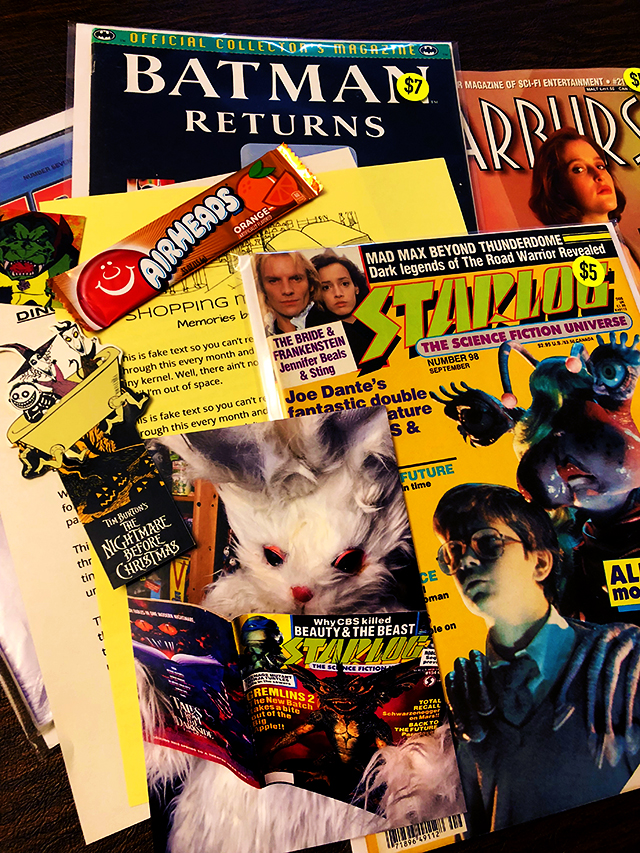 You'll receive a mix something like the one in that photo, neatly stuffed into a Priority Mail envelope. (Sending via Priority Mail is no small expense, so keep in mind that you're not being charged anything extra for the privilege!)
I'm super excited about this Funpack, and when you receive yours, I think you will be, too!
If you're already a Funpack subscriber and you'd like to stay that way… do nothing! You're all set!
If you want to subscribe, please read the following, and then click the button at the bottom of this page!
1. Funpacks are available in the United States only. Sorry!
2. Subscriptions are handled via Paypal. If you don't have an account, it's very easy to make one!
3. Funpacks will be shipped to the address listed on your Paypal account. If you need to change your shipping address, or if you'd like for your Funpacks to be shipped to someone else, simply email me!
4. You will be automatically billed $25 every month. (Yes, that price includes shipping.) If you subscribe today, you'll pay today, and then again in exactly one month. For as long as you remain subscribed, you'll keep getting Funpacks!
5. You can cancel at anytime. (You could subscribe today and cancel today!) If you cancel after you've already been charged for the following month's Funpack, you'll of course receive it just the same as any current subscriber would. (You can cancel via Paypal, or by emailing me.)
6. The April 2019 Funpacks will ship on or before Monday 4/22.
Remember, the Funpacks allow me to keep doing the site… thanks so much to all who help to keep it/me going!
To get your subscription started, click the button below!
SOLD OUT!