Okay guys, I'm ready to show ya the April Funpack, and good news: If you've been on the line waiting to subscribe, I finally have some slots open!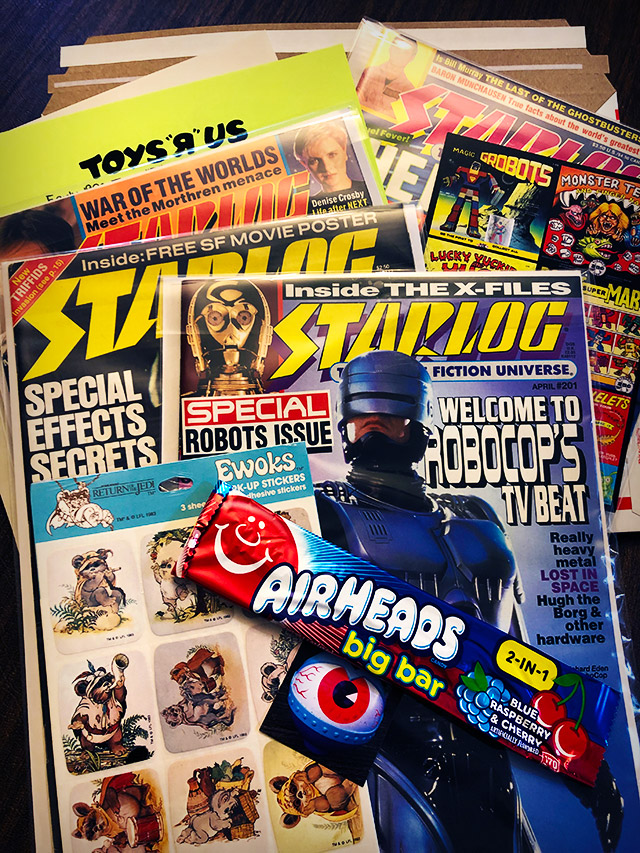 LIMITED AVAILABILITY! UNITED STATES ONLY!
This month's Funpack is MUCH different from the norm. But in a good way, I think. Instead of the usual box of goodies, this month you'll be receiving a Priority Mail envelope stuffed with FOUR vintage Starlog magazines, plus a few other tricks and treats!
Skip to the bottom for ordering info, or keep reading to learn about everything in this month's Funpack!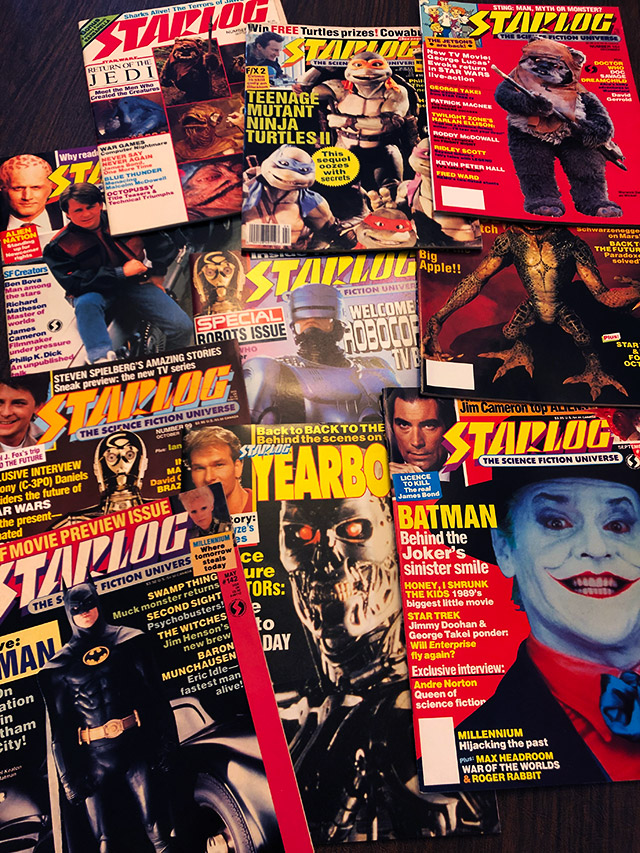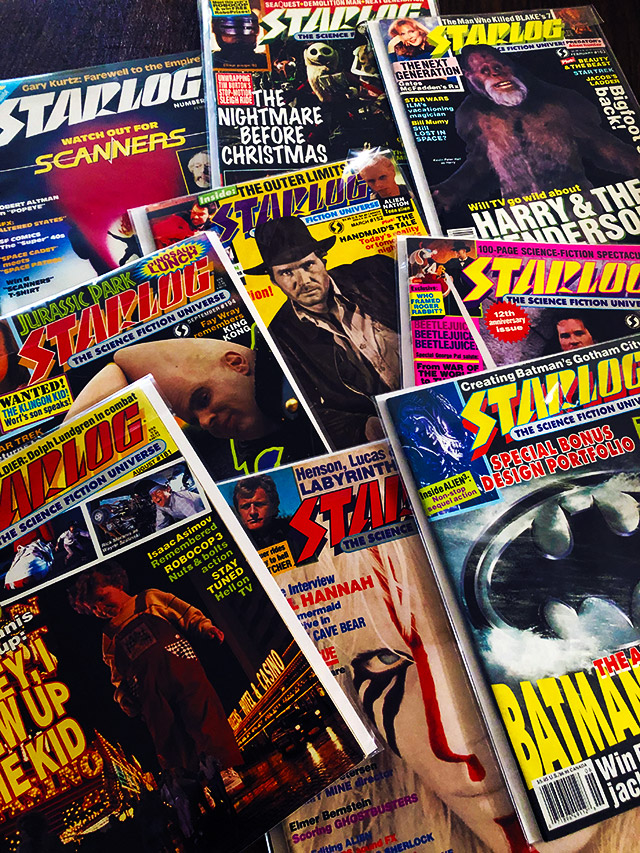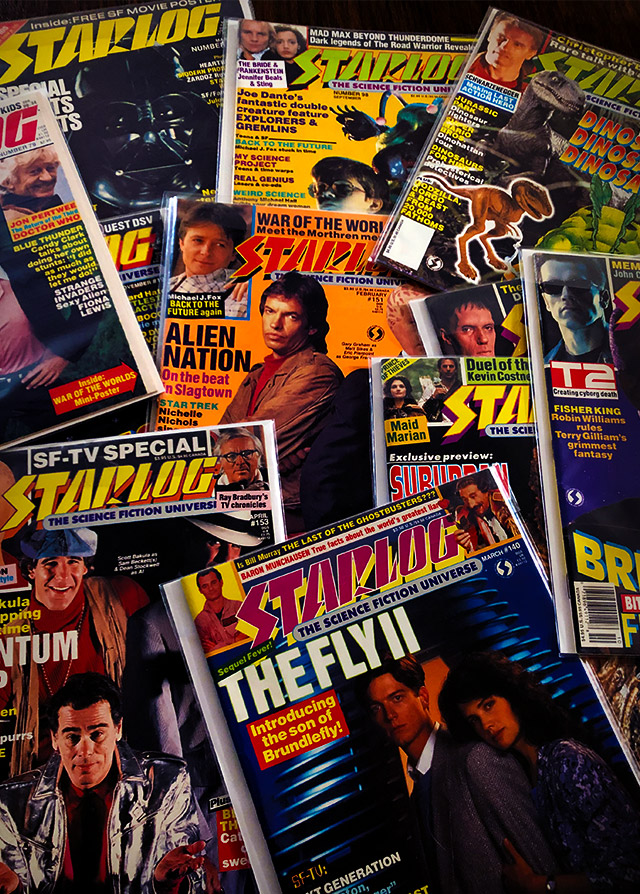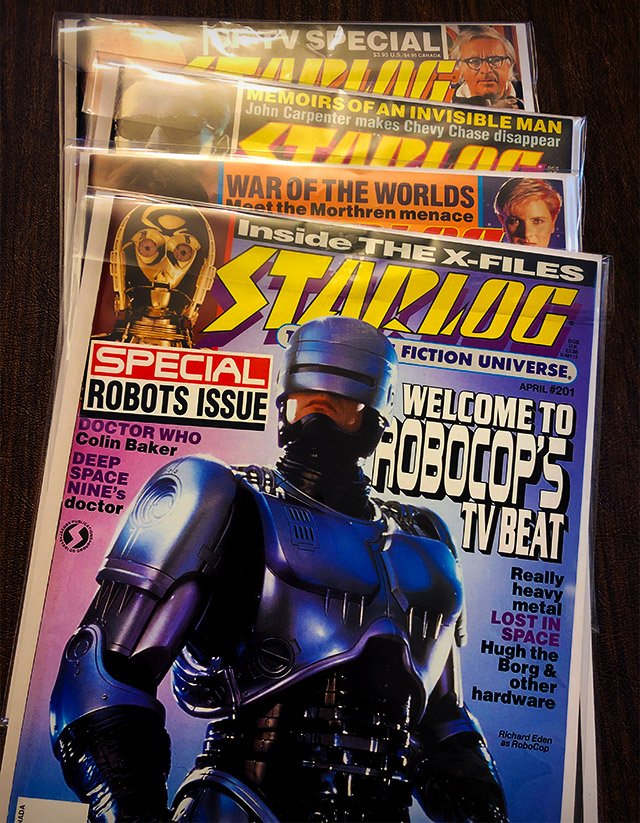 *FOUR* VINTAGE STARLOG MAGAZINES PER FUNPACK!
Every subscriber will receive FOUR different VINTAGE STARLOG MAGAZINES, in amazing condition, all individually bagged and boarded!
A sister to Fangoria, Starlog was one of my favorite magazines growing up. Even if you're not the biggest sci-fi fan, keep in mind that this magazine tackled everything from weird action movies to fantasy TV shows and beyond. It's killer, and what's more, every issue is peppered with amazing old advertisements for everything from toys to masks!
Now these aren't your run-of-the-mill used copies. I purchased these from a long-running company that's had them sitting in a warehouse for decades. Meaning? THESE ARE ALL TOTALLY UNCIRCULATED, IN NEVER-READ CONDITION!
Some of the covers may have some scuffing from storage, but generally speaking, you won't find back issues of Starlog in better condition. Many of them look and feel like they were just printed yesterday!
Most of the issues were my personal selects, too, so the bulk of them are very fitting for anyone who reads Dinosaur Dracula.
You will each get FOUR different issues, each individually bagged and boarded. While I obviously can't guarantee which ones you'll get, I will at least tell you that I've set aside what I considered to be the cream-of-the-crop issues (with stuff like RoboCop or Batman on the covers), so every Funpack will include at least one of those.
I think you'll be extremely pleased when this arrives. Just trust me.
PS: If you're a longtime subscriber, yes, I included Starlog in a long-ago Funpack. But only one issue. So while there is a slight chance you'll get a dupe, the odds are against it, and remember, in this Funpack, you're getting FOUR DIFFERENT magazines!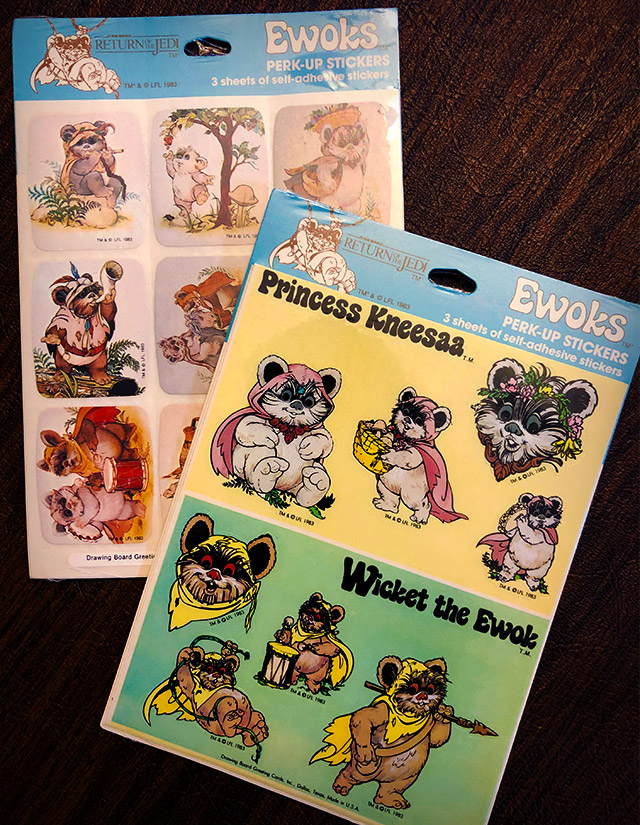 YOU'LL RECEIVE *ONE* OF THESE TWO STICKER PACKS!
…while the Starlogs alone arguably cover your purchase price, there's still a bit more!
You'll each receive ONE sealed pack of vintage Return of the Jedi EWOKS stickers, from 1983! These are, incredibly, still case-fresh! While the packages have ROTJ branding, these stickers clearly have stronger ties to the old Ewoks animated series — which, incidentally, just landed on Disney+!
You'll receive ONE of the two packages shown above, at random. I can't tell you how sticky they'll be after all these years, but from what I can tell, they're in great shape!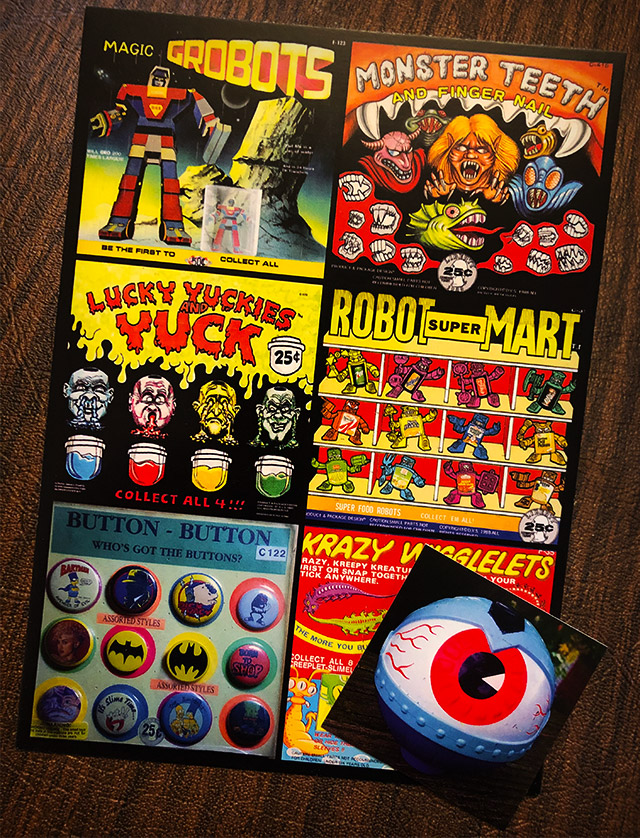 Oh, there's still more! You'll also receive this month's exclusive Dino Drac Mini-Poster — a 5×7" collage of old vending machine teaser cards, printed on something resembling cardstock.
I'll also include this month's exclusive 2×2" sticker, which, for whatever reason, depicts the eyeball from the old TMNT Technodrome playset. Sorry, things got a little weird this month!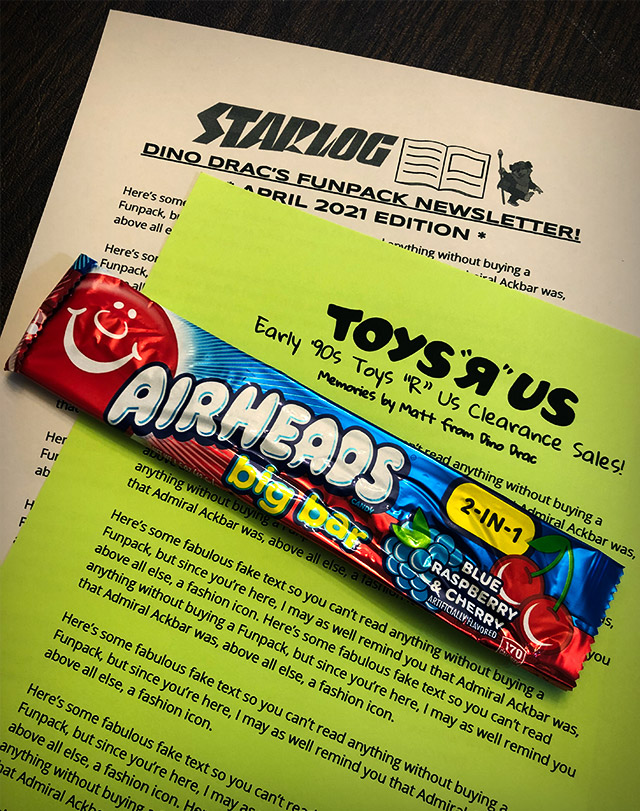 Rounding things out, you'll also receive this month's Funpack Newsletter, plus an exclusive essay that will never be reprinted on the site!
This month's essay details my experiences chasing down clearance toys at Toys "R" Us in the mid '90s. Sounds odd, but there's a good amount of meat to the story, and it'll fill you with nostalgia about how TRU was in the old days!
Oh, and I'll also toss in one of those Airheads BIG BARS — which really are BIG, and include two flavors in one! (Good luck to me squeezing those into the envelope!)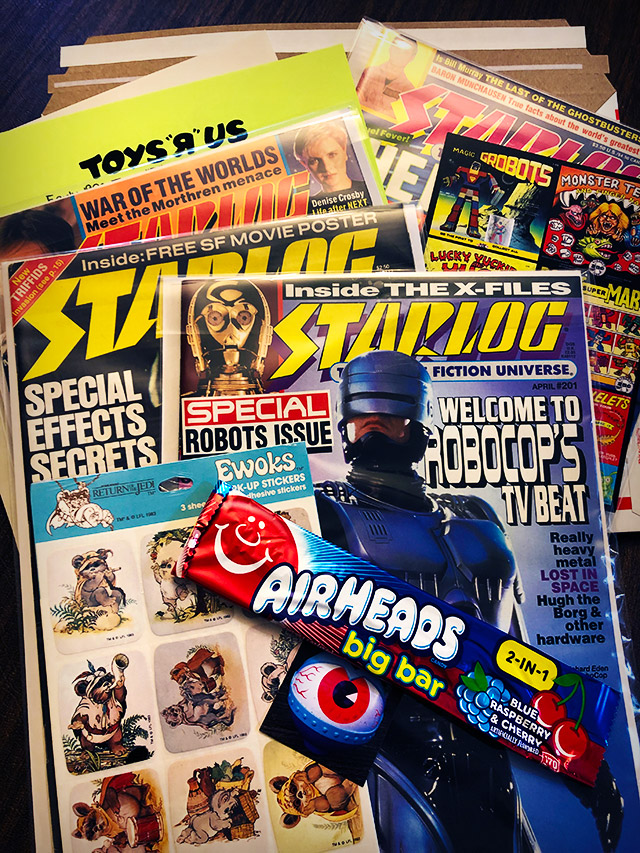 So you'll get all of the above, safely tucked into a Priority Mail envelope, and shipped to your door for just $25.
If you're already a Funpack subscriber and you'd like to stay that way… do nothing! You're all set!
If you want to subscribe, please read the following, and then click the button at the bottom of this page!
1. Funpacks are available in the United States only. Sorry!
2. Subscriptions are handled via Paypal. If you don't have an account, it's very easy to make one!
3. Funpacks will be shipped to the address listed on your Paypal account. If you need to change your shipping address, or if you'd like for your Funpacks to be shipped to someone else, simply email me!
4. You will be automatically billed $25 every month. (Yes, that price includes shipping.) If you subscribe today, you'll pay today, and then again in exactly one month. For as long as you remain subscribed, you'll keep getting Funpacks!
5. You can cancel at anytime. (You could subscribe today and cancel today!) If you cancel after you've already been charged for the following month's Funpack, you'll of course receive it just the same as any current subscriber would. (You can cancel via Paypal, or by emailing me.)
6. The April 2021 Funpacks will ship on or before Wednesday 4/21.
To get your subscription started, click the button below!
TENTATIVELY SOLD OUT!
Checking leftover quantities. To get on the waitlist for potential openings, email me! (dinosaurdracula on gmail)