If I was successful, this month's Funpack will help you remember the days when you walked into comic shops with crumpled bills and hours to kill.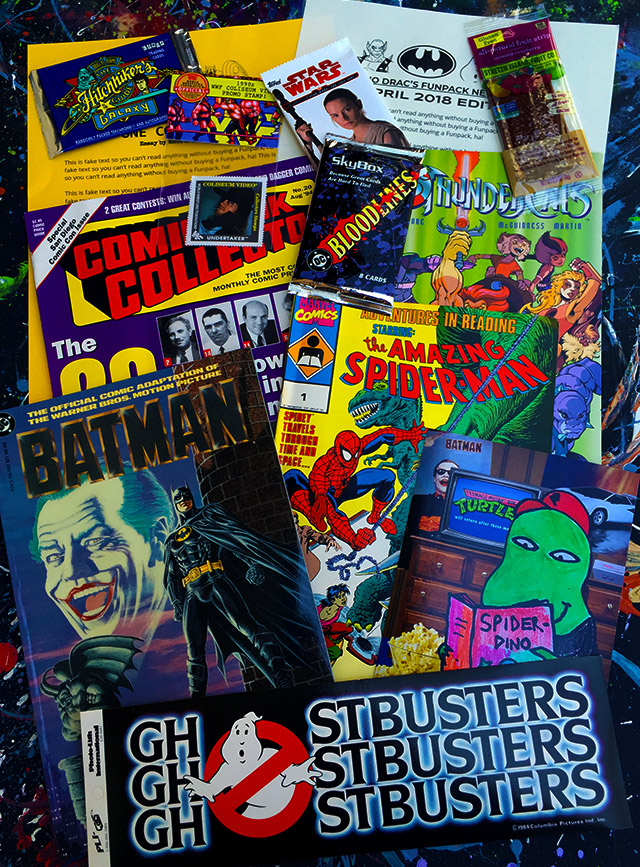 AVAILABLE FOR THREE DAYS! U.S. ONLY!
Dino Drac's April Funpack is here, and it's seriously one of my favorites. It's also way, way different from the norm, with a heavy lean on retro reading material that should keep you occupied for a whole dang afternoon. You're gonna dig this one, guys.
Usual spiel: Funpack subscriptions are $25 a month (including shipping), and for as long as you remain subscribed, you'll get a new package of old, cool junk every single month! You can cancel at any time without penalty, of course!
There wouldn't be a Dino Drac without your subscriptions, so on top of getting a bunch of fun things, you're also helping to keep the site going!
Scroll to the bottom for more info, or keep reading to see everything you'll get in the April Funpack!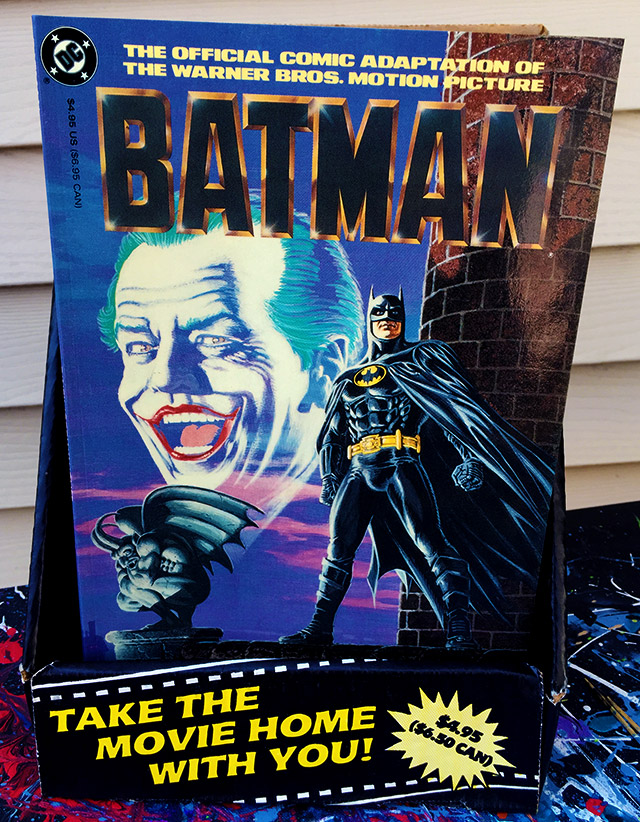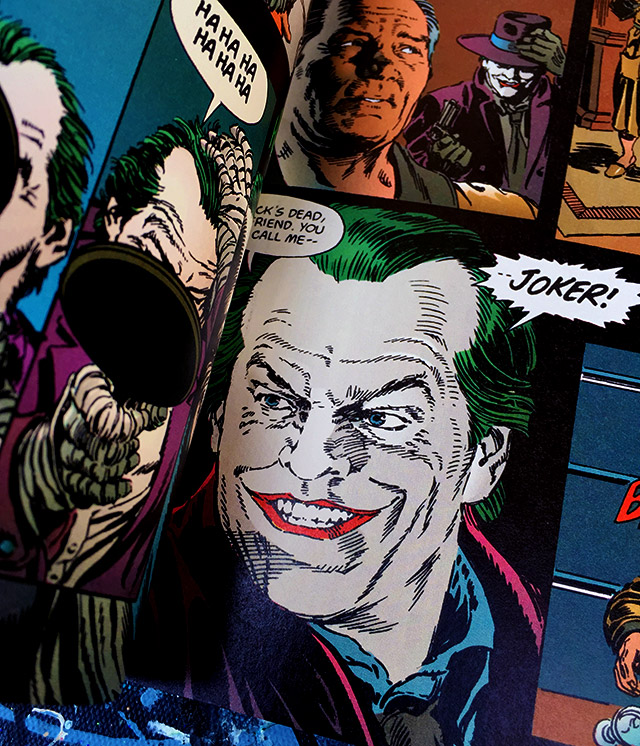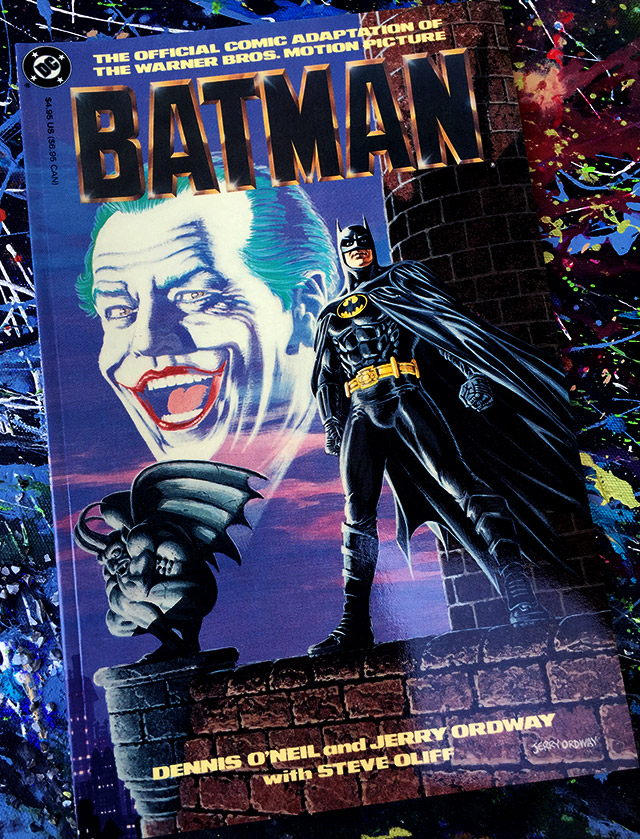 First up, you'll each get the 1989 DC Comics adaptation of Tim Burton's Batman! The whole movie, told in comic form! This one has a glossy cover and high-quality pages, and it's absolutely case fresh. These babies have never been paged through by anyone — they're literally coming straight out of their original store displays!
These were sold for $4.95 back in '89. Exactly the sort of comic that I would've read over and over back then. Covers might have some superficial corner dings, but they're overall in superb condition.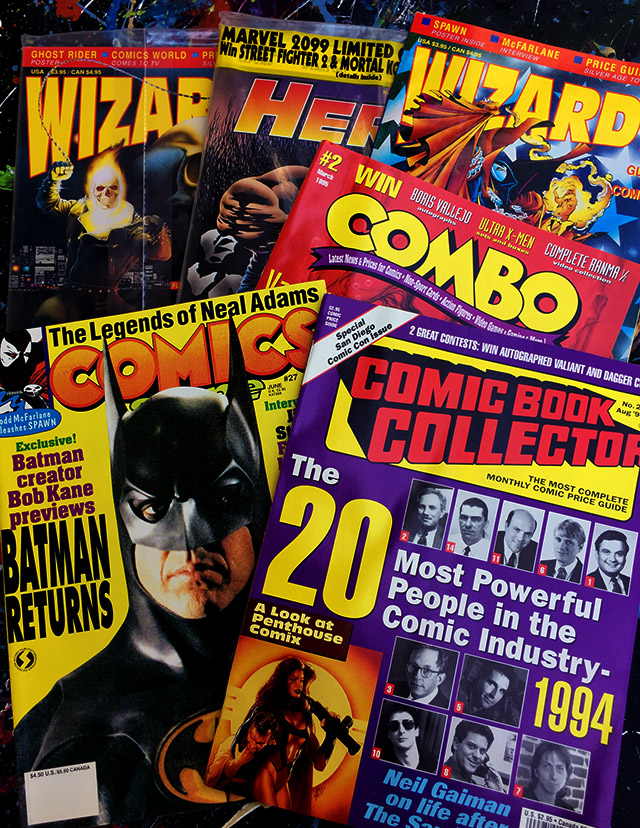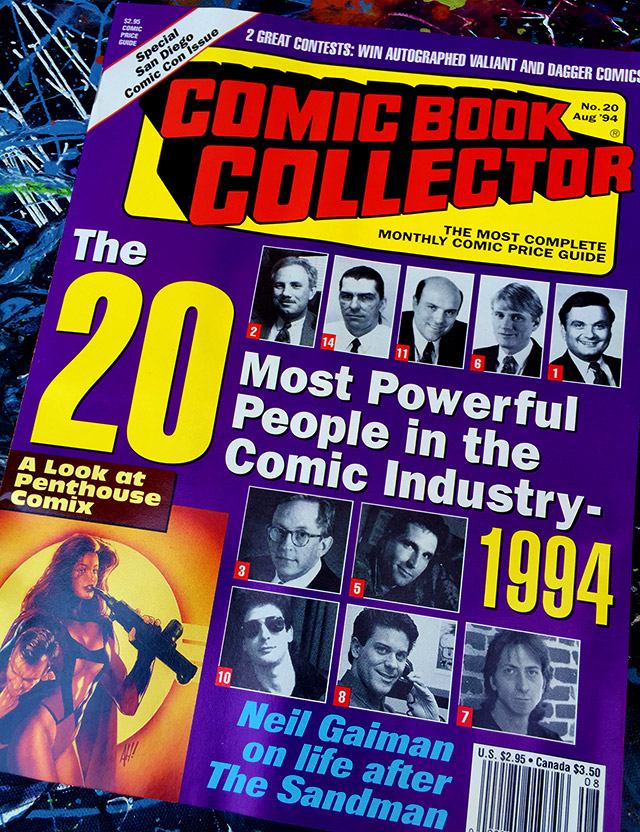 *ONE* MAGAZINE PER FUNPACK!
Next up, you'll each receive ONE random comic book-related MAGAZINE from the 1990s, and man will these take you back! (Honestly, these mags were always my favorite things to buy from comic shops. They just made my geekdom feel so much more alive.)
You'll receive ONE magazine from a carefully curated selection. All are from the 1990s. Possible magazines include Wizard, Combo, Comics Scene, Hero Illustrated and Comic Book Collector. (Some are even still sealed in their original baggies, with promo materials!)
There are no guarantees about which one you'll receive, but believe me, they're ALL good. Even if you were never much into comics, these magazines are such a great look back at '90s pop culture in general.
Most are in unread condition, but the ones that do show a little wear would be considered the most valuable in the assortment, anyway. I think you'll be happy no matter what you end up with!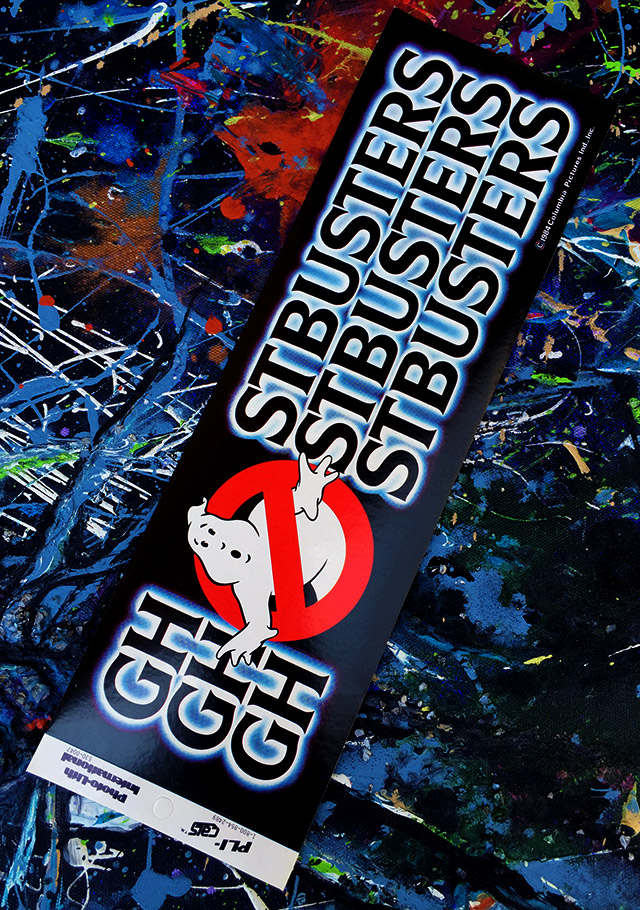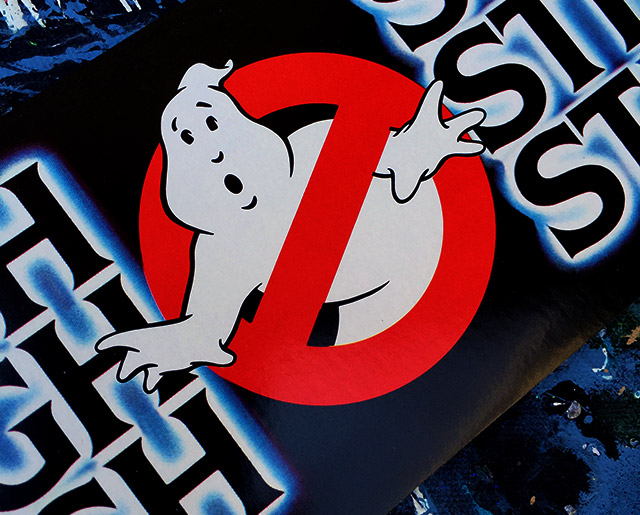 Remember last month when I included that "slimy" Ghostbusters bumper sticker? Well, this month you're getting a completely different one — but it's just as cool, and just as old!
This "Ghostbusters Ghostbusters Ghostbusters" bumper sticker from 1984 is in gem mint condition, totally unused, with still-bright colors. Since this month's Funpack will be sent in an envelope, it'll arrive flat, too!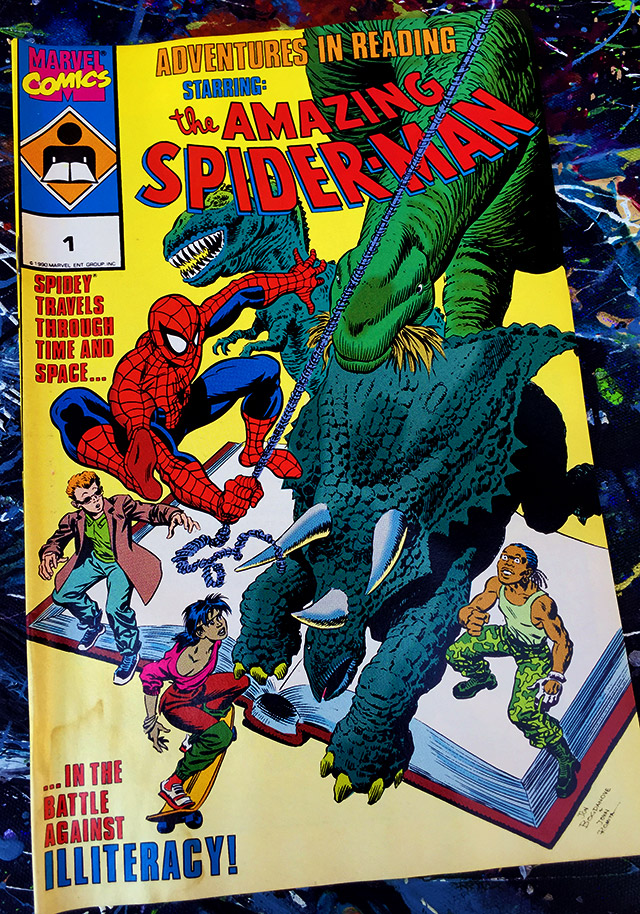 Next, you'll each receive a copy of this oddball Spider-Man comic from 1990. Adventures in Reading starring Spider-Man was — as far as I know — never sold in stores. My guess is that it was given out in school and libraries. Very neat comic that you're unlikely to find in any old longbox.
Condition on these range from fair to almost perfect — they've never been "read," but some show a bit of storage wear. Join Spidey as he "travels through time and space in the battle against illiteracy!" (…which apparently involves battling dinosaurs?)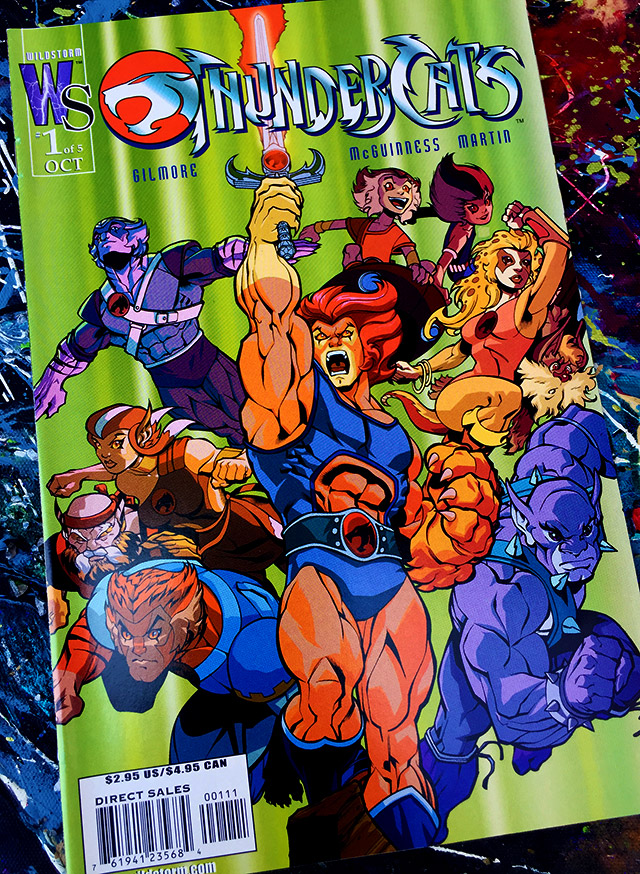 And then another comic book! You'll each receive a copy of Thundercats #1, released by Wildstorm in 2002. These are in unread, never-used condition. The art in this issue is gorgeous, and I figured that the Thundercats would be a safe bet even for subscribers who aren't normally into comics. C'mon, y'all love Lion-O.
Note: This issue was released with two cover variants. You'll either receive this one or an also-cool second version. Don't worry, it's the same book no matter which cover you get!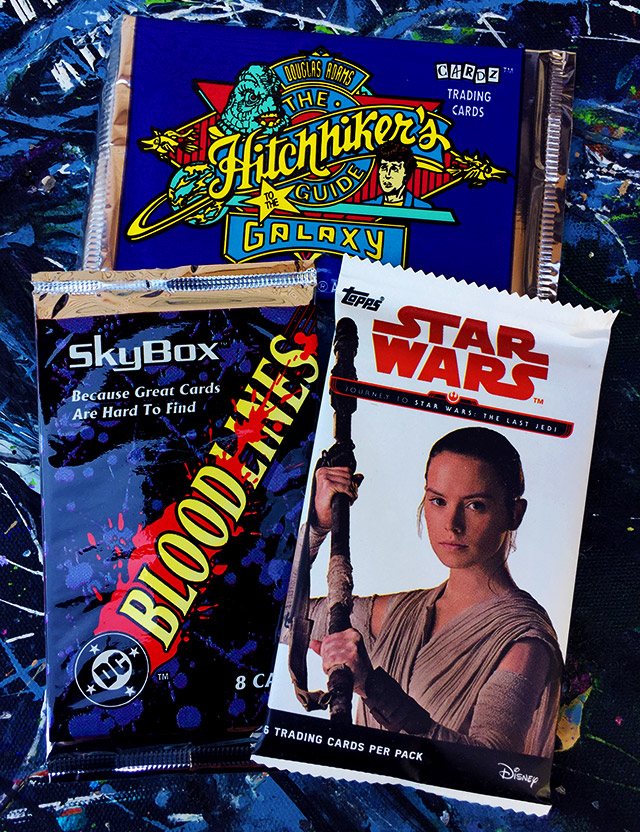 Then there's an assortment of trading card packs, because a Funpack wouldn't be a Funpack without those. You'll receive THREE different packs this month, including:
– Star Wars: The Last Jedi (2017)
– The Hitchhiker's Guide to the Galaxy (1994)
– DC Bloodlines (1993)
Have fun tearing 'em open — if you can stand to do it!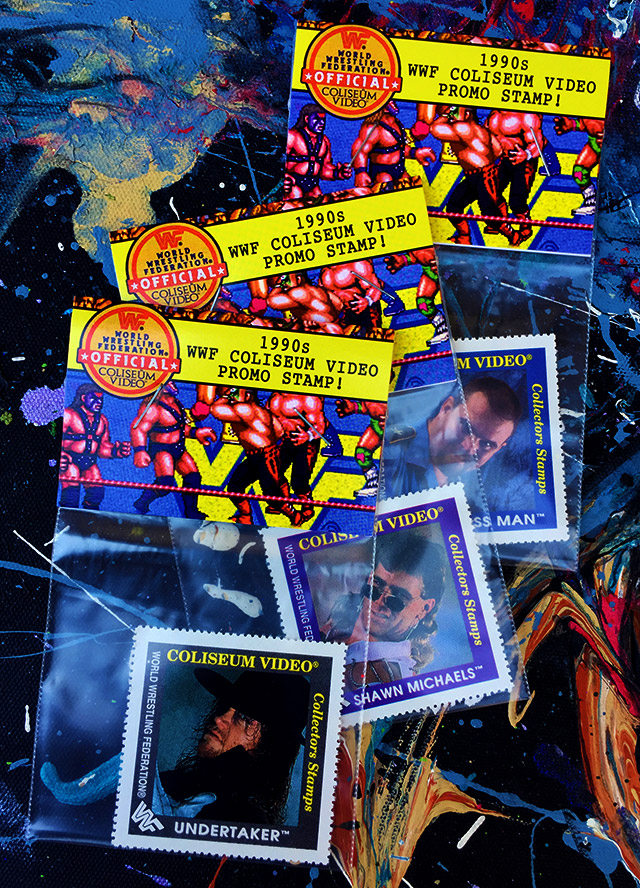 This month's Dino Drac Specimen is a real obscurity. You'll each receive ONE vintage World Wrestling Federation stamp from the 1990s. These were part of a video store promotion, where fans who rented WWF tapes got free stamps for their trouble!
A whole bunch of cheesy '90s wrestling superstars are featured on these stamps, from Tatanka to Kamala to the Undertaker. You'll receive one at random, each protected in swank, custom Dino Drac packaging!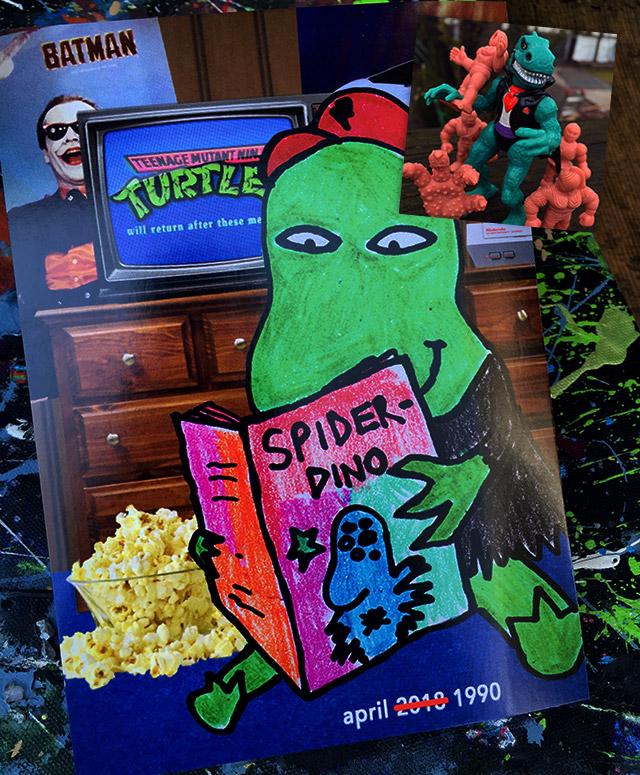 Then there's this month's exclusive 5×7" Mini-Poster, featuring a crayon-drawn Dino Drac reading comics in his 1990s-themed bedroom. (One of my favorite Mini-Posters yet, even if the sun glare in that photo is driving me crazy.)
You'll also receive this month's exclusive 2×2" Dino Drac sticker, which I had to haphazardly Photoshop into that pic because they're not due to arrive until Monday. Oops!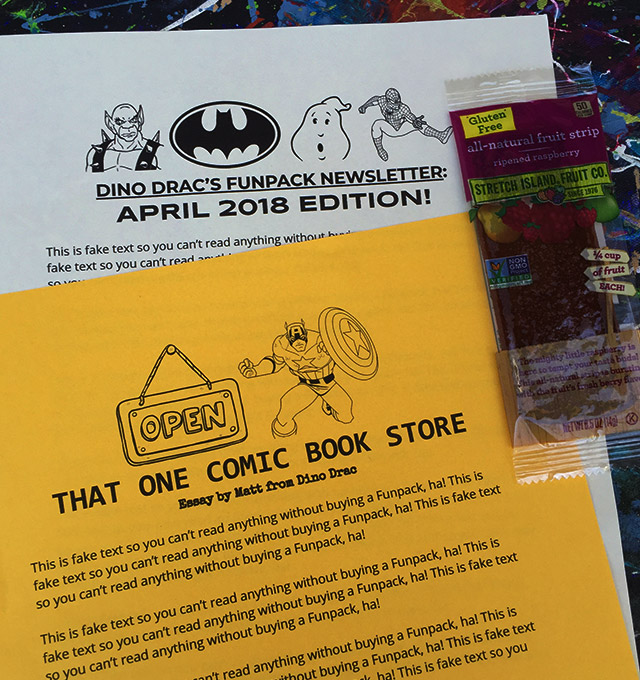 Rounding things out, you'll get this month's Dino Drac Funpack Newsletter, along with an exclusive essay that will never be reprinted on the site. To keep with this month's theme, I'll be telling you about a weird comic shop that I practically lived at back in '93.
Oh, and so you'll have something to munch on while you sort through this stuff, I'll toss in a Stretch Island Fruit Strip, which is something like a classy Fruit Roll-Up. (Assorted flavors, but all are delicious.)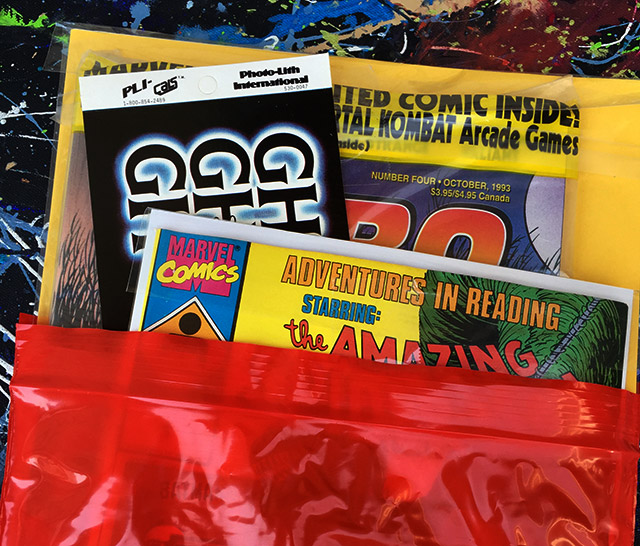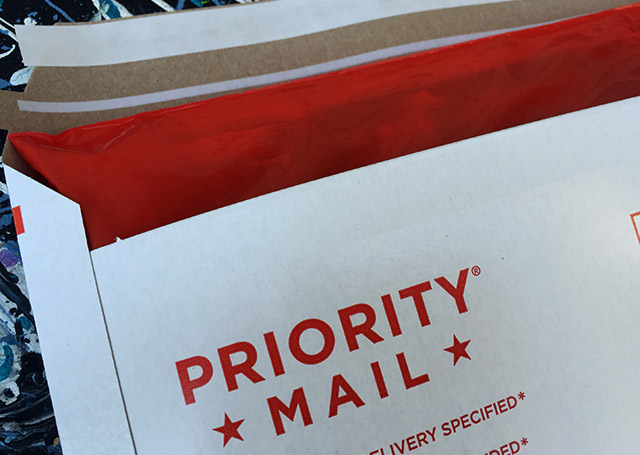 Everything shown above will be carefully bagged, bolstered by backing boards, and then rebagged for extra protection. Due to the size and weight of this month's Funpack, I'll be sending them via Priority Mail at no additional cost to you!
If you're already a Funpack subscriber and you'd like to stay that way… do nothing! You're all set!
If you want to subscribe, please read the following, and then click the button at the bottom of this page!
1. Funpacks are available in the United States only. Sorry!
2. Subscriptions are handled via Paypal. If you don't have an account, it's very easy to make one!
3. Funpacks will be shipped to the address listed on your Paypal account. If you need to change your shipping address, or if you'd like for your Funpacks to be shipped to someone else, simply email me!
4. You will be automatically billed $25 every month. (Yes, that price includes shipping.) If you subscribe today, you'll pay today, and then again in exactly one month. For as long as you remain subscribed, you'll keep getting Funpacks!
5. You can cancel at anytime. (You could subscribe today and cancel today!) If you cancel after you've already been charged for the following month's Funpack, you'll of course receive it just the same as any current subscriber would. (You can cancel via Paypal, or by emailing me.)
6. The April 2018 Funpacks will ship on or before Thursday 4/19!
Remember, the Funpacks allow me to keep doing the site… thanks so much to all who help to keep it/me going!
To get your subscription started, click the button below!
SOLD OUT!