Well, it's debuting a bit later than I would've preferred, but I'm finally ready to unveil Dino Drac's May Funpack!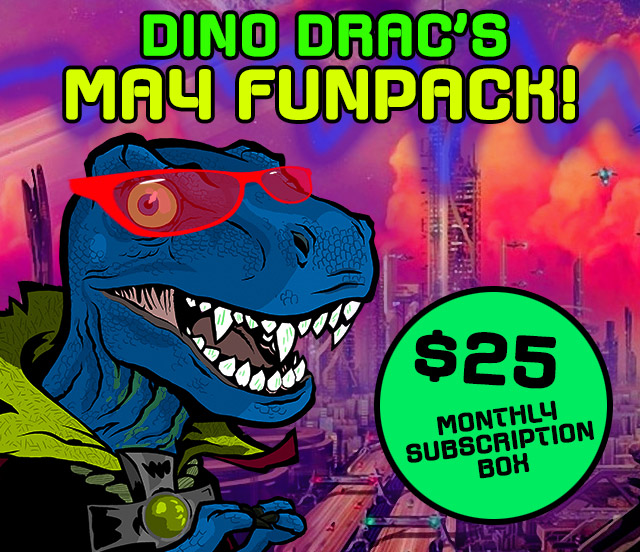 (AVAILABLE IN THE UNITED STATES ONLY!)
The short story, for those who don't know: Dino Drac is a one man show that requires a great deal of time, money and effort. It would be an impossible endeavor if not for the generous peeps who subscribe to my monthly Funpacks.
It's $25 a month (including shipping), and for as long as you stay subscribed, you'll continue to receive awesome boxes full of retro nonsense that I personally assemble. (And of course, you can unsubscribe at any time without penalty.)
I've been at this for almost three years and take tremendous pride in it. Even if I realize that some subscribers look at their contributions more as a donation than anything else, I work hard to make sure that every box is way cool and way worth it.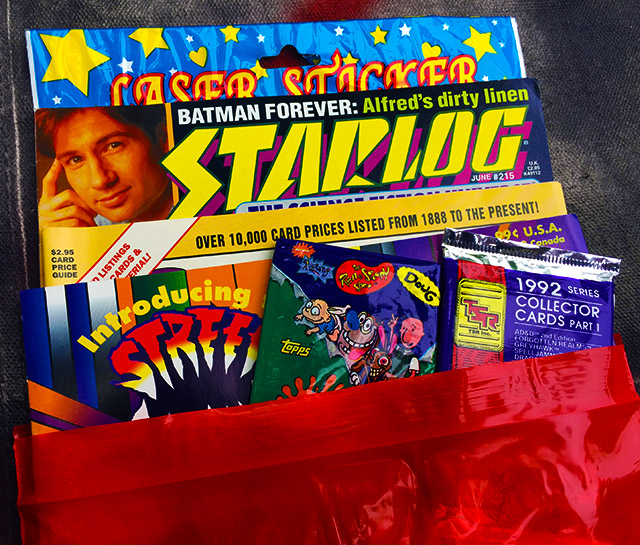 The May 2017 Funpack is unlike any of the ones I've done before. You'll receive a big red bag stuffed with over 10 different items, from ancient pop culture magazines to goofy trading card packs, and even a pack of Kool-Aid.
This is one Funpack that can keep you busy for a whole night. Skip to the bottom for ordering info, or keep reading to see everything you'll receive in this month's Funpack!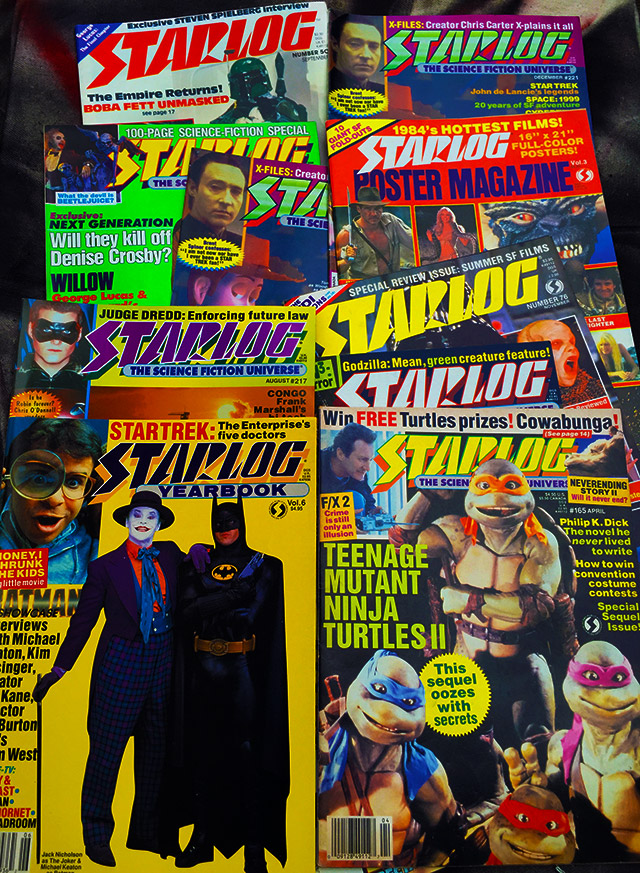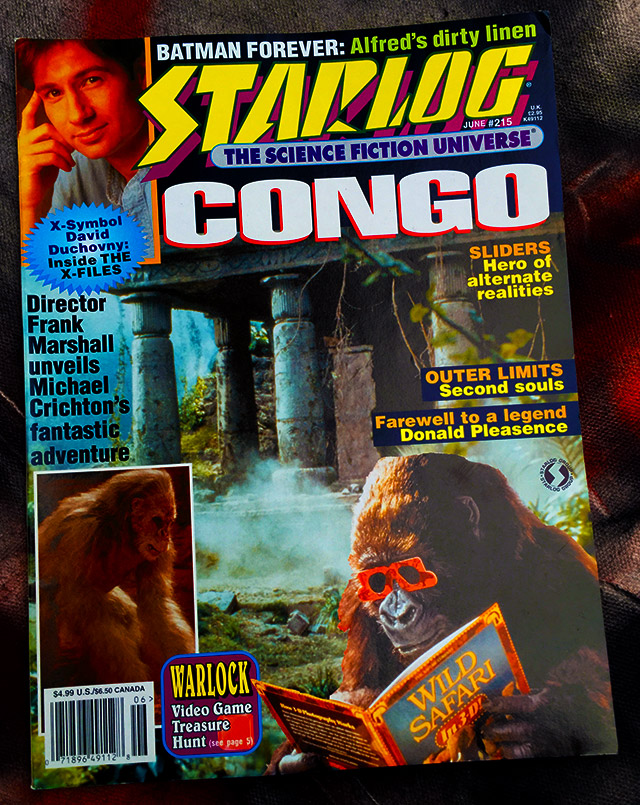 First up, you'll each receive ONE vintage issue of Starlog Magazine! HELL YES. I've mentioned Starlog many times on the site. Long before I'd ever heard of the internet, Starlog was my lifeline. It proved to me that all of my weird, geeky interests were actually shared by many.
It was also just an awesome magazine, loaded with stories about and photos from all kinds of wicked movies. While at heart a sci-fi mag, Starlog dipped into fantasy, adventure and horror almost as often. Heck, even the ads in this magazine were fabulous!
Every subscriber will receive one random issue of Starlog from the '70s, '80s or '90s. (Nothing later than 1999.) Obviously, I can't promise which issue you will receive, and the ones shown here are just a sampling of my favorites. Some issues are cooler than others, but I don't think there's a "bad" one in the pile.
NOTE ON CONDITION: The magazines are in used-but-good condition. I'm not including any issues that are falling apart or otherwise "ratty." Expect normal wear and some discoloration, but all in all they're in perfectly readable shape.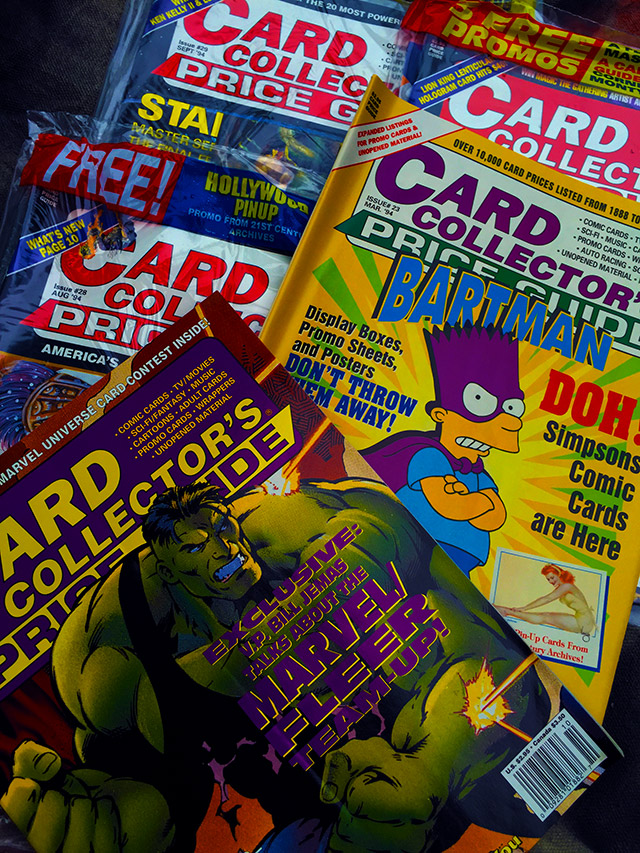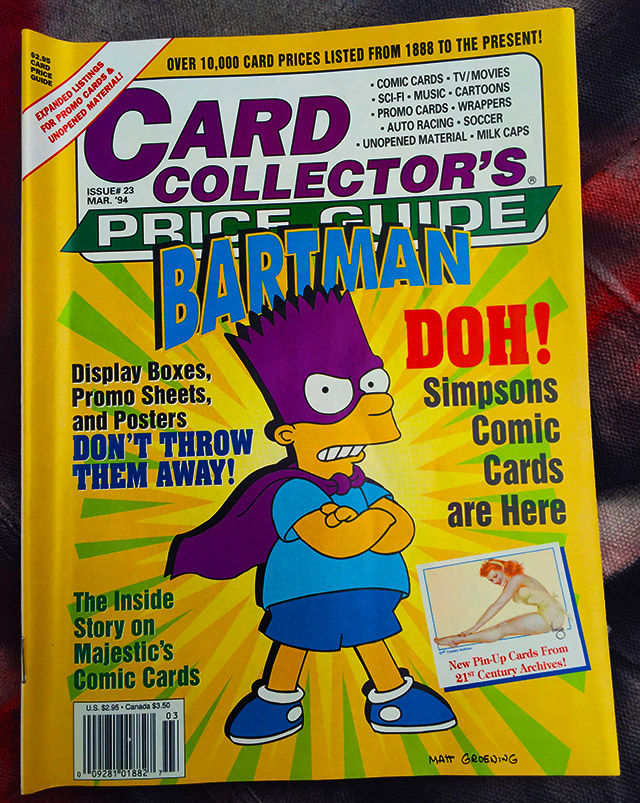 The reading material continues! Every subscriber will ALSO receive ONE vintage issue of the Card Collector's Price Guide.
These magazines are from the mid '90s, and while they're largely dedicated to assigning values to non-sport trading cards, they're also full of quirky articles about card collecting culture. They will really give you a feel for what it was like to live through the comic book boom of the 1990s. Seriously, I saved myself a few copies, and I just love this mag.
Each of you will receive one issue at random. Many are still bagged with assorted promo cards included, but no guarantees there.
NOTE ON CONDITION: These magazines are in unread condition. They might show cover wear from storage, but the pages are completely clean, and in fact have never been touched. (You'll be the first!)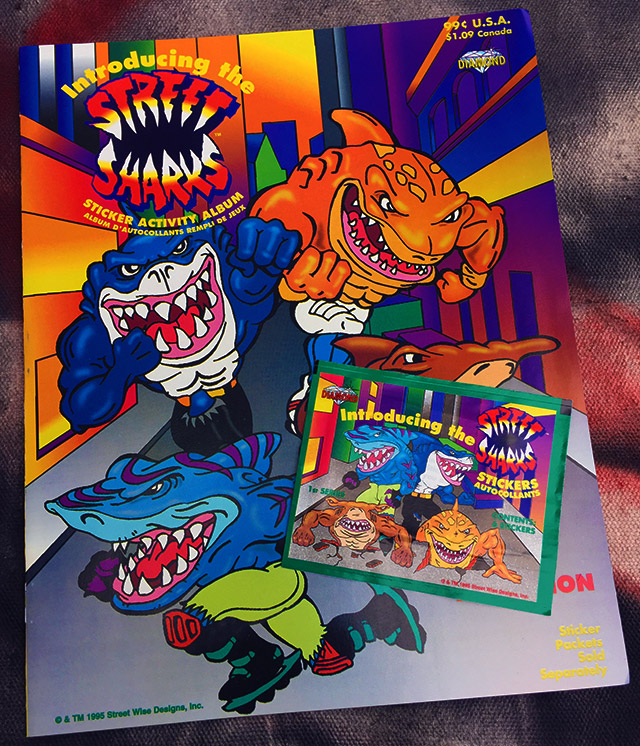 But wait, there's more! You'll get a vintage Street Sharks sticker album, PLUS a pack of vintage Street Sharks album stickers! These albums are from 1995 and are in brand new condition.
The sticker packs may be coming apart at the seams a bit (which commonly happens with packs of this nature), but the stickers inside are in mint condition. Such a cool find, and oh so '90s.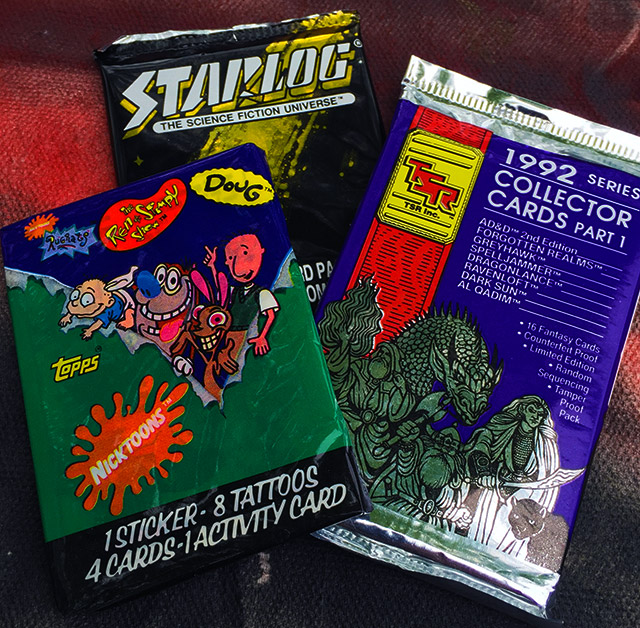 Then, the usual smorgasbord of vintage trading card packs!
It seemed only natural to give y'all a pack of official Starlog trading cards. You'll also receive a pack of TSR fantasy cards from 1992, and a really weird pack of vintage Nicktoons cards, featuring the likes of Ren, Stimpy and Doug.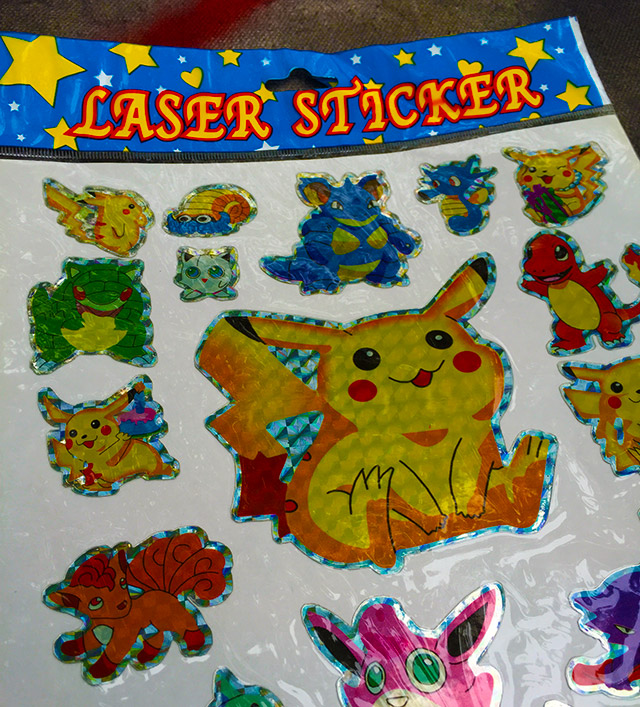 More, more, more! Next up, you'll each receive a vintage sheet of Pokemon "laser stickers."
Between the crude packaging and the odd appearance of some of the Pokemon, something tells me that these sheets weren't officially licensed. Still, they're super old and super cool, and some of these stickers are really BIG!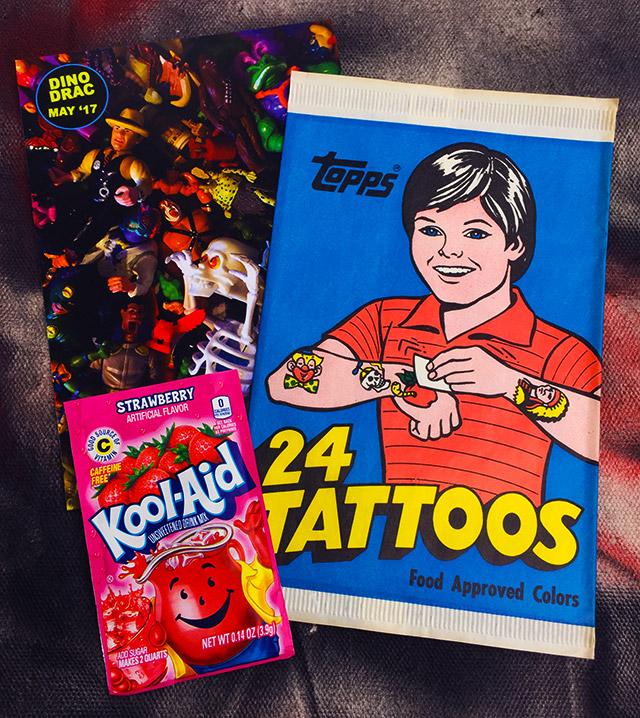 Yes, there's still more!
You'll each receive a pack of 24 Tattoos, made by Topps in 1981. (I'm calling that one this month's Dino Drac Specimen, for the record.) Each pack contains 24 moisture-activated temporary tattoos, based on everything from alien robots to circus skeletons. You'll love 'em.
Then there's this month's exclusive Dino Drac Mini-Poster — a 5×7" dimly-lit photo of a pile of action figures. Don't act like you don't need it.
I'll even toss in a (fresh) pack of Strawberry Kool-Aid.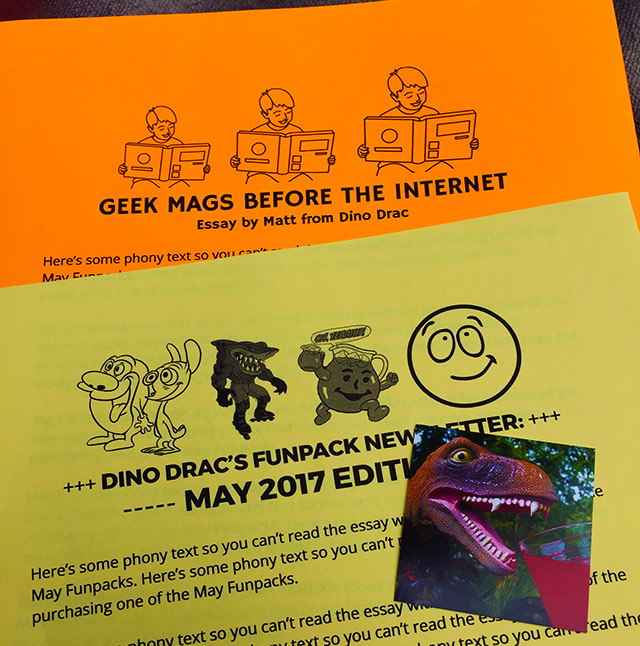 Finally, you'll each receive this month's Dino Drac Funpack Newsletter, PLUS an exclusive essay that will never be reprinted on the site. In keeping with the theme, this month's essay is about geek magazines from pre-internet times, which explains just why they were so important to us.
Last but not least, you'll also get this month's exclusive Dino Drac sticker!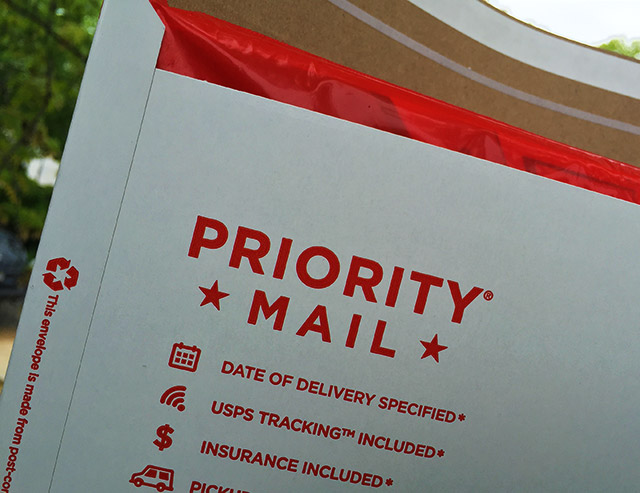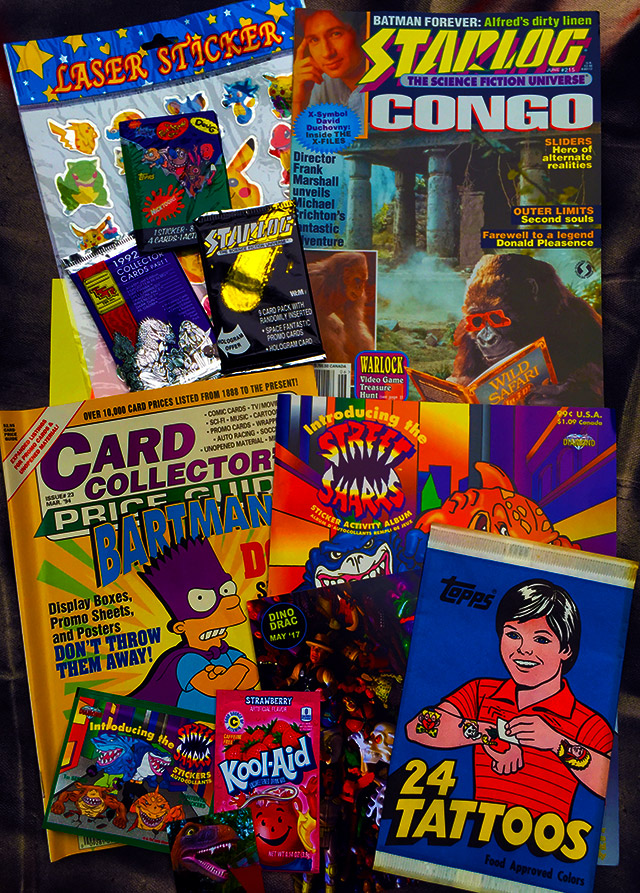 Everything included with this month's Funpack will be safely packed into a giant red Ziploc bag, and reinforced with a pair of magazine backer boards. (Your mailman would have to work extra hard to damage this package.)
As an added bonus, all of this month's Funpacks will be shipped via PRIORITY MAIL.
So, you'll get EVERYTHING shown above for $25, shipped!
If you're already a Funpack subscriber and you'd like to stay that way… do nothing! You're all set!
If you want to subscribe, please read the following, and then click the button at the bottom of this page!
1. Funpacks are available in the United States only. Sorry!
2. Subscriptions are handled via Paypal. If you don't have an account, it's very easy to make one!
3. Funpacks will be shipped to the address listed on your Paypal account. If you need to change your shipping address, or if you'd like for your Funpacks to be shipped to someone else, simply email me!
4. You will be automatically billed $25 every month. (Yes, that price includes shipping.) If you subscribe today, you'll pay today, and then again in exactly one month. For as long as you remain subscribed, you'll keep getting Funpacks!
5. You can cancel at anytime. (You could subscribe today and cancel today!) If you cancel after you've already been charged for the following month's Funpack, you'll of course receive it just the same as any current subscriber would. (You can cancel via Paypal, or by emailing me.)
6. The May 2017 Funpacks will ship on or before Thursday 5/18!
Remember, the Funpacks allow me to keep doing the site… thanks so much to all who help to keep it/me going!
To get your subscription started, click the button below!
SOLD OUT!