A number of Funpack subscribers got in touch last month to let me know what a welcome distraction they were, and man did that make me feel good. To those of you "on the list," I hope they let you break into an alternate reality where the only things that matter are junk food and goofy fun — even if only for an hour or two!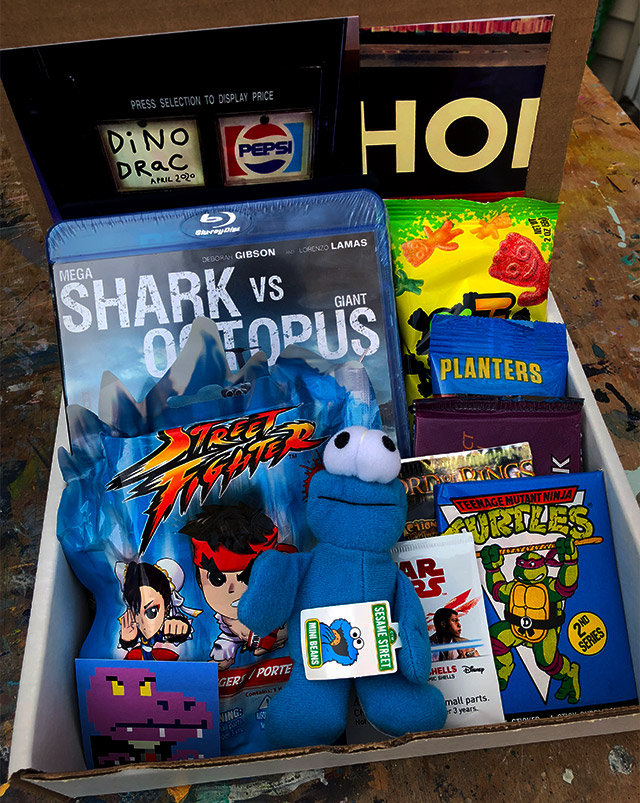 UNITED STATES ONLY! LIMITED TIME, LIMITED SUPPLY!
The April 2020 Funpack is a close cousin to last month's in scope, though all of the actual items are completely different. There are over a dozen treasures in this baby, covering everything from bad/good movies to weird art to adorably teensy Cookie Monster dolls. You're gonna love it.
Funpack subscriptions are $25 a month (including shipping), and for as long as you remain subscribed, you'll get boxes of awesome old-and-new nonsense each and every month. (You can cancel whenever ya want without penalty, of course!)
Scroll to the bottom for ordering info, or keep reading to learn about everything in the April Funpack!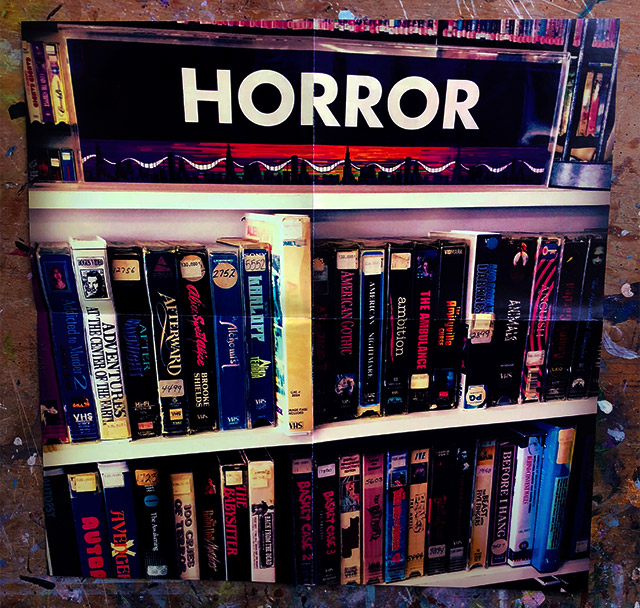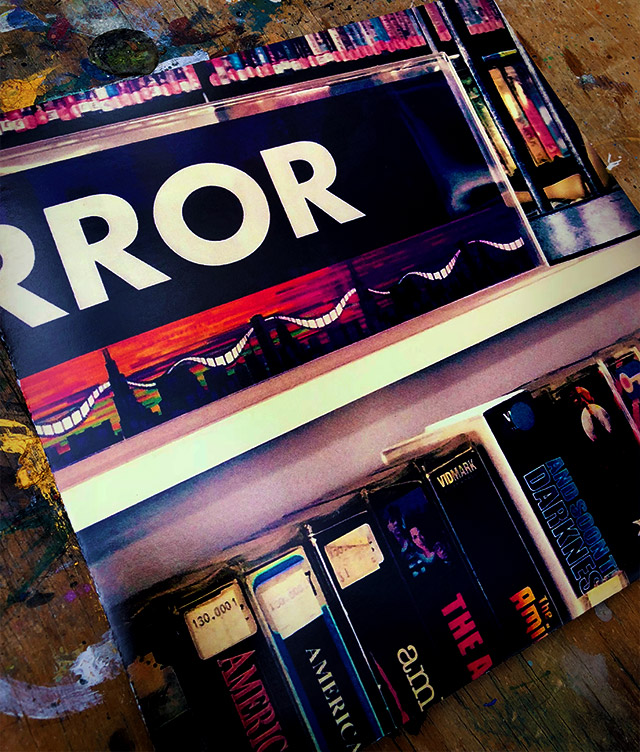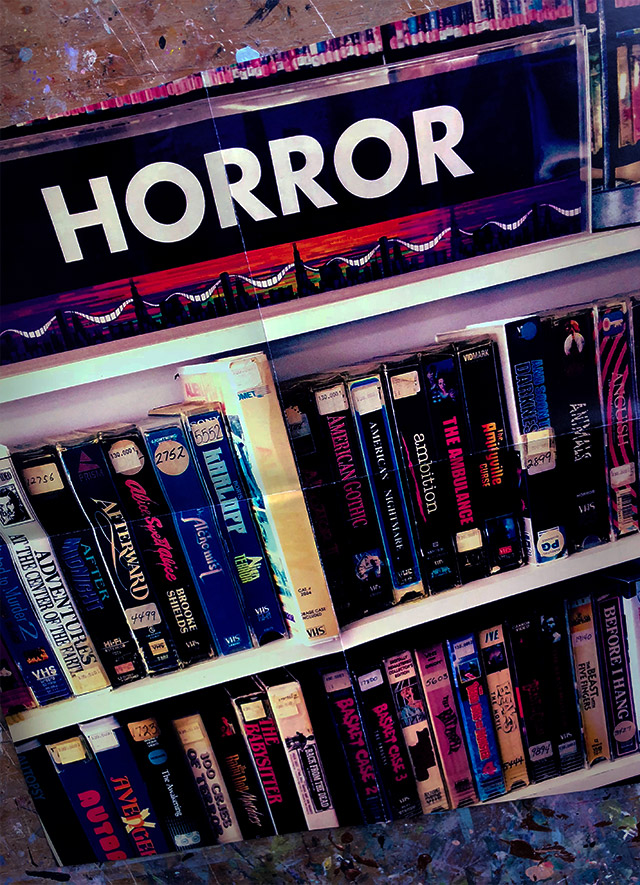 13.25″ x 13.25″ FOLD-OUT POSTER!
Yep, I made another jumbo-sized foldout poster! You'll each receive this gorgeous Video Store Poster, made from a photo I took several years ago at an old school rental shop that's since closed down.
Specifically, it's a perfect shot of that old video store's horror section. You won't be able to look at it without being hit with ten thousand memories of the video stores you grew up with.
Each poster is 13.25" x 13.25", and they've been professionally machine-folded to be able to fit inside the box with very clean folds. For extra protection, yours will be shipped in a plastic sleeve. (My photos here don't do them justice — they're pretty as hell!)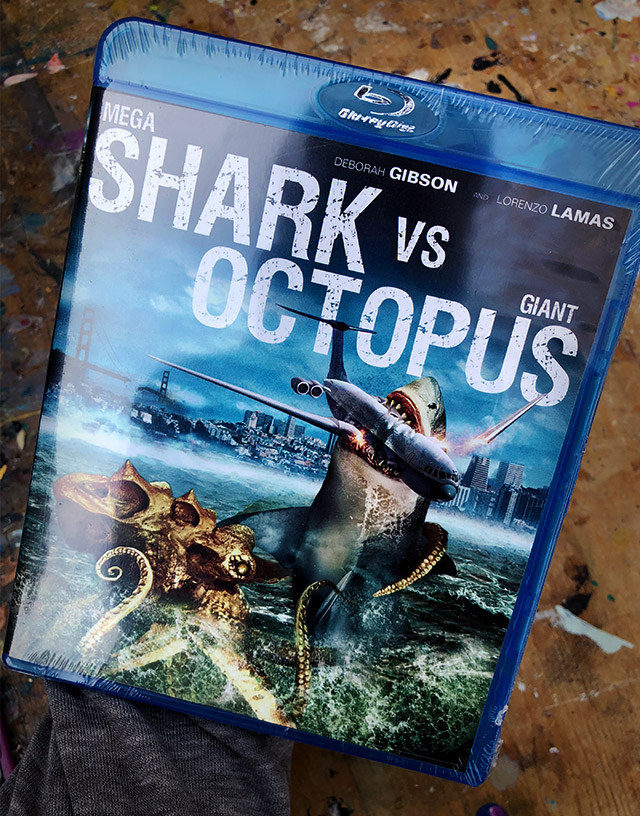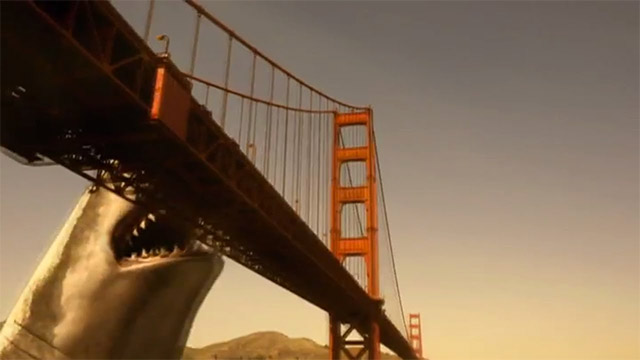 Next up, you'll each receive a sealed copy of the 2009 classic, Mega Shark vs. Giant Octopus, on Blu-ray. It's a joyously ridiculous movie that definitely delivers on its title, and if the idea of a movie starring a mega shark and a giant octopus isn't enough for you, Debbie Gibson is also in there!
These are in absolutely brand-new condition and still shrink-wrapped. Make a night out of it!
NOTE: Mega Shark vs. Giant Octopus is rated "R" for some strong language. There is also the sort of gore one might expect from a movie about giant killer fish. Keep this in mind before sharing with your kids!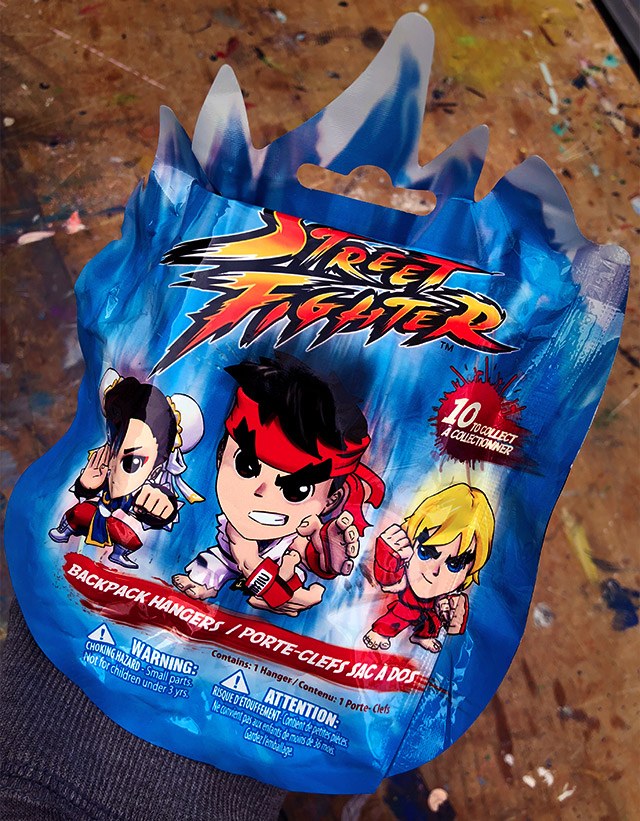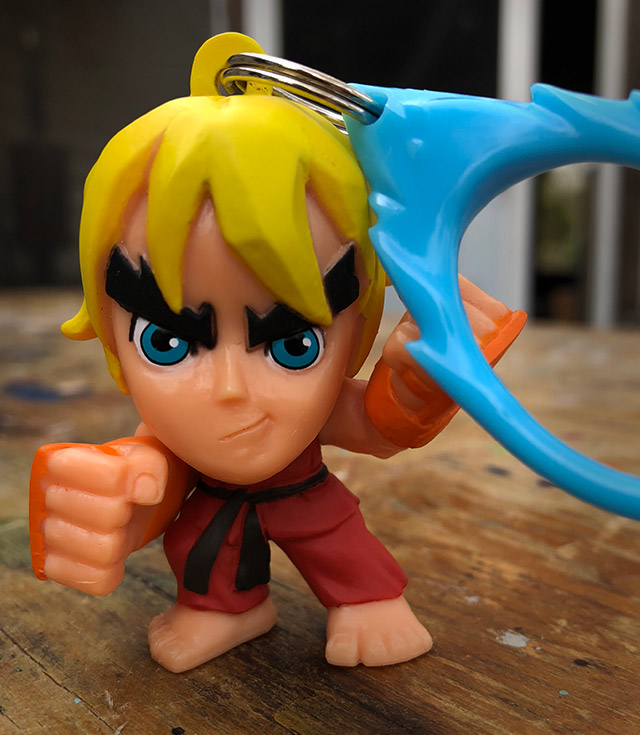 There's still plenty left to cover! You'll also receive one of these super cool Street Fighter Backpack Hangers, originally released back in 2016.
I assume a "backpack hanger" is meant to be clipped onto a backpack zipper, but I think these would work just as nicely on a set of keys. There are 10 different characters in the set; you'll receive one at random.
Shown above is Ken Masters, but I have no idea who'll be in your package. Guile? Chun-Li? M. Bison? Some grey guy? It's all up to fate, baby. (These are nice, hefty figures, by the way!)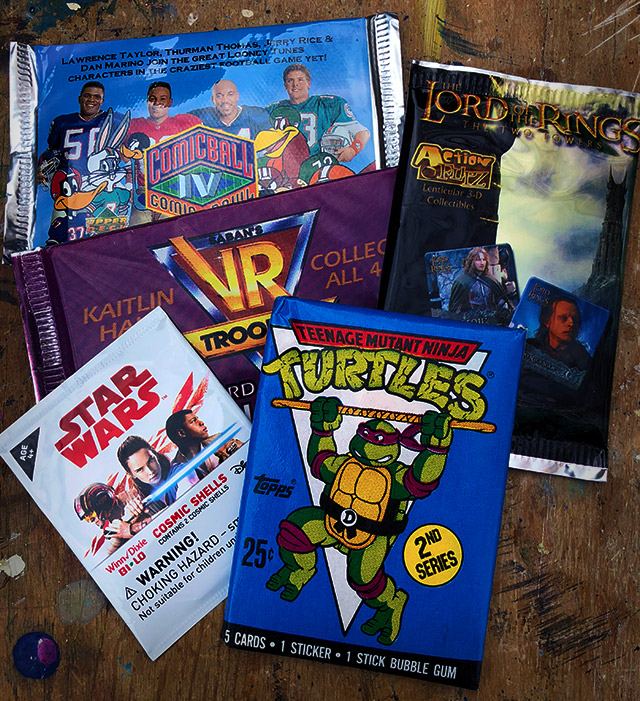 Oh dang, looks like you're getting another pile of vintage trading card packs. Actually, if you wanna get technical, only some of these packs include trading cards. You'll receive all five of the packs shown, including:
– TMNT Cartoon Cards (1990)
– VR Troopers Puzzle Pack (1995)
– Comicball IV: Comic Bowl (1992)
– Lord of the Rings Action Flipz (2002)
– Star Wars Cosmic Shells Mini-Pack (2017)
Lose yourself in various fictional universes as you marvel at cool art and gobble up whatever weird factoids are on the cardbacks. (That is, if you can stand to tear them open!)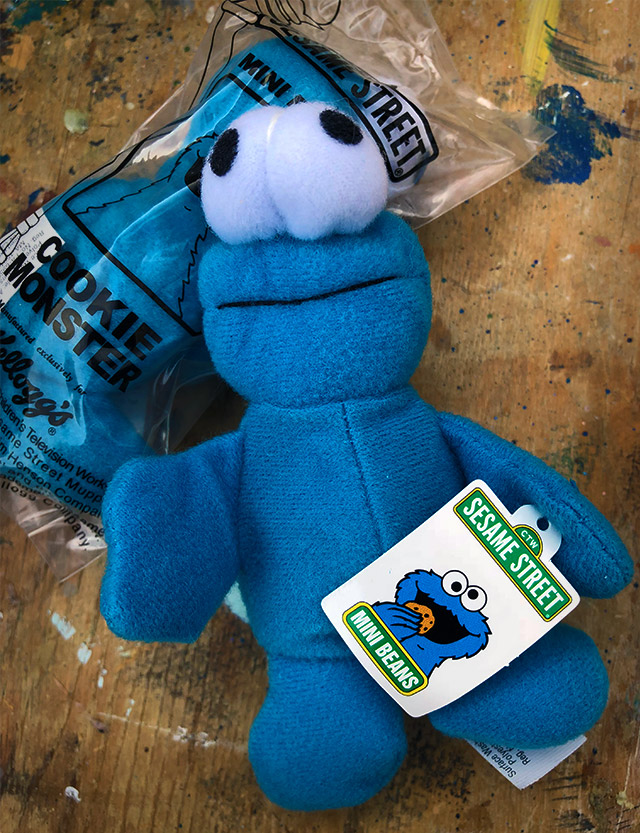 Serving as this month's Dino Drac Specimen, you'll each get one of these insanely cute Cookie Monster "Mini Beans" dolls, which were originally given away by Kellogg's back in 1999.
These are almost unbearably endearing, and yours will arrive in never-touched condition, still tagged and still trapped in its original factory baggie! (Your mission: Free Cookie Monster.)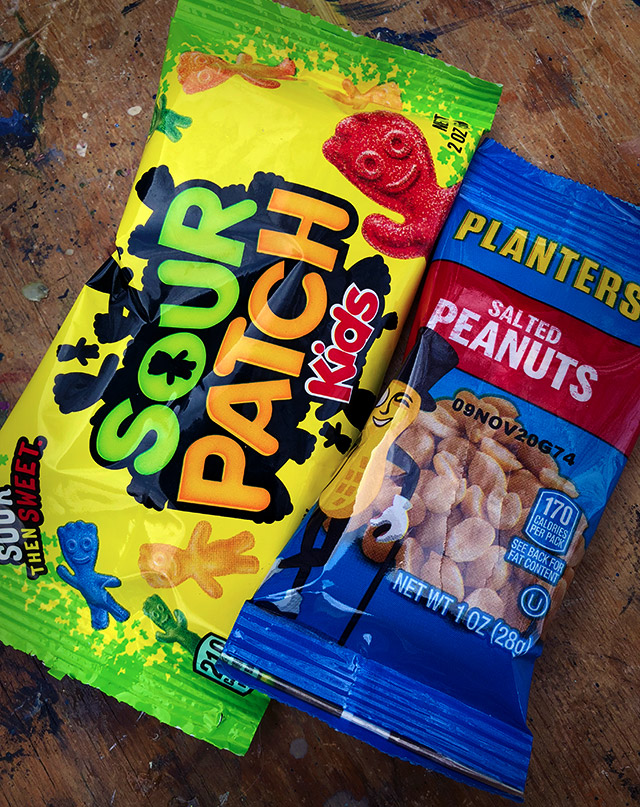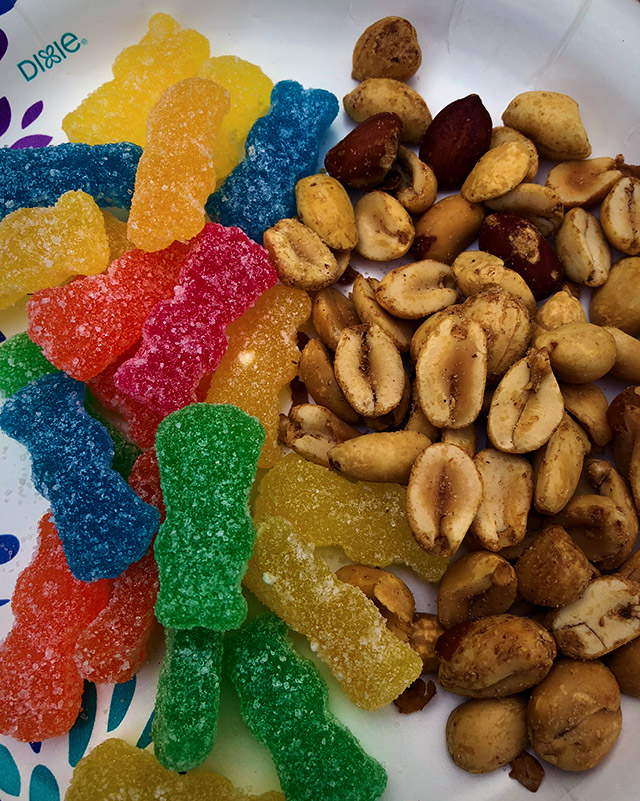 This month's snacks include a generous two-ounce bag of Sour Patch Kids, and a less generous one-ounce bag of Planters Peanuts. These are snacks I will stand behind. Pour 'em in a dish, put on the bad shark movie and kick your feet up!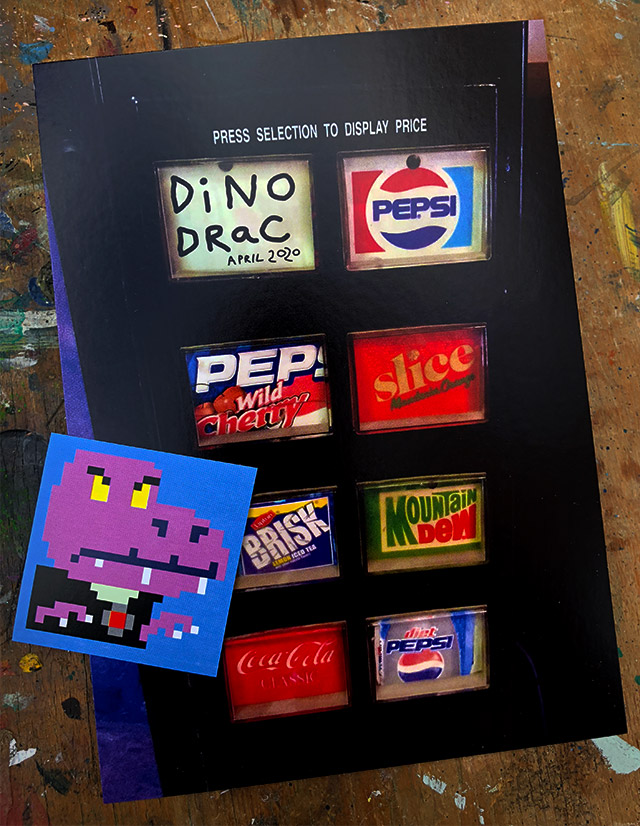 You'll also receive this month's exclusive Dino Drac Mini-Poster and Sticker. The mini-poster was made from a photo I took of a gloriously old soda machine, while the sticker presents my site's mascot as a… purple NES enemy, I guess?
Poster is 5×7" and printed on cardstock. The sticker is 2×2" and printed on whatever stickers are printed on.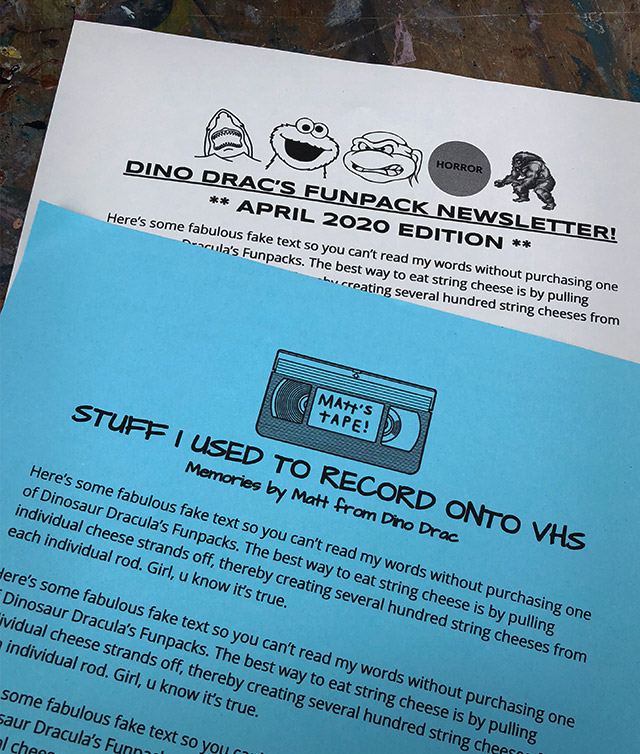 Rounding things out, you'll also receive the April 2020 Funpack Newsletter, plus an exclusive two-page essay that will never be reprinted on the site.
In this month's essay, I spill the details on all of the weird TV shows, movies and specials I used to record on VHS. We'll be talking about forgotten sitcoms and wrestling PPVs, but also the whole experience of making your own tapes as a kid. I think you'll relate to it!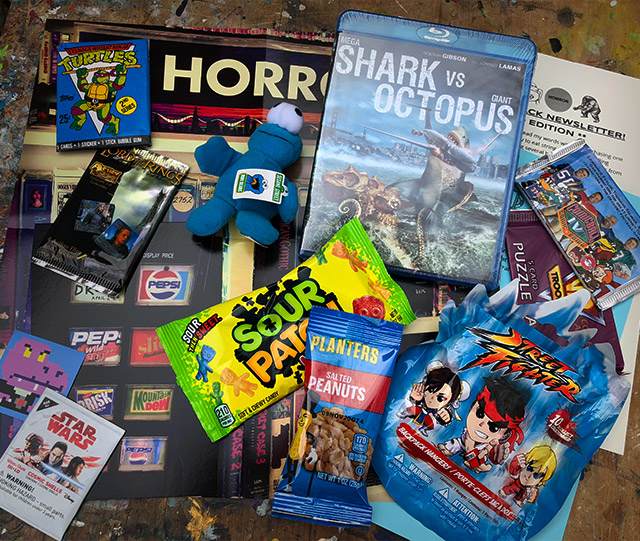 Yep, you'll receive everything shown above, for $25 shipped!
If you're already a Funpack subscriber and you'd like to stay that way… do nothing! You're all set!
If you want to subscribe, please read the following, and then click the button at the bottom of this page!
1. Funpacks are available in the United States only. Sorry!
2. Subscriptions are handled via Paypal. If you don't have an account, it's very easy to make one!
3. Funpacks will be shipped to the address listed on your Paypal account. If you need to change your shipping address, or if you'd like for your Funpacks to be shipped to someone else, simply email me!
4. You will be automatically billed $25 every month. (Yes, that price includes shipping.) If you subscribe today, you'll pay today, and then again in exactly one month. For as long as you remain subscribed, you'll keep getting Funpacks!
5. You can cancel at anytime. (You could subscribe today and cancel today!) If you cancel after you've already been charged for the following month's Funpack, you'll of course receive it just the same as any current subscriber would. (You can cancel via Paypal, or by emailing me.)
6. The April 2020 Funpacks will ship on or before Monday 4/21.
Remember, the Funpacks allow me to keep doing the site… thanks so much to all who help to keep it/me going!
To get your subscription started, click the button below!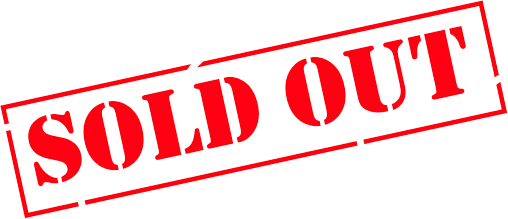 The April Funpacks are pretty much sold out! If you want to get on a waitlist for any potential leftovers, shoot me an email. (dinosaurdracula on gmail) Thanks!