NOTE: The deadline has passed for the November Funpack. To see what I've cooked up for December, click here!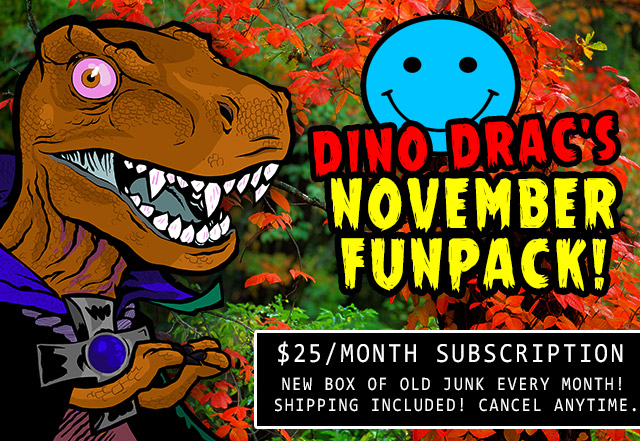 I know we're still in Halloween mode, and thank God for that, but if you'll pardon me this one exception, it's time to debut Dino Drac's NOVEMBER 2014 Funpack! (Available to those living in the United States only.)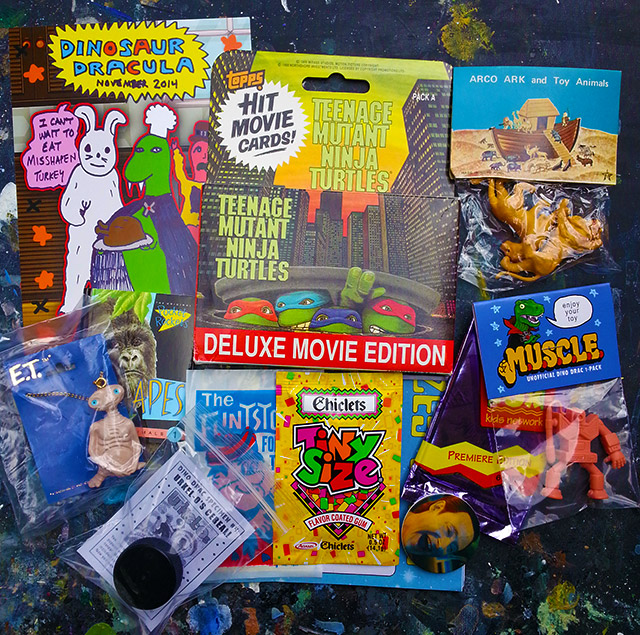 If you're worried about those post-Halloween doldrums, I think November's Funpack will be a great pick-me-up. It's quite possibly my favorite one so far!
Every subscriber will receive:
1. Vintage TMNT Movie Trading Cards – an unopened box set of 66 cards! (Which I believe is half of a full set!)
2. Dino Drac's Unofficial M.U.S.C.L.E. 1-Pack! This is a vintage M.U.S.C.L.E. figure from the '80s (most fleshtone, some colored) in ugly packaging of my own design!
3. Dino Drac's November 2014 Mini-Poster, starring Larry, Leviathan and Dino Drac himself. Thanksgiving-themed!
4. A set of two small plastic animals, still packaged. What makes them special? They're part of the "Arco Arc" collection, which were given away at gas stations a long, long time ago! (Various animals are included, from lions to seals — you'll get one random pair!)
5. Dino Drac's November 2014 Specimen! This time, you're getting an honest-to-goodness piece of URKEL-O's Cereal, from 1991! Yes, that existed, and yes, you're getting a legit piece of it. Don't eat it, of course.
6. Full-bodied E.T. necklace! Wear it with pride!
7. One random pack of vintage trading cards!
8. One fresh pack of Tiny Size Chiclets, ready to be chewed! Yep, they still make these, and yep, these are brand new!
9. Other items (a few, by my count) that I'd rather not tell you about here so there will still be some surprises for you to dig through!
There are over 10 *legit* items in each box! You'll also receive Dino Drac's November 2014 Newsletter!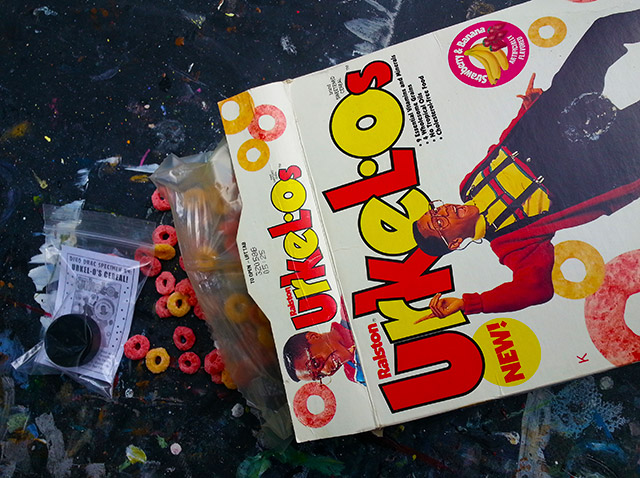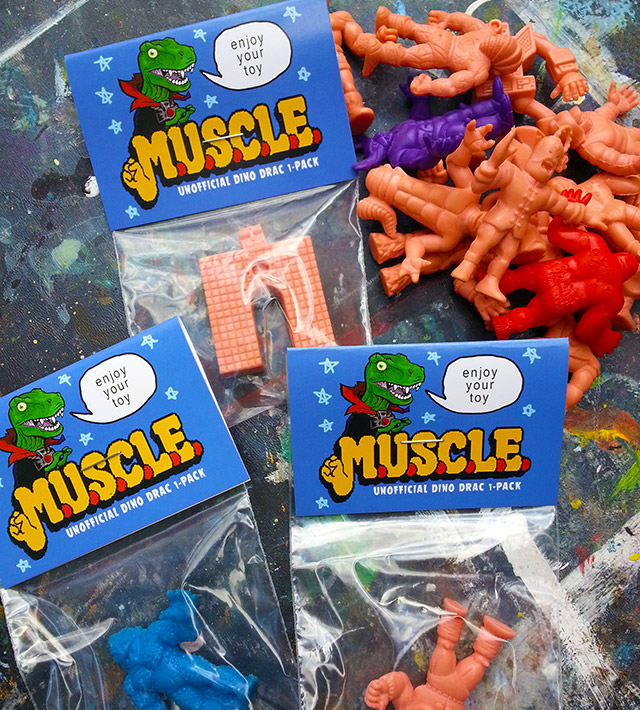 If you're already a subscriber and you'd like to stay that way… do nothing! You're all set!
But if you're not a subscriber and you're thinking about signing up, here are the details!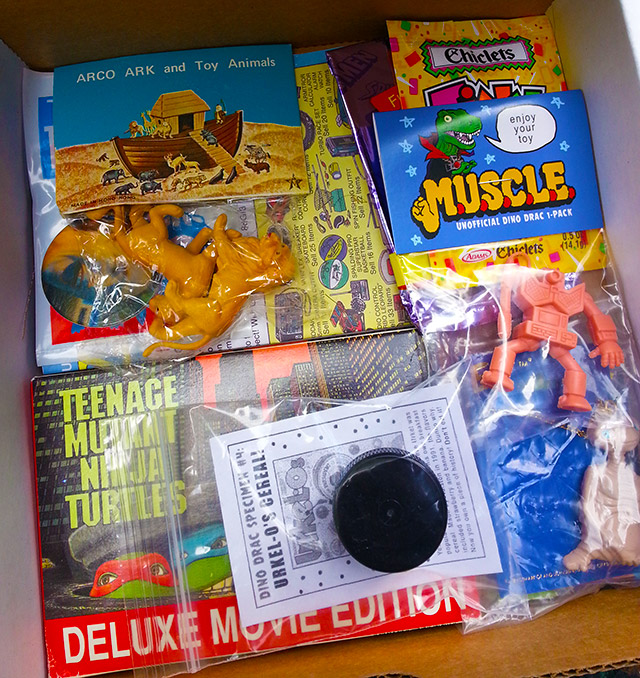 Q: What are these Funpacks about?
A: Every month, I send boxes of random stuff to subscribers. I put a load of work into making every Funpack as good as it can be, and so far, people really seem to be enjoying them. Since I'm at a stage where I can no longer do the site without attempting to make it financially solvent, these Funpacks are my answer. I wouldn't want anyone to subscribe without actually wanting one, but make no mistake, it's these that allow me to do the site at this level!
Q: How much do they cost and how do payments work?
A: The Funpacks are $25 a month, shipped. Payments are processed through Paypal. Even if you don't have a Paypal account, you can still subscribe using most credit cards. You are charged once a month until you decide to cancel. If you subscribed today, you'd pay $25 today, and then another $25 in exactly one month. (Payments are processed automatically, so if you plan to stay a subscriber, you don't have to do anything but sit back and wait for your boxes!)
There is no mandatory subscription length. You can cancel your subscription through Paypal at any time. (Meaning, if you decide to stop after November's box, you certainly can… though I hope you'll like it too much to want to skip December's!)
Q: Why will you only ship within the United States?
A: Sorry, as much as I'd like to ship to other countries, it simply isn't feasible. Test runs have proven that the shipping costs are just too high.
Q: How will you know where to ship?
A: If you already have a Paypal account, there will be an address associated with it. If you're only using Paypal to sign up for the Funpacks, you'll still have a clear place to add your address. If you need your Funpack to be sent elsewhere, just email me and I'll take care of it.
Q: When are the Funpacks shipped out?
A: Traditionally during the first week of the month, but for November, I'm allotting a little extension so as to not interfere with my Halloween coverage. All November Funpacks will be shipped on or before 11/10/14.
Q: How long do I have to make a decision?
A: Subscriptions will close on 11/7. However, if November's Funpack sells out before then, there's nothing I can do to help you. (Obviously, I only have limited quantities of each item!) Last month's Funpack sold out long before the closing date, so if you're interested, it's better to subscribe sooner than later!
Q: I have a question that isn't covered here.
A: Feel free to email me, or leave a comment on this post, and I'll get back to you quickly. I take these Funpacks very seriously. 🙂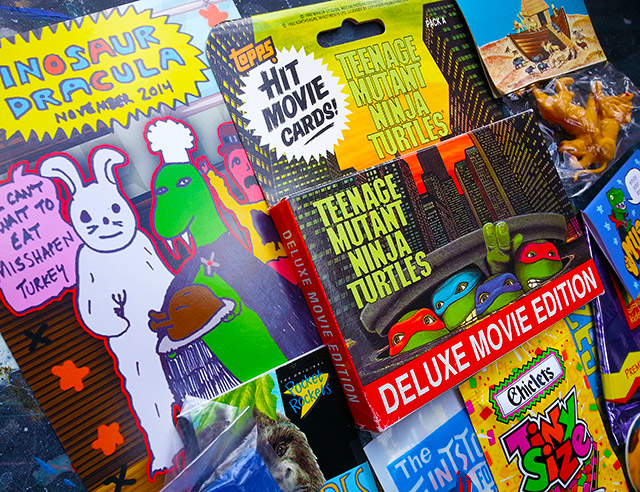 Heard enough? Good!
IMPORTANT UPDATE: The deadline for the November Funpack has passed. You may still subscribe, but you'll be starting with the December 2014 Funpack instead. Come check out the details on the December 2014 Funpack over here!