The weather is starting to cool, the leaves are looking less green, and I'm suddenly craving Elm Street movies on a nightly basis.
Oh, it's in the air. Halloween is IN the air.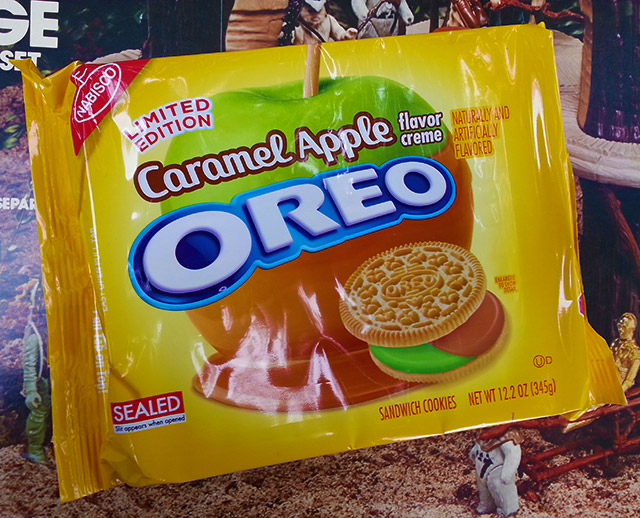 For proof, look no further than Nabisco's new Caramel Apple Oreo cookies. It may only be August, but these are utterly autumnal.
Every year, there's that one new Halloween thing that comes out a little early, effectively ushering in the season. In 2014, this is it. To some they're merely cookies, but I view them more as edible gatekeepers. By the time this package is through, I'll be surrounded by plastic rats and cardboard vampire heads. Thank God.
Over the last year, Nabisco's gone batty with Oreo cookies, releasing wild new flavors that have ranged from "pleasantly odd" to "class action lawsuit." Clearly some of those flavors were more expected to be "noticed" than "liked." The people at Nabisco aren't stupid, and the amount of free press they get for Bacon-Wrapped Filet Mignon Oreos is worth the thousand people thinking they've lost their fucking minds.
Fortunately, I don't classify these as being so intentionally divisive. Caramel apple candy is nothing new, and no alarm bells ring over the flavor's transition to cookies. It seems like a natural way to celebrate the 2014 season in a manner that you couldn't in 2013. Bring it on, Nabba Sco.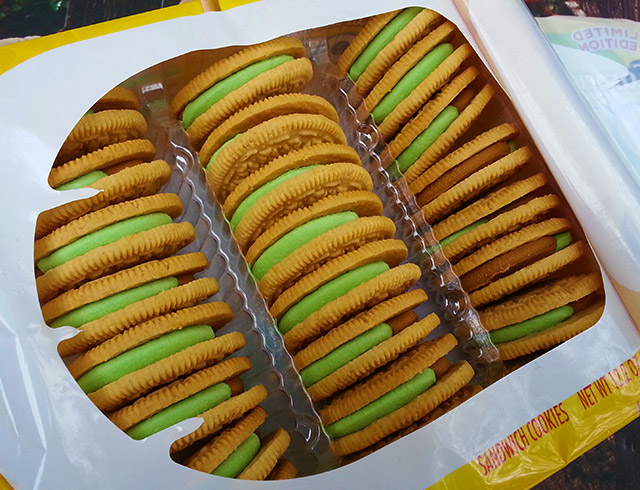 Some Oreo flavors are great and some Oreo flavors are garbage, but Nabisco always makes sure that they smell good.
In this case, they smell great. If we're thinking about "caramel apples," the smell is almost shockingly accurate. Or maybe not so shocking, since caramel apples only really smell like caramel, and that's not so hard to represent as slimy cookie goo. Still, this is an A+ odor. I'd hang it from my rearview, I'd dab it on my forearm, I'd put it in a vase.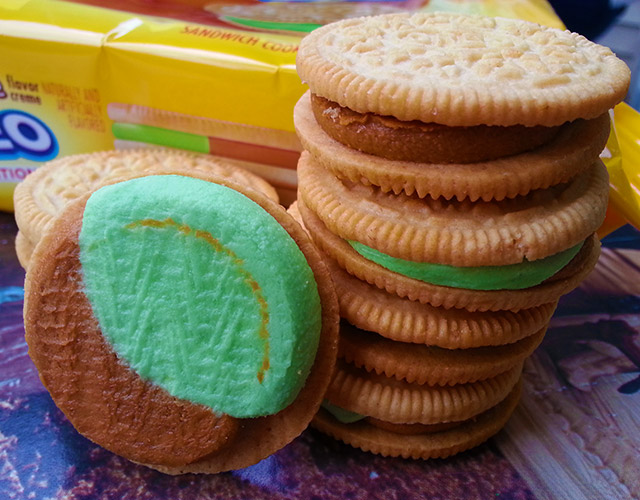 The creme filling comes split into two colors. Green, representing the apple, and brown, hopefully representing the caramel. After twisting several cookies, I determined that the caramel smear on the green side is always present. I cannot claim this to be a positive, but will stop short of drawing comparisons.
Unless I'm crazy, each icing color has its own flavor, too. The green side tastes like apples. The brown side tastes like caramel. Both of them together tastes like CARAMEL APPLES. Everything makes sense again!
And guess what? They really do taste good! I came into this review thinking I'd have to lie, because the last thing I want to do is make a big fuss about Halloween cookies and then tell you "they're stupid." The honest truth is that I've already had to hide them and chemically induce selective amnesia, fearing myself capable of eating the entire package in one night.
I don't prefer them to normal Oreos, but comparing the two isn't fair, because normal Oreos have had decades to make a slave out of me. I wouldn't want to eat Caramel Apple Oreos every day, but, like, if I'm having friends over for Halloween coffee and I'm really sick of poundcake, I think a plate of these would do nicely.
If you want to make the most of your Halloween season, you have to grab at everything it has to offer. Not just the "big things." Nabisco's Caramel Apple Oreos are an opportunity to make something out of nothing, just by eating cookies. It isn't even September yet, and one bite of these is making everything feel… I don't know… crisper.
VERDICT: Recommended. *hits gavel or does whatever one does with a gavel*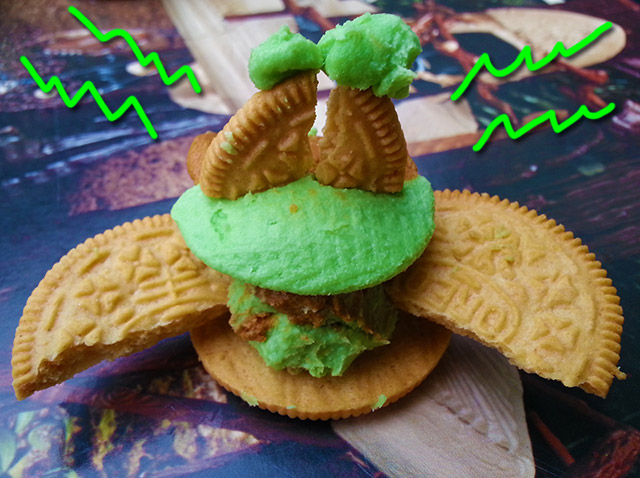 Oh and I made a crab monster out of them. I know you expected this from me.
PS, the Halloween Countdown starts in a week. ONE WEEK. Settle your affairs.
[stextbox id="halloween"]Subscriptions are still open for Dino Drac Funpacks! September's Funpack has more than a hint of Halloween to it, too! Get all the details here![/stextbox]