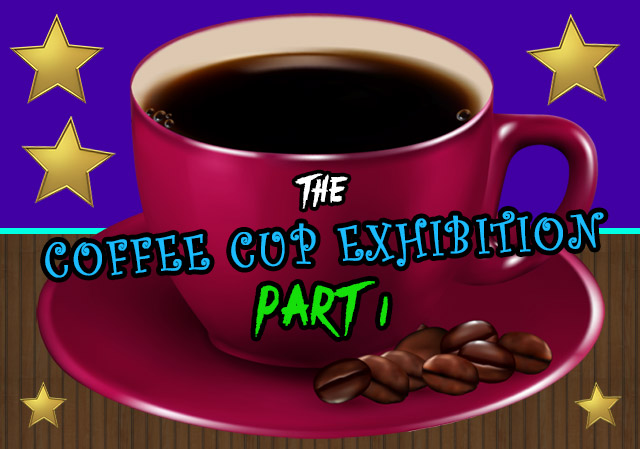 Back in July, I asked everyone to send in photos of their weirdest coffee mugs for an upcoming Dino Drac feature. A whole lotta you did. In fact, I was so daunted by the number of submissions that I shelved the idea for months. During that time, I expertly handled any emailed inquires by pretending I didn't get them.
Tonight, I'm finally gonna make good on the promise. Partially, at least. There are way too many entries for me to tackle all at once, so consider this Part 1 of Dino Drac's Coffee Cup Exhibition, featuring 25 of YOUR very strange mugs.
Of course, some of you may be wondering why I'm doing this at all…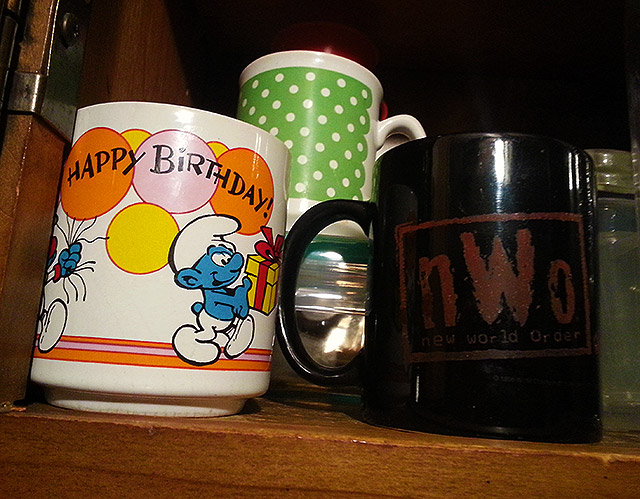 Our story starts with the nWo Wolfpac mug seen above. I drink from it constantly, but I have no idea where it came from. While neither a treasured possession nor something I'd even notice were it to go missing, that dumb cup has quietly become such a comfortable part of my life.
There are many others like it. We have our "standard" coffee cups, sure, but I always find myself reaching for the ones that are loud and obnoxious. The ones that remind me of gift shops from old vacation spots. The ones that were given to me by business owners who no longer own businesses. The ones with Papa Smurf on them.
I suspected that your relationships with coffee cups were similar, and looking over the submissions only proves it. Holy hell, you guys have some AMAZING mugs! Weird mugs, happy mugs, depressing mugs! Mugs rife with nostalgia, mugs plastered with failed product logos! I love them all, and I think the rest of you will, too.
Below are the first 25 coffee cups, complete with notes from the readers who submitted 'em. Get ready for everything from Star Trek to seahorses!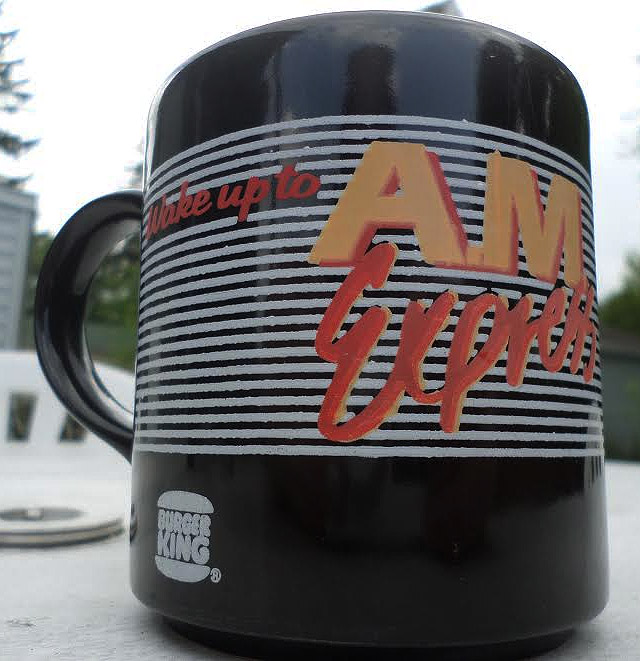 #1 – Burger King A.M. Express Cup!
Submitted by Jeremy P.
"This is my favorite mug. It's an old 1980-something Burger King A.M. Express mug. I found it a few years ago at a Salvation Army store, and immediately knew I had to purchase it. I didn't buy this because I am a huge Burger King fan, but for purely nostalgic purposes. Mostly makes me think of those mornings we were running late, so my mom would stop at BK and get me some french toast sticks for breakfast."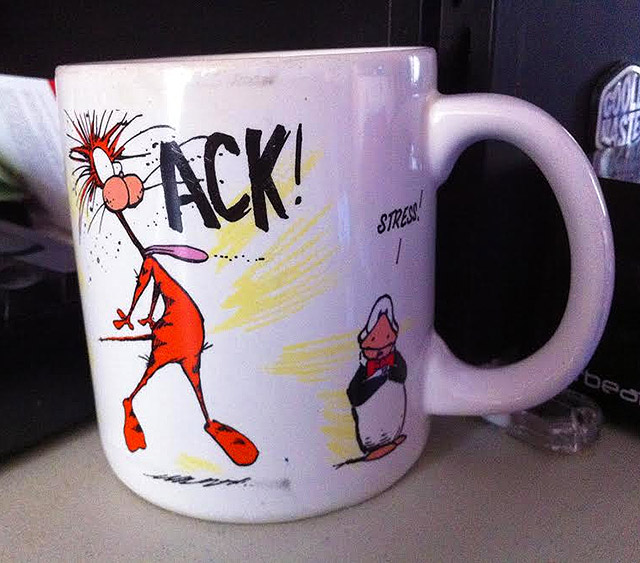 #2 – Opus Cup!
Submitted by Marianne
"Love my Bill and Opus coffee mugs, and this Ack one is my favorite. I used to be afraid it would jinx me into having a bad day, but now I think of it as an inoculation against anything that could wrong."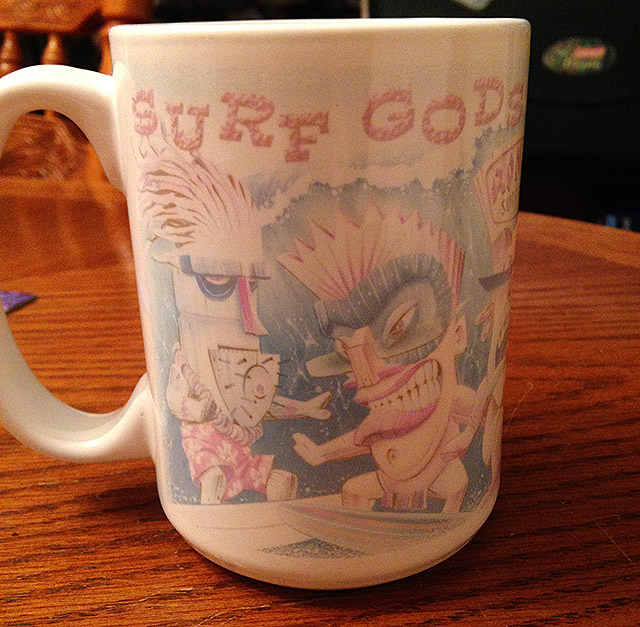 #3 – Surf God Cup!
Submitted by Ricky L.
"I've been seeing this in the cabinet for years and have no idea where it came from. A trinket from a beach trip I don't recall purchasing? Perhaps a freebie from a yard sale. Personally, I like to pretend the Surf Gods placed themselves in our cabinet using mystical, tiki powers."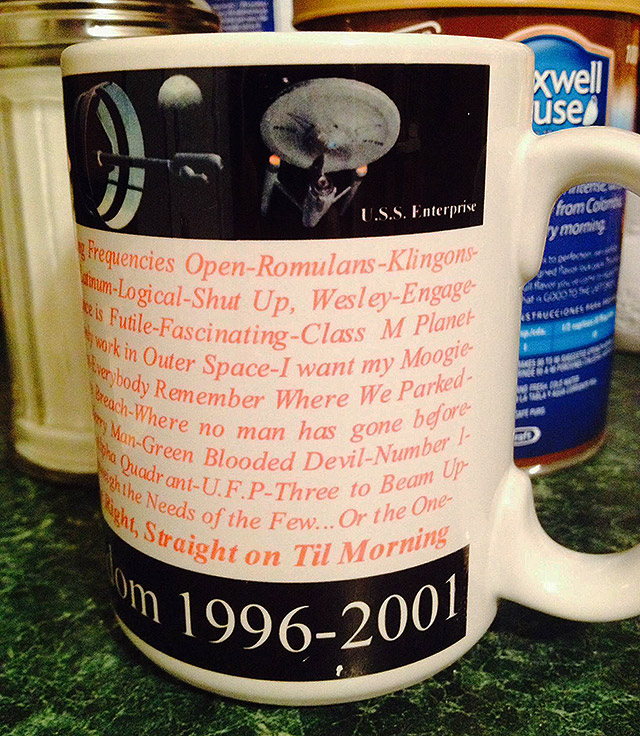 #4 – Star Trek Cup!
Submitted by Grant G.
"About ten years ago my dad ordered some seasons of Babylon 5 off a site that was going out of business. In addition to the B5 (the only thing he ordered), they sent a fan, a hat, slap bracelets, a flashlight, a mousepad, and this beauty: a Star Trek mug full of quotes, pics of various vessels named Enterprise, and text at the bottom that says 'Celebrating 35 years of fandom – 1996-2001.' And this is my go-to mug every morning."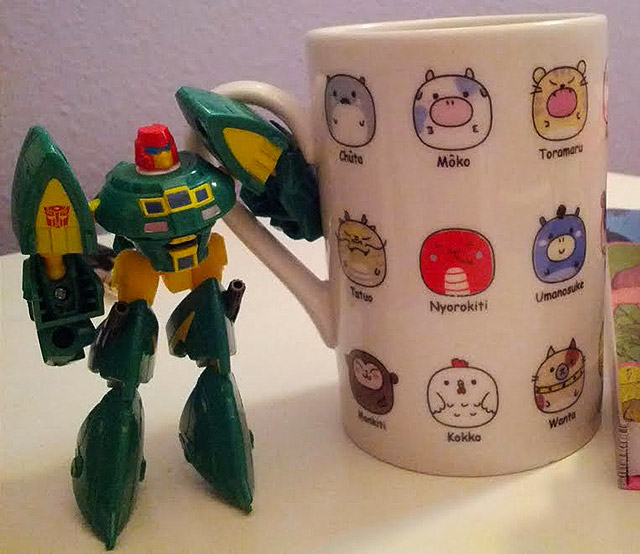 #5 – Zodiac Animal Cup!
Submitted by Katie B.
"A few years ago, my mom bought me this cute little coffee cup during one of her infamous Goodwill glassware shopping sprees. It's decorated with these adorable ball-shaped creatures, each one representing an animal from the Chinese Zodiac. (I'm the Year of the Rooster!) At first, this coffee cup puzzled me to no end, because under each little animal blob was some sort of bizarre name like Nyorokiti and Toramaru.
"I soon found out that they're actually just cutesy names based on the Japanese words for animals or animal noises. They're kinda like the names you'd see used for Beanie Babies, like Purrcy the Cat or Henrietta the Chicken. Just goes to show that rotund zodiac animals with silly animal names can make for one cool coffee cup!"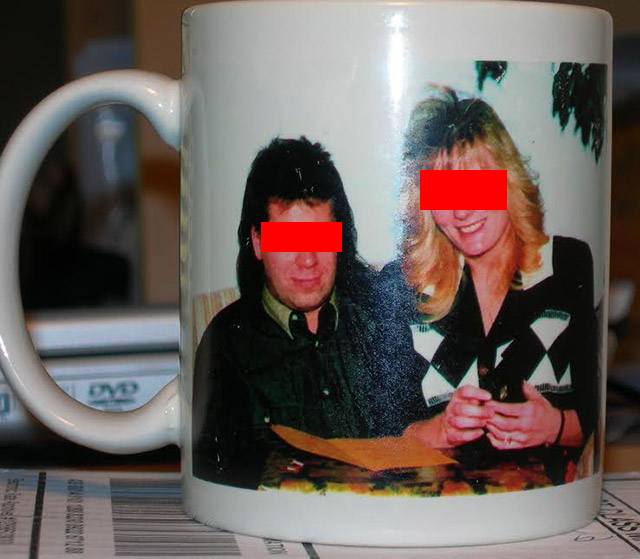 #6 – Curious '80s Couple Cup!
Submitted by BoBoSmak
"I got this mug at a resale shop for 19 cents. I usually don't buy used kitchen items, let alone drinking implements from resale shops, but I caught this in the corner of my eye and was mysteriously drawn towards it. It's my favorite mug I've ever owned. You really can't get much more 80's than feathered hair, mullets, and shoulder pads.
"When I'm having a bad day, I like to make up stories about this couple. I imagine this was their engagement party. She is all smiles and has a bright shiny new ring on her finger, with a congratulations card on the table. And he's sitting there thinking, what the fuck did I get myself into?"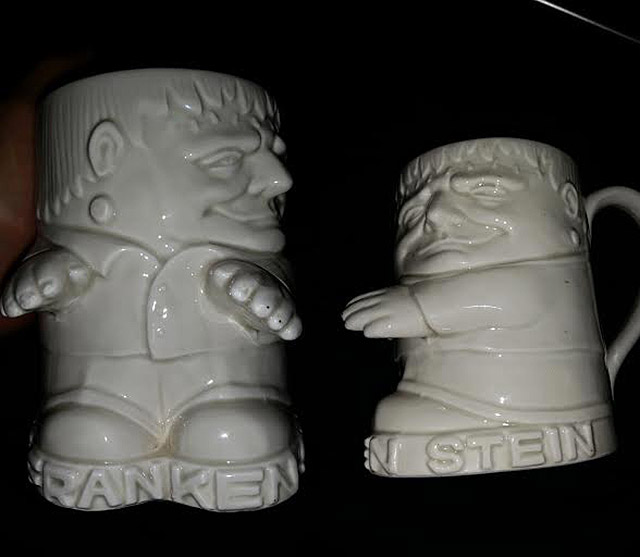 #7 – The Franken STEIN.
Submitted by Mr. Jiggy
"A vintage find at a flea market. A cool stylized Frankenstein mug? How could one go wrong? Has the markings of Fitz and Floyd Inc on the bottom; no dates but looks like it's from the late '60s or early '70s. Upon researching the maker, it turns out the company is hugely popular… so popular that the city of Dallas commissioned Fitz and Floyd to make a one-of-a-kind tea service for Queen Elizabeth as a gift during her 1991 visit. Scored it for five bucks!"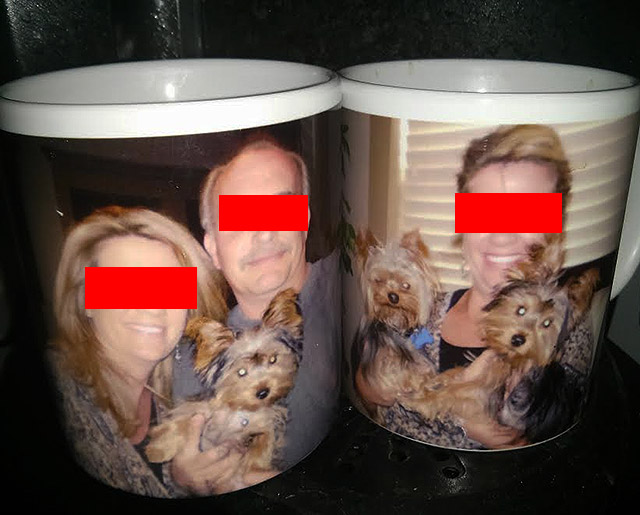 #8 – Invasion of Privacy Cups!
Submitted by Judson
"Years ago I worked at a gift shop at the mall that did photo processing. One day they received a shipment of coffee cups that the customer had refused, and since they could not be returned, the manager asked if anybody wanted them. I jumped at the chance, and my favorite from the group was this set. These people just LOVE those dogs! My wife thinks its a little weird to keep cups with pictures of strangers on them, but I find it oddly comforting and life-affirming. This couple loved their dogs soooo much that they wanted to express that love through mugs. Who can blame them? I've never met them but now I love those dogs, too!"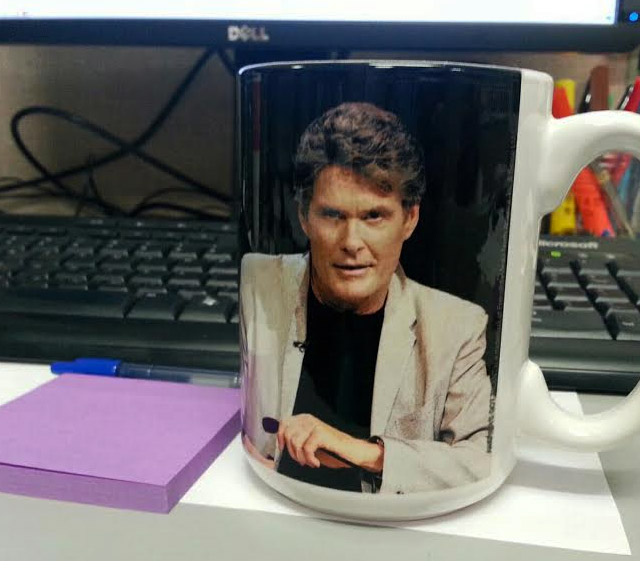 #9 – The Hoff Cup!
Submitted by Elyse P.
"I was in Manhattan proper, showing some out of town friends around. Out of town friends always want to go to the big touristy areas of NYC, so to Rockefeller Center we went. (I don't always mind this; the Nintendo store is right around the corner.) They stopped inside the NBC Experience store and were going gaga over something I didn't care about, when out of the corner of my eye — a beacon of light in these dark hours — The Hoff.
"I guess he had just left being a judge on America's Got Talent or whatever, but all of the Hoff-specific AGT stuff was 75% off. I snagged this for $3. He sits on my work desk, silently approving of whatever report I'm attempting to write. On top of that, if I'm holding it, nobody hassles me."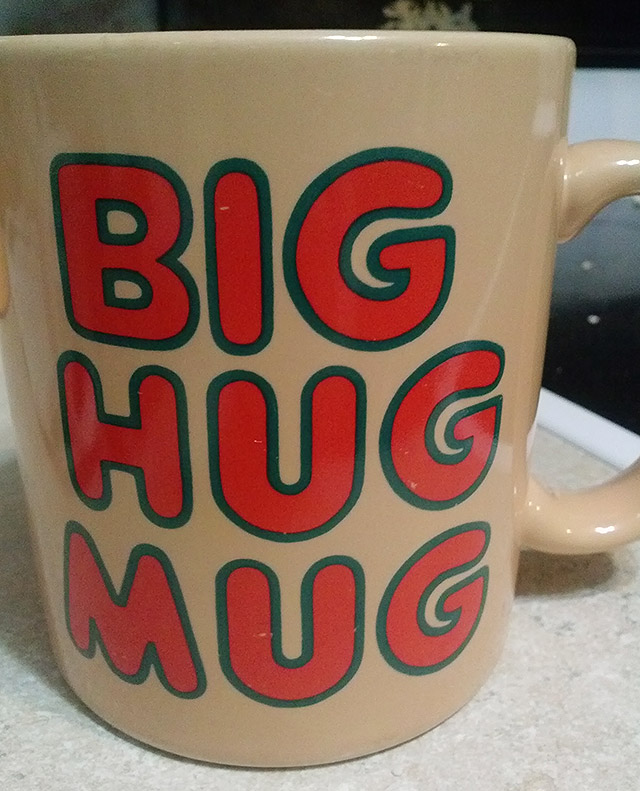 #10 – Big Hug Mug!
Submitted by Jeni
"I have attached a photo of my Big Hug Mug. I found it at a thrift store about four years ago. I found out through later research that it probably originally came with some flowers or something, as part of some florist's promotion. It makes me happy."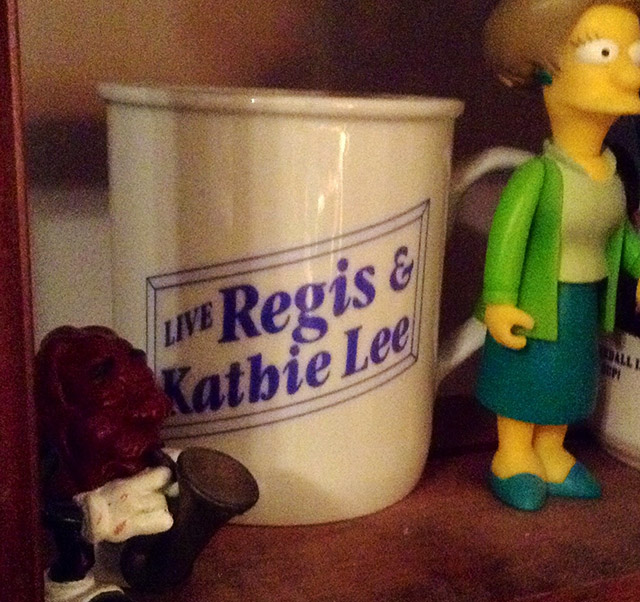 #11 – Regis & Kathie Lee Cup!
Submitted by Cliff
"I had another Regis & Kathie Lee mug that I bought during Kathie Lee's last season on the show (2001 or so), but I tragically lost it. This mug is from earlier in the show's run, and was given to me by a friend who found it at Goodwill! I can't even begin to understand why someone would give this collectible heirloom away. I get very nervous when I think of this mug sitting alone in Goodwill surrounded by other, lesser mugs. Thankfully it found its way to a person who will treasure this piece of ephemera from back when mornings were a little more special."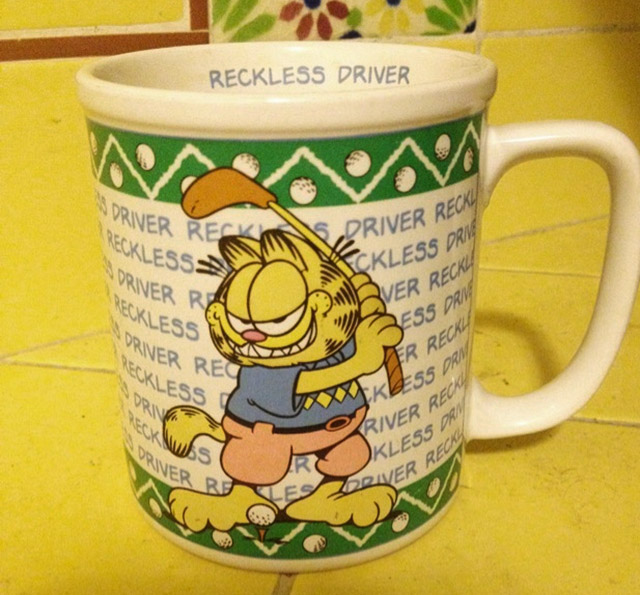 #12 – Garfield the Reckless Driver Cup!
Submitted by Luce T.
"Reckless Driver is a prize I won in elementary school for selling a lot of peanut brittle, wrapping paper, window clings and other holiday ephemera to my put upon relatives and neighbors. I also won some blank cassette tapes and a rollerblade keychain along with the mug, so naturally I felt like a queen that year.
"There are a lot of wonderful things about this mug. Garfield alone is kitschy enough at this point, but Garfield dressed up and playing golf (a sport he was never associated with in the comic) is delightfully tacky. I also love his sharp menacing teeth and narrowed eyes, as if golf is a dangerous, cutthroat sport.
"Then last but not least, the terrible wordplay. When I received this mug at age 8, I was not familiar with driving a car much less a golf ball, and I remember being flummoxed by the phrase even as I giddily drank milk from it. (I was 8, I wasn't drinking coffee!) At the time, I was just excited that it had Garfield on it — which was legit if you grew up in the '80s — but looking back, it is pretty weak that this was deliberately chosen as a prize for a child."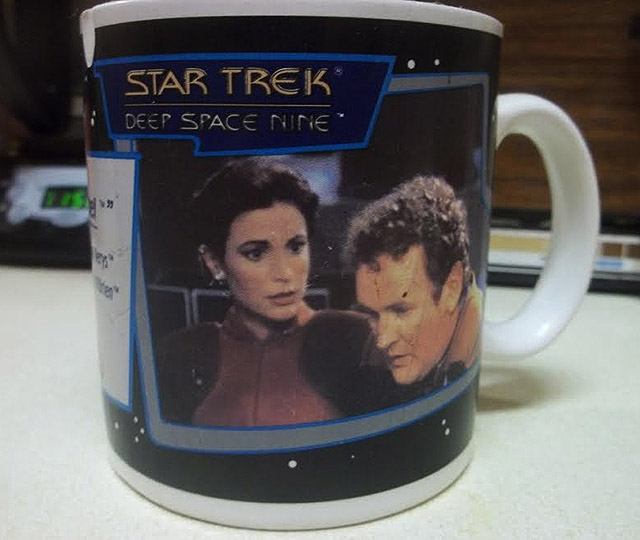 #13 – Deep Space Nine Cup!
Submitted by Charles
"I know nothing about Star Trek: Deep Space Nine other than that there is an episode called 'Babel' and it stars some guy named Miles O'Brien. I don't think this cup has been used since the early '90s. Actually, it's one of my parent's cups. I don't even drink coffee. I'm not sure why I have this. Or many of the other cups that I've just inherited over the years."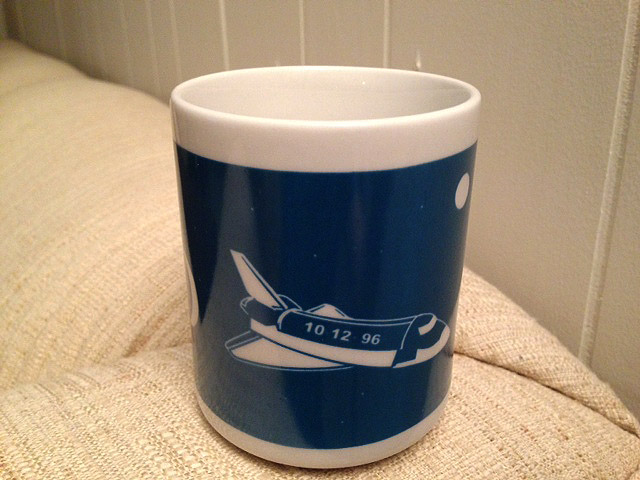 #14 – Bar Mitzvah Space Cup!
Submitted by AJ
"This mug was the giveaway from my bar mitzvah. While most kids have special t-shirts made as souvenirs, I didn't want to be embarrassed by my friends wearing them at school, so I went with mugs instead. Of course now I realize that anyone wearing a bar mitzvah shirt to school should be the one embarrassed.
"Anyway, the reason for the rocket ship? Every bar mitzvah kid has to pick out a theme for their party. While most boys pick sports, that really wasn't my thing. So instead I went with some generic outer space theme. Star-shaped balloons, planet centerpieces, and stupid green mugs with rocket ships and my bar mitzvah date on them."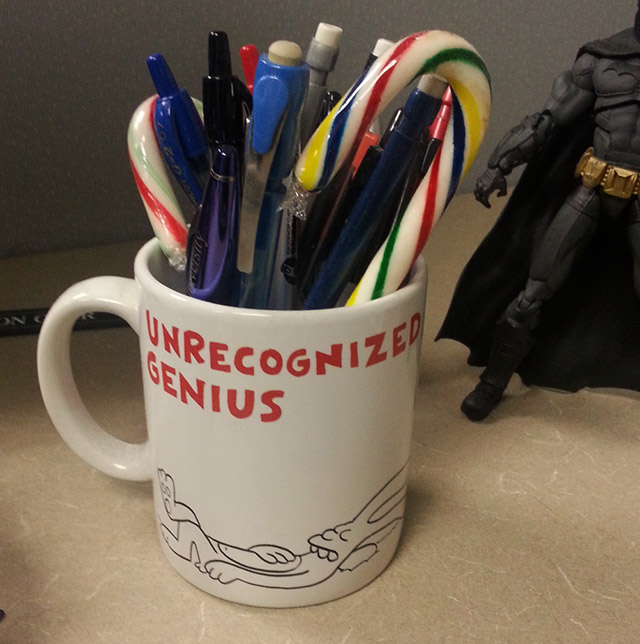 #15 – Life in Hell Cup!
Submitted by Jason G.
"I've had this Life in Hell mug since about 1988 or so. (Pre-Simpsons.) I used to actually drink out of it, but now it is my pen cup at work. It's not terribly weird, but Life in Hell stuff is pretty rare nowadays.
"I don't know how old the candy canes in it are, but at this point, I won't eat them or throw them away. They are like heirlooms."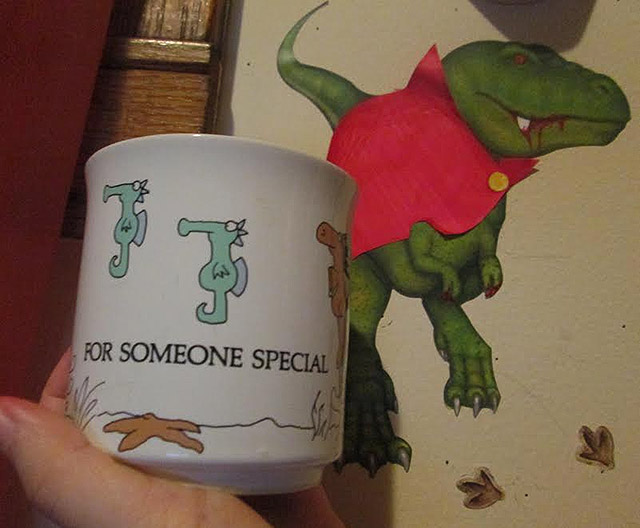 #16 – Cup For Someone Special!
Submitted by Dean
"I received this mug a couple years back as a birthday gift from a friend. I honestly don't know where she got it, or more importantly WHY she got me it. It has five drably colored 'seahorses' and one terribly proportioned 'horse' on the outside of it, with plenty of squiggly-lined 'seaweed' and a sad excuse for a starfish.
"The only words on the mug are FOR SOMEONE SPECIAL. I don't understand the context of this compliment. What constitutes badly drawn horses as a good gift? What makes me so special that I deserve these cartoon horses? I don't even like horses, dude."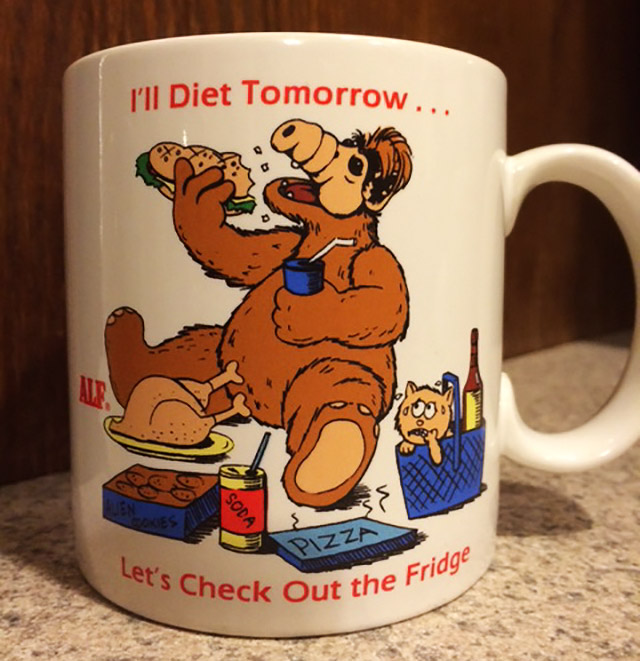 #17 – ALF on a Diet Cup!
Submitted by Lisa S.
"Oh Alf. Encroaching on the territory well-worn by comic legends Garfield and Cathy. I guess the cat is dessert? Only after he finishes the alien cookies! This is from 1987, a Chicago thrift store find."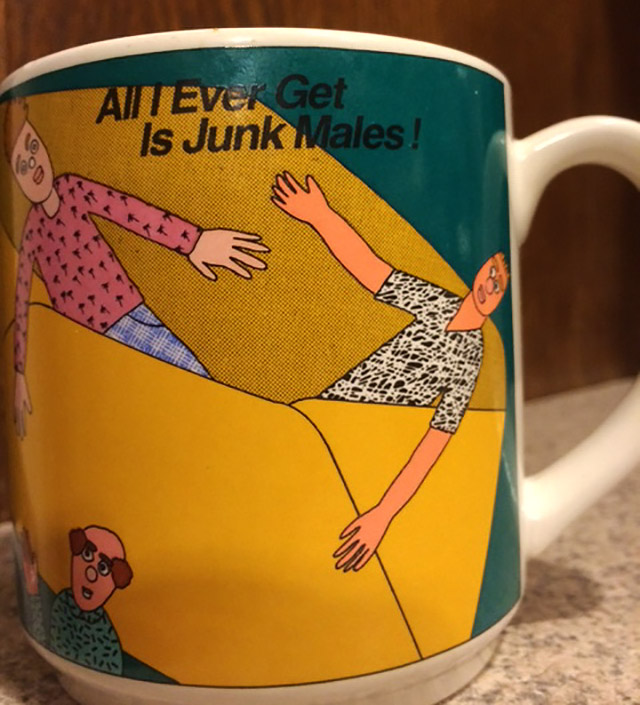 #18 – Junk Males Cup!
Submitted by Lisa S. (Yes, again!)
"This one was fun to try to explain to my children. Another Chicago thrift store find. The vaguely Pee-Wee's Playhouse/Mr. Bill renderings of said males really sealed the deal for me."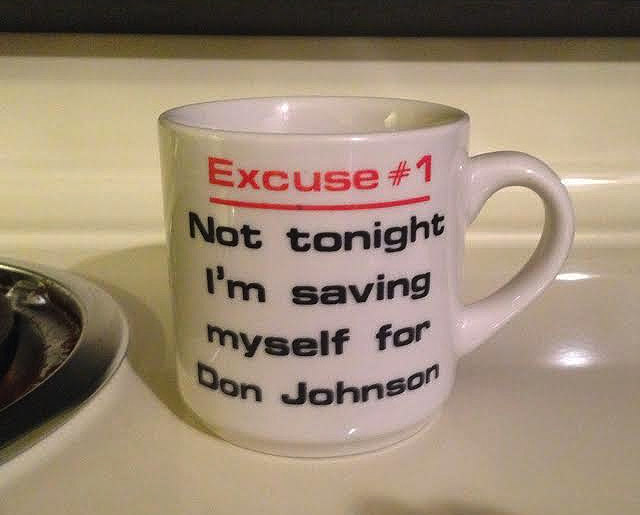 #19 – Sexy Don Johnson Cup!
Submitted by Keith and Becky
"Saw it and we had to have it. Now we enjoy the taste of sweet sweet booze out of it."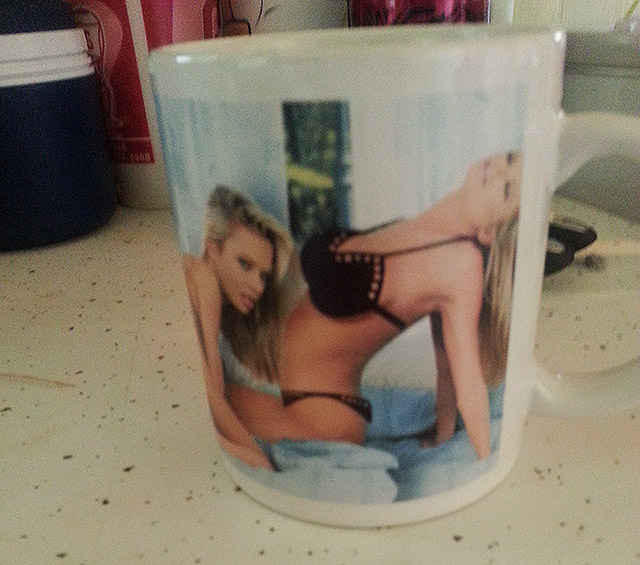 #20 – The Cup for Mature Audiences!
Submitted by Jeremiah J.
"I received this cup as a gift many years ago from my fiance. When the cup gets hot the two lovely ladies' clothes disappear."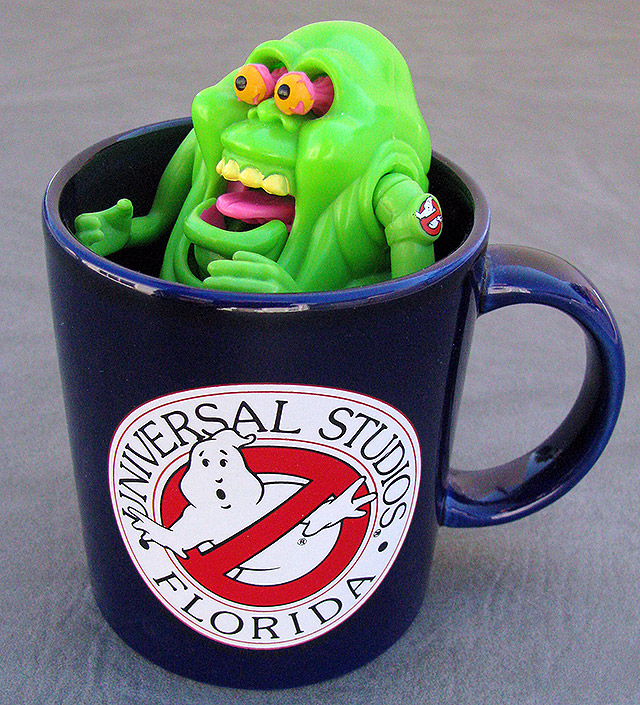 #21 – Universal Studios Ghostbusters Cup!
Submitted by Adam R.
"Growing up in Florida, Universal Studios has always been a favorite spot of mine. I've gotten to witness it grow and evolve through the years, in parallel to my own life. While some of the changes have been great, others have been questionable, like when they removed the Ghostbusters Spooktacular in 1996 (after only 6 years of being in operation) in favor of a ride based on Twister (the tornado movie, not the appendage-tangling game), which perplexingly still stands to this day.
"Sadly, this souvenir mug is now one of the few tangible remains of those fond childhood memories so many of us had watching Gozer and Stay Puft get busted in a 10 minute live-action stage show. It currently shares a place of reverence alongside my Ecto Cooler collection."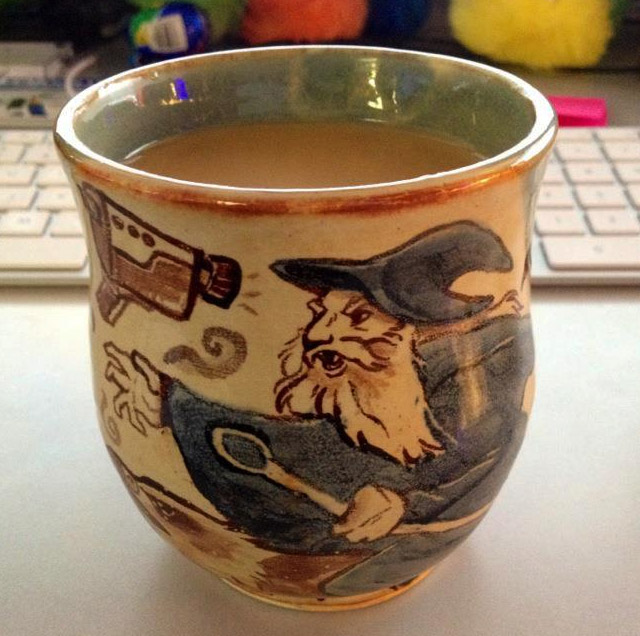 #22 – Cameraman Gandalf Cup!
Submitted by Joey T.
"Being a filmmaker and movie lover, I couldn't decide between a Lord of the Rings cup or a mug that showed off my love of cinema. So I contracted the wonderful Erin Middendorf to make this amazing, one-of-a-kind coffee cup depicting Gandalf riding on a giant eagle while operating a Super 8 camera via wizardry.
"I imagined that Gandalf was filming the making-of documentary, which is why the camera is pointed towards him. It inspires me everyday."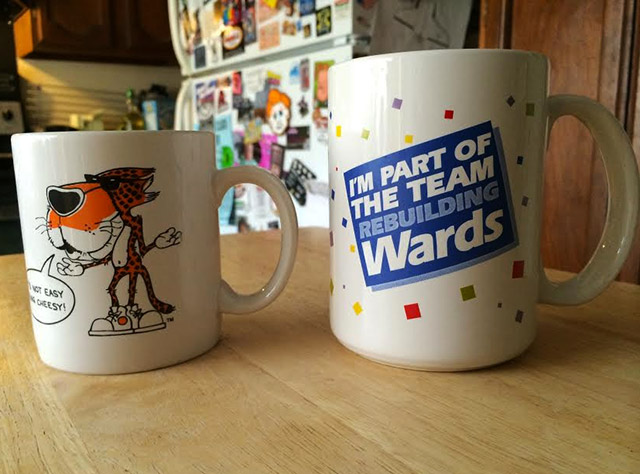 #23 – Cheetos and Montgomery Wards Cups!
Submitted by Jerrod K.
"Here are my two mugs. A classic Cheetos mug, complete with Chester Cheetah and the old Cheetos logo, and a rebuilding-era Montgomery Wards mug, from right before they went out of business. Who would have thought Chester Cheetah would have outlived Montgomery Wards?"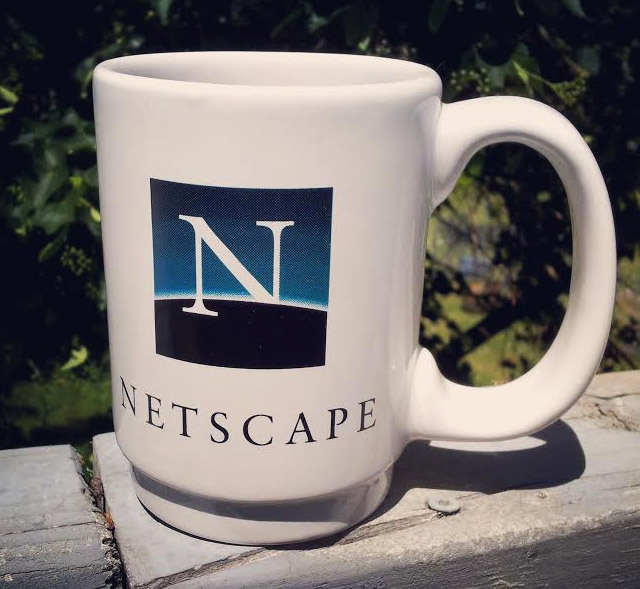 #24 – Netscape Cup!
Submitted by Devon
"My local coffee shop was offloading excess coffee cups, since customers continually bring in ones they no longer want. I saw this, and being the nostalgic sap I am, immediately knew that it had to be mine."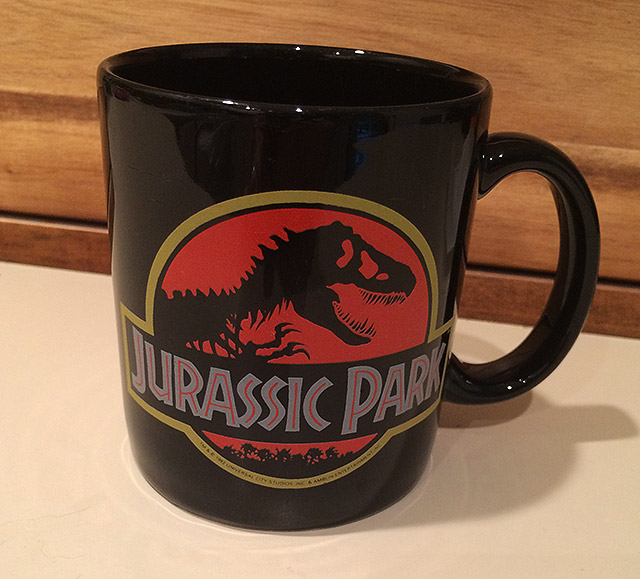 #25 – Jurassic Park Cup!
Submitted by Nathan E.
"Perhaps not the weirdest or most embarrassing coffee cup ever, but I bought this gem in 1992 from a gift shop in Underground Atlanta. Of all the things I could have picked out at 10 years old, this Jurassic Park coffee cup is what spoke to me. Even more than the personalized name keychains and Atlanta Braves swag. Somehow it has survived the trials of life and sits proudly in my cabinet, relatively untouched because I don't drink coffee."
What a great bunch of cups, everyone! I don't know when I'll be posting Part 2 — saving it for a rainy day — but we'll get to them eventually. Thanks to everyone who participated! I'd forgotten how much fun our group projects can be!